This is my last post of 2011!! I wasn't sure if I would have been able to post again this weekend but I wanted to get one more in! Hopefully some of you are around to read it 🙂 We all make resolutions whether it's hitting the gym more frequently, paying off debt, spending more time with family, etc. so why not make some style resolutions for 2012?  What are some things that you want to wear more or less of?  Are there some trends that you've been wanting to try out but not sure if you can pull it off?  Whatever you have been wanting to do so that you can switch up your style & wardrobe, you should definitely do it in this upcoming year.  There's a few things that I want to experiment with more in 2012.  Here's a set that I created to show you my style resolutions!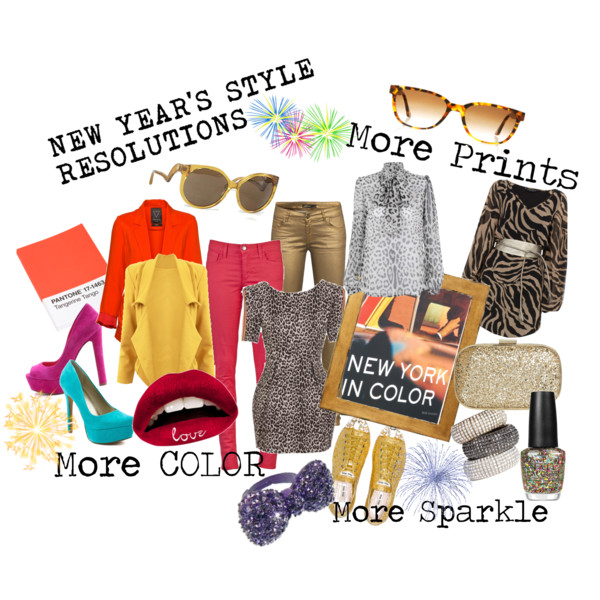 The color for 2012 is going to be Tangerine Tango.  I don't have much in this shade and I'd really like to try it out.  I find that when I wear brighter colors, my spirits get lifted and I'm in a much happier mood.  It's strange how the way you dress can reflect the way you feel.
I started getting into printed pants this past year, but I want to experiment more with other pieces.  I'd like to get more shirts & jackets with prints and try out some mix & matching.  Prints can be really fun to rock.
And some more sparkle! I know that glitter and everything shiny is very girly, but sometimes that's the type of mood that I am in.  You have to be careful so that what you are wearing isn't overdone with sparkle because it can look too cheap and tacky, but I'd love to get a sparkle clutch similar to this one & other accessories.  I still want these Miu Miu kicks.
Here's a few things that I have had my eye on lately & I will probably be getting this new year 🙂
[ALDO Maxwells]
I don't really wear sneakers unless I'm going to the gym or it's a real chill/laid back day.  I used to wear dunks & jordans back in the day, but now my favorite pair of kicks are my black & white converse that I will never part with.  They're classic.  But there's something about these Aldo sneakers that I love.  I'm thinking about getting them this week. I love the black & bronze ones.
[BCBG]
I really like these tights.  I have to admit I have yet to experiment with printed tights, but if worn the right way they can look really great.  I've been wanting these from BCBG for awhile now & I think it might be time!
[Monsoon]
This is so girly but it's really cute.  It def has more of a spring/summer vibe and I think it would be a great statement piece for any outfit. I love the butterflies on this & I haven't seen anything like it.
[Alexander McQueen]
As you know I love blazers.  I have been wanting a pink one and saw a similar one like this at H&M.  Hoping to add it to my wardrobe soon!
[Michael Kors]
I have the black oversized watch from MK but I really like this rose gold one.  Watches are a great accessory and this color goes with everything.  It will definitely make your wrist stand out!
I've got a lot to get done today before partying later tonight!  I'm anxious to share my NYE dress with you all.  It's the one I wanted but went through hell to get lol. I will tell the story when I post pics 🙂 I hope you all have a wonderful NYE & look fabulous! Stay safe xoxo