I hope that all of you had a wonderful Thanksgiving with all of your loved ones. I just wanted to share yesterday's outfit and a little bit of what I am thankful for.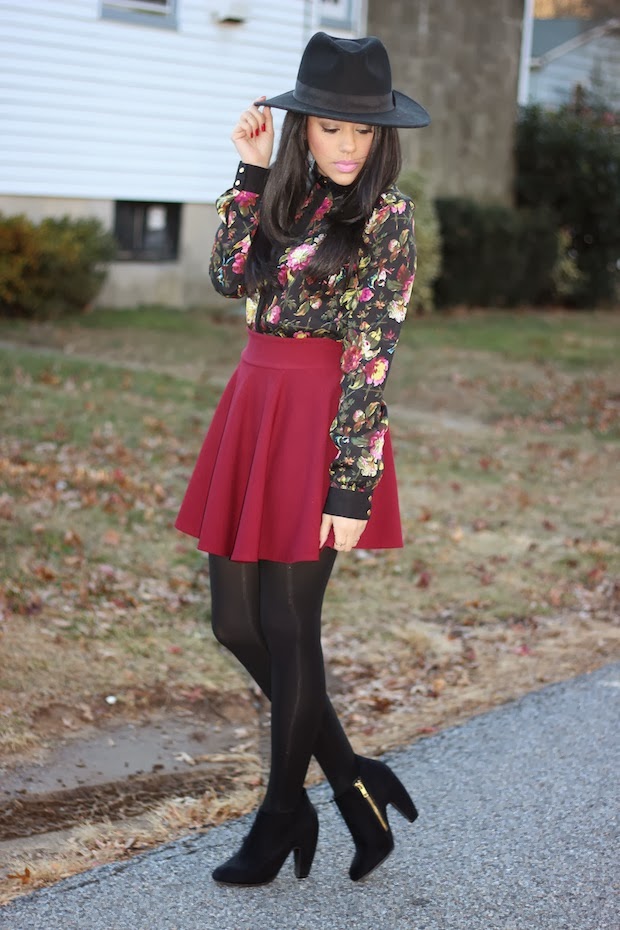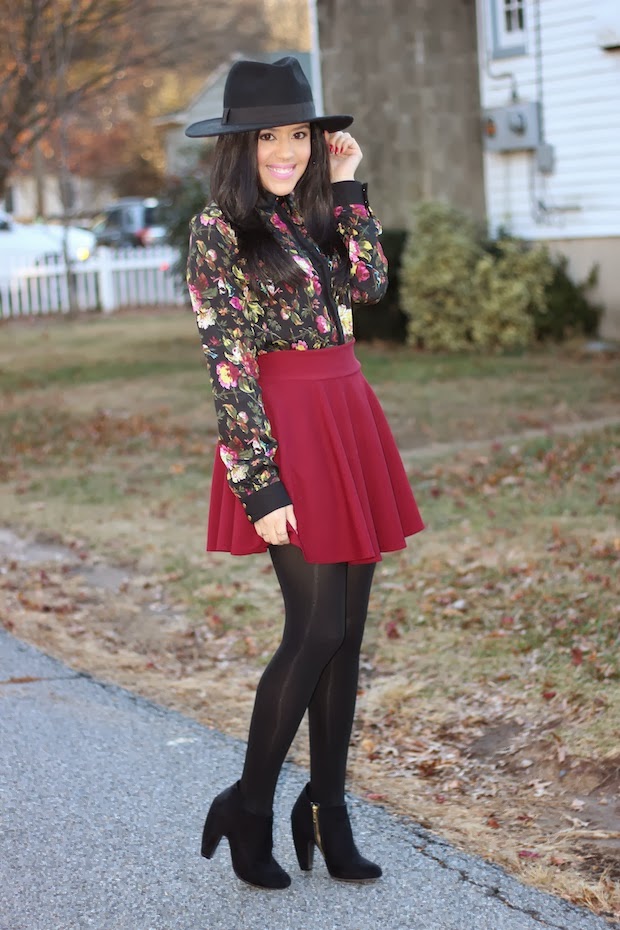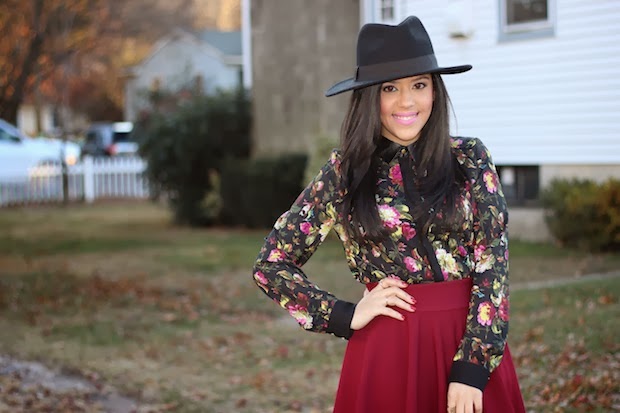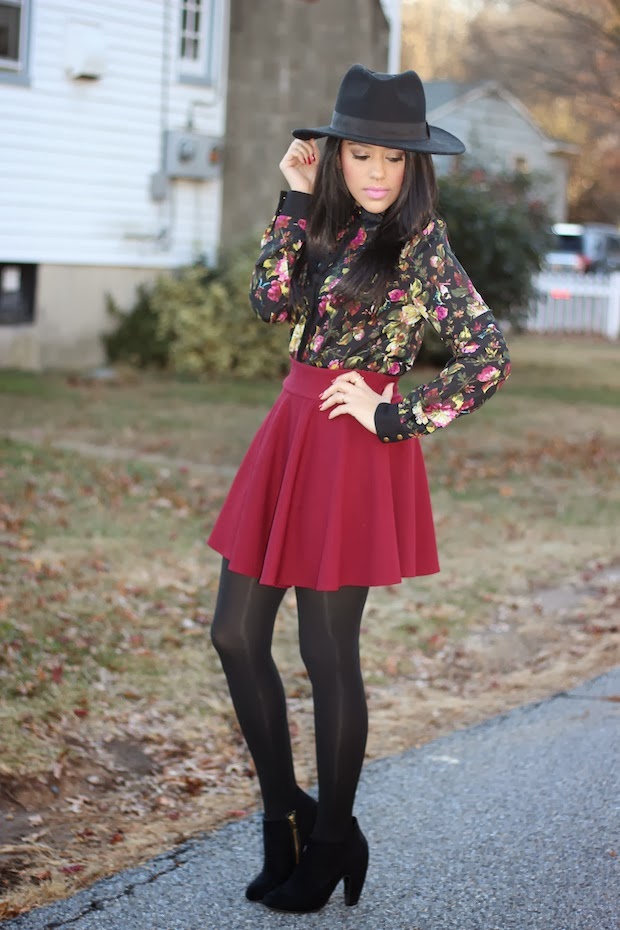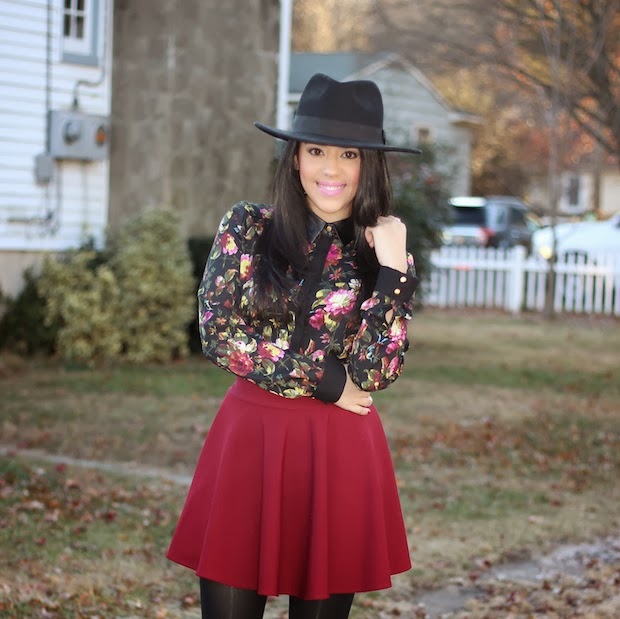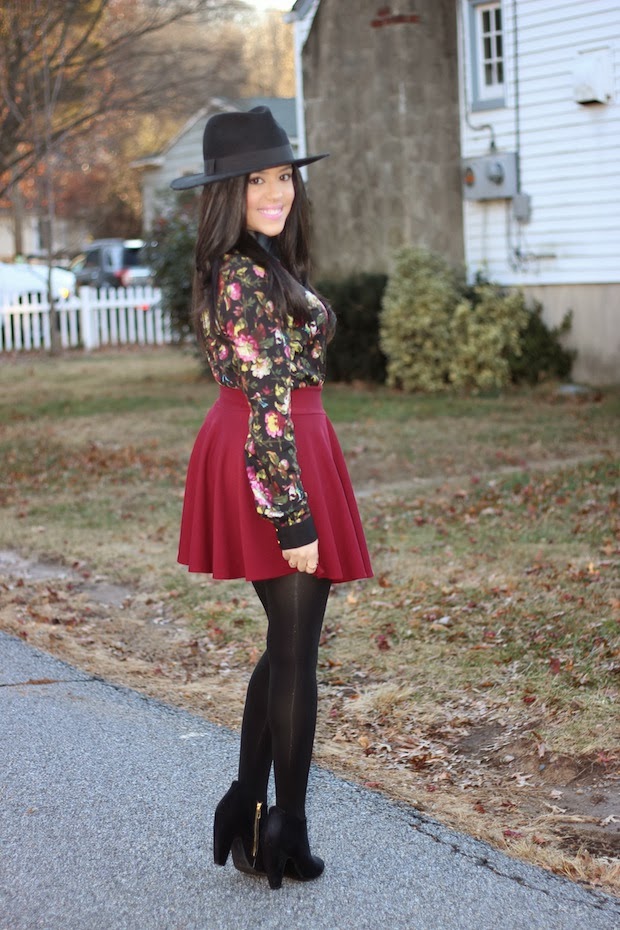 My family said I was channeling my "inner trendy pilgrim" lol and maybe I was! I just got this skirt which I thought was perfect for the occasion because of the color. It reminds me of my favorite wine, Pinot Noir! I decided to pair it with this floral top that I wore before
here
. I really just wanted to wear an outfit that was somewhat festive and comfortable enough to eat as much as I wanted to 🙂 I felt like something was missing so I added my hat which I always end up wearing with these booties. I swear I will wear these booties until the heels fall off. They are just the most comfortable shoes and they look so cute with everything. These tights are amazing by the way and I highly suggest them. It is definitely tight season now so these will be a go to pair for me. Since my outfit was pretty bold in color and print, I went with simple makeup and a light pink lip.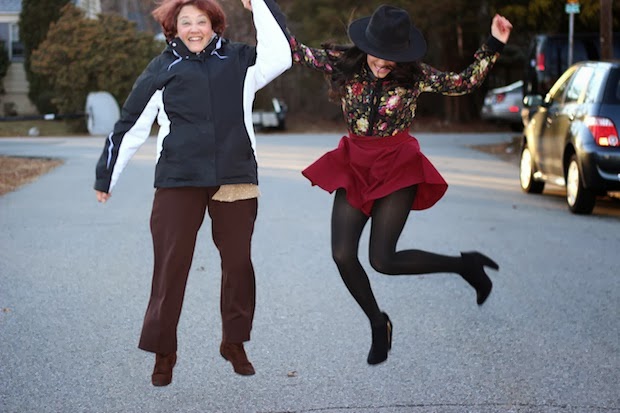 This photo perfectly sums up my Thanksgiving and the relationship that I have with my mother. I will always cherish this photo. The past couple of years have been really rough on us since my father passed, but we are still standing strong and continue to live each moment of our lives to the fullest. I am so blessed to have such an amazing and supportive mother who believes in me and my dreams. She has become my best friend and such a great support system. We laugh together, we cry together and we overcome life's obstacles together.
I am so thankful for my guardian angel who continues to guide me with every step that I take. I truly feel his presence around me and I have never felt so protected. Almost every day for the past few months the number 1106 has appeared in front of me in some way. Besides the fact that it is my birth date, I knew that there had to be another meaning. I finally looked it up and it said "Angel number 1106 is a message from your angels." After reading the entire meaning, I couldn't believe how relevant is was to my life right now. I know my father is still with me every single day.
I have such a loving sister who I have become so close with over the years and for that I am so thankful. I know that I can always count on her to be there for me and I really value the relationship that we have with one another. My family is everything to me. I have some amazing friends who I have been blessed to share so many great memories with and they are such an important part of my life.
I am so thankful to finally be at a place in my life where I am truly happy and doing something that I love. I appreciate every single person who takes the time to read my blog. Whether you love it or not, I still appreciate it. For every opportunity that has crossed my path, I am very grateful. Through the good and the bad, the ups and the downs, I am thankful because it has made me the woman that I am today. Thank you so much to everyone who supports me and continues to show so much love. You make my day, everyday.
Always count your blessings <3