"If you travel far enough, you'll eventually meet yourself"
Every time I travel to a new country, I feel as though I'm meting a different version of myself. Each place has this way of bringing out a new side of me.
One of my favorite parts about traveling alone is being completely open to the unexpected. When it's just you, there's no one else to bounce ideas off of. You're not able to be easily swayed with your decision making. If you want to do something, then you go and do it. It's based solely on your own personal interests and instincts.
I had one more full day left in Italy, which meant that I could hop on one last train to explore another city before going back home or I could chill out in Milan. That spontaneous spark inside of me ignited again. Instead of visiting another city in Italy, I chose to travel to a completely different country – Switzerland! It might seem like that came from left field, but Lugano (the city that I went to) is less than a 2-hour train ride away from Milan. It's also the Italian speaking part of the country. So I figured, why not?!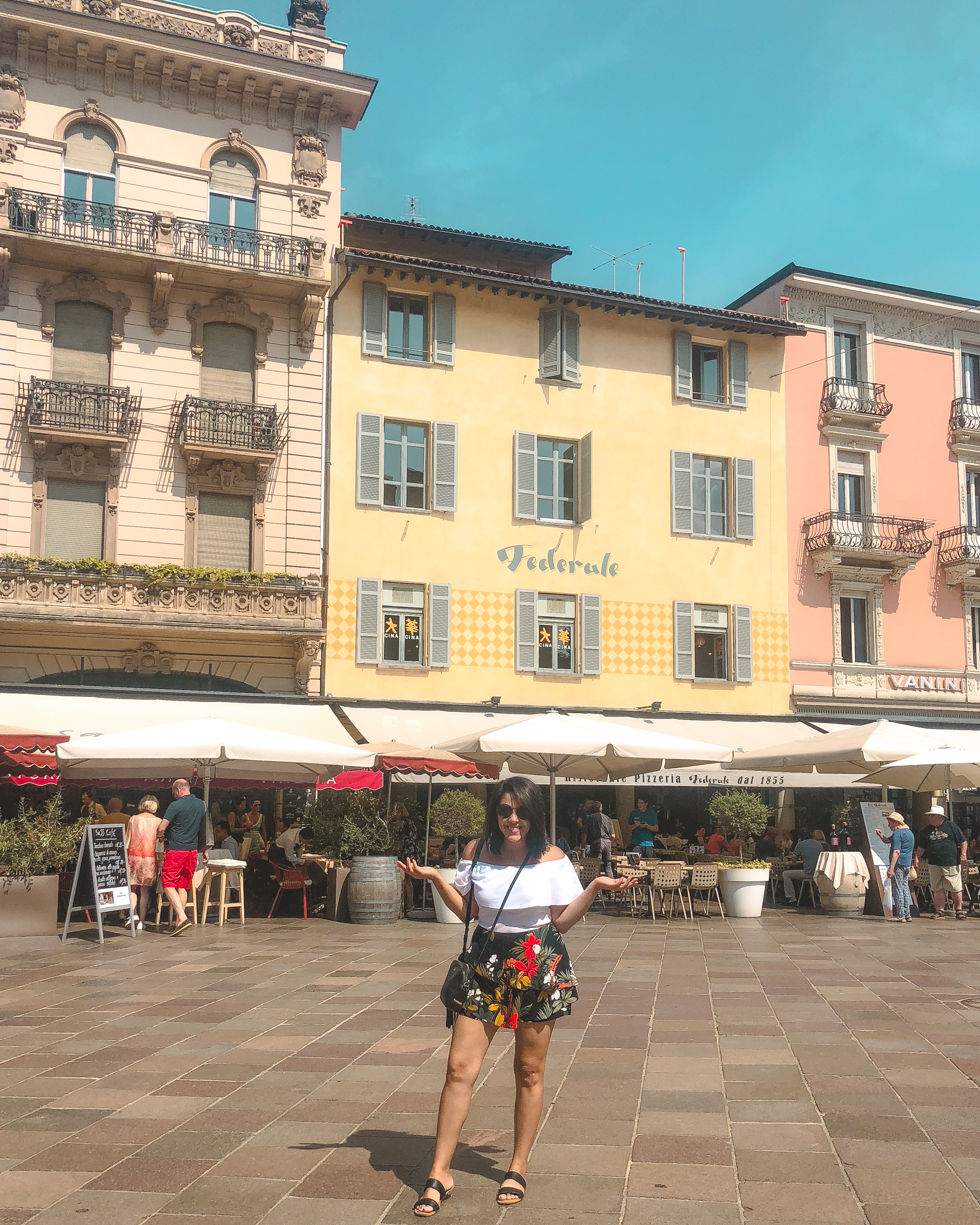 As I did with my other day trips, I booked my train ticket the night before at midnight. It was one of those moments where I didn't want to think about it too much. Besides chatting with a few friends who had visited Lugano before and looking up the main areas to check out, I didn't know much about this city. I had absolutely no idea what to expect. My only plan was to hop off at the train station, find my way down into the town and walk around aimlessly for the day – and that's exactly what I did.
I remember going up the escalator from the train station to step outside into a different country. Directly in front of me was one of the most picturesque mountain and lakeside views that I've ever seen.
Holy crap. I was in Switzerland.
I instantly made friends with an older man who worked at the station. We had a difficult time communicating, but he understood that I needed to use the restroom and didn't have any coins to open up the door. He was so sweet and gave me the money to use the bathroom. He also walked me over to where the ATM machine was so that I could take out my money for the day. I ended up converting it to Swiss Franc, just to be safe, but found out later that most places also took Euro. 
When walking into the town, there were so many shops along the way as you head down the hill and steps. Just when I thought I had made it into the center of the city, I realized that there was still more to go. I absolutely loved going into all of the stores and checking out some of the hand-made items that Switzerland has to offer.
As a heads up, I should tell you that Switzerland is expensive. I was only there for the day and Lugano was the only city that I traveled to, but it was definitely pricey compared to everywhere else I had been. I should have done more research before arriving because I ate my lunch and dinner in the main square, Piazza della Riforma, which is definitely more of a touristy area. It's in the heart of the old center of Lugano – great for people watching. I wish I had known about more local spots to grab a bite though.
In the Piazza della Riforma area you will find a ton of shopping, cafés, restaurants and little outdoor fruit markets. I was able to walk down here directly from the train station, no taxi needed, although there were what felt like hundreds of stairs. Directly across the street from the square is Lake Lugano. It's such a beautiful waterfront promenade. I hung out here for a bit too, walking around and sitting down to soak up the views and my own solitude.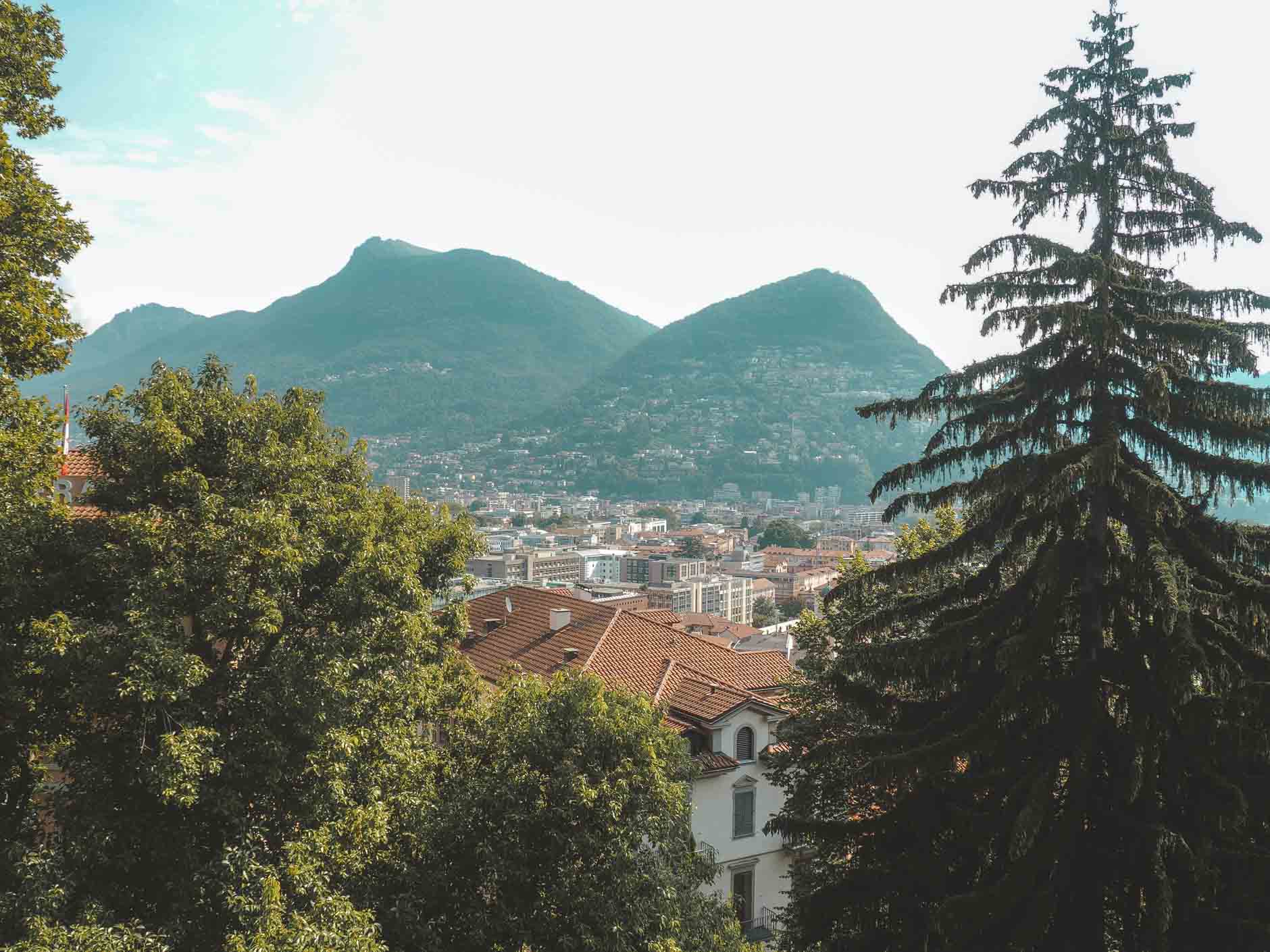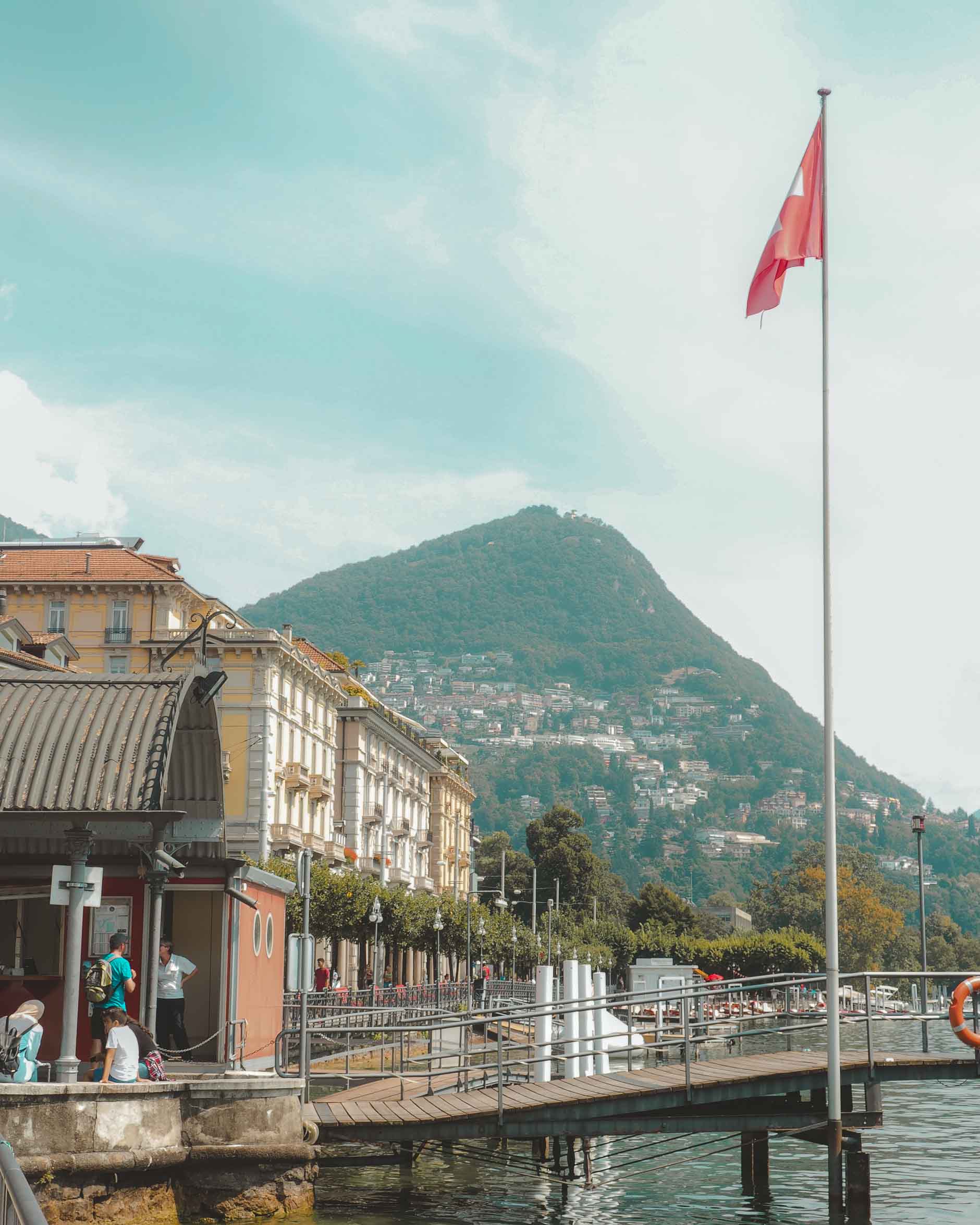 I didn't meet that many people during my time in Lugano, but did manage to have a few friendly faces snap some photos for me. While I didn't do a whole lot during my time here, it was still the perfect ending to my two and a half week solo adventure.
These photos don't even do this beautiful city justice. Most of them were taken from my phone. It was also so sunny outside and difficult for me to capture all of the details, but I hope that it still gives you an idea of what to expect if you ever decided to visit.
A Few Things To Note About Lugano
It's the Italian speaking part of the country.
You do not have to show your passport on the train from Italy to Switzerland. I brought mine just in case though. I was hoping for a stamp!
The train station is up on a hill above the downtown area. You can easily walk to the town center – no taxi needed- unless you have luggage.
Most places in the town's center accept both Euro and Swiss Franc.
The stores typically close around 6:30/7PM.
Plan and budget accordingly – Switzerland can be expensive.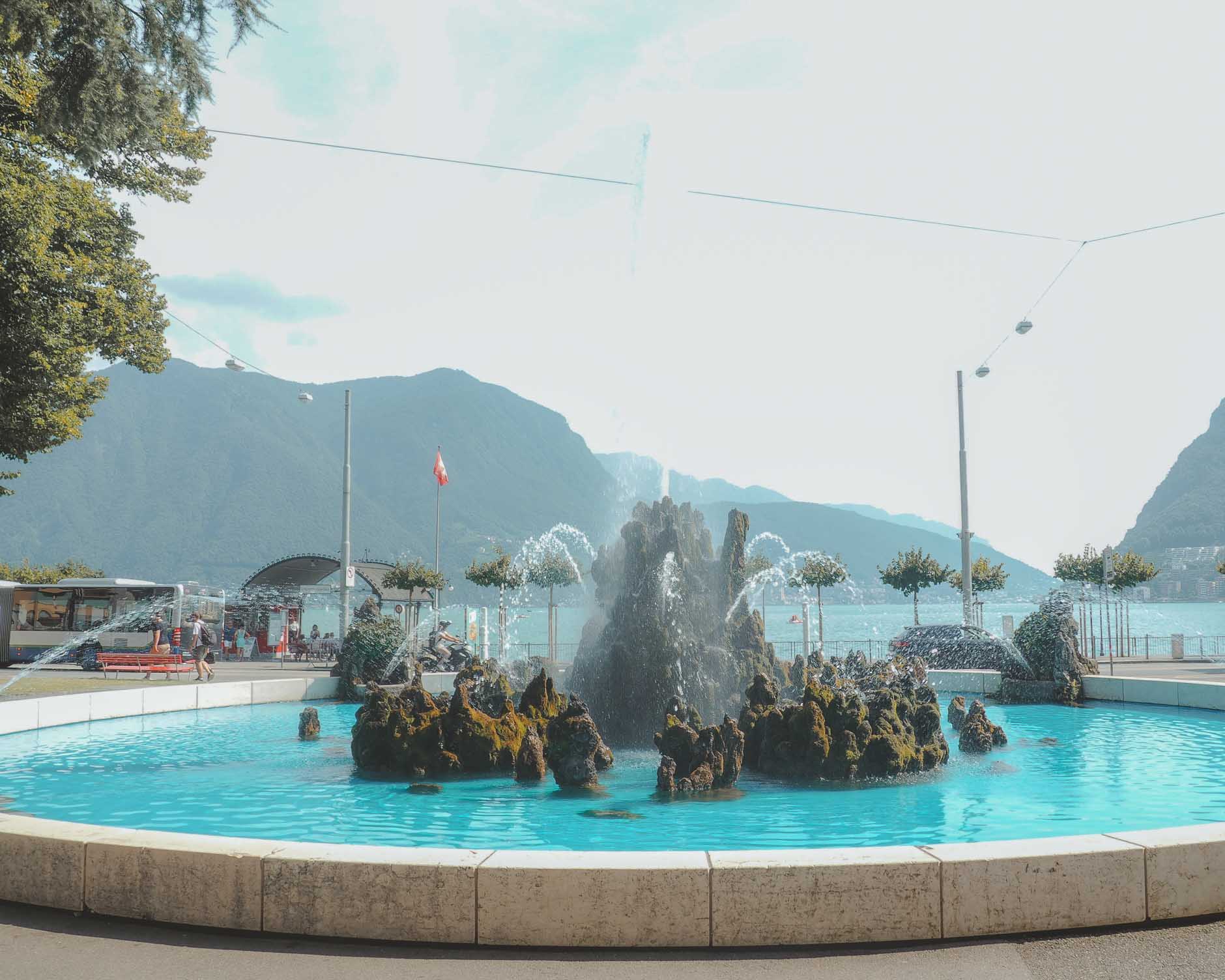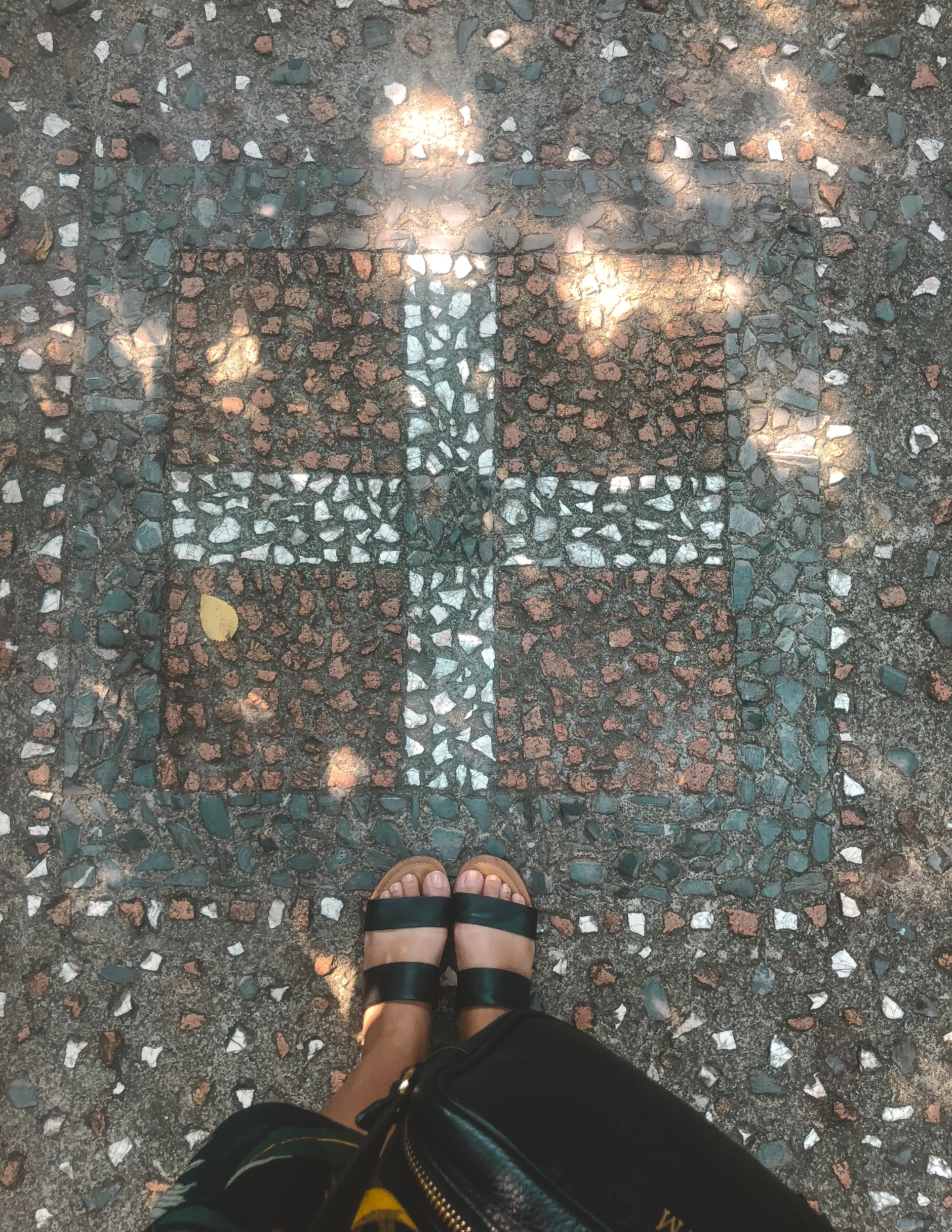 One of the things that solo travel has taught me is that it's ok to not always have a plan. The beauty of traveling on your own is that you can figure things out as you go about your day. While it's good to have at least some basic knowledge of where you're going, you can still have an incredible experience without a detailed itinerary mapping out each hour of your day. I've never been one to rely too heavily on structure. I've always had this free spirited soul that finally came out of it's cage through my solo adventures.
There are always stories to tell when you come back home from your travels, but the ones you get to share from your solo trips are by far the best and most empowering. I can't wait until my nieces get older and I can tell them about that one time I ended up in Switzerland. I have no idea where I'm going next, but it's definitely time to start planning new travels. While there is still a lot that I want to see in Europe, part of me is also ready to experience a completely new continent. Let's see where 2019 takes me!❤️