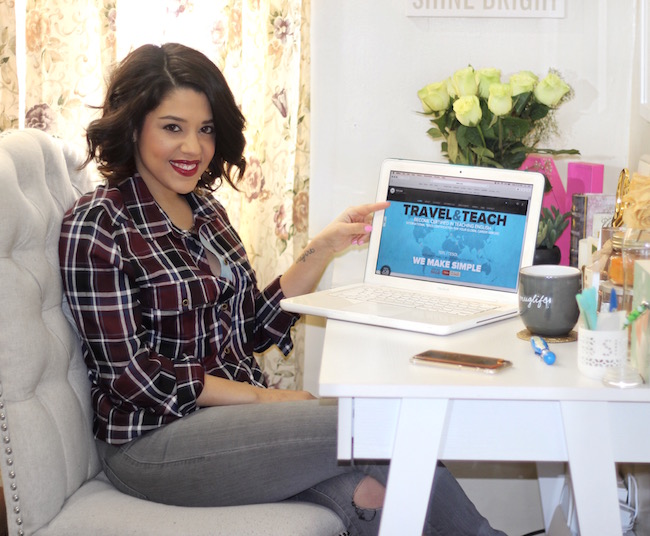 Welcome back to another Travel Tuesday post!
Today's topic is all about getting certified for your TEFL. [Teaching English as a Foreign Language] I got a request for this several weeks back and was really excited about it because I've been wanting to get into more detail.  I know that I have mentioned it a few times in some of my recent Life Chats, but I figured I would break it all down even more.  I want to share the reasons why I decided to embark on this journey, the resources I've used, and basically just how to start so that you can do it too, if you're ever interested!
Let me go back several years for a minute here.  Right before I started the blog, which was almost a full year after my father first passed away, I had that urge to get up and leave to another country.  I went through a phase, about two months, where I was set on being an Au Pair in Spain.  If I had gone through with it, my goal was to live with a family in Spain for several months and in exchange I would take care of their kids and help them learn English.  It seemed like the perfect plan at the time.  I did some research and spoke to a few people about it, but I never followed through.  This was actually the time when I had first started up my blog and I guess this ended up being the "escape" that I needed. My point in reminiscing about this though is that the idea of moving away temporarily has always been in my mind and I guess in some way so has teaching English, it's just been a matter of when and how.
My solo trip to Ireland opened something up within me that I honestly can't put into words.  I guess you can say it was the beginning of a new chapter in my life, which obviously includes more travel.  One of the girls I met on my Cliffs of Moher tour, Dana, was actually a huge inspiration for me to look into getting my TEFL certification. It just made sense to me. I graduated with a minor in English, it was my strongest subject all throughout high school and college, this certification would allow me to teach it to students in another country, and I would be experiencing a new culture in the process.  This is a paid job and while it might not bring you 6 figures, the experience alone is truly incredible.  Each country is different and your monthly salary will reflect on that country's cost of living.  I did some research and some places will even help you with getting a place to live. It definitely varies for each country.  On the site you can check out the Employment tab to get more specifics on each place.  This will tell you what the contract length would be, peak hiring sessions, start up costs and all other general info. Most contracts are for 6, 9 & 12 months and some are renewable if you wanted to extend.  You can also find ones with a shorter term though.  For example, you could teach in Peru for 3 months.  I believe there are some volunteer opportunities as well where you could help out for several weeks and I hope to try that at some point next year.  For me, it really is such an amazing opportunity and in some ways a back-up plan.  I have absolutely no idea where my life will take me. If in 3-5 years from now I am still single with no kids and no real attachments, then it will be the perfect time for me to reevaluate things.  There really would not be anything stopping me from picking up and leaving for several months.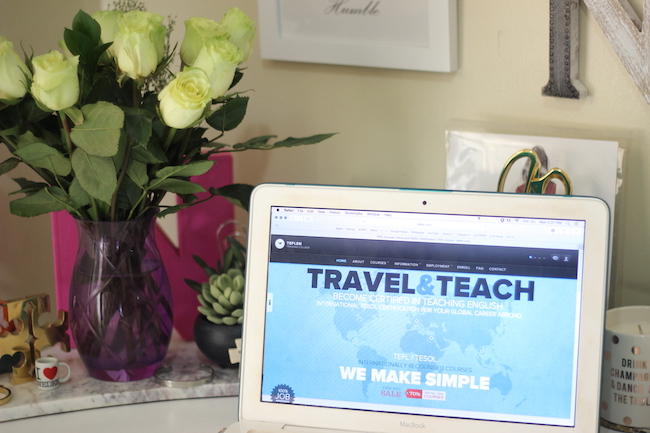 The TEFL course is online and you have one whole year to complete it.  You can take as much time as you need.  I used Teflen Training College, which was referred to me by Dana.  I know that there are other sites, but they had a huge 70% off sale on all of their courses when I enrolled so I saved a few hundred dollars.  In fact, they are having it again right now.  There are 4 different levels that you can take and each has their own description.  I enrolled in their 120 hour advanced course and that is the second highest tier.  I sort of based my decision on the reviews I read on the website, plus the fee and how much time I realistically thought I could spend on an online course. Once I enrolled, I received a welcome letter with my assigned teacher as well as my log in info.  The course is broken down into different modules, mine has 6.  There is a test after each one and you need to pass them all in order to receive your certification.  You get 3 attempts for each test.  Taking notes for each module has definitely helped.  I am currently on module 2, which so far has been a HUGE refresher for me in the grammar department.  There is so much that I have forgotten and it's been great relearning some of these things, especially since it will help make my writing that much stronger.  My lifelong goal has been to write a book and although it's taking me forever, I still plan to bring that dream to life in the near future.
Once you complete your course at the end of the year, you will be able to download your certification directly on the site and send it to potential employers.  You can take a look at the Job Board and see what is currently available.  Just like with any job, there's an application and interview process.  The beauty of this is that it's lifelong, so you will then have the ability to teach English abroad whenever you want in the future.  You might take the course and never actually do anything with it or maybe it's something you decide you want to do instantly.  It really all depends on where you are at in your life and if this is even a doable option.  Either way, its just a great thing to have in your back pocket.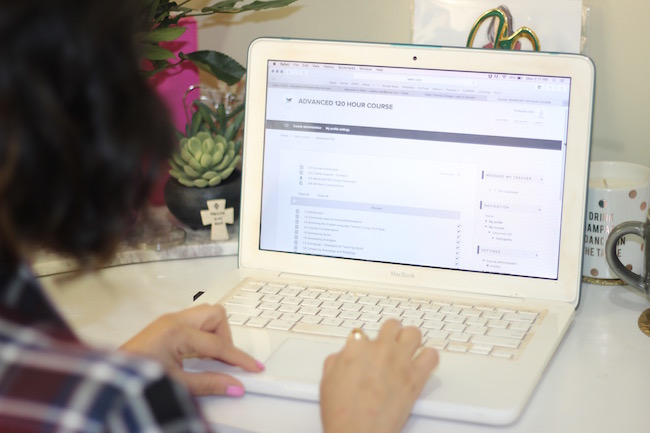 Being "back in school" is sort of a weird feeling for me, especially since I did not give it too much thought.  I saw a new opportunity for my future, it made sense and I just went for it.  I have no set plans for when I will use my certification or where I would want to teach, but I love knowing that I will have this as a definite possibility for my future. The idea of it actually happening makes me a little scared and nervous as most new things do.  I've learned to push past my fears though and instead of allowing them to prevent me from opportunities, I let those fears motivate me instead.  Always remember that life happens at the end of your comfort zone.  I hope that this post gave you some new insight.  If you have any questions on this don't hesitate to ask.  Also, if you have any requests for future topics, let me know! <3