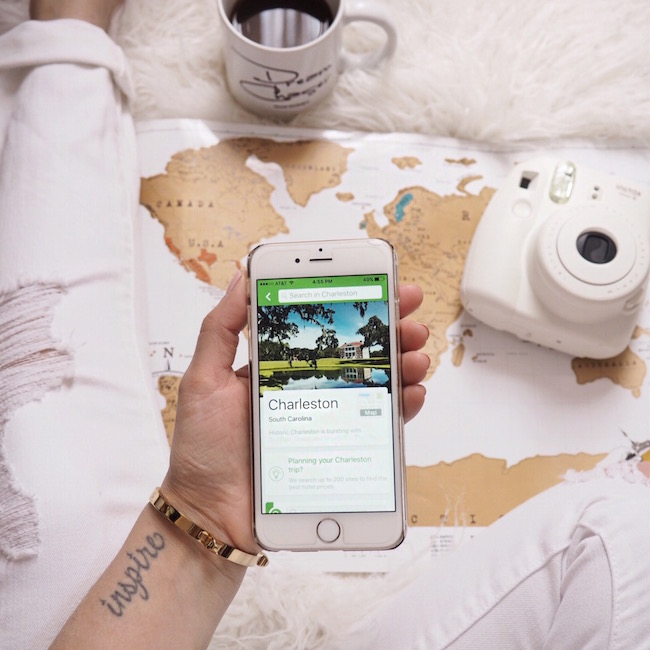 I've been looking forward to today's Travel Tuesday post because I've partnered up with one of my favorite travel sites/apps, TripAdvisor!  I've mentioned them so many times before ever since I went to Ireland, so I was really excited to collaborate with them on my upcoming trip to Charleston!  I'm heading there at the end of next week for a wedding and it's my first time going there.  I've heard so many wonderful things about it, especially their historic downtown.  I want to get into a little background info on my plans for this stay and how TripAdvisor proved to be extremely helpful for me with finding and booking a hotel, plus so much more.
Initially, I was only planning to go to Charleston for two nights so that I could head there for the wedding and come right back.  Destination weddings can be a bit expensive, so I was trying to figure out the most budget friendly ways to make this trip happen.  It was actually cheaper for me to fly out Friday night instead of Saturday and to fly home Monday night instead of the morning.  I also found much cheaper flights if I left out of JKF opposed to Newark, so I booked and decided to do the four full days.  I mean why not, right?  It was the total difference of a few hundred dollars!  Once my flight was secured, the hotel process started. At first, I just did a quick google search and called a few hotels that popped up to get more details.  I ended up finding a good deal and temporarily booked it in case I didn't find something else.  The only problem was that it was closer to the airport than the downtown area and I knew that taking ubers/taxis back and forth a few times each day was going to add up and also be annoying.  In the end, I wouldn't have really saved much anyway.  So because I stress out about everything, I knew that I needed to find something that was much closer.  The main problem was that these hotels were way out of my price range.  I was determined to find something though.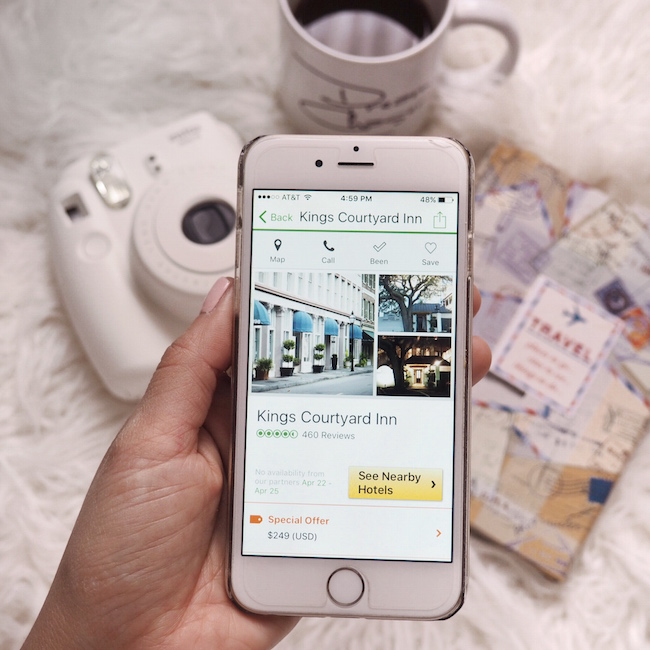 That weekend, I spent several hours on TripAdvisor and searched for all of my options that were within my price range.  It was a little bit of a struggle because most of the budget friendly hotels were still about a 15-20 minute drive each way. For each hotel I read the reviews as I always do because it's helpful for me to get a good idea of other people's experiences.  You will always find negative things written, but I mainly look out for the safety and cleanliness of the hotel.  Those two things are very important to me.  I read a lot of reviews about bed bugs and roaches with pictures to prove it, eek!  I know myself and I just wouldn't have felt comfortable staying at one of those places.  Most of the other hotels in the downtown area were still super expensive for just me, although they were absolutely gorgeous!  I kept searching though and decided to look into their Bed & Breakfast/Inn options.  I came across one that was right in the heart of downtown and it was super historic looking with a poster canopy bed and courtyard.  Not modern at all, but hey when in Charleston.  I read the reviews and majority of them were great.  A few complaints here & there but nothing that would not make me want to stay there.  It was out of my initial budget, but cheaper than the other downtown hotels. Breakfast was included every morning and wine was complimentary every night.  Score!
While I am going for a wedding and know some of the people attending, I do want to venture out a little on my own too and staying at this place seemed like the perfect solo escape.  So I needed to make that decision.  Should I pay more to get the full experience and stay at a place where I am comfortable and close to everything?  I obviously answered that with a YES.  I called the Inn to discuss some things, like getting an early check-in, and she quoted me a rate that was higher than the amount listed on TripAdvisor.  I asked about this and she explained that TA offers special discounts and deals that the hotel itself isn't capable of doing.  I honestly didn't know that!  So I booked my stay directly on the TripAdvisor website.  Now I've used the site before to read reviews and search for hotels, but this was my first time actually booking directly through them.  The process was super quick and I was instantly sent an email with recommendations for things to see and do in Charleston.  The more I use this site, the more I learn about it and all of its benefits.  In addition to using it as a resource for finding a place to stay, you can also find all of the restaurants in that area along with things to do, travel guides, tours, and flights.  Everything has reviews and even forums too.  It's such a great way to plan everything out for your trip as mentioned in my "Planning Your Itinerary" post and since they have an app [free to download] it's perfect for using on-the-go during your travels too!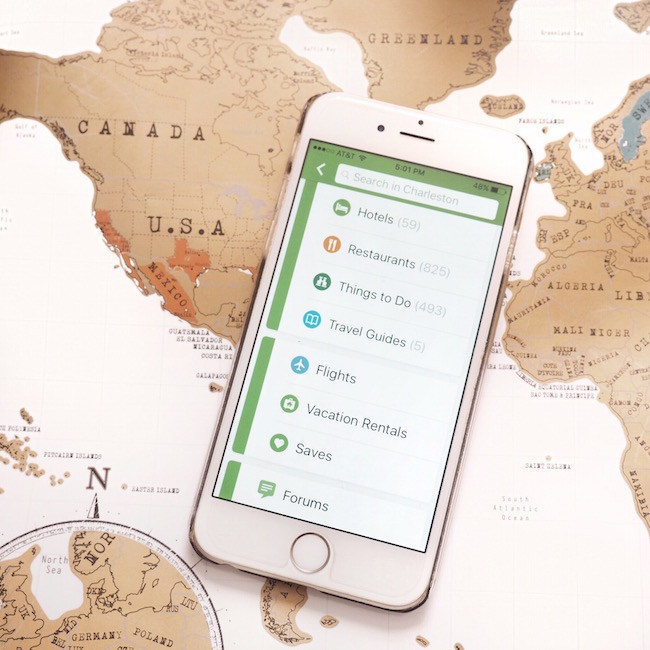 The wedding is on a Sunday, so I will have about two full days to do some exploring and sight seeing during my stay, which I am really looking forward to.  I've been taking some notes from TripAdvisor of the things that I want to see and do in my free time, like Rainbow Row and a few great restaurants.  Can't wait for that Southern food! I didn't realize that you could also book tours through TA and even find out about the walking ones too.  As you can see in the photo above, there are so many different things to choose from. I will of course be sharing these to my social media and in a Charleston recap post on the blog when I get back.  I'm looking forward to another new adventure!
Have you used the TripAdvisor site or app before to plan and book your travels?  If not, I definitely recommend giving it a try.  I would love to know your thoughts.  Thanks so much for checking out today's post. <3
 This post was sponsored by TripAdvisor.  All opinions expressed are my own and this was not edited by any third parties. Thanks for supporting the brands that support A Love Affair With Fashion!