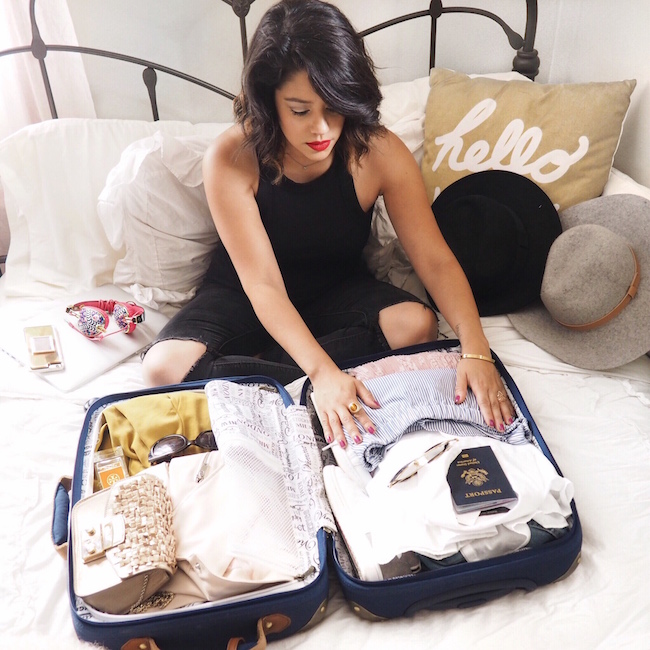 I am leaving in 8 days for Europe and I still feel so very unprepared.  I've never planned an international trip in such a short amount of time before, so I admit that I have been stressing myself out about it just a little bit.  This week is also a hectic one with stuff for work, my niece's baptism and taking care of last minute things before I go. I feel good though and I am so excited for this new solo adventure.  It's coming at the perfect time and definitely something that I need at this moment in my life.  I look forward to sharing the journey with all of you on here and my social media channels.
I must say that booking my trips to London and Paris has probably been the most difficult for me because they have so many different areas to choose from.  I wanted to make sure that I was pretty central to everything so that I could walk most of the time. In London especially it's hard to find a hotel that is central to every place you want to see. It kind of reminds me of New York City in that aspect.  You can always take the tube though and I've been learning that I need to buy an Oyster card for this when I arrive in London.  There's also a hop on/hop off bus which can take you around to all the tourist attractions. I did this in Dublin and it was a great way to get around since my hotel was so far from those places.  Many friends told me they took ubers in London, but truthfully I would prefer to keep my travel costs down by mostly walking or taking the tube.  In Paris, I honestly didn't realize that there were 20 arrondissements, all which are fairly different in their own right.  It honestly took me forever to figure out where to stay and I asked a ton of people for recommendations and also did a ton of research on the areas.  I just wanted to make sure that I chose an arrondissement that would be easy for me to get around to other areas, have many options in walking distance from the hotel and also make me feel safe.  It's been a process narrowing things down for both places, so I wanted to share a little more detail on what I've chosen for each as well as the other things that I have planned.
London 
 The great thing about going to London next week is that my cousin AND my friend will be there two of the days that I am there.  I found out my friend was arriving on the 13th and my cousin the night of the 14th, so that is one of the reasons why I chose to go at the same time.  It's a cool feeling to travel solo, but then also have a few familiar faces to see along the way.  After spending countless hours researching the different sections of London, I ended up choosing South Kensington as my home base.  It's right near Hyde Park and seems to be a good location in terms of me taking the tube or walking.  I looked into a bunch of other areas, but most of the hotels were very expensive. Of course hotels are always expensive when you travel alone because you have no one else to split the costs with.  I found a good deal with Hotel Xenia though, this super cute boutique hotel.  I didn't need to stay anywhere fancy, but I also wanted a hotel that would make me feel both comfortable and safe.  When traveling, I actually prefer the boutique hotels because they're usually smaller, cozier and give me a better feel for the place I am in rather than a big chain hotel.
So far I've booked a ticket for the London Eye, which I am so anxious for.  I did it through Viator and a glass of champagne was added in, so it will be fun to toast while seeing all the amazing London views.  My cousin and his friend will be going on with me too.  I scheduled afternoon tea at Sketch, which I heard is a must when in London.  It is actually one of the most instagrammed places because of their super cool bathroom that has egg shaped toilets.  Pretty sure I will take a selfie in there. lol I'm not sure yet if I am booking any other tours, although I would love to if I find a good deal.  There's a ton of attractions that I want to see while I am there, like the London Bridge, Westminster Abbey, Buckingham Palace, Shakespeares Globe, Big Ben and some museums to name a few.  I've still got to make somewhat of an itinerary, but I also don't want to overwhelm myself and feel like I have to stick to this strict schedule.  As long as I have a pretty good idea of where things are then I will be fine.  I'm also looking forward to checking out some pubs and of course, the food!  I fell in love with the idea of going to London years ago when I read several books based there by the author Jane Green. Then of course seeing movies that were filmed there made fall in love with it even more. This is definitely going to be a pinch me moment.
Paris 
Paris is one of those cities that I've never been to before, but am in love with already.  I just know that when I am there it's going to feel so surreal.  I spoke with a lot of people about the different arrondissements and did some searching online as well.  Initially I was looking into a place to stay in the 4th or the 6th.  I was contemplating AirBnb because I thought that staying in a Parisian apartment would truly give me the full Paris experience.  Since I am going for the first time and alone, I decided that maybe a hotel would be best for me this time.  So after searching a ton of different hotels, I came across one in the 8th called La Trémoille that I loved. It has those balcony views that I always dreamed about. On a whim I reached out to them to see if we could collaborate during my stay and we were able to set something up that worked for the both of us. I will actually be taking over their Instagram account while I am there!  I've worked with hotels before, but I didn't reach out to any during my trips to Ireland or Stockholm, so it's really cool to collaborate with one in Paris. The hotel is right near the Champs-Elysées and Arc de Triomphe.  Hopefully I won't get tempted to do too much shopping!  I am also a 10-15 minute walk to the Eiffel Tower and I think that I can even see it from the street of my hotel.
 I haven't booked any tours for Paris yet, but there is so much that I want to see and do.  I would love to go to Versailles.  The tour ticket is kind of expensive, so I haven't decided on this yet. I would probably regret it if I didn't go though. Some other places that I want to see are The Lourve, Palais Royal, Panthéon, Trocadero Gardens, Pont Neuf, and a ton of others.  I heard that I should probably get a museum pass, which I am going to look into while I am there.  I will be mostly walking and taking the metro there as well.  I get a little nervous for Paris because they're known for pickpocketing and there's also a language barrier.  I'm just going to be super cautious as always though.  I've also been learning some basic French words via an app on my phone.  People told me it's best to be able to say at least a few words because they appreciate it.  I can't wait to hit up some cafés, eat baguette and gelato, sit outside at a cute restaurant drinking wine and just literally soak everything in. It's not even going to feel like real life. I have a few people from Instagram and Snapchat that I am going to meet while I am there and I can't wait!  My friend will also be in Paris the first day that I arrive, so it would be fun to go out to dinner.
 Even though I've booked things for this trip so last minute, it's actually something that I have been saving up for awhile.  It's not going to be cheap, especially since both places are expensive, but I do think it will be worth it.  The experience will stay with me forever.  I've had a few people ask me if I am scared about this solo trip.  It's definitely going to be very different than Ireland and of course I am a little nervous, but more than anything I am excited and I have the mentality that I can do it.  Traveling solo isn't always easy or glamorous, but that's ok.  I am up for the challenge! If you have any recommendations for London and Paris, please let me know.  I would love some restaurant and café suggestions. 🙂