When the cold temps start to hit, I think we tend to gravitate towards all black looks and darker neutrals. I admit that I am totally guilty of doing this from time to time. It doesn't have to be that way though as there are so many fun and unexpected color combos and prints that we can wear during the colder months. I'm excited to have partnered with Unilever and Who What Wear to show you some of the ways that I wake up my style and skin for the fall season!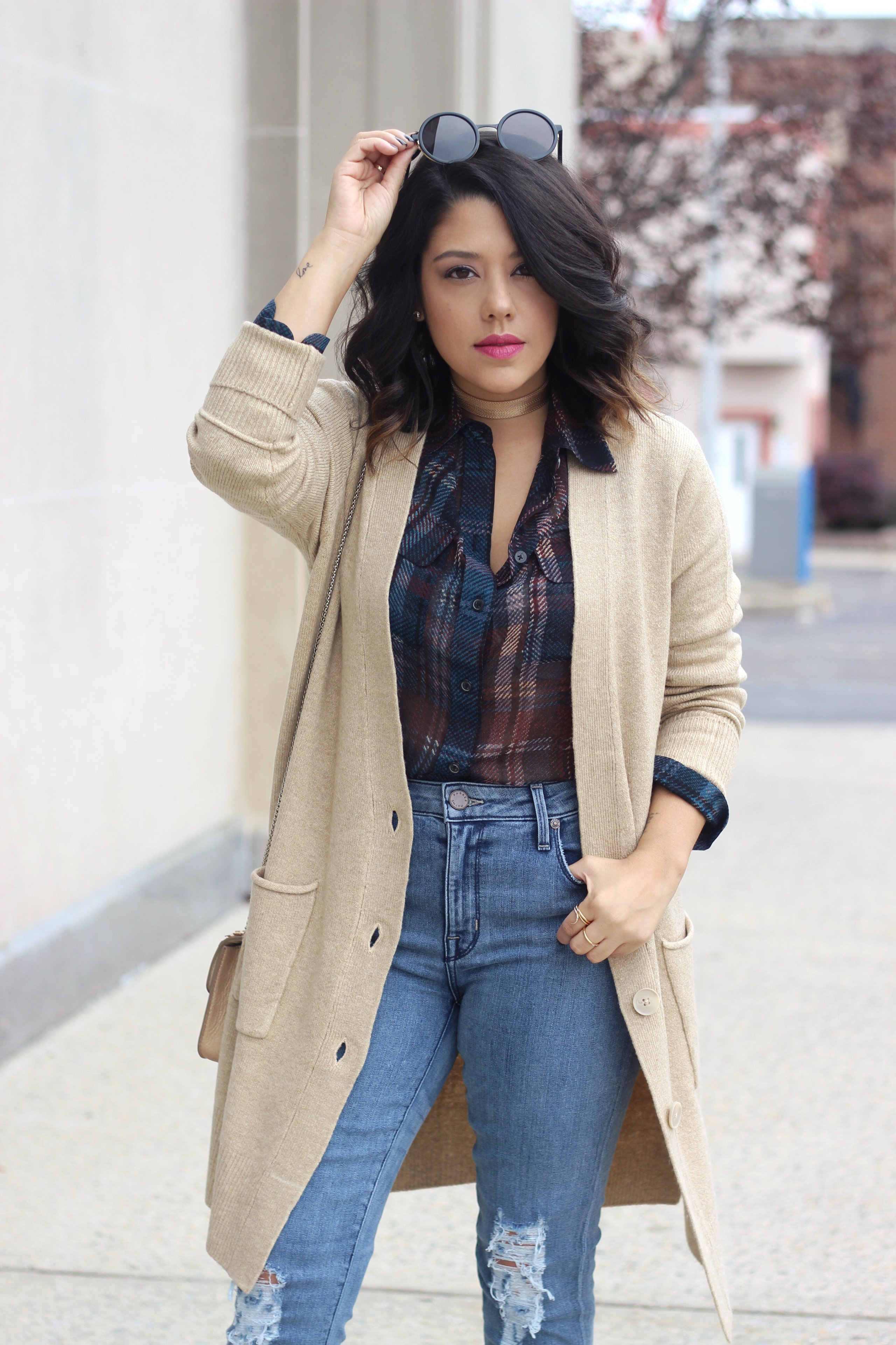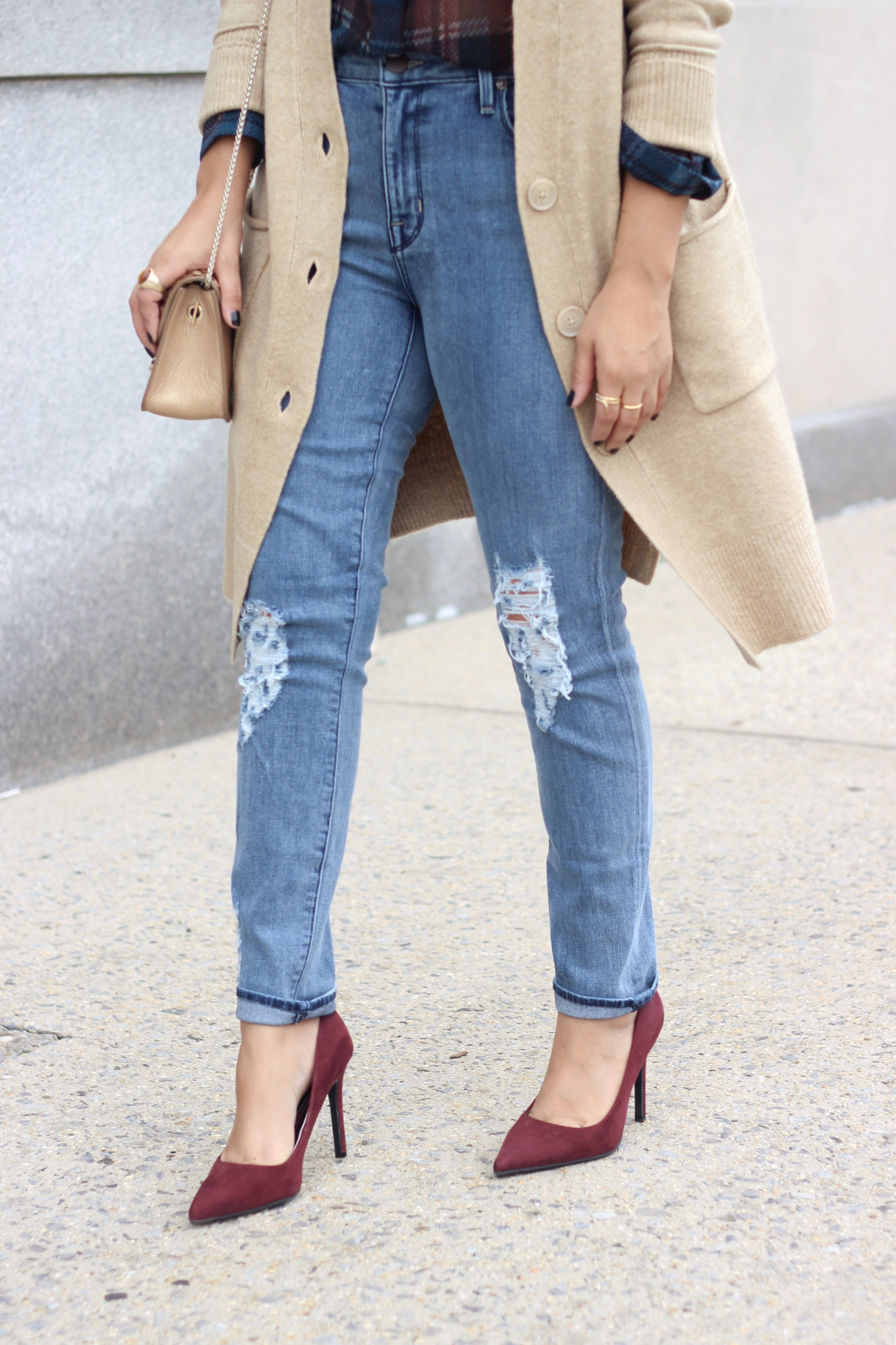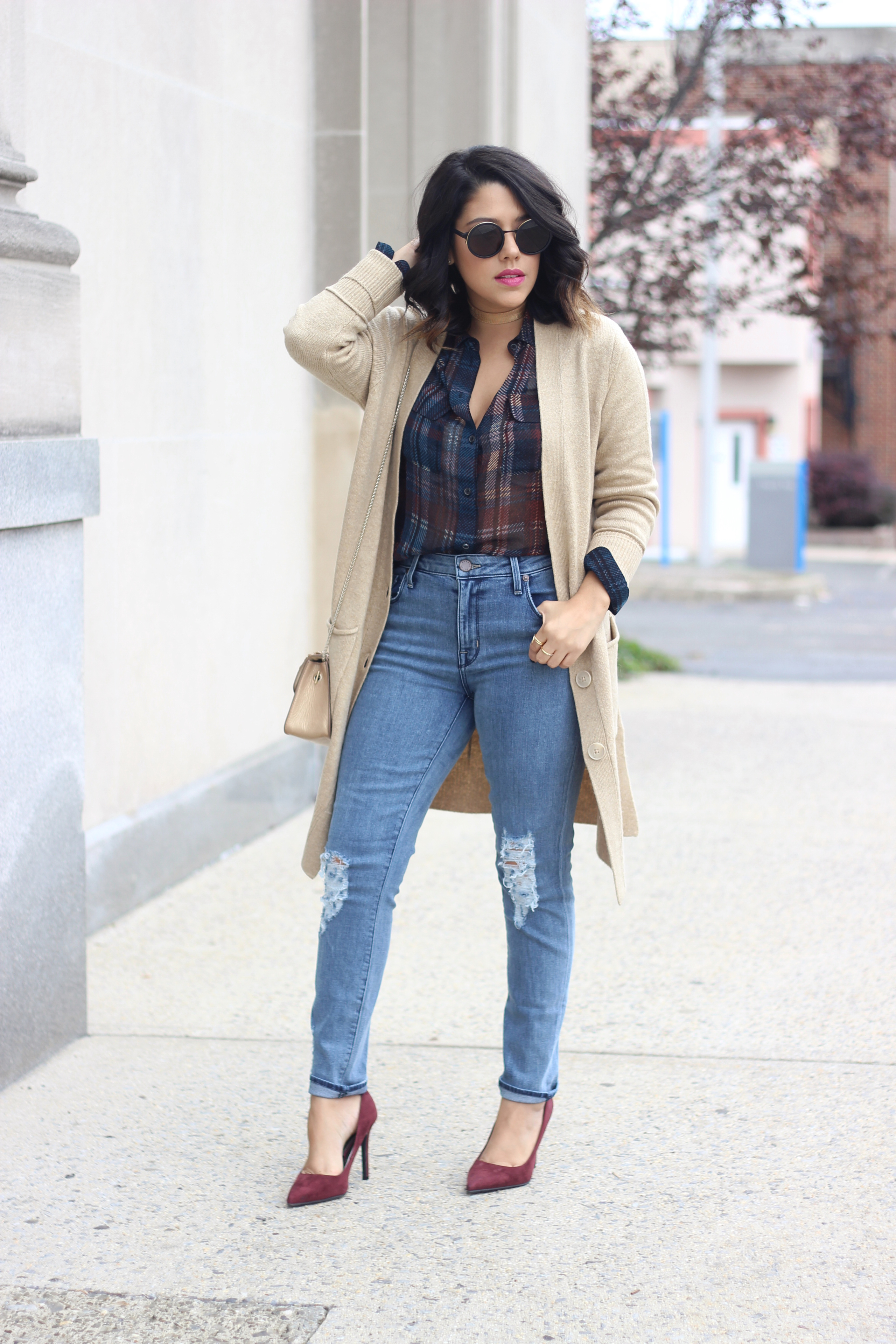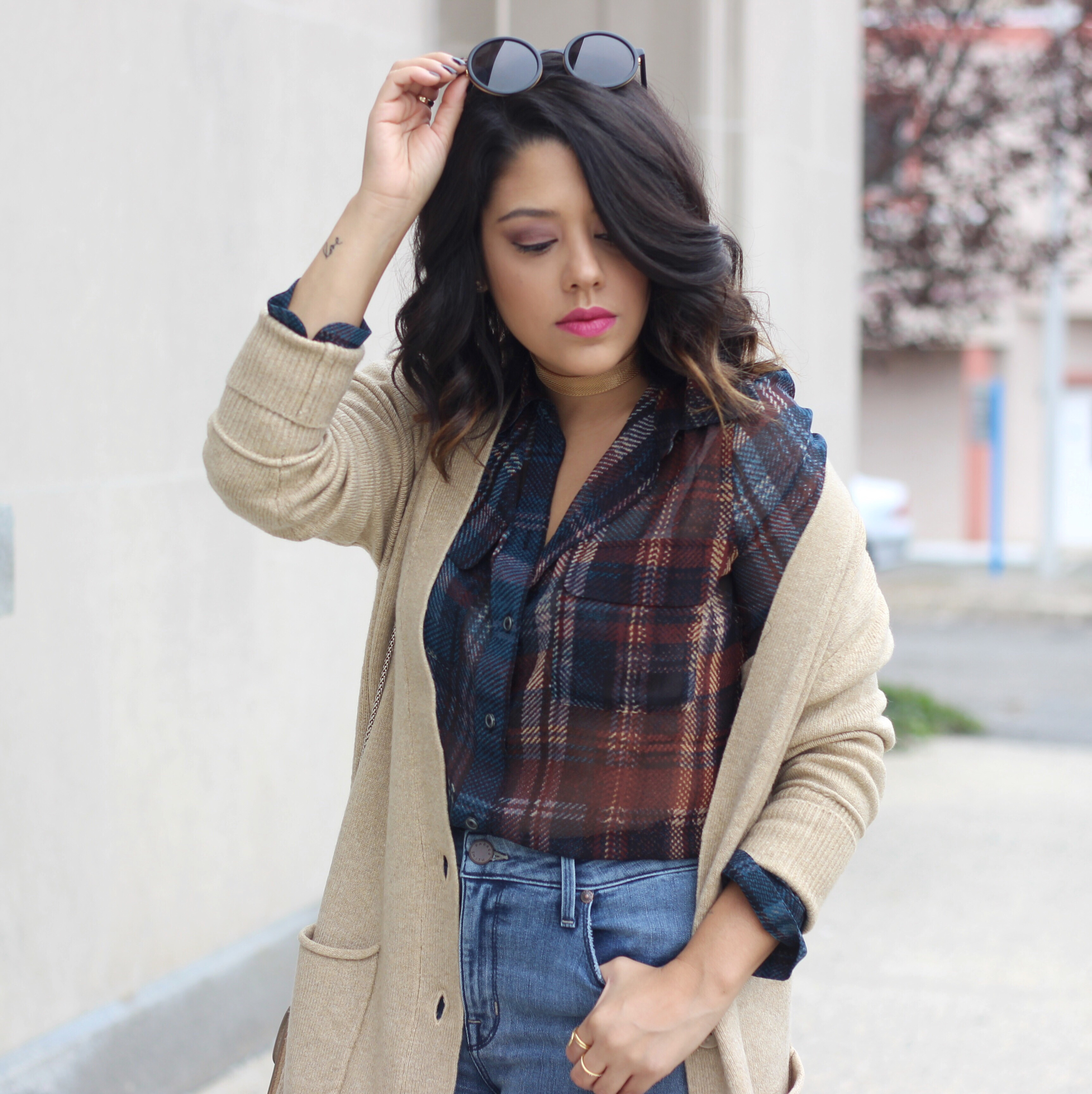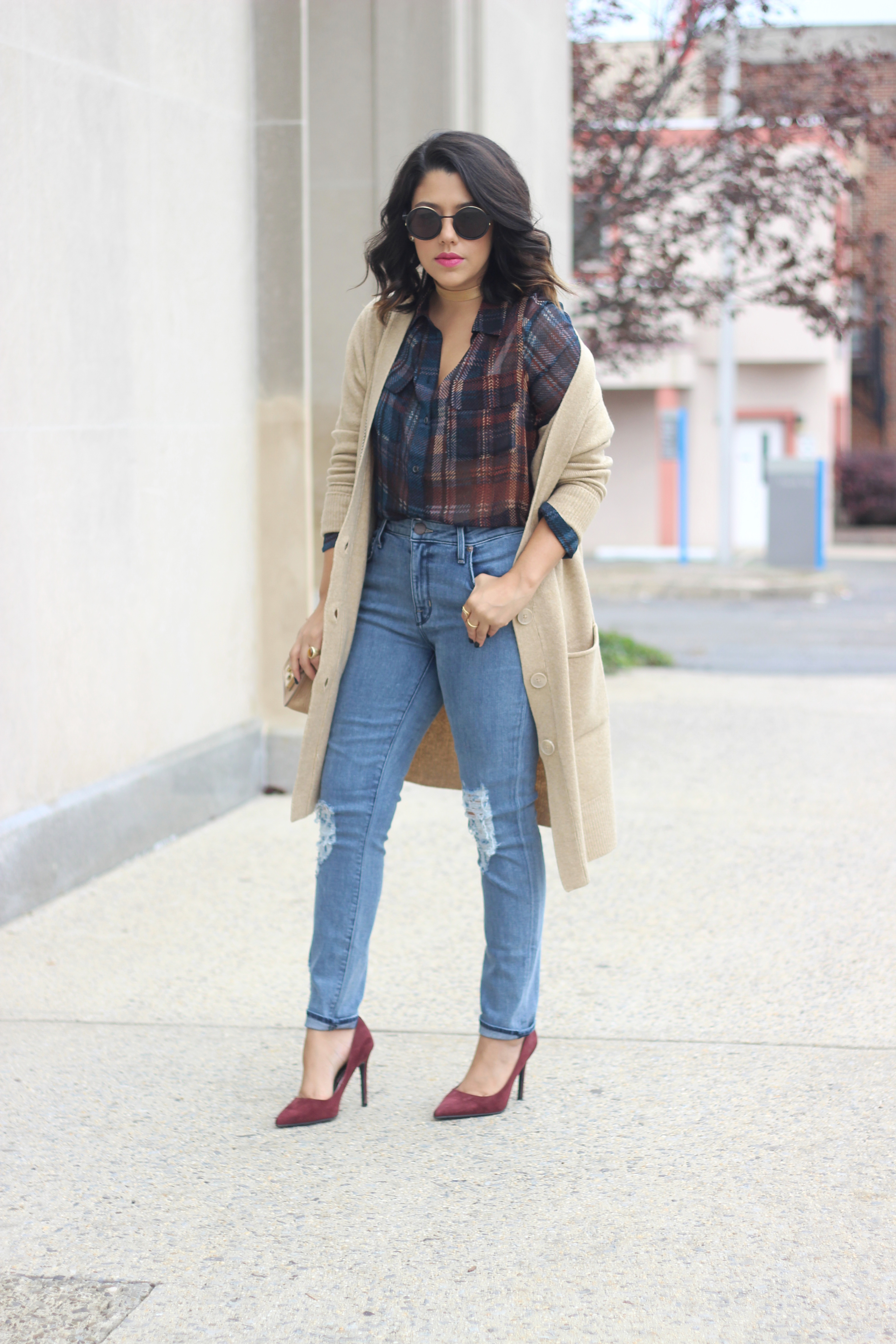 Look 1 Details: Who What Wear x Target Cardigan & Button Down
Parker Smith Jeans | Target Shoes | Furla Bag 
I created two different looks with a few pieces that I picked out from the Who What Wear and Target collection. For the first look, I immediately fell in love with this oversized
cardigan and plaid button down and thought that pairing them together would be a bit
unexpected. I am all about plaid print this time of year and this sheer top is a fresh take on the current trend. I especially loved the hints of burgundy/dark brown and blue. I decided to style both of these pieces with a pair of distressed denim and burgundy pumps. I personally love the tan and burgundy color combo and adding in the blue tones was an extra bonus! A color scheme like this one is such a fun way to brighten up your fall outfits. I also think that tan and burgundy should be the new go-to color combo for the season instead of the typical black and grey. Does anyone else agree?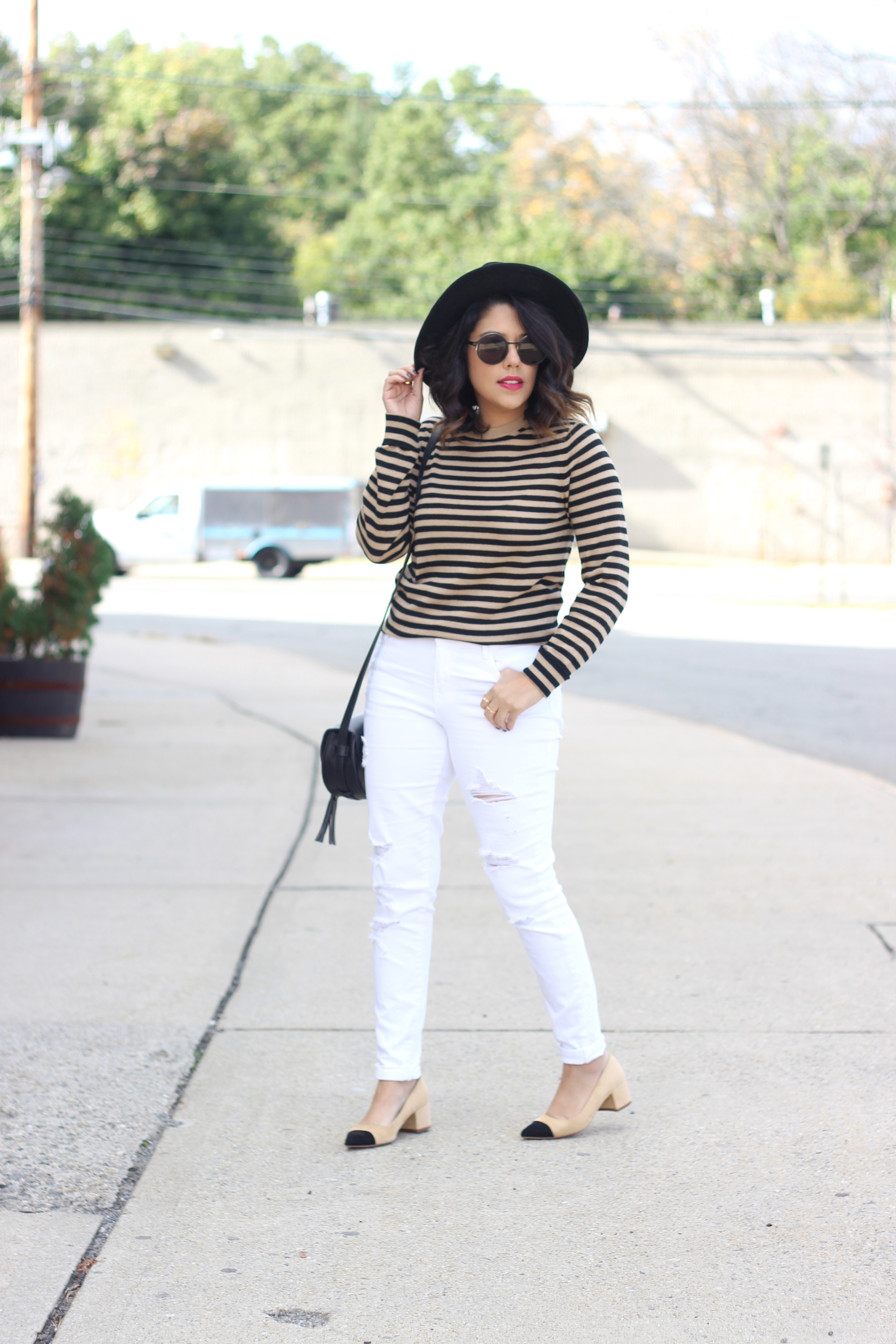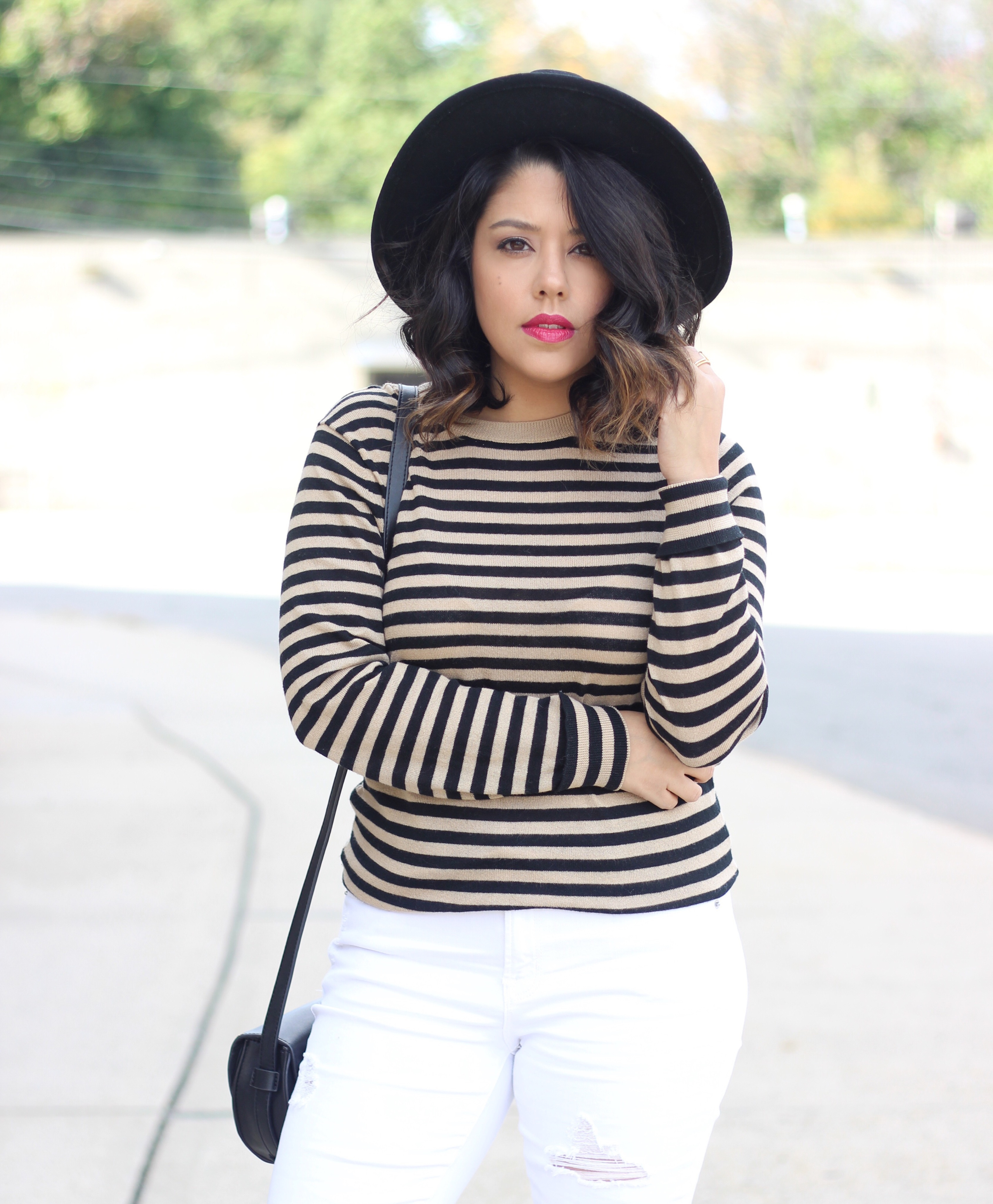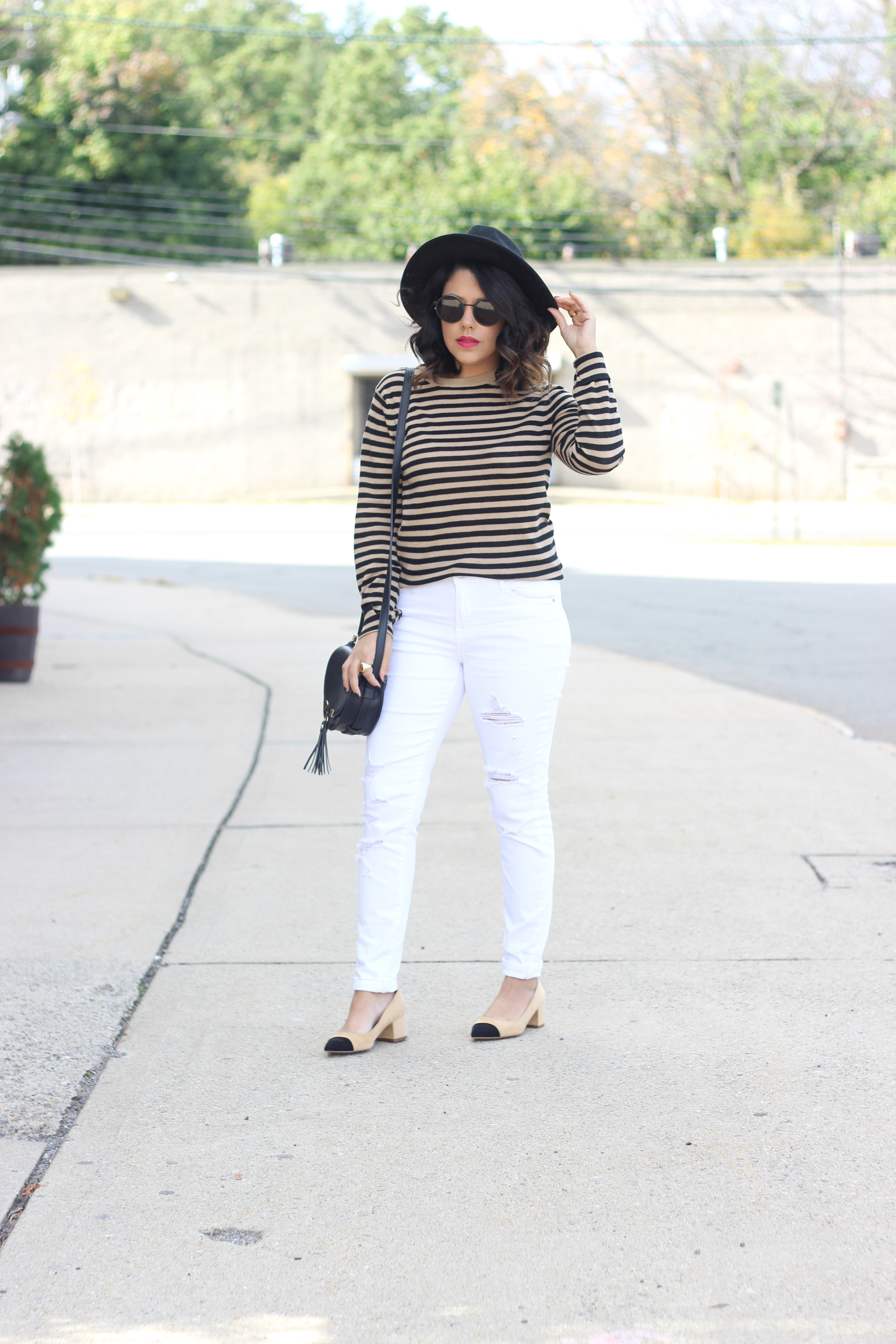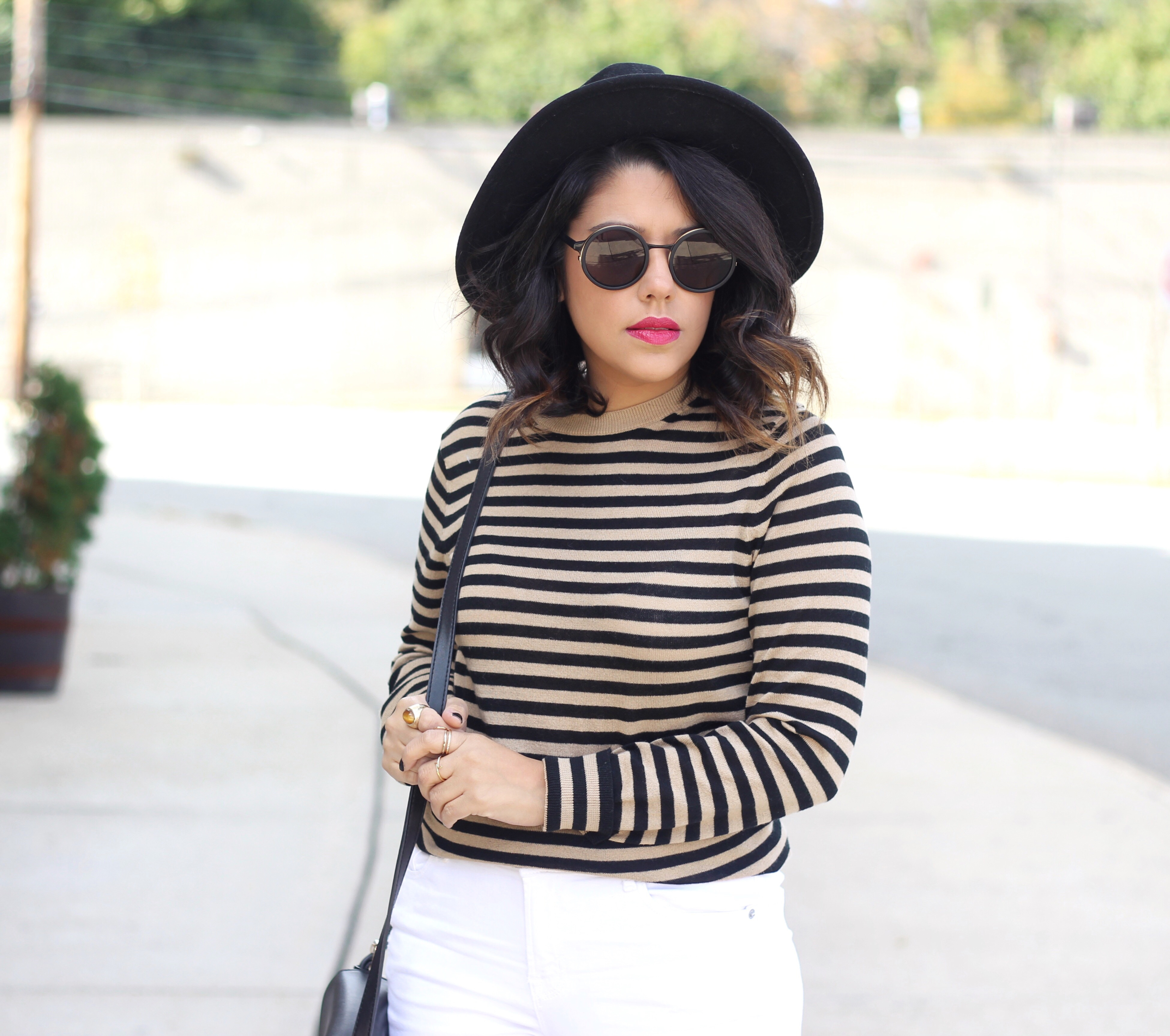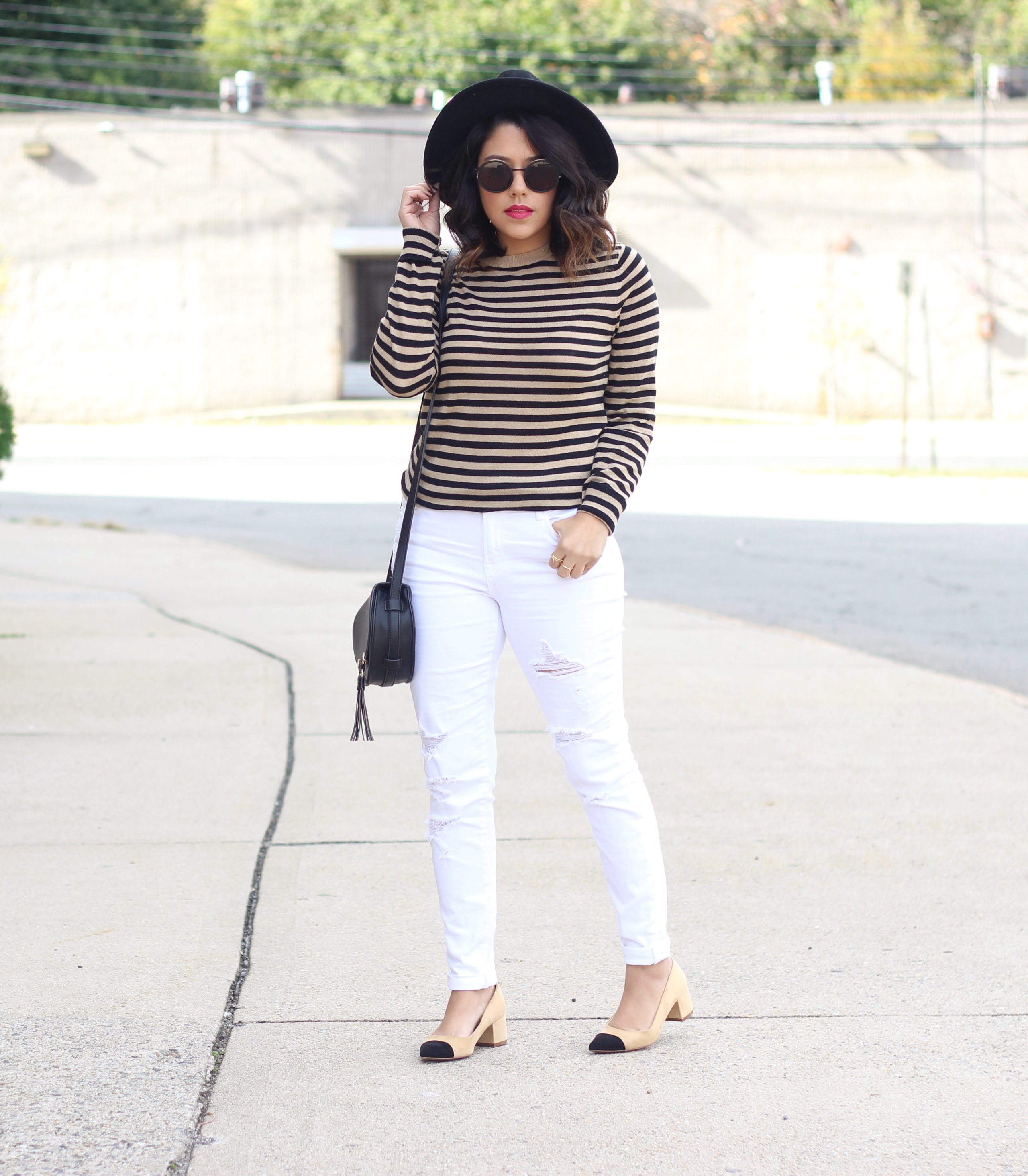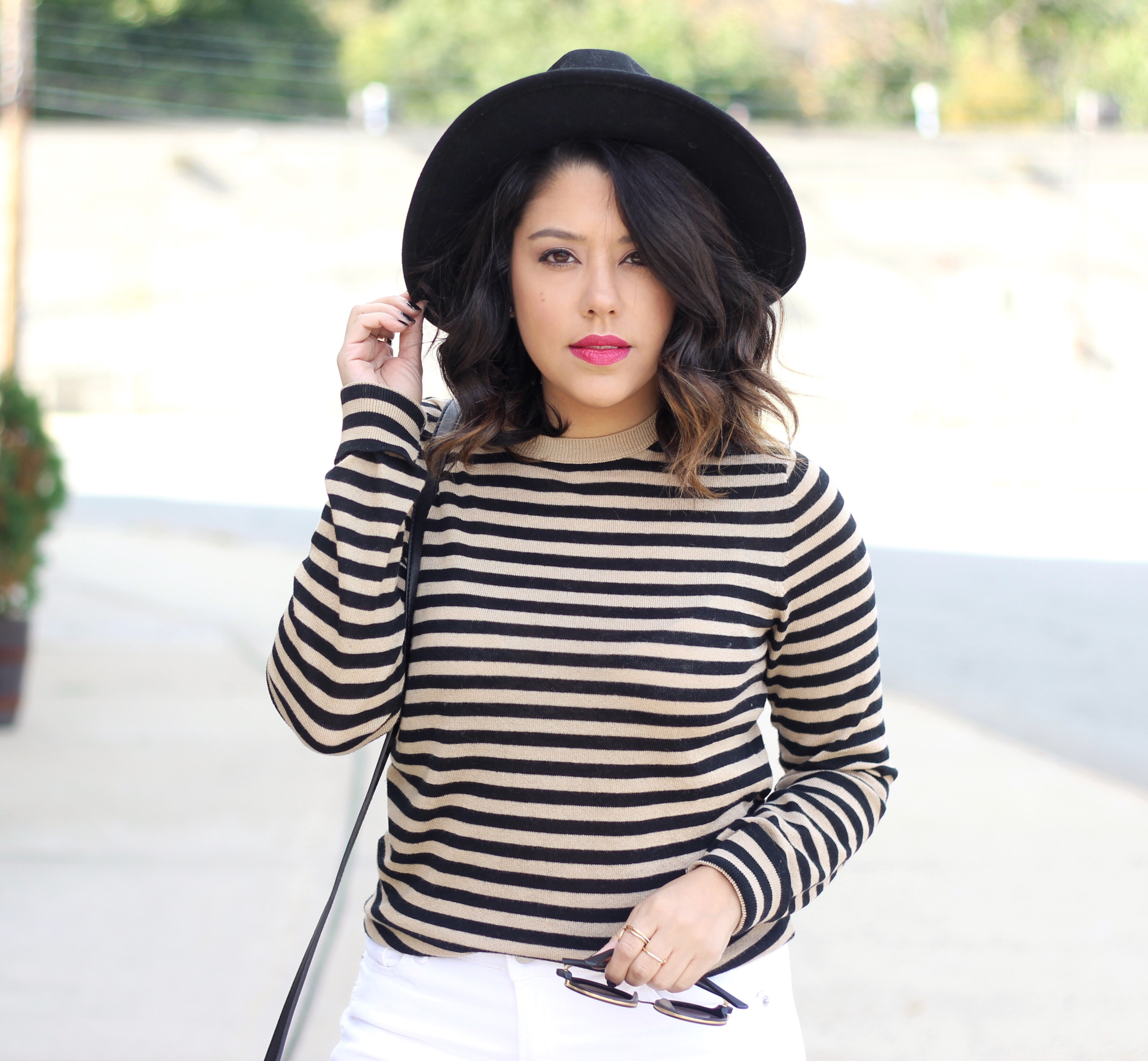 Look 2 Details: Who What Wear x Target Sweater | Old Navy Jeans
Zara Shoes [similar] | H&M Hat
If you choose to wear neutrals during the colder months, I think you should mix it up in a way so that it doesn't feel boring. That was my goal with this second look. I picked out the tan and black striped sweater purposely for two reasons. One, I don't wear enough striped print and two, my immediate instinct was to pair the sweater with all black. I really wanted to challenge myself to come up with something different. I decided to style it with white denim and instead of going with the typical black shoe, I went for my tan and black cap toe block heels. If I wore this with all black it would feel very obvious, so styling it this way makes it more unexpected! I think the most important part about fashion and finding your personal style is just to have fun with it and try new things. Let it flow and don't overthink it and most importantly, don't be afraid to challenge yourself from time to time, even if it's in the smallest way.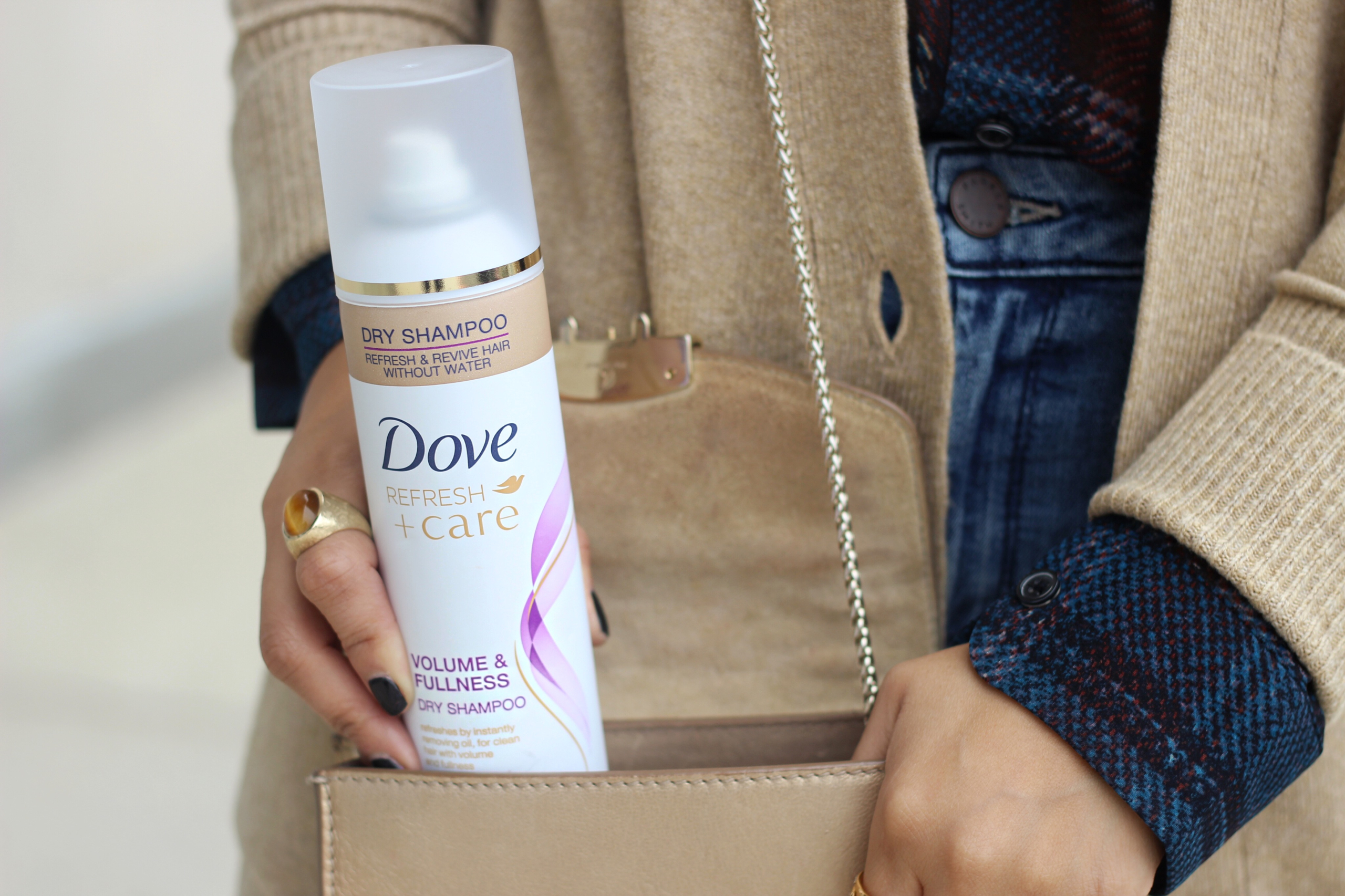 Now that my hair is growing out, I've been all about doing loose curls and waves. I love
having that extra volume and texture. I always feel so much more fierce and confident when I style my hair this way. Now that the cold temps are coming in, it makes me want to wash my hair less often. I have such an on-the-go lifestyle, which is why I love using
Dove Refresh Dry Shampoo for quick touch-ups in between washes. It's so easy to throw it in your bag too in case you might need it while you're out. This one gives volume and
fullness, which is essential for me. I am all about that extra volume, especially during the fall and winter because my hair tends to get flat very easily from the cold. Dove Refresh Dry Shampoo is a great way to stay on top of this.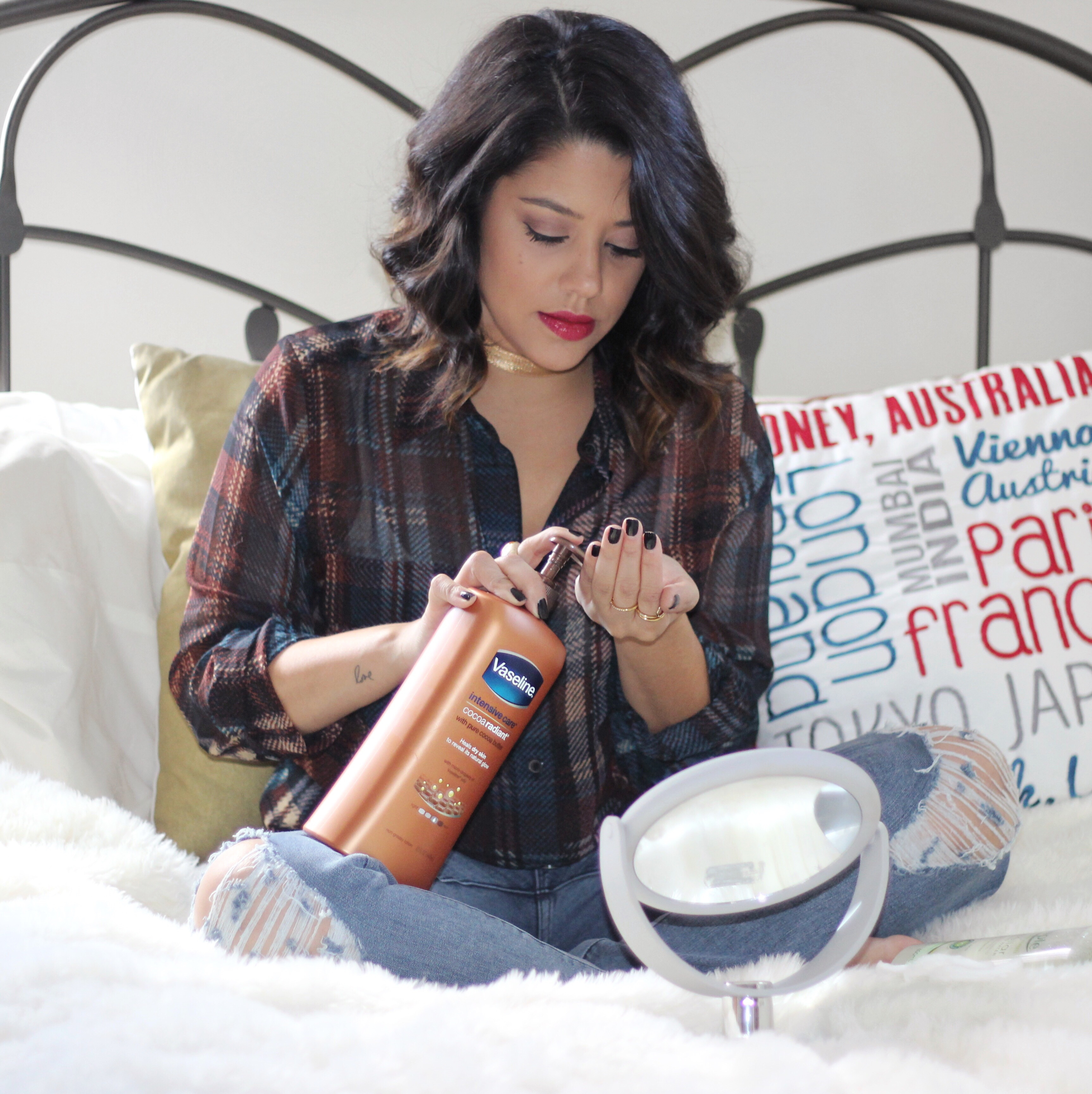 Waking up your style is important, but so is taking care of your skin. I personally suffer from chronic dry skin patches, especially on my legs, arms and hands. It gets worse during the fall and winter. The only way for me to fight this is to constantly moisturize with the right products, which is why I love using Vaseline Intensive Care Cocoa Radiant. It makes a huge difference! I've gotten into the habit of using it every morning and every night before bed. It takes away that dry dullness and gives my skin back it's natural glow. We can
sometimes get into the habit of forgetting to moisturize our bodies during this time of year
because we aren't showing our legs and arms as much. I am totally guilty of this. The cold weather can be so harsh on our skin though, so now more than ever we need to stay on top of this!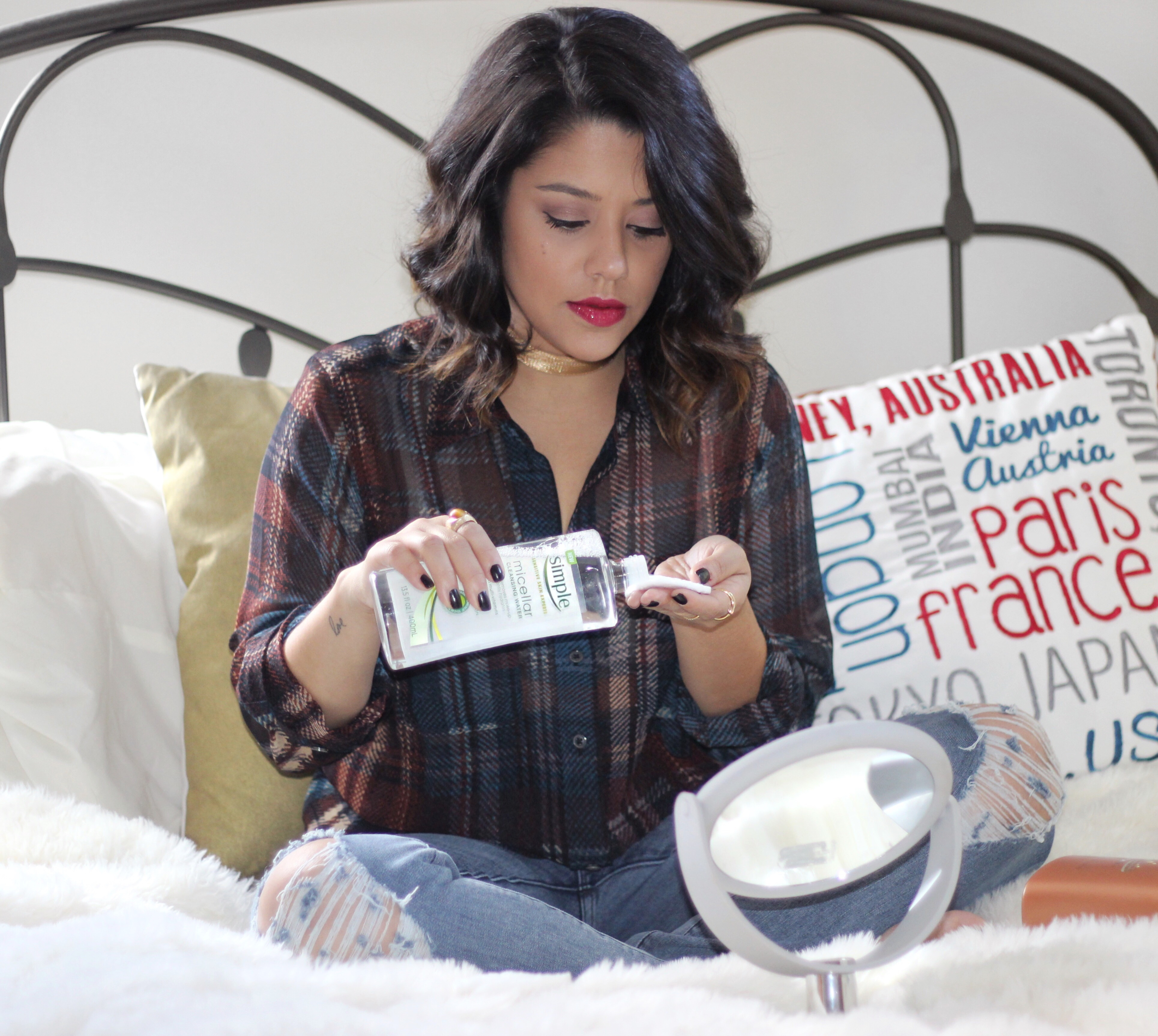 It's also essential for us to take proper care of our faces. I've been using Simple Micellar Cleansing Water for a long time now and it's one of my beauty go-tos for removing makeup and cleansing. It instantly makes my skin feel hydrated and refreshed. The best part is that you don't have to rinse anything off after, you just apply the micellar water with a cotton round and your makeup comes right off. I sometimes even use this after showering in the morning for an extra cleanse and to make sure my face is completely clean and fresh. I drink a lot of coffee and not enough water so because of this it totally dehydrates my skin, which is why I've made sure to incorporate this into my beauty routine!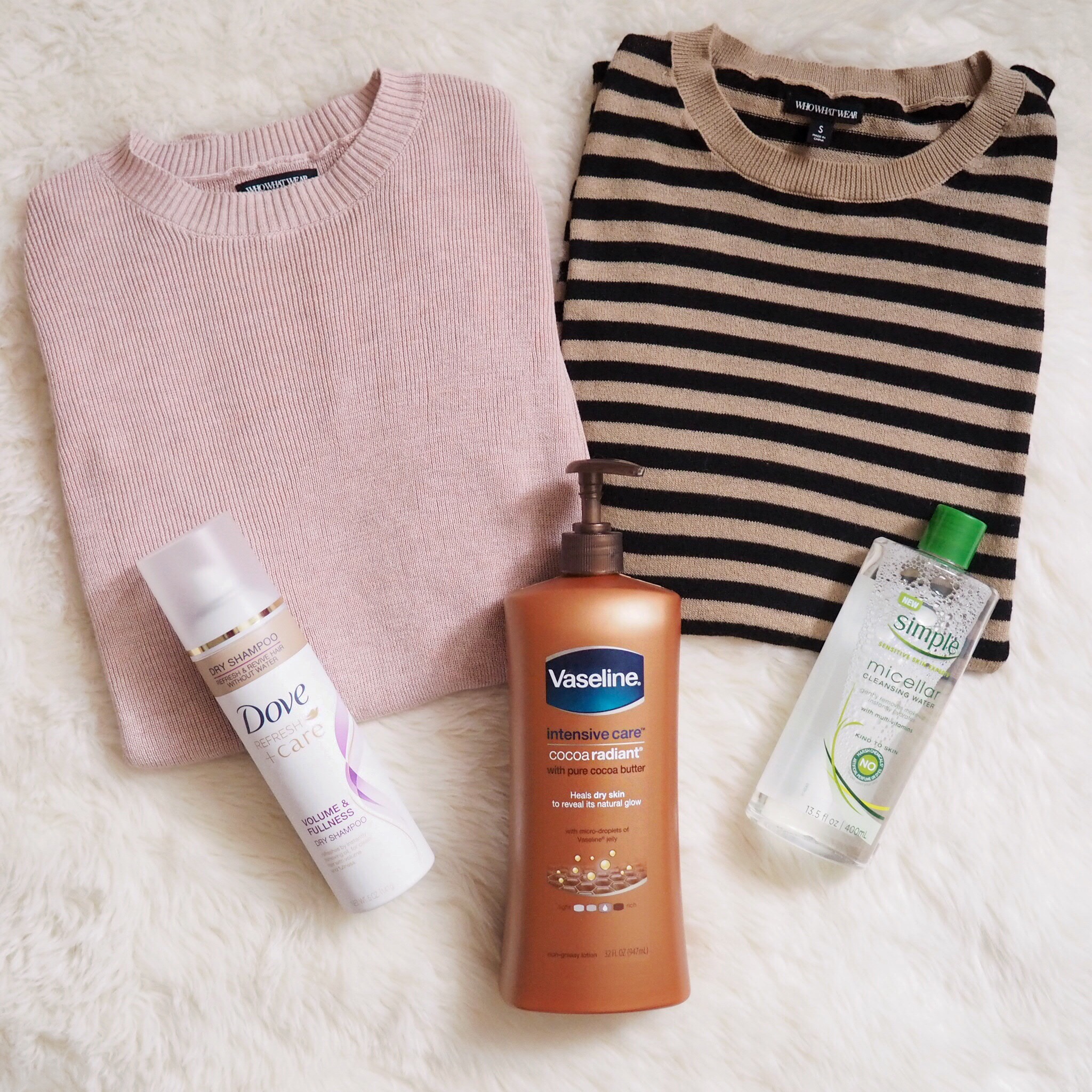 Hope you enjoyed today's post! What are some of the ways that you plan to wake up your style and skin for fall? Check out more of my collab with Who What Wear here!
-Shop The Post-

 Disclosure: This post was sponsored by Unilever and Who What Wear. As always, all opinions expressed are my own.