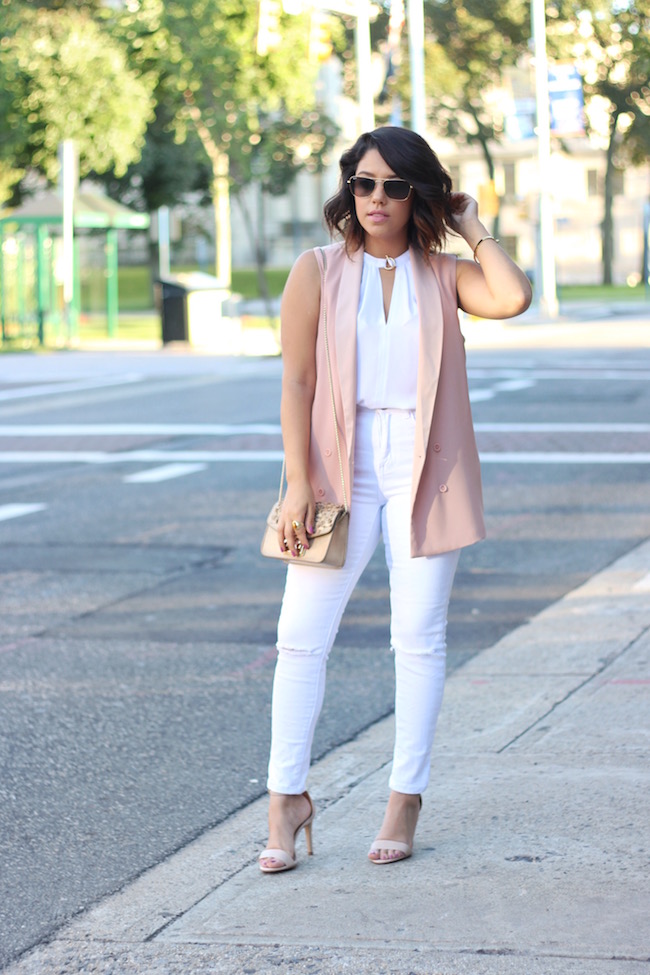 Happy Summer!  Can you believe it's already here?  I can't lie, part of me feels as though it's already passing by so quickly and it literally just began.  Here's hoping that time this season can slow down at least just a little.
What I'm Wearing
Vest: TopShop | Jeans: Cotton On [similar] | Top: Dynamite [similar with short sleeves]
Bag: Furla | Shoes: Aldo [similar] | Sunglasses: Ray-Ban
Before I get into this post I wanted to say two things.  First, thank you so much to everyone who sent me such beautiful messages on my Father's Day post whether on here or via social media.  It's never easy writing things like that about my father, but it has seriously been therapeutic.  I always appreciate your support.  Second, in case you missed the announcement on my Instagram, I have officially booked my trip to London & Paris next month!  You guys know I've wanted to do this for quite some time now and I can't believe it's actually going to happen.  I waited so last minute to book my flight and now I have a TON of planning to do.  It's been hard finding hotels in both places because there are so many different areas to choose from.  Hoping to have most of this sorted out by week's end.  Any recommendations you have would be great!  I look forward to sharing more of what I will be doing and where I will be staying in an upcoming travel post soon.
Now on to this look, which is definitely a recent favorite of mine.  Besides colorful prints, summer also reminds me of soft and neutral color palettes, like white and blush.  It just always feels so chic and fresh to me.  I've been trying to somewhat tone down all the bold prints I have been wearing lately and fell back into my classic white on white combo.  This time though, I added in touches of blush, nude and gold. You might remember this vest that I wore a few weeks back.  As you can see I was not lying when I said that I would get a lot of use of this one piece.  Get ready for more looks with this over the next several months.  I loved pairing this top with my knee ripped jeans because it created a feminine, yet edgy balance with the overall outfit. The cut out with gold detailing really made this simple top stand out so much more.  Speaking of gold, I can't get enough of this bag and have been using it almost every day.  It's seriously perfect and I'm pretty sure it will come with me on my solo adventure next month!
 What are some summer styles that you are looking forward to wearing this season?  Thanks for stopping by, hope you have a wonderful Tuesday!