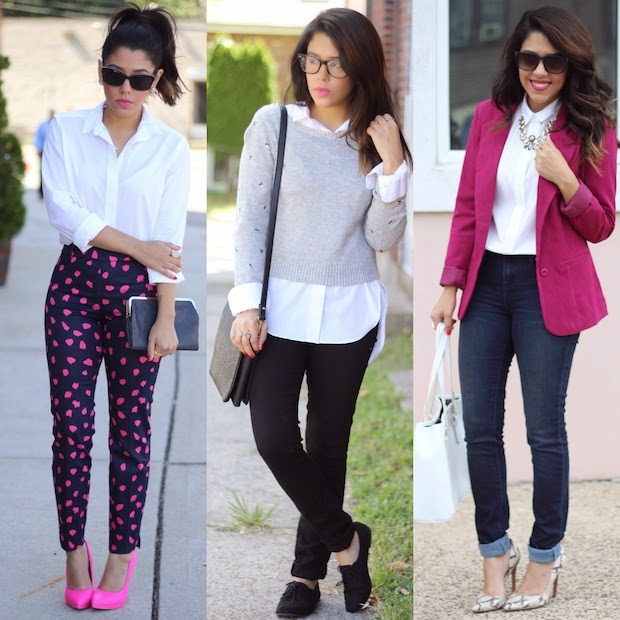 When it comes to
staple pieces, a white shirt is in my top 3.
It's one of the easiest items to style because it literally works so
well with almost anything that you have in your wardrobe. Most people only wear about 20% of the
clothes in their closet, (crazy!) so don't forget to utilize the other 80% that
is hanging there. The best way to do
this is by reworking those older pieces in new ways. It's an instant update to your looks. Once you have a basic versatile piece to
build off of, this will become so much easier.
Target
challenged me to create three
distinctive looks using their
Mossimo
White Shirt
and other items that I already have in my closet. For only $22.99, this was a steal! I was definitely happy to accept this
challenge, especially since I have been on the hunt for a new white button down
shirt. As we transition into the fall,
this is a piece that I will be using over and over and I am sure that you will
too.
With Printed Pants
Outfit 1 Details
Sometimes it can be difficult figuring out what to wear with a pair of printed pants. With this look I wanted to show that you can never go wrong by styling them with a white button down. This shirt is great for layering and pairing with other pieces, however it works well on its own too. I love the laid back feel with the collar undone and the sleeves rolled up. The white up top creates a great balance with the pops of pink on the bottom half. Scored these pants on clearance for $7 by the way!
Layered With A Sweater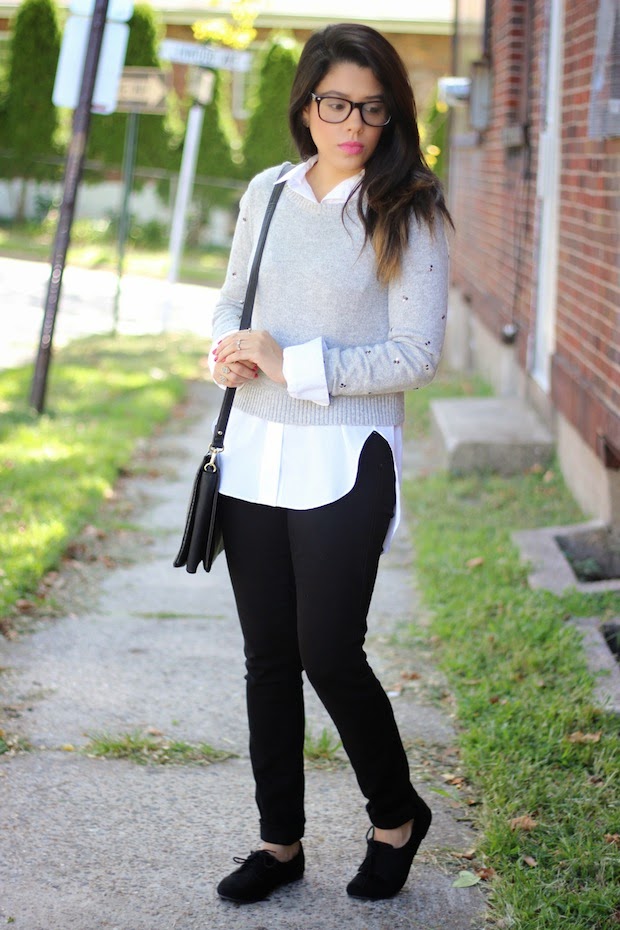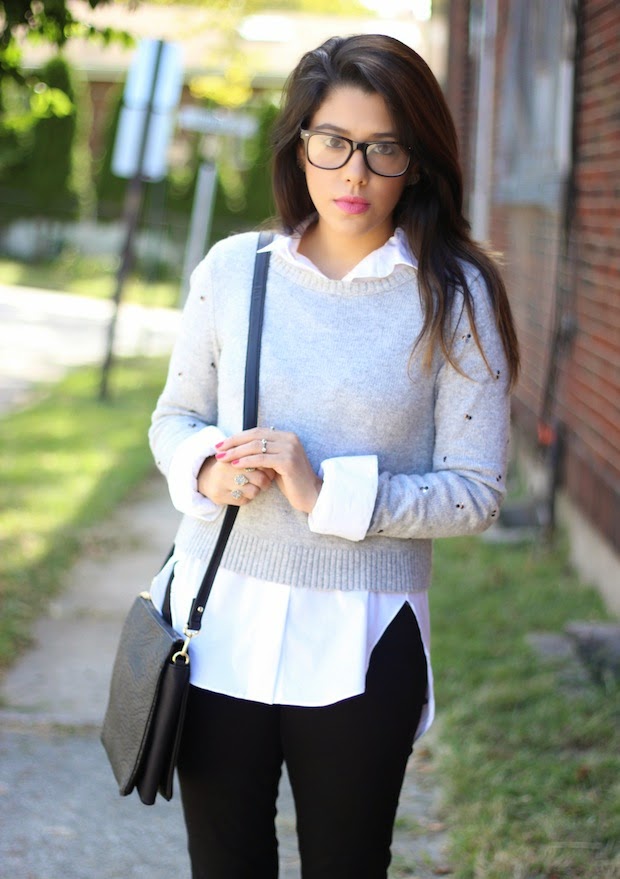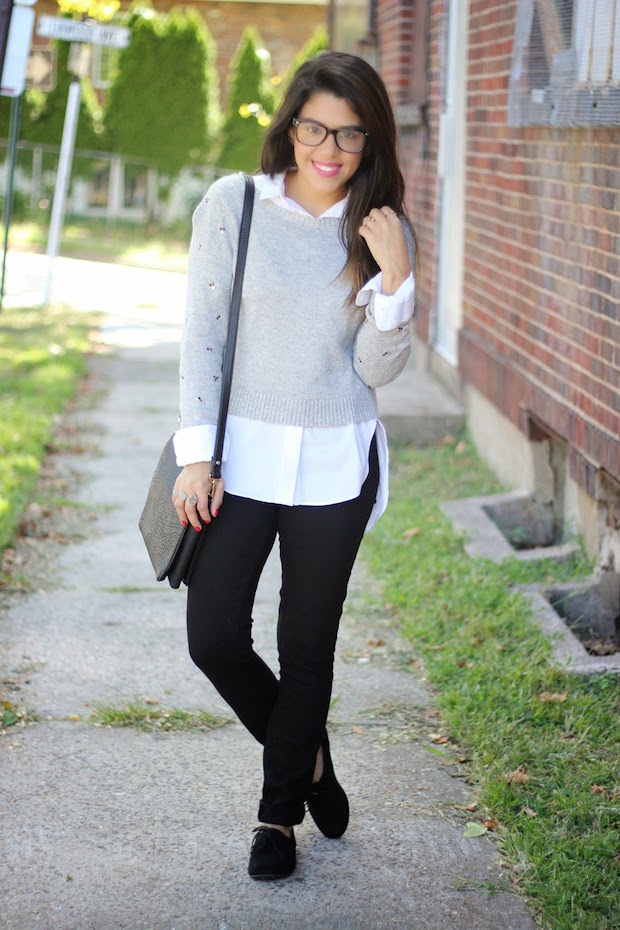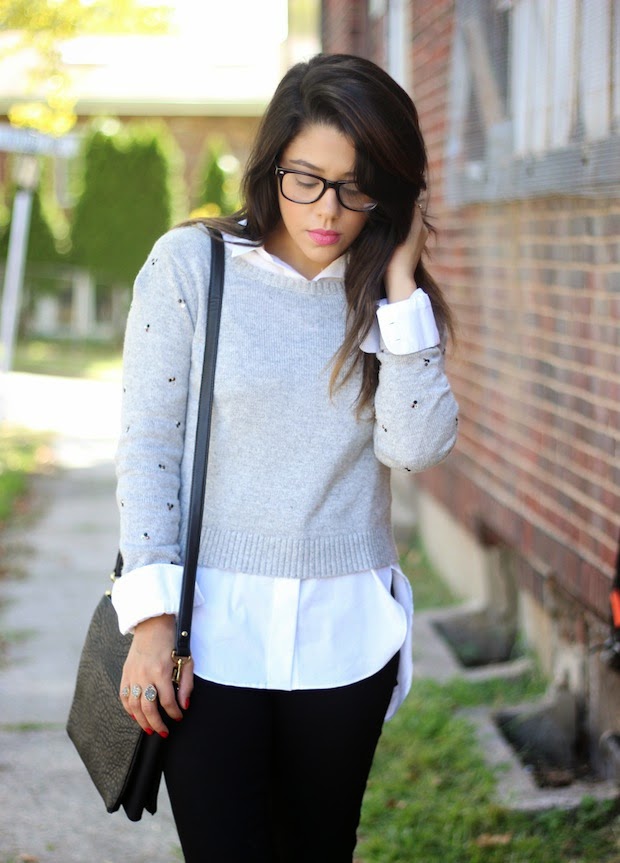 Outfit 2 Details
One of my favorite things to do with a button down is layer them underneath sweaters. Right now a huge trend is doing this with a cropped sweater. Believe it or not it's already sweater weather here at night! Not only does the layering provide a little extra warmth, but it's also stylish too and a great look for fall. I decided to go with a casual school girl vibe by wearing my oxfords (new favorite flats) and my geek chic glasses. This would look super cute with a skirt too!
Outfit 3 Details
Shirt:
Mossimo
/ Blazer: Mandee (
similar
) / Jeans:
Dittos
/ Shoes: Nine West (
blue snakeskin
) / Necklace:
Capwell
Bag Tommy Hilfiger
I'm a blazer girl all the way so I decided to do a preppier look by styling the white shirt with one. Total menswear inspired. This time I buttoned it all the way up to the top and added a fun statement necklace to make the look pop a bit more. A bold colored blazer works best with a white button down in my opinion and a great way to break up the solids is with a pair of printed shoes. My obsession with this snakeskin pair continues. This works well with dress pants or a skirt for the office, but I chose dark denim to give it more of a casual feel.
Hope you enjoyed today's post! Which look is your favorite? <3
P.S. If you notice a "shop this look" icon over my photos in this post, it will take you directly to the product link via Cosmic Cart!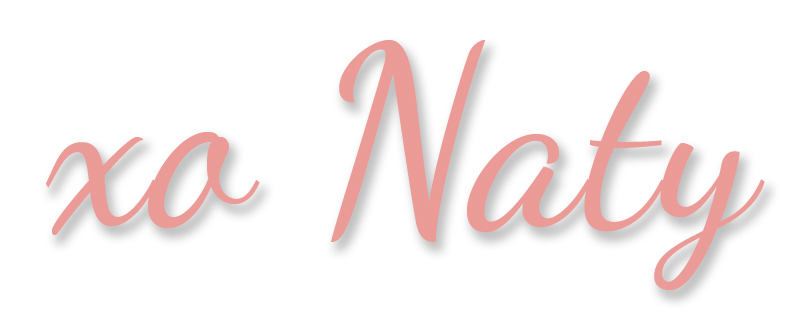 instagram | facebook | twitter | youtube

Find your style @targetstyle.
Disclosure: Compensation was provided by Target via Glam Media. The opinions expressed herein are those of the author and are not indicative of the opinions or positions of Target.