Hey dolls!  It's starting to get cold over here and it got me thinking about some great pieces to get for this upcoming winter.  This is something that I did frequently when I first started my blog, so every now and then I want to start doing it again.  One of the questions that most girls ask during these cold months is how can I stay warm and still look stylish at the same time?  Well here's a few of my top winter must haves! Hope it helps a little 🙂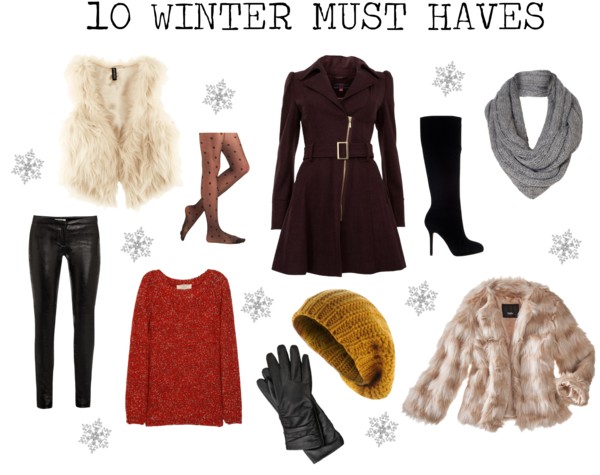 1. Faux Fur Vests- They're great for layering and come in different styles and lengths so you can find one that is perfect for you.  Pair it over a long sleeve top with jeans or over a sweater dress.  You can belt it too if you want to give it that extra touch.  I actually have this same exact one from H&M.
2. Leather Leggings/Pants-  Leather is a huge trend for fall & winter.  There's so many different ways to style a pair of leather leggings.  They're edgy yet chic at the same time.
3. Chunky Knits- Oversized sweaters are amazing during the cold months.  There's such a variety to choose from and they will keep you super warm.  Pair it with leggings and jeans or even with a skirt.
4. Printed Tights- Such a fun way to wear skirts and dresses during the winter!  Tights in general are a necessity but if you are looking to spice up your outfit a little bit, try going with printed ones.  These have little polka dots.  I've also seen really cute heart ones and the suspender tights are super hot.
5. Statement Coat- I talked about statement coats in my post
HERE
.  They're such an essential piece and the perfect way to still be stylish and warm at the same time!  Try going with a nice bold color like burgundy and some gold hardware to make it stand out more.
6. Gloves- This might sound like a no brainer but you would be surprised by how many people don't wear them.  I am loving these faux leather ones.  They're a great way to dress up your statement coat and keep those hands warm.
7. Beanies/Hats- What better way to protect your head from the cold than with a super cute beanie?  They come in many different colors.  I have black and pink so far.  They're a great added accessory during the winter.
8. Knee Length Boots- I think these should be a staple every winter.  They're super chic, sexy and versatile because not only do they look amazing with skirts and dresses, but they still look fab paired with jeans and leggings. Over the knee boots are amazing as well.
9. Faux Fur Coat-  Fur in general is another big trend just like leather.  It's soft, warm, and stylish.  What more could you ask for?  A fur coat will definitely make you stand out this winter and look especially cute during the holiday season!
10.  Snood/Scarves- I can't get enough of these!  They come in every single color, print, and style that you could imagine.  You don't just have to wear them with your coats.  I love adding them to my outfits during the fall and winter because they are the perfect accessory.
What are some of your must haves for this upcoming winter season?
Stay warm. Stay stylish.
XX