It's safe to say that when it comes to shoes, I pretty much want them all.  Some people collect coins & comic books, I collect shoes.
 So when I saw these wooden heel booties at Steve Madden I needed to have them!  The color in this picture is actually a little off.  They're more of a taupe/olive.
This look is a bit preppy.  I first wore these with a white button down.  I love button downs because there's so much versatility to them and most girls don't really know how to wear them.  I'll have to do a separate post on that, but I suggest investing in a few of these.  It's a staple piece that should be in your closet because it never goes out of style!  I paired it with this printed scarf from H&M. It's one of my favorites and I've worn it in many different ways as you will see in this post.  They're a must have for the fall/winter.  The jeans I'm wearing are slightly ripped (huge fan of ripped jeans because they add texture) from Forever21.
The next time I wore the booties I wanted something laid back but still with a little edge.  I opted for the slightly ripped jeans again, wore the same scarf in a different way & layered on this rustic brown faux leather jacket that I got on sale at Mandee 🙂 The shirt is a loose fitted cream tee from H&M as well as the shoulder bag.
Unfortunately I don't have a full length shot of me in this next outfit, but you'll get the idea.  I got this amazing faux fur vest from H&M.  Pieces like this add a lot of element to an outfit.  I love neutral colors because you can do so much with them.  I wore it over a plain olive green long sleeve shirt with skinny jeans.  My accessories are this beautiful bracelet from Forever21 that I got as a birthday gift (Thanks Ellie!), earrings from Aldo accessories, and I got this gold medallion necklace from a local thrift shop.
Here's a shot of me in this practicing on my guitar 🙂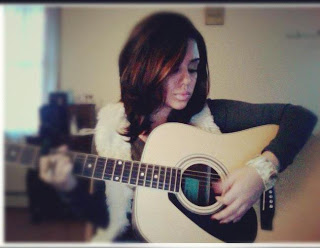 So that's 3 different outfits I put together, all different looks, with the same booties.  Next up I am going to show you a few more ways that I wore this same printed scarf.  Scarves are another thing that not everyone knows how to wear, nor do they realize how many different ways it can be worn.
This is probably one of my favorite ensembles.  It's classy & chic. I wore this for a friend's birthday party. The dress was a great find at Forever21. It's simple but still says a lot.  I didn't want to wear a belt, but I did want to break up the color.  So I wore the scarf as a shawl this time and it really dressed up the outfit.  This AMAZING statement necklace is from a local thrift shop.  I wore "Sophisto" from MAC again.  I love how the raspberry shade compliments the dress.
Here you can see the dress with & without the scarf.  Wearing it as a shawl really added more to the look. It's little things like this that can really MAKE your entire outfit.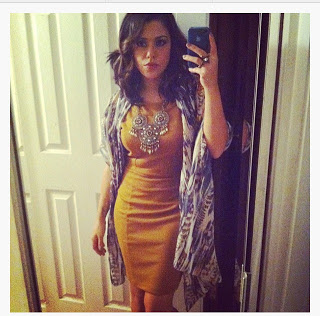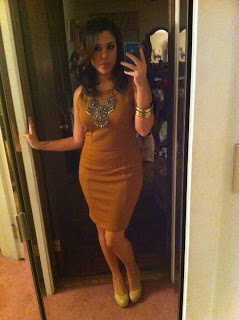 And one last way I wore this scarf for a trendy yet preppy look. I wore this out for drinks with some of my girlfriends. I paired it with these great high waisted rustic suede shorts from H&M, the same white button down from before, & these peep toe heels from Aldo. Clutch is from Charlotte Russe. I also went with a brighter polish shade since this was actually towards the end of summer & I wanted to add another dimension to the outfit.
I didn't realize how long this post was going to be but I hope that it gave you some ideas!  Just remember you can take something simple & still make it look fab! Happy Monday loves! <3 Naty