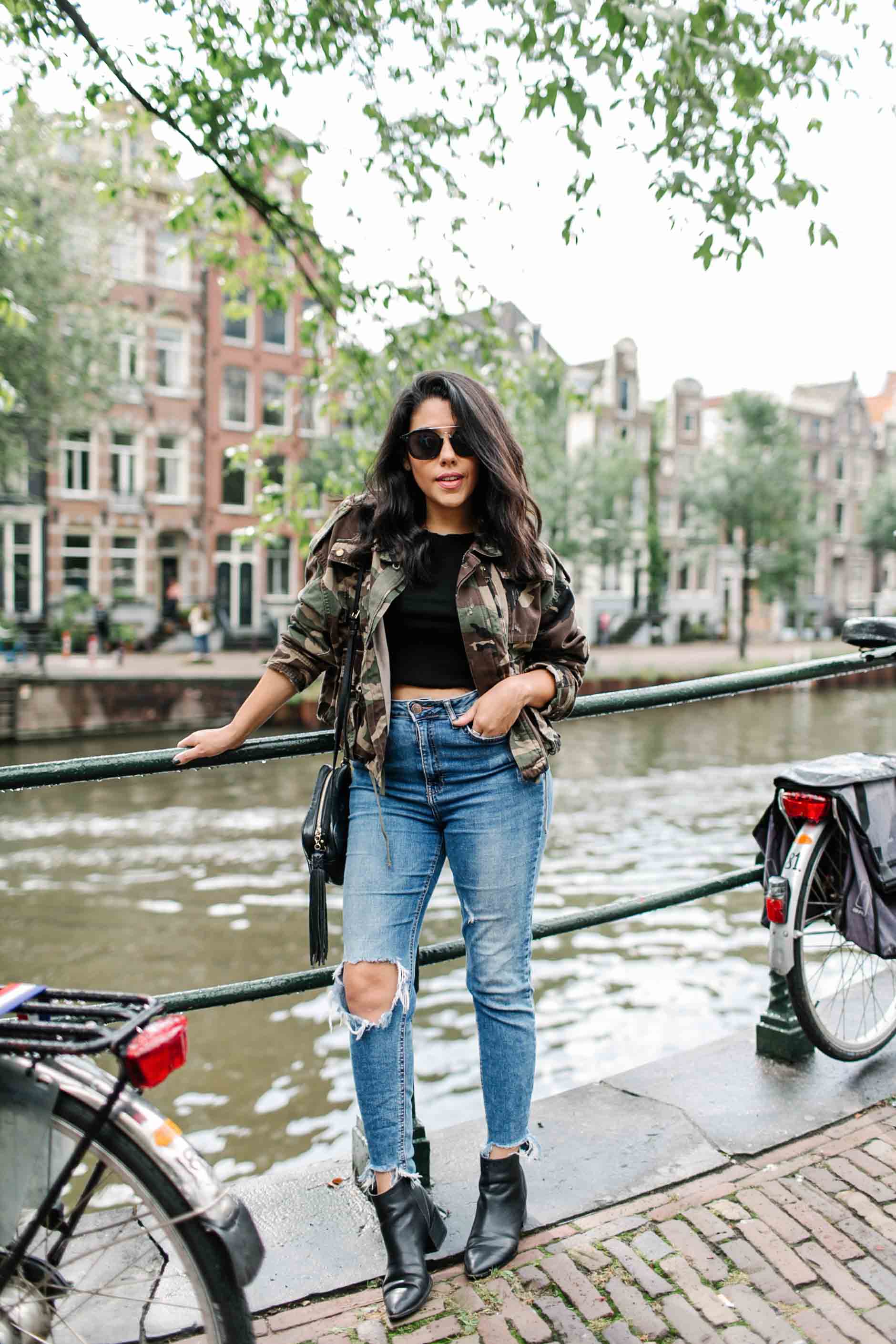 My Amsterdam travel guide will be coming soon, but in the meantime I wanted to share the photos from the shoot that I did with Flytographer during my trip! When traveling solo, I always have strangers take my pics. I never travel with a tripod (although I know many people do) and I typically have people use my iPhone so that it's quick and easy. You never know what you're going to get when handing your camera to a stranger, but luckily I've managed to get some great images from my trips. I'll have to write a post on this topic in the near future.
I was recently introduced to Flytographer, a service that connects you with local photographers in 300+ cities around the world! You're able to choose the photographer that you want to shoot with based on their work and photography style. Once you choose, Flytographer takes care of all the shoot logistics including the location. I shot with Elina and highly recommend her if you're ever in Amsterdam. She is amazing and we instantly hit it off. We shot in Jordaan and I loved that we got to use a bunch of different areas in the same location for my backdrops. Before the shoot I told Flytographer about the ideas that I had and I loved that Elina helped me bring them to life.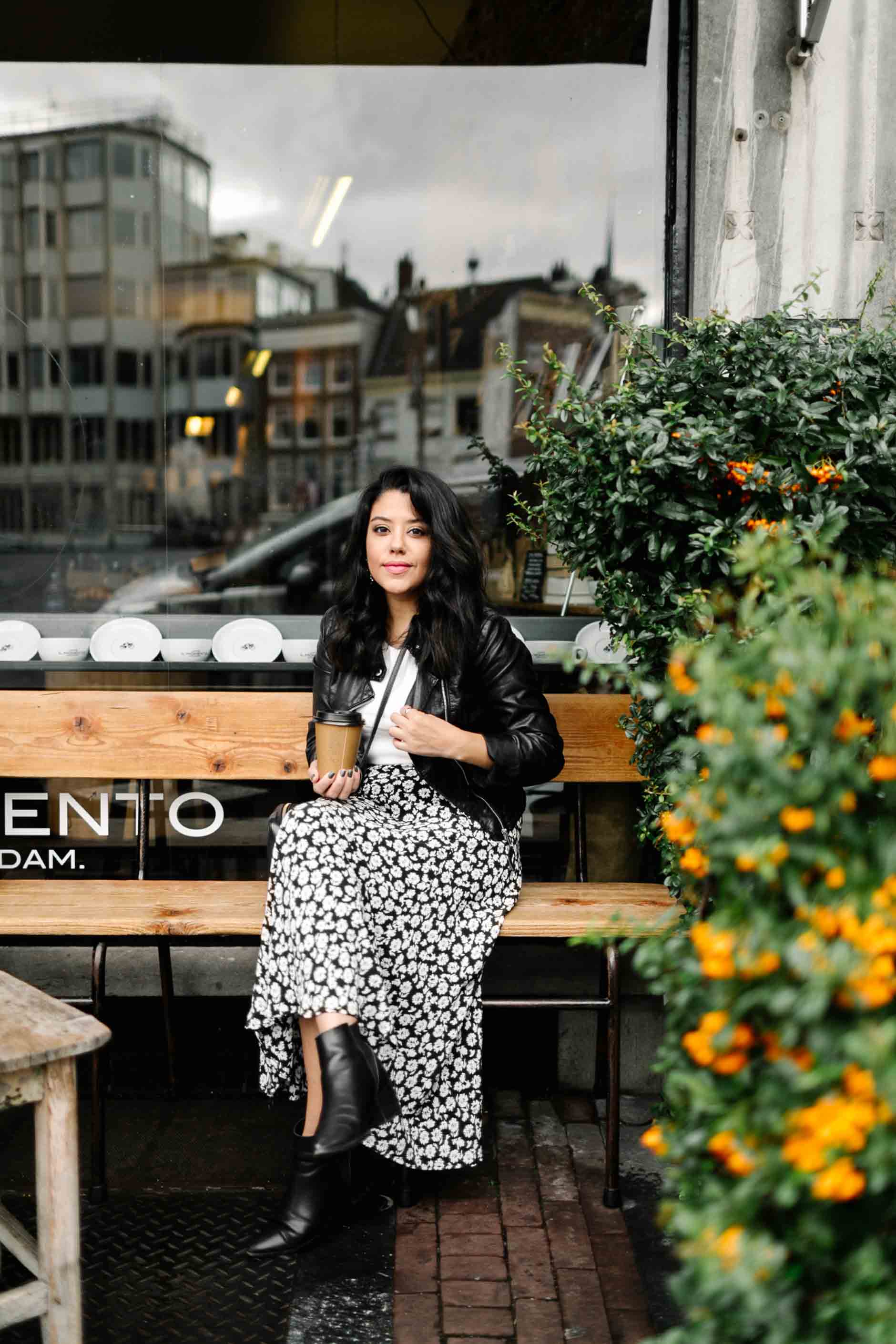 I had the opportunity to partner with Flytographer on a gifted 60-minute shoot when I was in Amsterdam. This is the first time that I got to shoot with a photographer while traveling by myself so I'm really excited to have a ton of beautiful, professional images that I can cherish forever. I only wish that I had known about them sooner because I definitely would have hired them on some of my other trips, like Paris or Italy. I plan to work with them again on some future travels though!
Prices vary depending on the duration of your shoot. You can book as little as 30 minutes and as long as 2 hours. You'll get anywhere from 15-60 edited images depending on the package that you book. It's a bit pricey, but I definitely think it's worth it to do at least once on your travels because these are amazing photos that you'll always have. The photographers are all incredible and they'll be able to capture your moments in such a beautiful way. It's perfect for solo trips, couples, families or even if you're traveling with friends. They've done a ton of engagement shoots too since many people pop the question while traveling!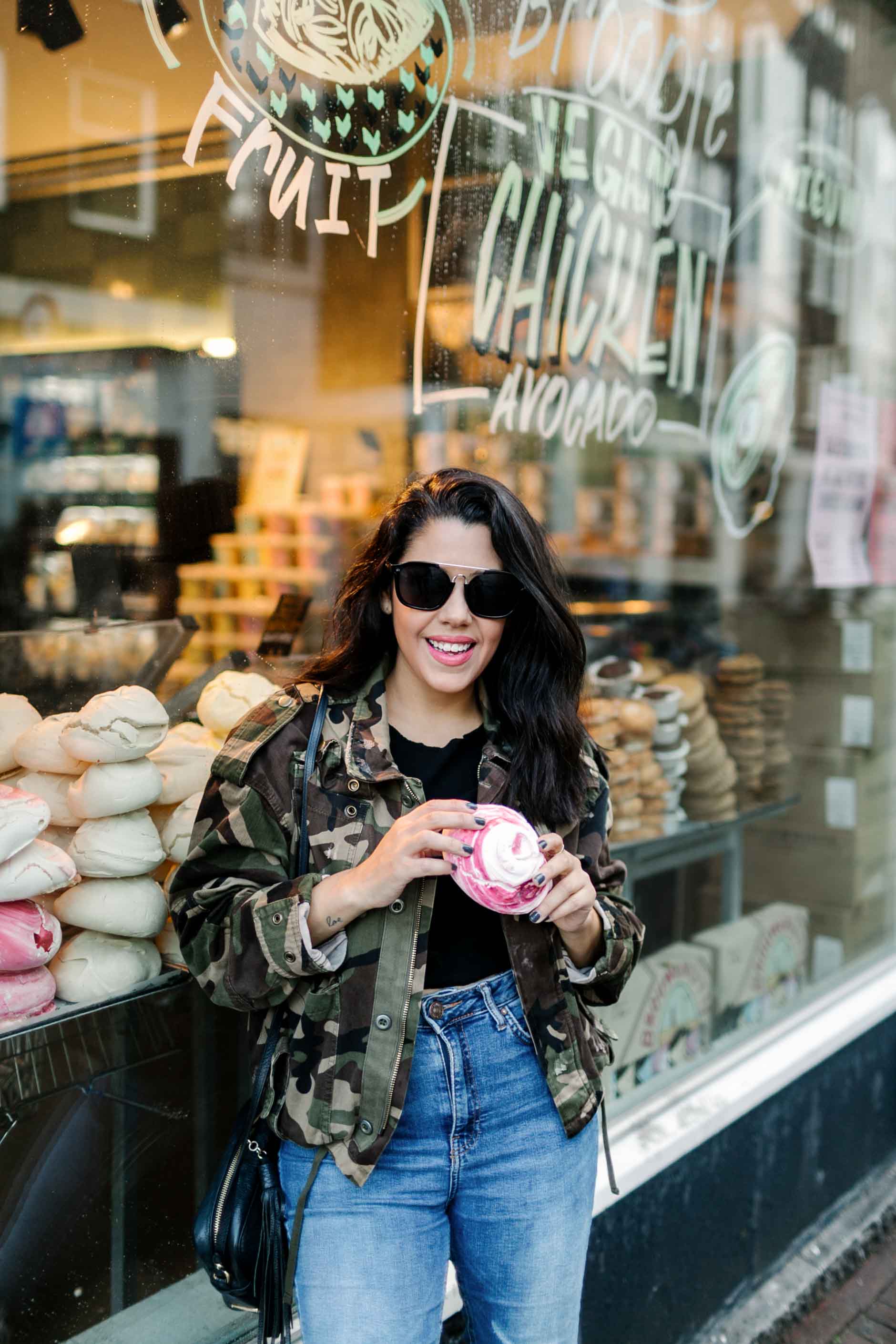 As a solo traveler, it was so much fun to connect with a local photographer. Not only do they know the best places to shoot, but they also have some great recommendations for places to eat and things to do too! My favorite part about my travels is being able to connect and have conversations with the people who live there. I actually kind of felt like a local when I did this shoot with Elina. We shot early in the morning before the streets were packed with people and I highly recommend doing that.
I didn't want to do the typical touristy photos, so I really enjoyed playing around with different ideas and props, like the coffee and meringue. Fun little story behind those two photos – I had initially wanted to shoot with street fries, but we couldn't find them in our location. Elina had suggested going to one of the local bakeries instead, so I ended up getting a meringue. She was able to capture the moment that I broke it open and all of the pieces fell to the ground. We couldn't stop laughing and that's why my smile is so big!
Since I had a 60-minute shoot I brought a change of clothes so that I could have more variety with my photos. My second outfit was the camo jacket and jeans. I ended up changing outside on a little side street in Jordaan. Thankfully no one was around to see and I was able to put my jeans on underneath my skirt, ha!
It rained on and off during my entire shoot, but it started to DOWNPOUR the moment that I changed my outfit. We had to take cover underneath a huge tree with our umbrellas. The back of my jeans and jacket were completely soaked. My hair was turning into a wet, frizzy mess. I didn't care though! I think that made me enjoy the shoot with Elina that much more. It's such a fun little memory that I have now every time that I look back on these photos. Huge thanks to Elina for continuing to shoot in the rain with me! I think we did pretty good. ☺️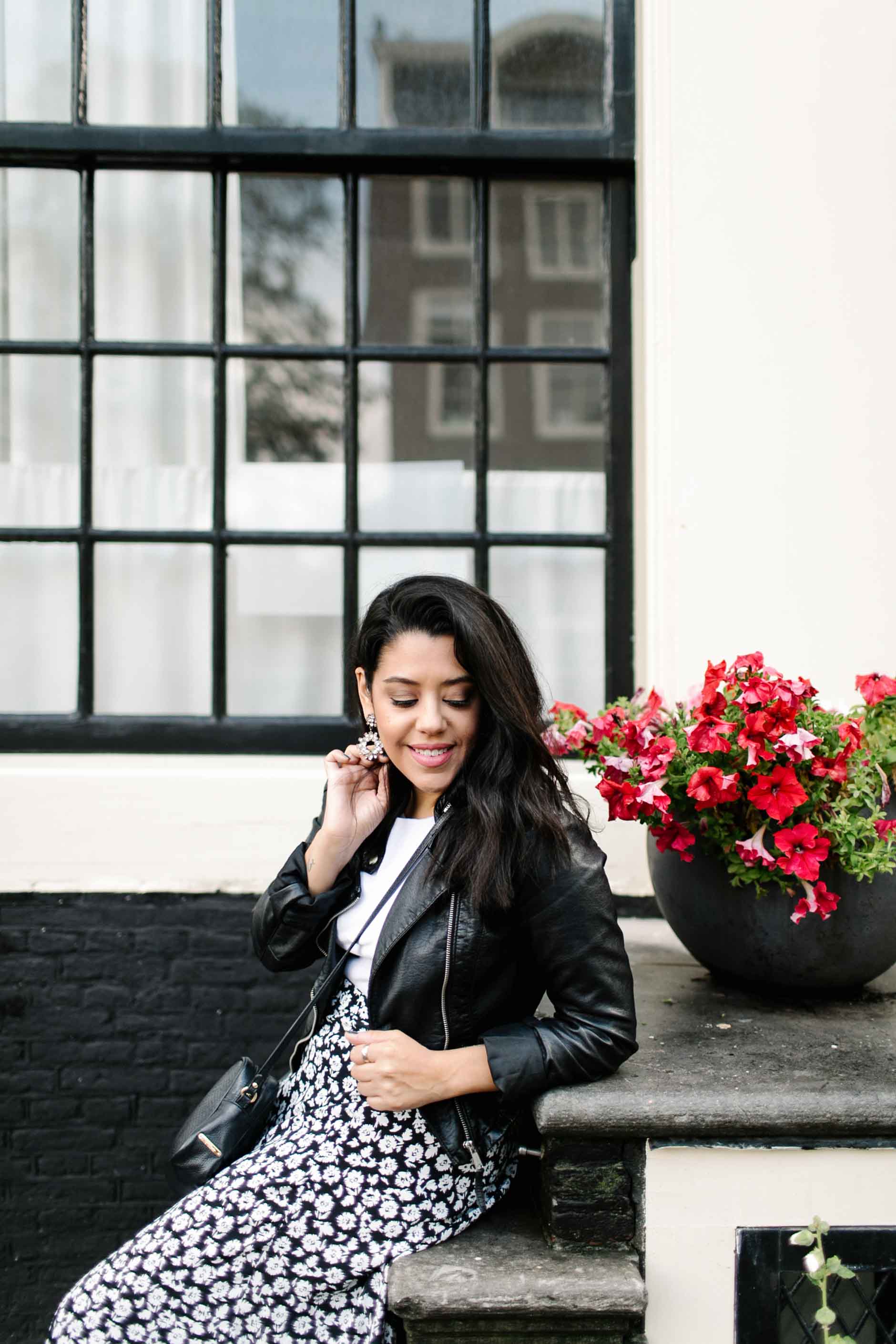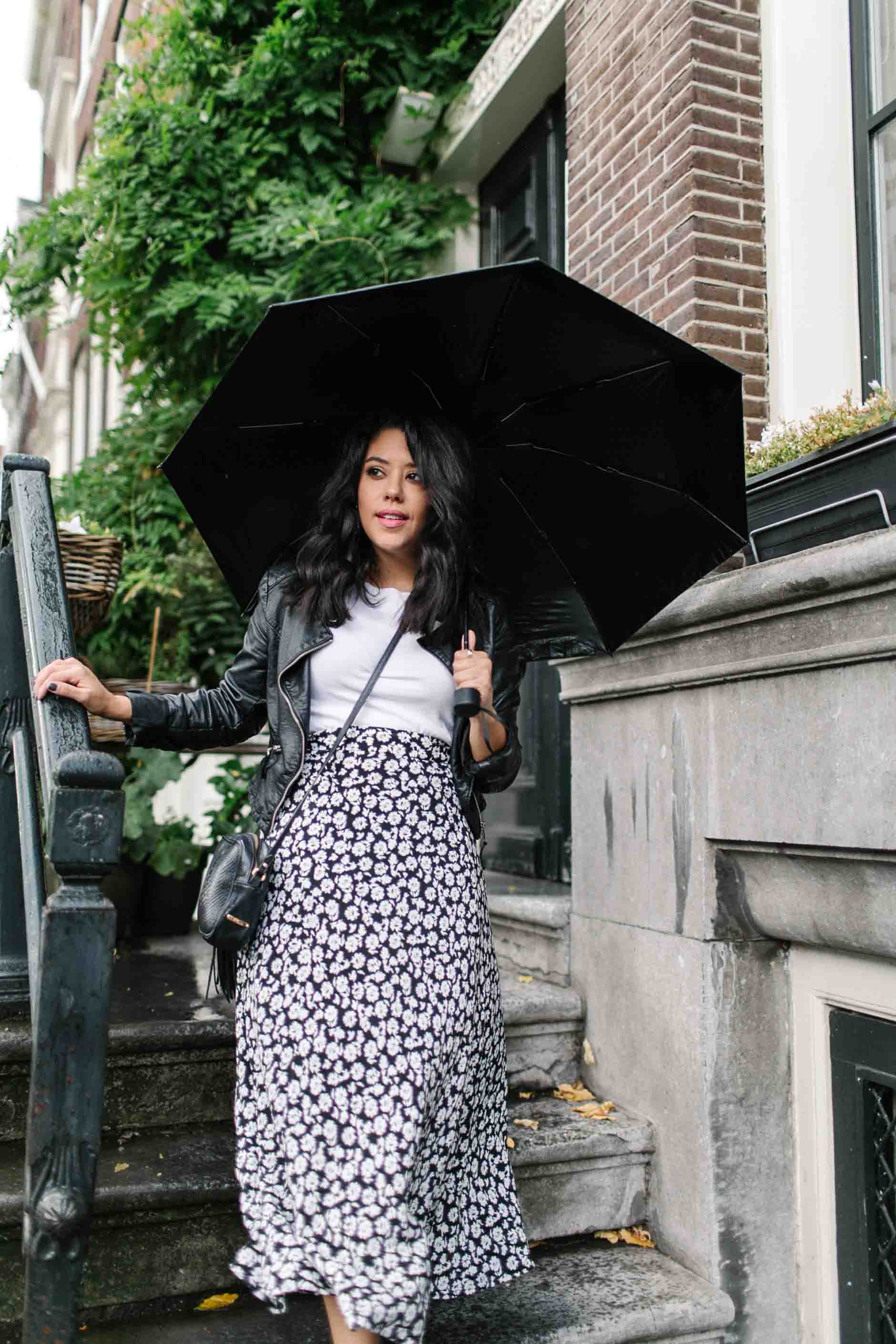 If you've never shot with a photographer before don't worry! They'll definitely make you feel so comfortable and help you out with different ideas. Most of the photographers love to capture candid moments, which I personally think is the best! If you use code NATYMICHELE50 you'll get $50 off your first shoot from now through December 31st! $50 goes a long way so I hope you find this both helpful and useful if you decide to book a shoot with them. If you do, please let me know as I'd love to see some of the photos!
Thank you so much to Shay and the Flytographer team for the gifted shoot and for helping me capture some incredible moments. Looking forward to the next shoot! ❤️