It's Monday!  Today's post is a special one because not only is it about my outfit, but it's also featuring my interview with Jake Sasseville from Delusions of Grandeur and the author of Slightly Famous.  First, let's get into the ensemble and then I'll explain more about my interview 🙂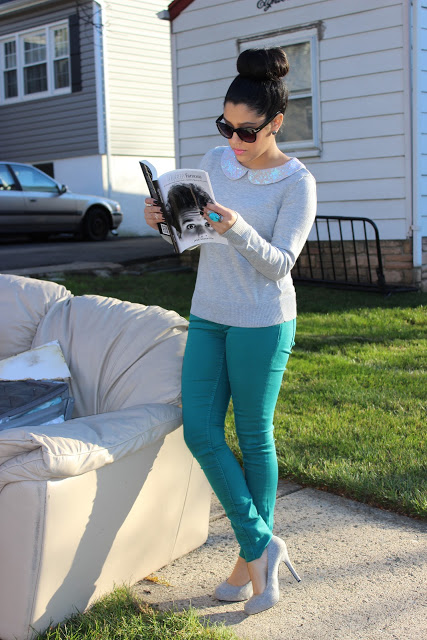 (There was a couch on my sidewalk so I took advantage lol)
It's all in the details which is why I gravitated towards this sweater.  It was actually the last one at the store in my size so I know that it was waiting for me! Peter pan collars are a big trend and a great way to add a girly touch to your outfit.  This collar makes a statement because of the iridescent sequins all around it.  I love how the colors change in the light.  It goes from teal to purple and pink.  This is a great example of how a simple piece can still make you stand out. I think it's super cute for the holiday season!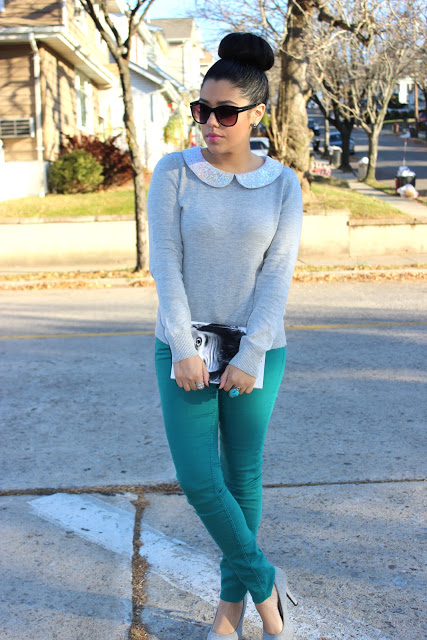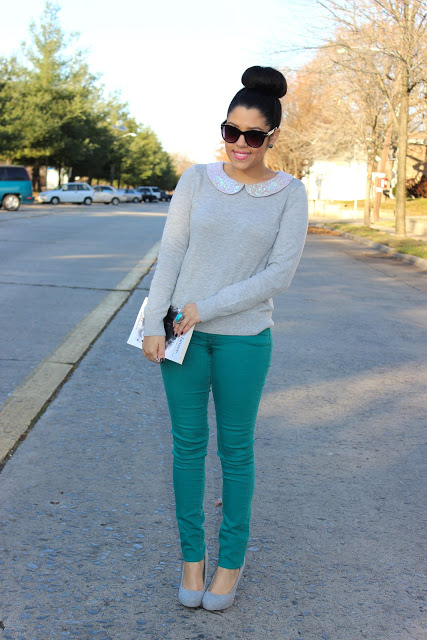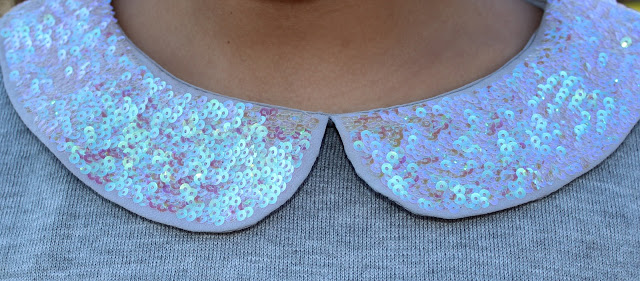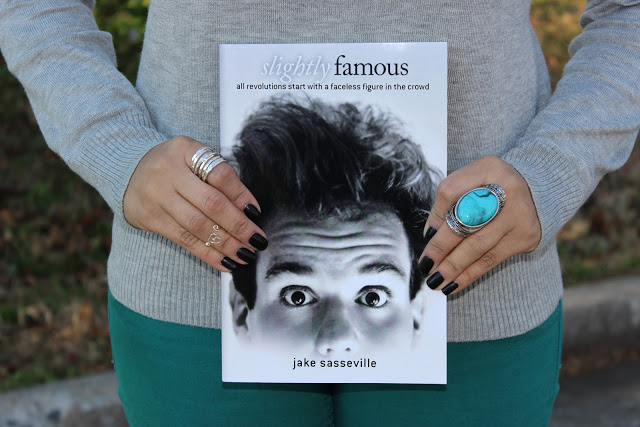 Sweater,  Jeans & Sunnies: H&M/ Shoes: Mandee/  Rings: Mix of Stores/ Book: 
Slightly Famous
I decided to pair this with teal skinnies.  I must say that I always find the best colored denim at H&M.  Their skinny jeans run very small though, so you might have to go up a size or 2.  I really love these two colors together.  At first I had no idea what shoes to wear with this outfit, but then I remembered I had these grey pumps and they go perfectly!  I've been wearing a lot of skirts and dresses lately so it was time to switch it up and do more of a casual outfit.
Now on to the interview portion of this post!  I spoke on the phone with Jake about a week or two ago and we really got into detail about my whole blogging journey and experience. I talked about the loss of my father and how it deeply affected and impacted my life.  I was able to share with him a more personal side of me and what it has been like leaving behind a life of stability to chase after my dreams. I always say that I want to inspire and I really hope that my story inspires and motivates you in some way.
 So please read my INTERVIEW 🙂 I think that you will learn some new things about me.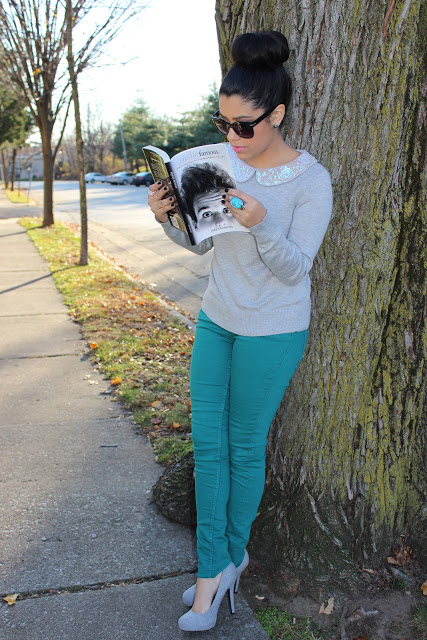 Also, please make sure to check out Jake's book Slightly Famous. I just started reading it and I am loving it so far.  He talks about both his success and failures in the industry and what it has been like on his own personal journey.  These are the types of stories that make an impact.  At least to me they do.
Have a lovely day beauties!