I went to a holiday party last night & to a few other places in the city.  I wanted to wear something fun & girly and this dress was perfect.  I got a lot of compliments on it too 🙂  It's from Urban Outfitters and it's a mix of light pink, white, and a little bit of gold & silver.  I decided to bring out the gold & white tones when it came to my accessories.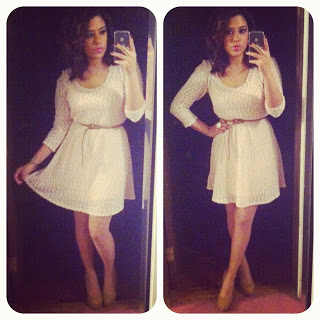 I'm wearing a thin leather belt from Urban Outfitters & these dark tan suede pumps from Nine West.  Originally I wanted to wear these light pink shoes from Urban but they didn't have them at the store 🙁  These shoes were still a great fit though and very comfy!
I wore my new gold finger ring from H&M, earrings & big white oval ring from Aldo, and this small heart bracelet from Nordstrom.  I didn't want to go with bangles or over do it on the accessories.  I tried to keep it simple & chic.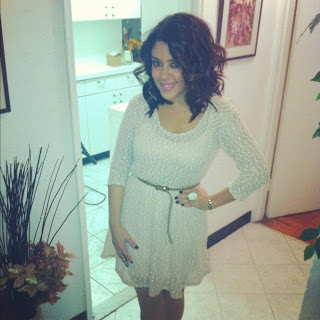 I was having a hard time finding a good clutch to go with this so I kept with the color scheme and just used my tan one.
I really like to switch up my outfits.  It all depends on how I'm feeling and where I'm going.  I definitely had a great time last night & this dress was the perfect choice, especially for the holiday season.  I was comfortable, covered up, and still felt fab! I hope you all had a lovely weekend. xo