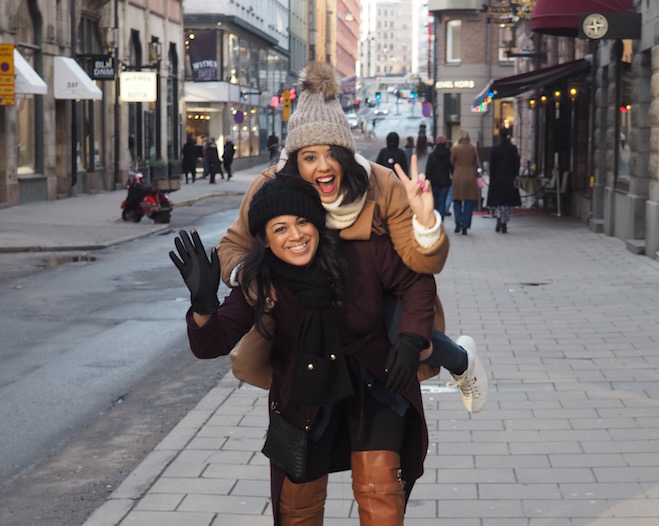 Get ready for photo overload!  I'm excited to share details and photos from my trip to Stockholm.  It was most definitely an adventure, but very different from my experience in Ireland.  It's been such a long time since I have traveled with friends so I honestly was not sure what to expect.  I went with two of my besties though, who are both wanderlusts like me, and I think that made this trip extra special.  I mentioned previously how I sort of invited myself at the last minute.  Sweden was not on my radar, but I was more than willing to check out another country in Europe.  I am seriously so happy that I went because this was an experience that I will never forget.
 I didn't do too much in terms of the planning since my one friend found our flights and hotel. We flew Norwegian and it was super affordable around $300.  I loved the plane itself as it was literally the biggest one I've ever been on.  My only complaints were no WiFi and their "snack bar" not being open for long enough periods of time on a 7 hour flight.  I'll know what to expect the next time I fly with them though, so that's a plus.  I spent way less on my hotel than I did when I was in Ireland.  We stayed at the Hansson. It was a super small boutique hotel in Vasastan.  The location was great as we had lots of stuff in our area and were only a few blocks from the bus and metro, but the hotel itself was not my favorite. The rooms were so tiny and it was definitely a bit crowded for three people. But hey, we weren't trying to stay in a 5 star hotel.  It definitely served it's purpose and only cost $200 each for 5 days.  Not bad if you ask me!
I was nervous about going to Sweden during one of their coldest months of the year, but we lucked out as the temps were actually higher there than here in NYC!  It rained on and off just like Ireland, but we had one absolutely gorgeous day. I think that day alone we walked at least 10 miles, no joke.  We learned very quickly that taking cabs in Stockholm was expensive, so we got around by walking, taking the bus and the metro.  By the way, we were literally blown away by how much cleaner their subways and busses were than New York.   I'm so proud of us for being able to navigate our way.  Many people spoke English, but everything was pretty much written in Swedish.  There were 711s everywhere and that's where you can purchase and reload your metro card for the bus and train.  If you ever make your way out to Sweden, I highly suggest doing this! We sort of felt like locals after the second day, although I totally stood out for being fun sized.  Everyone in Sweden is so tall, even a few of their ATM machines made me get on my tippy toes. 😉
The day tour we wanted to take was closed in February, so instead we explored several different sections in Stockholm.  We went to several museums in Djurgårde and checked out their old town Galma stan, which totally reminded me of Old San Juan in Puerto Rico.  We did some shopping in Stureplan and the main street sort of reminded us of 5th Ave. We went to many different bars and restaurants and spent some of our nights in Södermalm.  I'm such a foodie so I really enjoyed trying things for the first time, like Swedish meatballs.  I also loved their beer.  I honestly never drink beer as I am much more of a wine drinker.  For some reason though, I love trying out international beer when traveling.  Maybe it's the fact that I am so far from home that makes it taste that much better.
There was so much to do and see and we did as much as we could. I fell in love with all of the architecture.  It was seriously so beautiful I think I took hundreds of photos.   Even in the rain everything was absolutely stunning.  I especially loved the buildings in Gamla stan.  Speaking of beautiful, the men in Sweden were very lovely to look at too. lol!  I think I might have to go back just for them. My friends and I were falling in love every five minutes. We met this bartender/bar owner at a random bar one night when I needed to go use the bathroom on our walk home.  [I have the smallest bladder ever] When we walked inside and saw him we were like yeah, we are staying here.  He was Lebanese, but living in Sweden and he looked like a hotter and younger version of Gerard Butler.  Ok I need to change the subject now. haha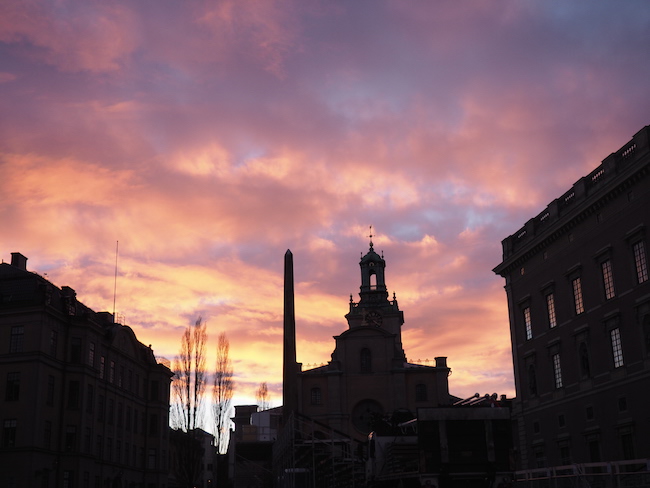 Overall it was amazing!  It was one of my best experiences ever and I am so happy that I tagged along with my friends.  I seriously took way too many photos, so I did my best to narrow them down.   I hope you enjoyed this post and maybe it put Sweden on your radar!  I am already ready to start thinking about my next trip.  Where to next? <3