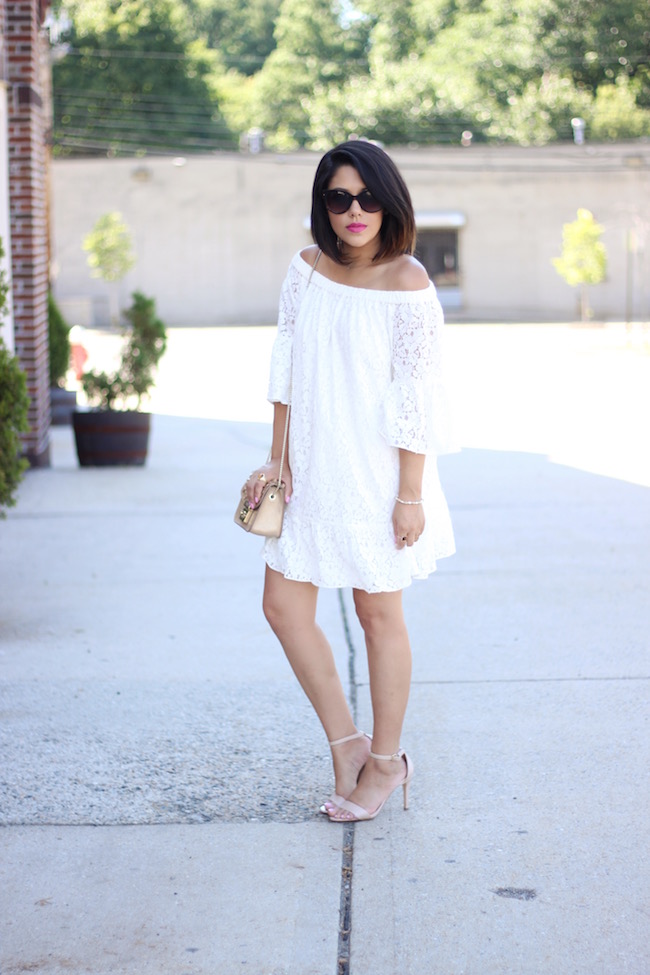 August 1st, say what?!  How did we get here already? It feels like summer only began 5 minutes ago and now everyone is already talking about the fall season.  I'm not ready yet! I think it flew by for me since I was away for part of July.  Speaking of which, my Paris Diary will be up this week, most likely tomorrow! It took me awhile to get situated and to start shooting new content for the blog, but thankfully over the last couple of days I was able to get some new shoots in.  🙂
What I'm Wearing
Dress: Likely  [also love, cute short sleeve version] | Bag: Furla | Shoes: Aldo 
Sunglasses: Forever21
The obsession with the off-the-shoulder trend is real.  In fact, all of my style posts this week focus on OTS pieces.  It quickly became my favorite summer trend and I'm pretty sure that will carry on into next season as well.  I got this dress right before my trip and was hoping to wear it out to dinner while I was in Paris.  I wasn't expecting such hot temperatures during my stay though, so I never actually got the chance to wear this until I got back home.  I love this dress for several reasons, but I think the best part about it is the cropped bell sleeves.  It gives off such a flirty and romantic vibe.  The lace detailing is perfect too and of course I can't get enough of summer whites.  I paired it with my current go-to nude shoes and gold bag.  I swear I have other shoes and other bags, but I continuously gravitate towards these.  Are you crushing on the OTS trend as much as I am?
In other news, my new site is almost finished!  It's been such a long creative process, but we are getting closer and closer to launching it this month.  I've been so anxious and excited for this change and hope that you will all love it as much as I do.  Can't wait to finally share it all!
Hope you have a great start to the new month.