Hello from the sky!  I'm on the plane right now headed to Cali and I'm really stoked about having wifi! I thought it would be really cool to do a post from 10, 000 feet up.  While most people are sleeping I'm over here blogging 🙂 I flew into Chicago first and now I'm headed directly to LA. This is my first time flying SouthWest and I love the fact that you get to pick your own seat!
 A quick little story from this morning.  So I go to check in my bag and of course with my luck it was over the 50lbs. So they told me I had to take a few things out and I started panicking because I'm flying alone and I don't have a big carry on bag.  I grabbed the first two little bags I saw on top not thinking it would make much of a difference because they were only my accessories.  But as soon as they weighed the bag again, it was exactly 50lbs.  I am traveling with 3lbs of jewelry! lol I had no idea I brought that much and just thought it was funny. I guarantee I will not wear everything that I brought because I always over pack.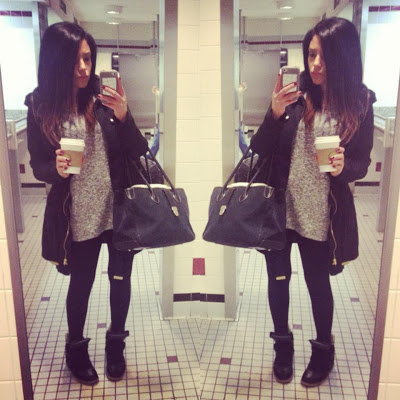 I know this picture is not great because it's a selfie from the airport bathroom lol but I wanted to show what I wore since I posted it on instagram earlier this morning.  When traveling, I go for comfortable style.  I just bought these sneaker wedges from PoshMark (not sure the brand) and they look almost exactly like the Isabel Marants but waaaaay cheaper.  These babies are THEE most comfortable shoes I own and perfect for boarding a plane and walking around an airport.  I love wearing leggings when I have to fly somewhere, especially if I have a long flight.  The worst thing is to wear something that you wish you could take off mid flight.  Loose/oversized tops are super comfy and right on trend too.  I got this one from Forever21.  I stuffed what I could in this old Dooney & Burke bag and I also have my Cannon bag with me too 🙂  As you can see, I have another iPhone case from
THE LOOKER
, this time in titanium.  This case is amazing to have when traveling because of the mirror (perfect for quick touch ups on the plane).  I will be taking better pics with it in Cali.
I have so much that I want to do during my stay, including meeting up with some fellow fashion bloggers out there.  I think tomorrow I am headed to The Grove (one of my favorite places).
I will definitely be blogging during my stay!  Please keep voting for me loves.  We still have till Jan 22 for this first round.  
VOTE HERE
!
XOXO