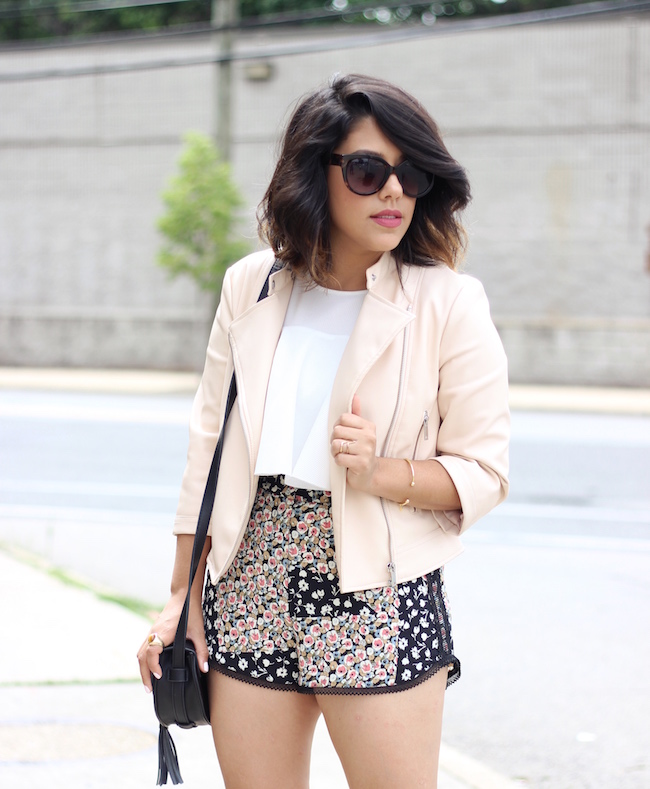 Thursday means we are just one day away from the weekend!  I'm going on a mini getaway from tomorrow until Sunday to a hotel in Nyack.  I'm looking forward to a relaxing few days and hopefully it won't rain so I can enjoy the pool.  My mom will be coming with me for the day tomorrow and then my sister and niece will be coming by on Saturday to visit.  It should be a fun family weekend and for me, those are the best! I will be sharing some photos, snapchats and a recap of my experience on the blog next week.  Can't wait to share some more #natystravelgrams.  By the way, are you team snapchat, team insta stories or both? I have to admit that I am still team snap!
What I'm Wearing
Jacket: Zara [not online, also love this one and this one]
Shorts: TopShop [on sale] | Top: Zara [similar cami style]
 Shoes: Aldo | Bag: Dynamite | Sunglasses: Forever21
As hot and muggy as it's been lately, there's also been some days where the temps were slightly cooler.  I wasn't initially planning to do any light layering with this look, but sometimes that extra added piece can make all the difference with your outfit. I found this one during the craziness of the Zara sale.  It was full price about $30, but as I was waiting on line for the fitting room I saw it hanging by itself and knew that I needed to snatch it up.  I love the blush pink and cropped sleeves.  It's perfect for those cooler summer days and the beginning of fall.  Definitely a new favorite piece in my wardrobe.  I wore it several times when I was in London, which you might remember from the photos.  This top is also from Zara and I got it at the sale for only $12.  Unfortunately it's not online and might not even be in the stores anymore.  I got super lucky!  I've worn this top a handful of times already since I got it last month.  It's tiered, so the bottom part can be tucked in and gives the illusion that it's a crop top.  I liked the whole blush, white and black combo with the pop of print from the shorts.  Super chic and summery!
Have a fab Thursday loves <3