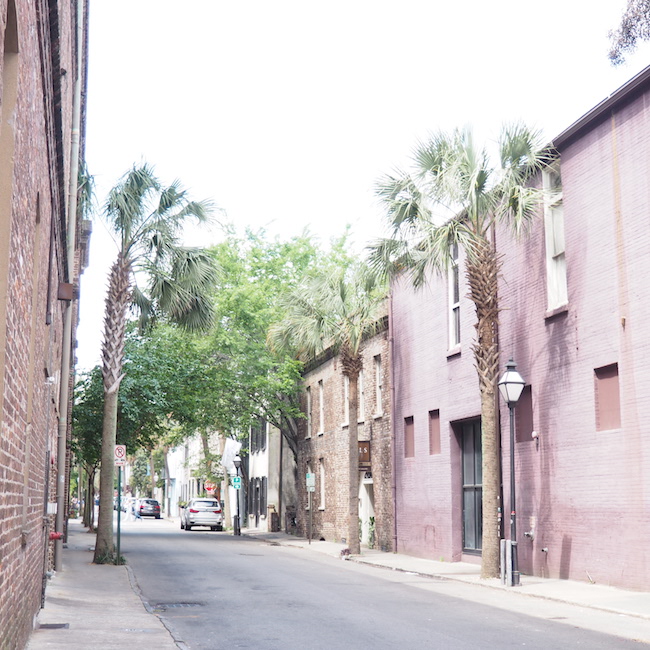 I am back from Charleston and it was so charming!  I was hoping to get this diary post up yesterday for Travel Tuesday, but was having major issues with my macbook, as always.  After 6 years I finally upgraded to the macbook pro, woohoo! So instead of dragging out my Charleston post until next week, I just decided to put it up today. I saw that some of you mentioned on social media that you are going to Charleston soon, so I hope that this post could be a good guide of some things for you to see and do while you are there!
I have to say that this was definitely one of my favorite trips.  I just fell in love with everything.  It was the perfect mix of me doing some things on my own as well as spending time with everyone else.  The whole purpose of this trip was to attend my friend Kristin's wedding, who I met several years ago through blogging.  I am so happy that we have formed a friendship that goes way beyond the blogs and was so touched that she invited me to join in on her special day!  I was in Charleston for four full days, so I did a TON of walking around and exploring.  I also took a million photos thanks to my friend, Dan!  We stayed at different places, but were on the same flights, so it was a ton of fun hanging out with him majority of this trip.  This post is going to share all of what I did, where I went, what I wore, and of course, the wedding!
I stayed at the Kings Courtyard Inn, a super historic bed and breakfast type of place.  This was not your typical B&B as it was not in a house, but they did serve complimentary breakfast every single morning.  I shared how I found this place through Trip Advisor a few weeks ago and I am seriously so happy that I did.  I LOVED it!  It was so cool to stay in a building that has been around since the 1800s.  It only has about 40 rooms, so it's super small and cozy.  My bed had a canopy!  There were 3 different courtyards to sit outside and eat or drink coffee.  Everyone was so friendly and accommodating.  It was definitely worth paying outside of my budget.  Plus, I was in the perfect location on King St. so I was in walking distance of literally everything. I barely had to take any cabs or ubers.  If you ever go to Charleston and want to get the full historic experience, then I definitely recommend staying at a place like this opposed to the modern hotels.
Let's talk food real quick.  It was amazing!  Definitely not in line with my 21 Day Fix program [lol] but totally worth indulging for a few days.  I fell in love with the grits, of course.  Some of the places that we went to eat were Poogan's Porch, Eli's Table, Husk, and Toast.  There were other places, but I don't remember all of the names.  I also loved some of the rooftops too like The Vendue and The Watch. Great drinks and great views!
In terms of sightseeing, I was really set on checking out Rainbow Row. I actually went twice and just loved all of the colorful historic homes so much. The history in general in Charleston is truly incredible.  It was so cool seeing all of the trolleys and horses. The architecture was amazing too.  I wanted to check out one of the plantations but was not able to make my way over there.  I spent some time down by the water near East Bay St.  Absolutely stunning! I walked a total of 20 miles over the past 4 days.  Everywhere I turned there was something to see.  Everything made for the perfect backdrop.  King St. was full of shopping, which I loved.  I definitely did not overpack this time.  In fact, I needed to buy a few things because that's how little I brought!  Thank goodness for the H&M that was across from my Inn.  I only brought one pair of heels, which has never happened before.  They went with everything though!
The wedding was at Legare Waring House in West Ashley.  It was absolutely gorgeous.  The whole set-up was just magical.  Definitely Pinterest worthy. I could not get over the chandeliers. Kristin looked absolutely beautiful! Words can't even describe how happy I am that I was able to be there for her big day. She definitely made me teary eyed as she walked down the aisle with her dad.  It was also great seeing so many of my blogger babes there too and spending more time with them.  I truly enjoyed everyone's company.  For the wedding, I wore a dress that I bought at Bloomingdales.  I got a bunch of questions about it, so I am linking it here.  It's from a brand called Bardot. I think it's the perfect mix of sexy and classy.  I wore something very similar from them for NYE.  Bloomingdales has been my go-to for last minute special occasion dresses.  I usually always find a good deal!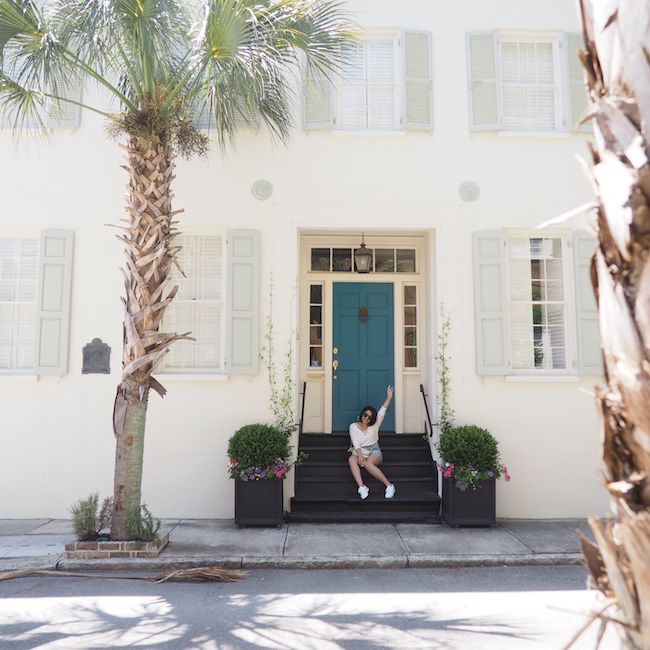 I literally took almost 1000 photos on this trip in just 4 days.  It was hard narrowing it down.  I was in awe of all the houses and buildings, the windows & shutters, the scenery, and just overall everything in downtown Charleston. I would actually love to go back and spend a few more days doing even more exploring and venturing out a bit more.  Possibly a tour or two as well.  I definitely did not get to see it all, although I do feel like I experienced a ton and as always I loved sharing it with you! If you follow my snapchat then you really got a taste of Charleston.
 I hope you enjoyed this Diary post! 🙂