I am super happy that my business cards came in this morning!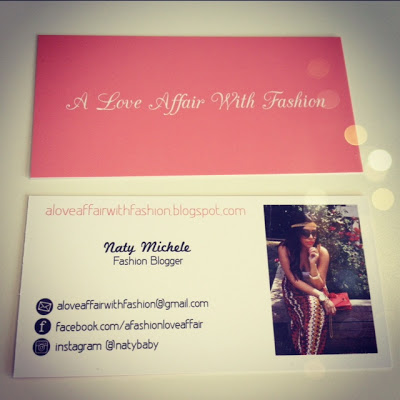 I have learned recently how important it is as a fashion blogger to have business cards, especially if this is something that you take seriously. They are great for networking at events and you just never know who you are going to meet at any time.  I got really tired of telling people my blog link.  Most people forget and they need a physical reminder. You should always have these on you.  This blog has been able to jump start my fashion career and now that so many opportunities are starting to happen I knew I needed to get these.  This is my first batch and I made them on 
Uprinting.com 
.  I decided to go with the slim ones instead of the regular size cards. The total cost for 250 cards plus shipping came out to only $32 which was great.  You are able to customize them any way that you want so next time I will switch them up. You can also view them in a 360 degree preview before ordering.
I actually learned a lot about making these from fellow blogger
Lil Bits Of Chic
 so thank you so much for your post about business cards.  It helped me out so much!  I didn't know if I wanted to add a photo of myself or not since my outfits are constantly changing, so I decided to use this one because it shows a little bit of my style and also makes me look like I am deep in thought just like a blogger 🙂
I added my email which is super important as well as my instagram since I have a big following.  I decided to add my Facebook link too.  Since all of my other social network sites are listed on my blog's home page I didn't include them, plus I didn't want to put too many things.  So here are my cards and I hope this post helps you out if you decide to get some made!
The Front
I just went with similar font to my logo and kept the color scheme.  Unfortunately I wasn't able to get the heart uploaded in good quality.
The back
I wanted the most important information here along with my photo.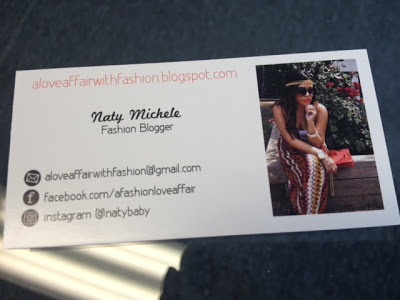 So what do you think? 🙂
<3