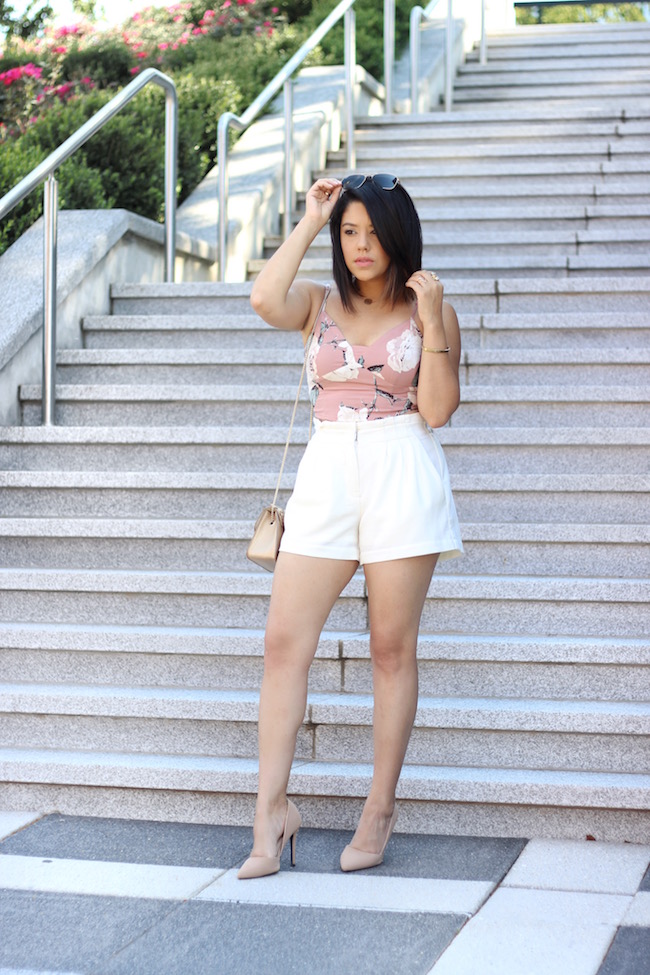 Happy Thursday!
I wore this outfit over the weekend and I believe it was in the low 90s.  You know those days where you wish that you didn't have to wear any clothes?  Well, this was one of those days.
 What I'm Wearing 
Top: Dynamite | Shorts: Dynamite [old, similar here]
Shoes: Shop Sosie [love this style] | Bag: Furla | Sunglasses: Ray-Ban
 I was cleaning out my dresser drawers and came across these high-waisted shorts that I wore so many times last year.  I couldn't wait to style them again because they're seriously so comfortable.  I ended up pairing them with this crop top that belongs to a matching set.  I've also already worn both pieces as separates a few times too.  Instead of going for my ankle strap sandals, I reached for my nude pumps and really loved how they completed this look.  The gold mini bag was a fab final touch as well. This whole color palette is definitely a favorite of mine for this season.  It's soft and chic.  I straightened my hair for the first time in what felt like forever and I couldn't believe how long it's already gotten. I definitely don't have a bob anymore and am thinking about keeping it at this length for awhile.  What do you guys think?
 I took a few days off from the blog this week because things have been so crazy prepping for my trip.  I seriously have a problem with waiting until the last minute to do everything. I swear I stress myself out for no reason.  On a good note though I did a really fun shoot yesterday with StyleWatch for a feature coming out in their October issue.  I got to represent for my fellow petites and can't wait to share more with you.  The overall concept is great and focuses on different body types, which I really love and think you all will too.  I am due for a new Life Chats, but with it being 4th of July weekend, I am debating on holding off until next week.  Hoping to be back with another new post tomorrow though.
 I have one last quick update.  It looks like my new site design will be launching the very beginning of August. Coding has already started and there's just a few more things that need to be decided on.  It's been such a long process, but one that I believe will be worth the wait.  I'm not always the most patient person, so I am anxiously waiting to share this with you all!