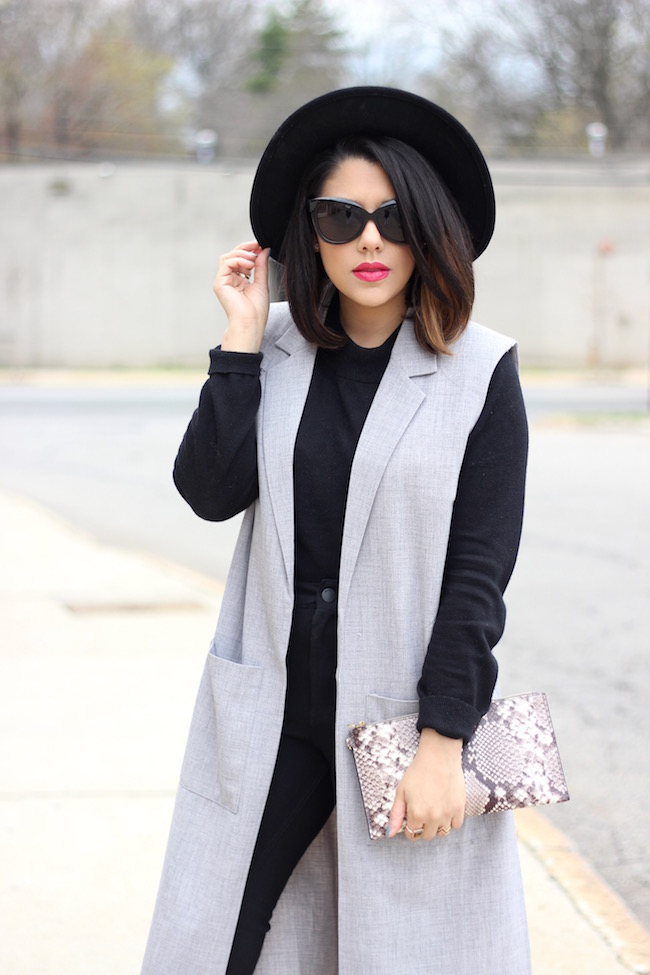 What I'm Wearing
Vest: Forever21 [very similar] | Sweater: Forever21 [similar style]
Pants: H&M [similar style] | Shoes: Prima Donna [also love]
Wristlet: Michael Kors | Hat: H&M 
This weather has been absolutely crazy.  It was springtime in the winter and now it's winter in the spring?  Between the cold temps and high winds lately I just can't keep up.  Weather like this makes me uninspired to shoot.  I guess the gloom can really do that to you.  I usually dress according to how I feel in that moment, so this outfit was definitely a reflection of the gloomy grey day!
I go through these periods where I am constantly wearing new pieces and then resort back to older items in my closet.  Typically when I have no idea what I want to wear, I take out something that I haven't worn in a long time and create a new look with it.  I'm pretty sure that I have mentioned this before because I do it quite often.  You have seen me wear so many of the same items time and time again, but I truthfully love doing this since I get the most out of each piece.  I wore this maxi vest during fashion week in September and styled it with denim, a plain white tee and a huge plaid print hat.  After that I sort of forgot about it completely.  Since my mood matched the weather I already knew that I wanted to keep things simple with black on black. This vest definitely helped to elevate my look.  Being 4'11 will never stop me from wearing longer length pieces.  They're my favorite!
On another note, my hair got so light! Getting it toned and cut tomorrow, yay!
This look was super simple, but I hope you liked it.  Happy Thursday loves.