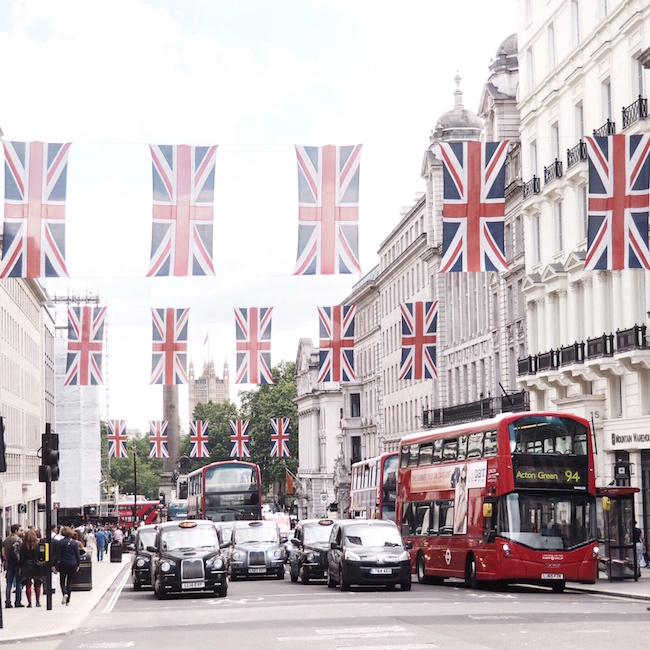 I've been home for almost a week and I am still caught up in a Europe daze.  London is one of those places that I always tried to envision in my mind through the descriptions that I heard and the photos that I saw.  I have to tell you though it exceeded my expectations and was more than I could have ever imagined. Seeing it in person and experiencing it for myself was a legit dream come to true. It's such an incredibly beautiful city and my list of things to do and see was long.  So happy that I was able to check everything off of that list! London is expensive, but I feel as though I was pretty good with money and did not go overboard.  I actually only ate out for lunch and dinner and in the mornings I settled for coffee and something to eat on the go.  I was extremely exhausted from the plane and all of the walking I did each day [fitbit said 6.5 miles] so I slept in every morning and didn't start my days until 11.  Then I would be out the entire day exploring.
Travel Tip: Convert your money at an ATM when you arrive at the airport.  This gives you the best conversion rate.  I learned this when I went to Ireland and have done it ever since for Sweden, London & Paris.  It was super easy to familiarize myself with pounds. 
I spent 4 nights in London at Hotel Xenia, a super cute boutique hotel in Kensington, that I found via TripAdvisor.  The room was so small compared to Paris, but it was cozy and comfortable. I was stressing out about which area to stay in because London has so many different sections.  Things are spread out though so there is really no place that is central to everything. I had heard great things about Kensington and staying there as a home base during my trip.  My cousin and friend were traveling there part of the same time as me and were staying in that area too, so that's what helped make my decision.  It was the best decision too because the hotel was only a short walk to the Earls Court station and I took the tube multiple times every day.
London Tip: Get an Oyster card for the tube.  You will save yourself so much money.  It's super easy to use and navigate your way around London. There is always someone working in there for you to ask which train to take.  They're broken down into the Piccadilly, District and Jubilee lines.  I only took ubers late at night.  If you take any taxis, make sure they are the black ones. 
So my first day in London I familiarized myself with the area.  That is always one of the first things I do when traveling alone.  I love to get a feel for the place that I am staying in.  I came across so many beautiful homes and the cutest alley ways.  I loved that there were several coffee shops, pubs, and restaurants in my area.  After figuring things out, I wasted no time and took the tube over to the Regents St. & Oxford St. area, which was filled with so much energy.  I loved it so much.  I just walked around aimlessly until I found a pub to grab some lunch.  Then I wandered around some more, head back to the hotel and got ready to meet my friend, her mom and daughter for dinner & drinks in the Marylebone area.
The next day I took the tube to Westminster and as soon as I walked out of the station I was standing directly in front of Big Ben and Parliament.  I have always wanted to see it in person.  I learned that Big Ben is actually the nickname for the Great Bell of the clock. I wandered around a bit on my own before meeting up with my cousin and his friend.  This was the first and only day I got to hang with them in London, but we had a blast!  I loved seeing the London Eye and that whole area was just filled with so much life.
The biggest highlight for me in London was doing the London Eye champagne experience.  Definitely worth it!  I had booked this previously on Viator and coordinated it so that I could go on it with my cousin, his friend, my friend Jill and her mom and daughter.  It was so amazing to be able to share that experience with all of them.  Seeing familiar faces while traveling alone feels really good!  We got to have two glasses of champagne while going all the way up above London.  The views were beautiful!  I think the ticket cost me about $50, but it was well worth it in my opinion.  It's one of those one in a lifetime experiences.
 A quick funny story.  A few minutes after going on this when we were walking out and up the steps, I fell so bad.  I literally ate the ground.  I bled through my white jeans.  I was a little buzzed from the champagne to be honest and found this hysterical.  I did bruise my knees pretty badly and ruined my shoes, but I was a trooper.  Luckily the hotel cleaned the jeans for me and I just changed really quick, went to dinner, and then met up with everyone at Zoo Bar in Soho.  So much fun!! Soho reminded me of the LES in New York. Same type of vibe.  You must check it out if you visit London.
The next day I feel like I did so much.  I started out in Notting Hill getting familiar with Portobello Market.  You must check it out!  It's just filled with so may shops, street music, street food and tons of people walking about. After I got out of the train station I had no idea where I was.  I saw this girl walking by herself and asked where the touristy section of Notting Hill was and she was so kind to walk me to it.  We got to talking and I found out that she herself is also a blogger, so we exchanged info!  She was the sweetest.  It's really easy to interact with people when you are traveling alone.  I spent an hour or so here and then went to check out the beautiful Buckingham Palace.  Being there felt like I was in a dream!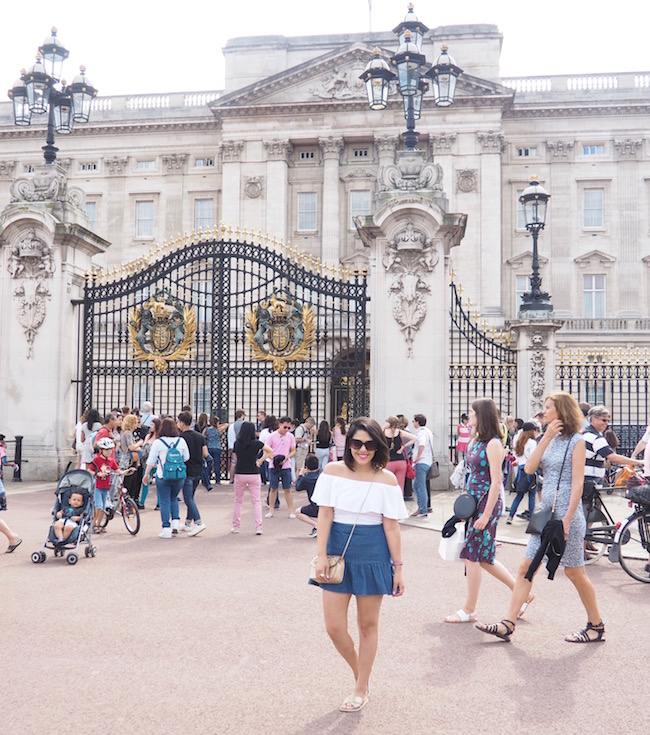 A few funny things that happened on this day. I got into the habit of grabbing morning coffee and taking it with me on the tube.  I couldn't find my Oyster card so I put my coffee on the ledge behind me while I looked and two seconds later this girl walked by and knocked the full cup over.  It spilled everywhere.  At the palace the wind blew my shirt up so high that I got my pink lipstick all over it.  It was just one of those days!  I ended up going back to the hotel and was able to get the stain out. 🙂 Later on I took the tube to Tower Hill so that I could check out the London Tower & Bridge.  It was probably the longest train ride and furthest away from where I was staying in Kensington.  I am so happy that I went though.  It's such a cool area and definitely filled with lots of tourists.  At night I went to dinner at Cafe Rouge on James St.  The street is filled with so many cute outdoor restaurants.  Highly recommend checking it out and the food was so good!  I was sitting next to these two older men from London and we got into conversation about travel and blogging because the one guy worked for a travel magazine.  So even though I was having dinner alone, I wasn't really alone!
Solo Travel Tip:  Don't be afraid to ask several people to take your photos. Sometimes I have to ask 4 or 5 to get that one good shot and I have no shame about it because when will I ever get to be back in these places? The key is to ask other tourists and people who have cameras because they are doing the same thing that you are.  Most people would take photos of me and then I would take photos for them in return.  I always just feel out vibes and have a pretty good idea of who to ask. 
I always wanted to have afternoon tea at Sketch, so I saved this for my last full day in London.  I had heard so many things about this place, especially via Instagram.  They are known for their bathrooms that feel more like a spaceship.  The toilets are shaped like eggs!  The tea itself was so good.  I got the chamomile flower and they bring out a tower of assorted sandwiches and desserts.  I could't even eat everything.  It's definitely worth checking out for yourself.
Solo Travel Tip: If you are going to travel alone, then go all out.  Make sure to take yourself out to restaurants and don't just stay at the hotel for meals. Eating lunch or dinner alone is not as bad as you may think! Also note that the tipping culture in Europe is very different than how it is here.  This is a good thing to research before your next trip.
After that I wandered around more on Regents & Oxford to do a little shopping.  I have to admit walking around this day was a struggle and I was a sweaty mess.  Well to be honest I was always a sweaty mess. Ha! Sorry to share, but it's the truth.  It got really hot in London.  It didn't rain there once.  There were several times during this trip when I had to head back to the hotel to change and freshen up because the heat was getting to me.  I felt like I didn't pack enough summer clothes because the temps before I left showed that they would always be in the 70s.  London definitely hit in the 80s while I was there.  For my last night, I went to back to Notting Hill to check it out again and then stayed for dinner at one of the pubs over there.  It was a great end to stay.
I felt very safe in London.  I took the tube up until 9:30 at night and then ubers after.  Everyone that I met was friendly and helpful.  There were so many photos to go through so this ended up taking me longer than expected.  I thought it might be too much of an overload if I did both this and my Paris Diary in the same week, so that one is coming up next! I hope that you guys enjoyed this and that it gives you a good idea of some of the things that you can do when visiting London.  4 nights was a decent amount of time for me to do most things, although I do wish that I had a few more days to explore a couple of other areas.  I was pretty much out and about all day every day so that I could make the most of my time.  I took the Eurostar train from London to Paris and it was only a 2 hour ride.  I ended up losing my neck pillow somewhere in that station!
 London will always hold a very special place in my heart. <3