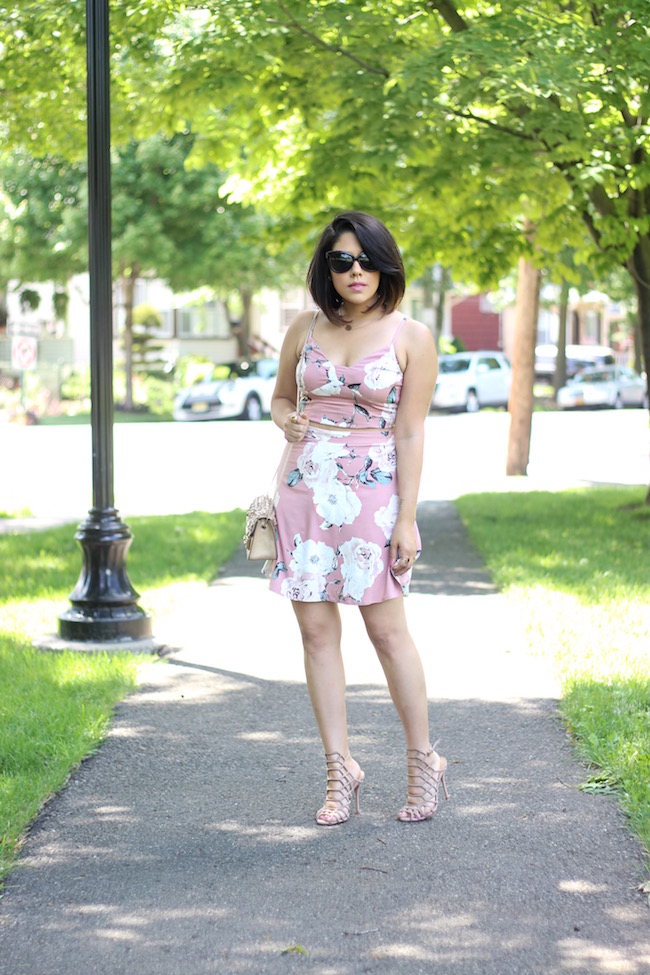 Summer is almost officially here and for me that means crop tops and matching sets!  These were some of my go-to pieces last year and I'm pretty sure that they will continue to be.  As I mentioned in a recent post, when it comes to wearing things during the summer I am all about light & easy pieces.
What I'm Wearing
Skirt: Dynamite | Crop Top: Dynamite | Shoes: Schutz [similar here & here]
Bag: Furla
I recently got some items from Dynamite's new summer collection and this set was one of them.  I couldn't wait to wear it!  The best part about a matching set is that you get the most out of each piece since you can wear them together or style them separately.  I absolutely love that. Versatility is everything for me when it comes to fashion.  My main struggle with matching sets like this is the fact that I am so petite and have a very short torso, so sometimes it can be difficult to show that the pieces are actually separates.  I'm sure some of you can relate to this, right?!  My solution was to tuck the crop top under just a little bit to show the separation.  😉
I can't believe how much floral print I have been wearing lately.  The warm weather just brings that side out of me I guess.  I love this particular color and print combo though because it's got such a light and feminine feel without being too girly.  Does that make sense?  I decided to pair this look with my favorite Schutz caged sandals from last year.  They're so fun to wear.  I almost went for my nude ankle straps and then realized how much I have worn those lately. I needed to give them a break and switch up my shoe choice.  I notice that I tend to do that at times.  I constantly gravitate towards the same shoes regardless of how many other pairs I have.  The final touch for this outfit was this mini gold bag.  Thanks Furla!
Do you love matching sets as much as I do? Thanks for checking out today's post.  Hope you all enjoy this beautiful day!