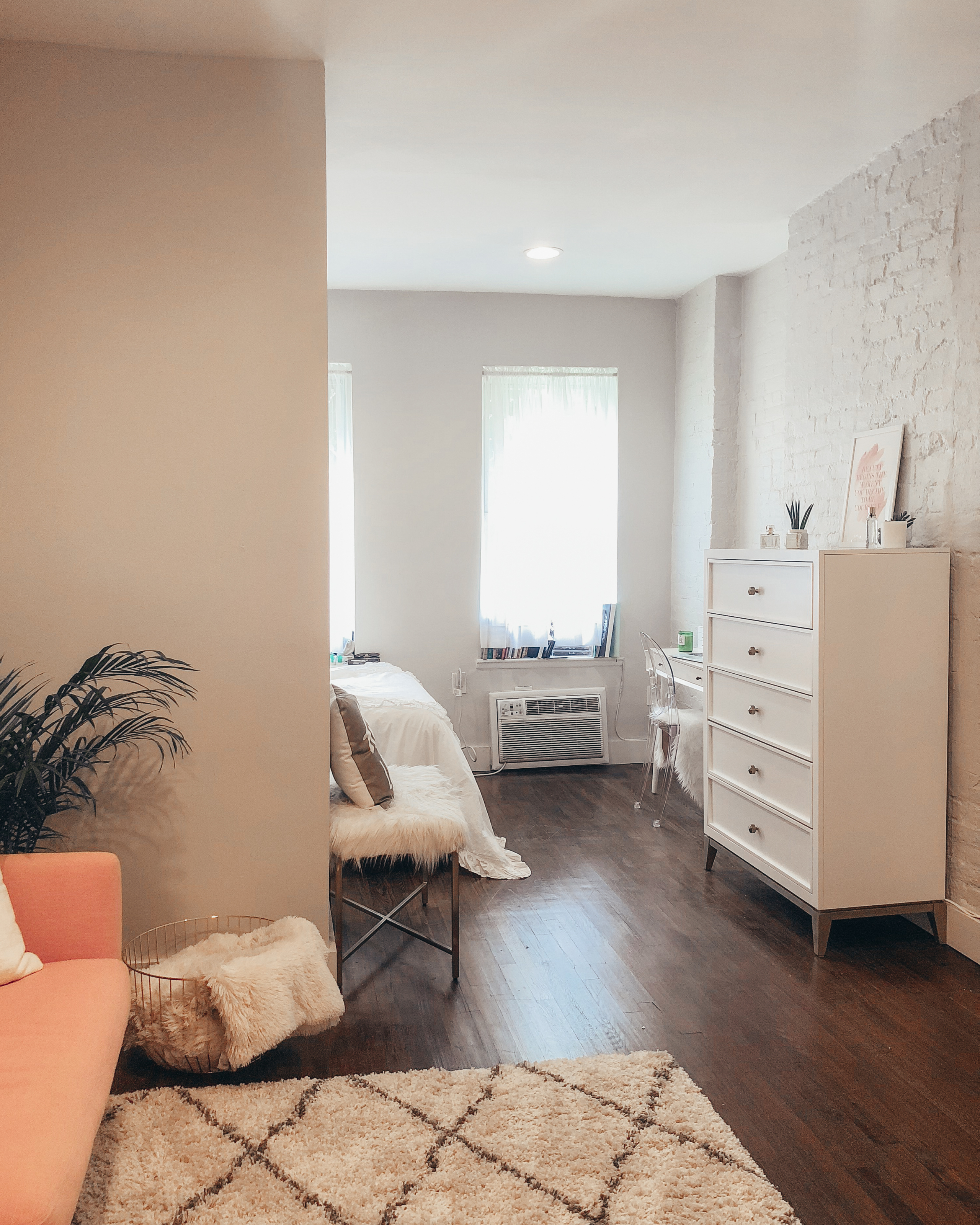 Welcome back to my studio apartment! I'm not 100% done with the furnishing and decorating process just yet, but I did want to share a little update on the progress that I've made so far. Once everything is complete, I definitely plan to share a "reveal" post with better photos of the final outcome. For reference, you can check out the empty space here.
Let me start off by saying that this has been A PROCESS. While choosing pieces and decorating can be so fun, it's also very expensive. I can be extremely indecisive (one of my not-so-great qualities) so I feel it takes me even longer to decide on a piece before purchasing. I've also been super adamant about finding the right size items to fit in this studio. It's taken a lot of late night internet stalking, but so far I've been pretty lucky to come across some great finds that work within my budget.
I hope to have this apartment completely done by the end of September. You know what that means right? Housewarming party!
This might sound silly, but I remember being back home at my mom's house visualizing the day that I would have a housewarming at my own place. Each time I add something new it starts to feel more and more like my own little home. I'm constantly still in this surreal daze and wonder when it will officially hit me that I live in New York City!
I have already switched up the decor in here so many times and keep changing my mind about how I want things. I didn't have a stylist or designer to help with any of this, so I've just been using Pinterest for inspiration and taking my time to find pieces that I truly love and that fit my style. My theme has been Mid-Century Modern with some glam touches. I wanted mostly white and neutral tones to keep the space feeling open and airy, but then added in some pops of color, like blush and gold, throughout the whole apartment.
"Bedroom"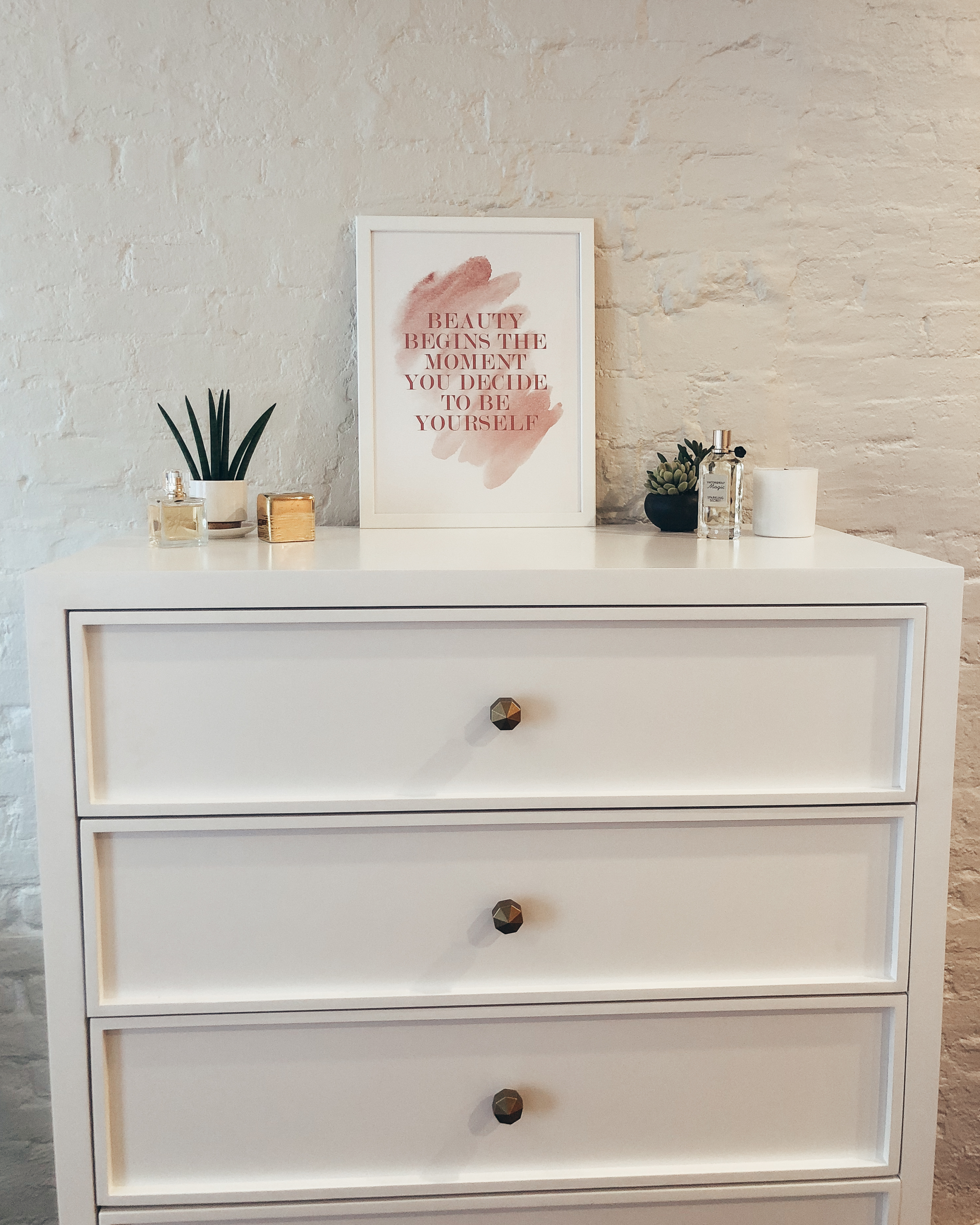 I had to make some adjustments with my initial vision for the studio. I ordered my dresser with the hope that it could fit into the nook in the living room area. The goal was to then mount the TV on the wall above it. Unfortunately, the measurements were slightly off and it just didn't fit or work in that space. I reluctantly moved it to the larger wall, but now it's growing on me in this spot! Fun Fact: It's a kid's dresser! Haha.
I actually like the way it sort of divides the area from the bedroom and the living room. I added a little decor and an inspirational print on top to style it up. I plan to put something lower on the side of it too so that the eye doesn't go directly to the dresser. I had other ideas for this large wall, but you can only fit so much into a studio apartment and just have to make your pieces work.
Directly across from the dresser is my faux fur bench. It sort of gives off this vibe of this being my "dressing area." The bench is such a great decorative piece that also serves as an additional seat for the living room when I have company over. I plan to add a print or small mirror above it to complete this little wall.
Working Nook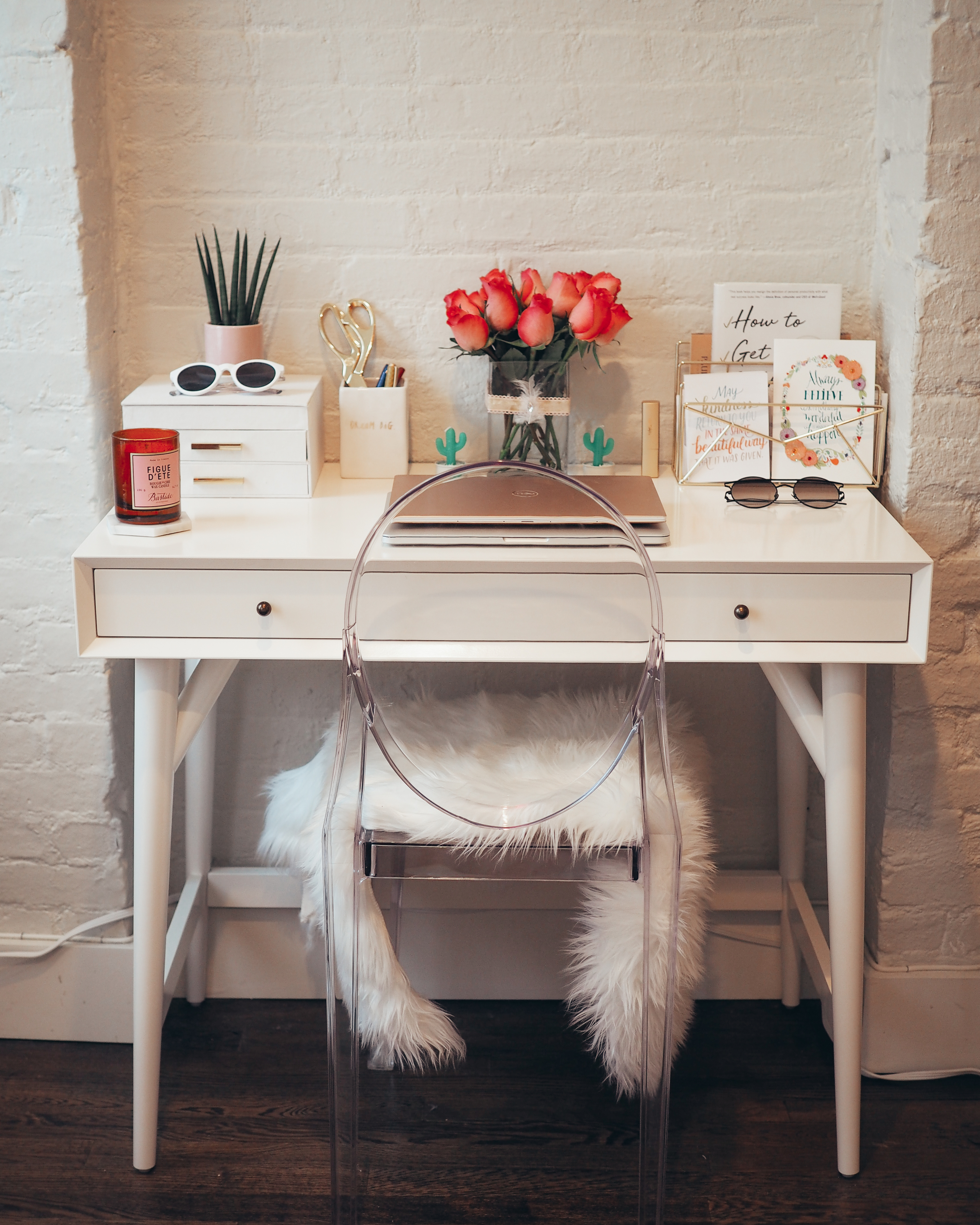 It was important for me to create a working space that would be separate from the living room. When figuring out where to put my desk, I became obsessed with finding one that would fit directly into this wall indention by the window. I got super lucky to come across a mini mid-century one that I swear was made specifically for this apartment!
I bought a ghost chair and threw a faux fur throw rug over the seat to make it more decorative and comfortable. These acrylic chairs are super sleek and don't take up much space. I also love how they compliment my acrylic counter stools.
The last thing that I have to do for this area is get my round mirror hung on the brick wall. I wanted this desk to also serve as a vanity if needed since I get some amazing natural light by the window. I also have an empty space to the left of the desk where I can put something low to give me some extra storage. Maybe cubes or drawers, not sure yet!
Living Room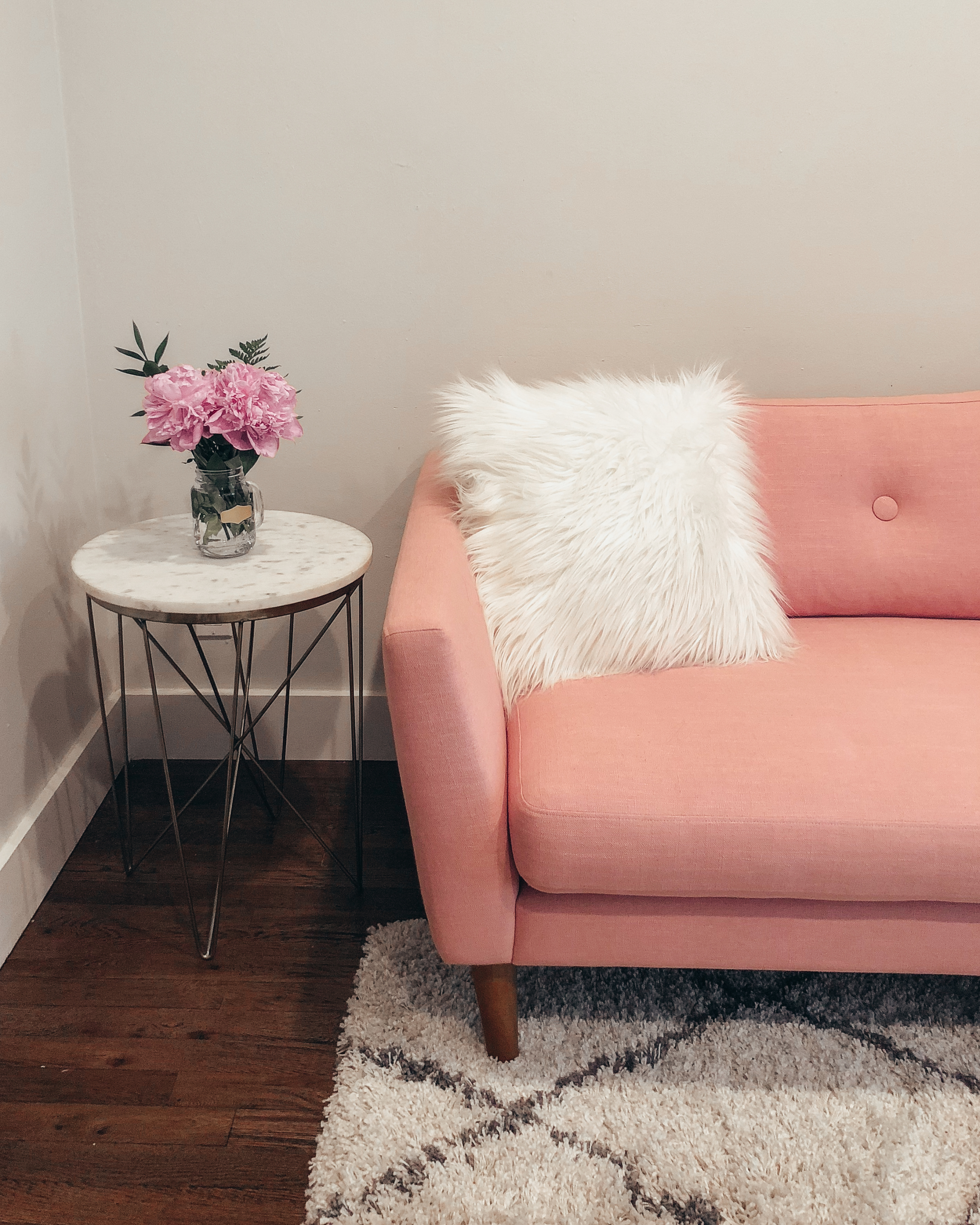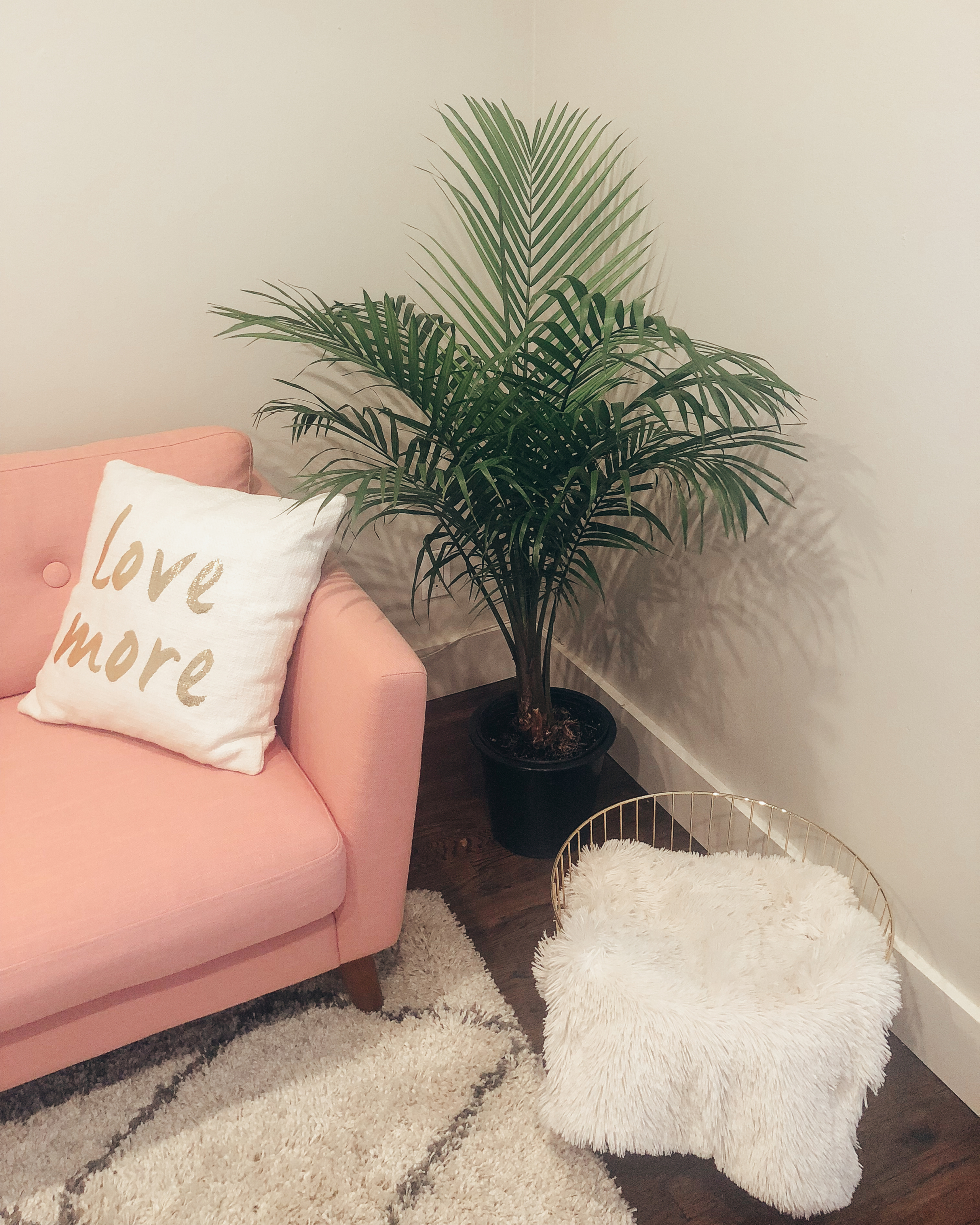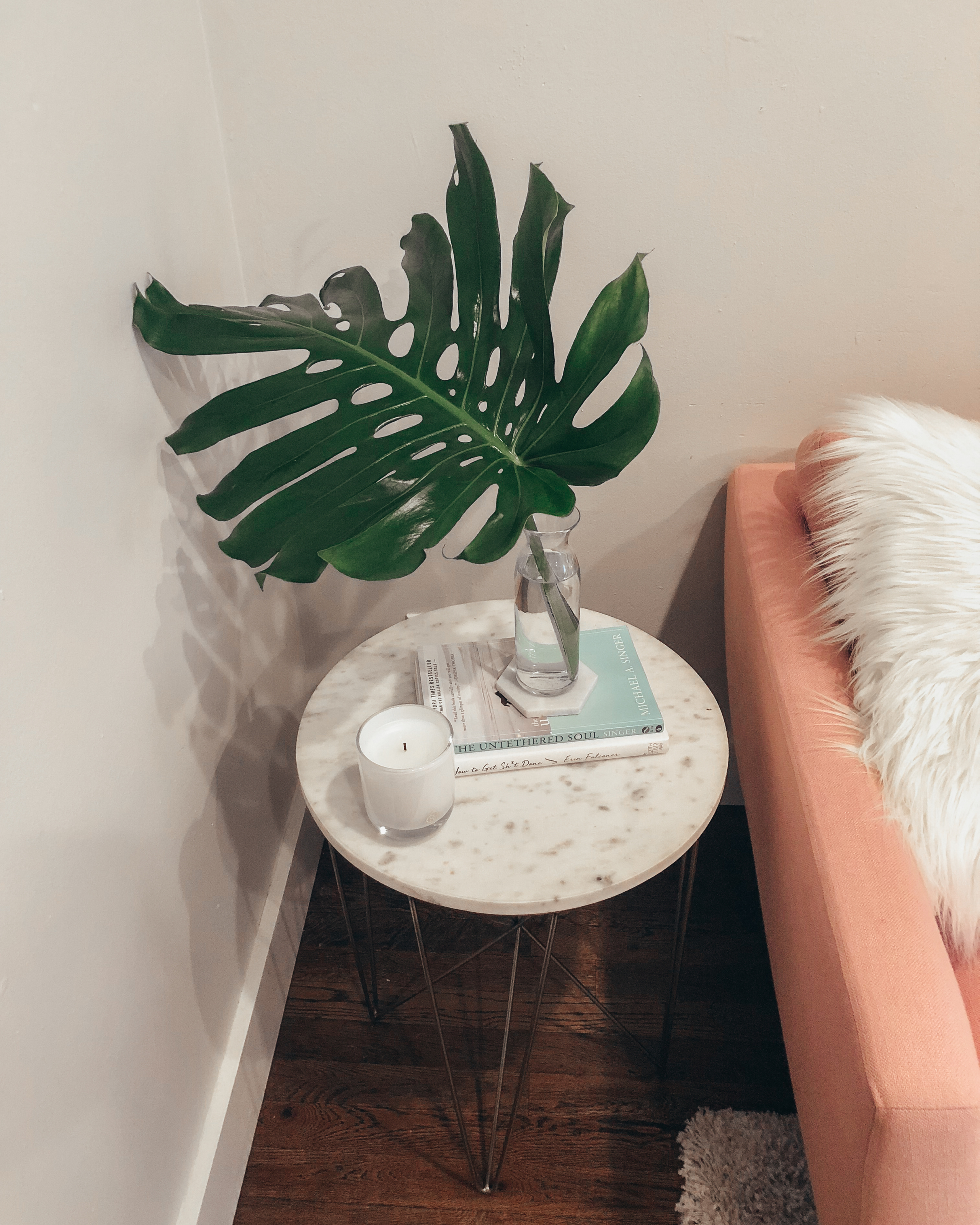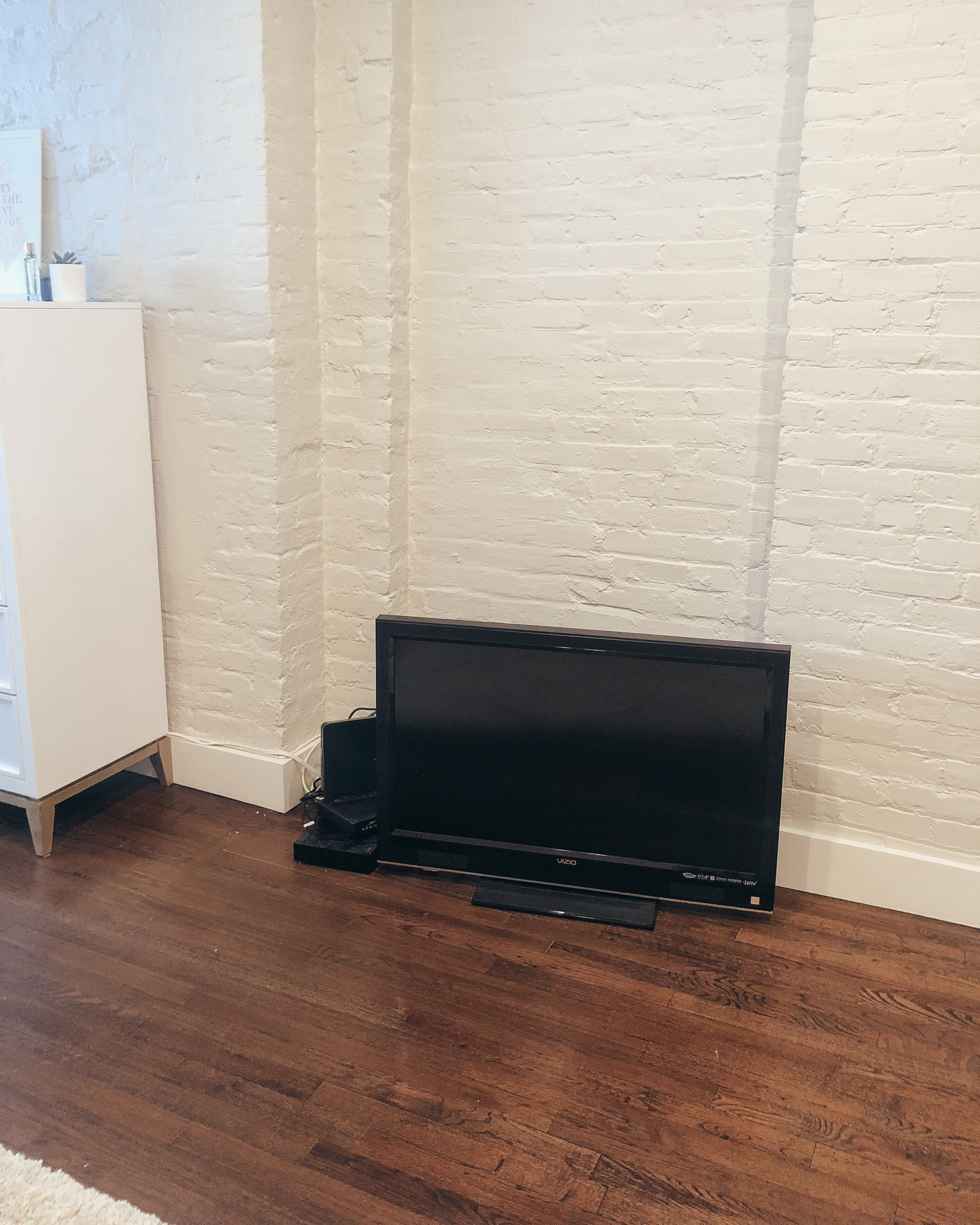 Here's a little peek at my blush mid-century sofa! I'm obsessed. Definitely the best purchase that I made for this apartment. I have to get more throw pillows and artwork to place above it, but for now this is just a little look into the space.
One of the most challenging pieces for me to find, believe it or not, has been the coffee table. My sofa is low so I can't have one that comes up too high above it. I don't have a ton of space left on the rug, so I can't go with round as the depth on most brings it out to the edge. At first, I ordered an acrylic table, but it came completely broken and actually fit too small in this area. So now I have been on the hunt for a rectangle or oval shaped marble one that works with the measurements I need.
I went with one marble accent table that I am continuously redecorating with flowers, palm leaves, books and candles. Not sure yet if I want to get a little lamp to place on top. I didn't want to have two end tables, so instead I found a plant to put on the other side of the sofa. I would like you all to meet PALMela! I got her from an outdoor flower shop near my apartment, but she has friends at Home Depot! May she thrive in this studio. I just have to find an elevated decorative planter to put her in and then it will feel more complete in this little corner. The gold basket is another fun addition to put blankets and throw pillows.
My TV is still on the floor as you can see, but now I know that I can't put anything too big underneath it once it gets mounted. I'm still trying to decide what I want to put here. Any ideas? The fear was having too much lined up against that wall, but with the different height levels and wall indentions creating a difference in depth, I think it's working so far. I also really wanted to get a full length mirror, but no idea where to put it yet.
Dining Area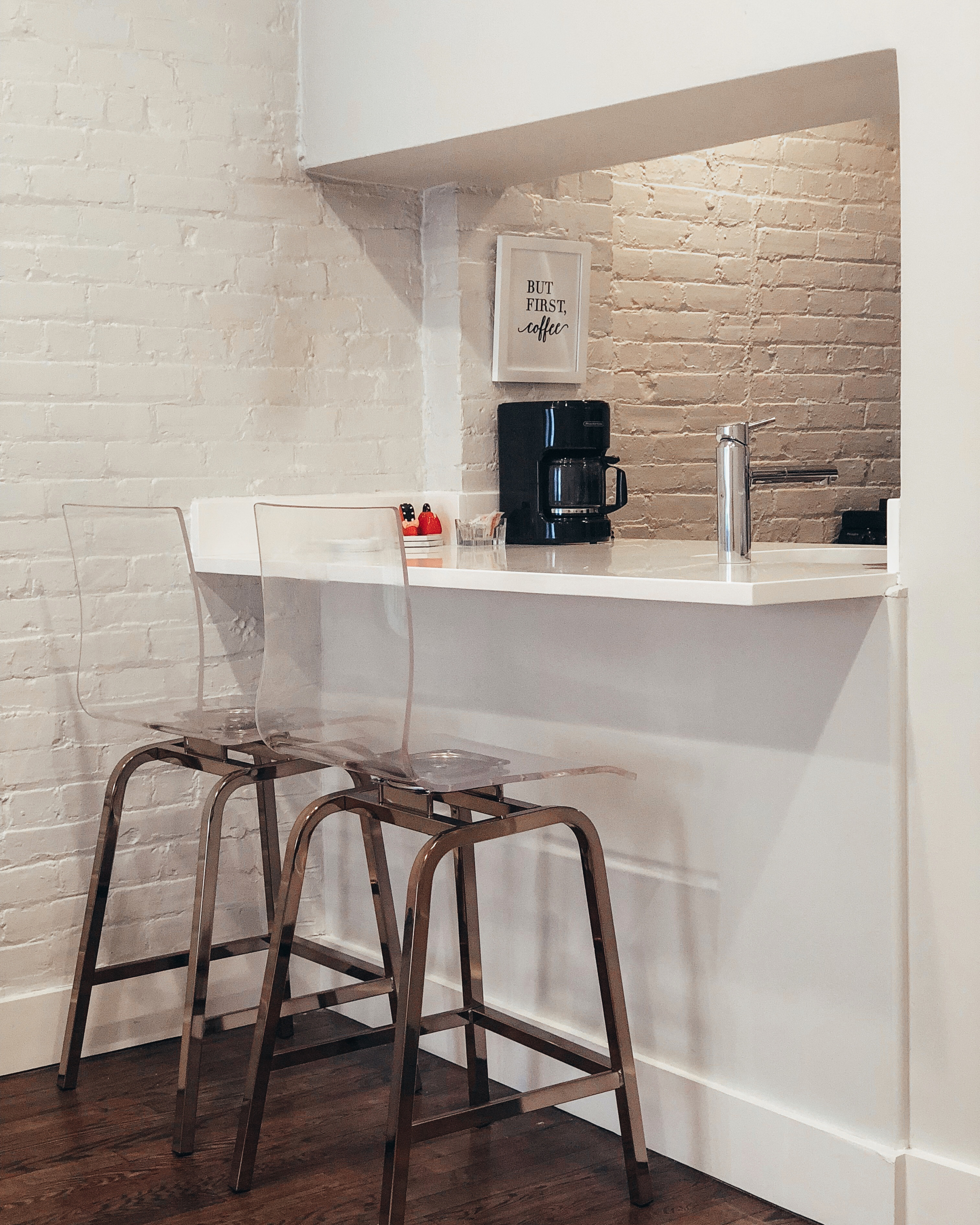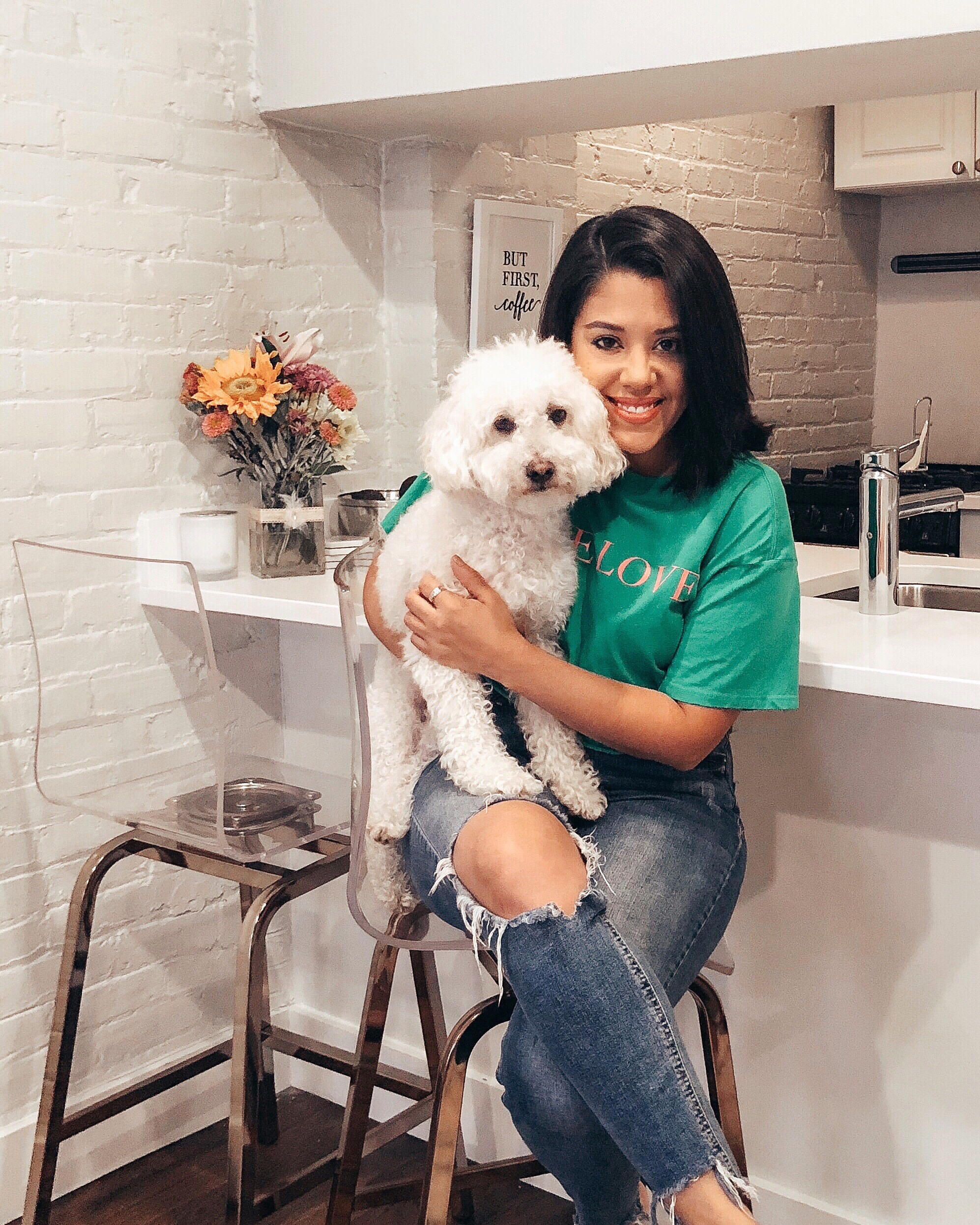 Do you guys remember the cut-off black granite countertop? Two months ago it was finally replaced to white quartz and I can't get over how much of a difference it made! The white opens up the space so much more and even gives the illusion that the kitchen is a little bigger. These stools have been such a hit when I have company over. Everyone loves to sit on them and swivel around.
I still need to finish decorating this area and hope to replace the magnetic strip above the stove with a shelf. I will show photos of the kitchen and the bathroom/hallway area when I do my apartment reveal post!
Besides more artwork, I would love to have a few shelves put in, potentially between my two windows, so that I can display my books and other decor. Right now I have everything on my windowsills. The apartment is coming along though! I'm actually proud of myself for what I've been able to put together so far. Can't wait to share the final look along with more photos and different angles of the studio.
I also plan to do posts on decorating small apartments, little hacks to make the most of your space, and more. Let me know what you want to see when it comes to home decor. Hope you enjoyed this little peek into my new home!
Inside My Apartment 
Article Emil Sofa in Rose Quartz
West Elm Mini Mid-Century Desk 
Raymour & Flanagan Blanchard Full Size Bed 
Overstock InspireQ Counter Stools 
Home Depot Majestic Palm Plant