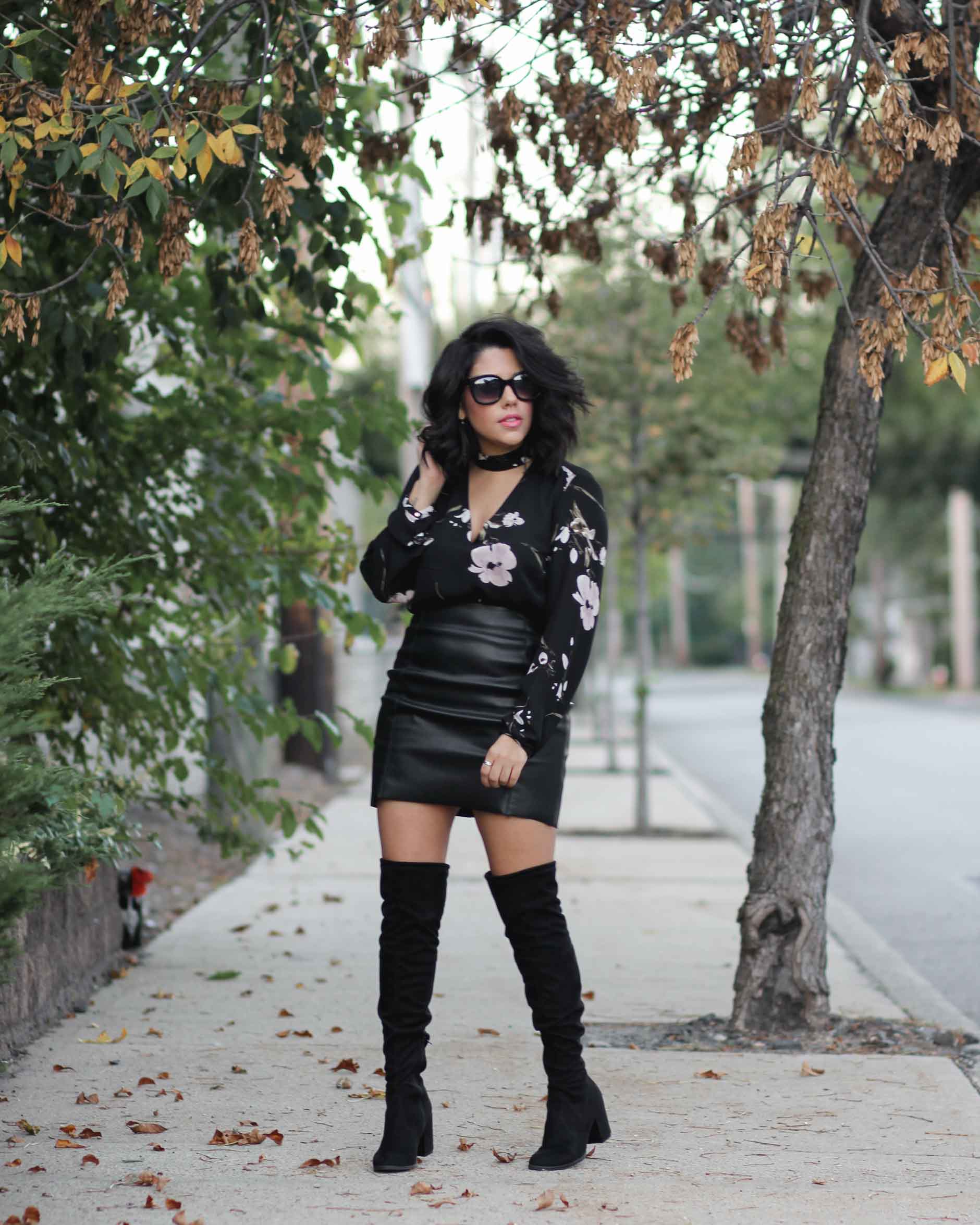 You're getting a 2 for 1 special today. Two looks in one style post. ☺️
I recently did a fun fall collaboration with DSW on Instagram, but since I captured so much content for each look, I decided to share them both on the blog today. 50% of you asked for more style content on my IG stories poll, so I hope you enjoy!
Since I've been writing a lot of personal pieces in my recent posts, I decided to get back to the roots and just talk fashion today. We still haven't gotten a real dose of fall weather just yet, but if I keep dressing for it then it will eventually come, right?
Outfit Details 
Floral Top: Dynamite [old, similar here] | Faux Leather Skirt: H&M | OTK Boots: Unisa via DSW
4'11 what?! I live for OTK boots during the fall season. They are probably my favorite type of boot because there's so much versatility. I especially love pairing them with skirts like this and mixing textures. All about the suede and faux leather combo!
I've had the same pair that I've worn repeatedly for the last two years, so I was really happy to add these new ones into rotation. Finding the right fit can be a bit tricky though. I love that these have a tie in the back of the thigh so you can tighten or loosen them if needed. It definitely helped make a difference. No lie, they're super comfortable. I'll probably wear them over skinny jeans the next time I bring them out to play.
I'm also loving the darker floral print for fall. I actually prefer this type of floral over the brights that we see during spring and summer. I wear them all though! 💁🏻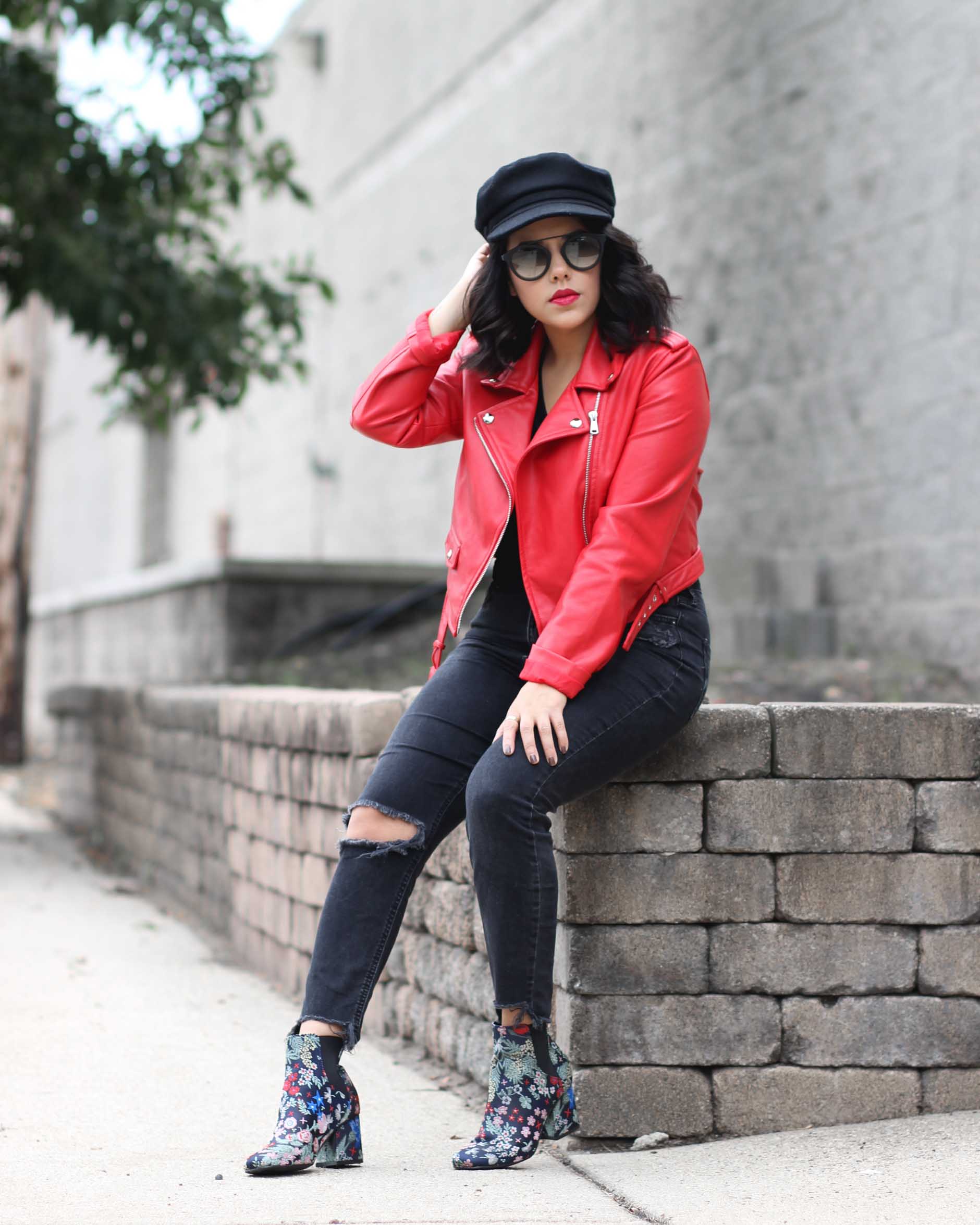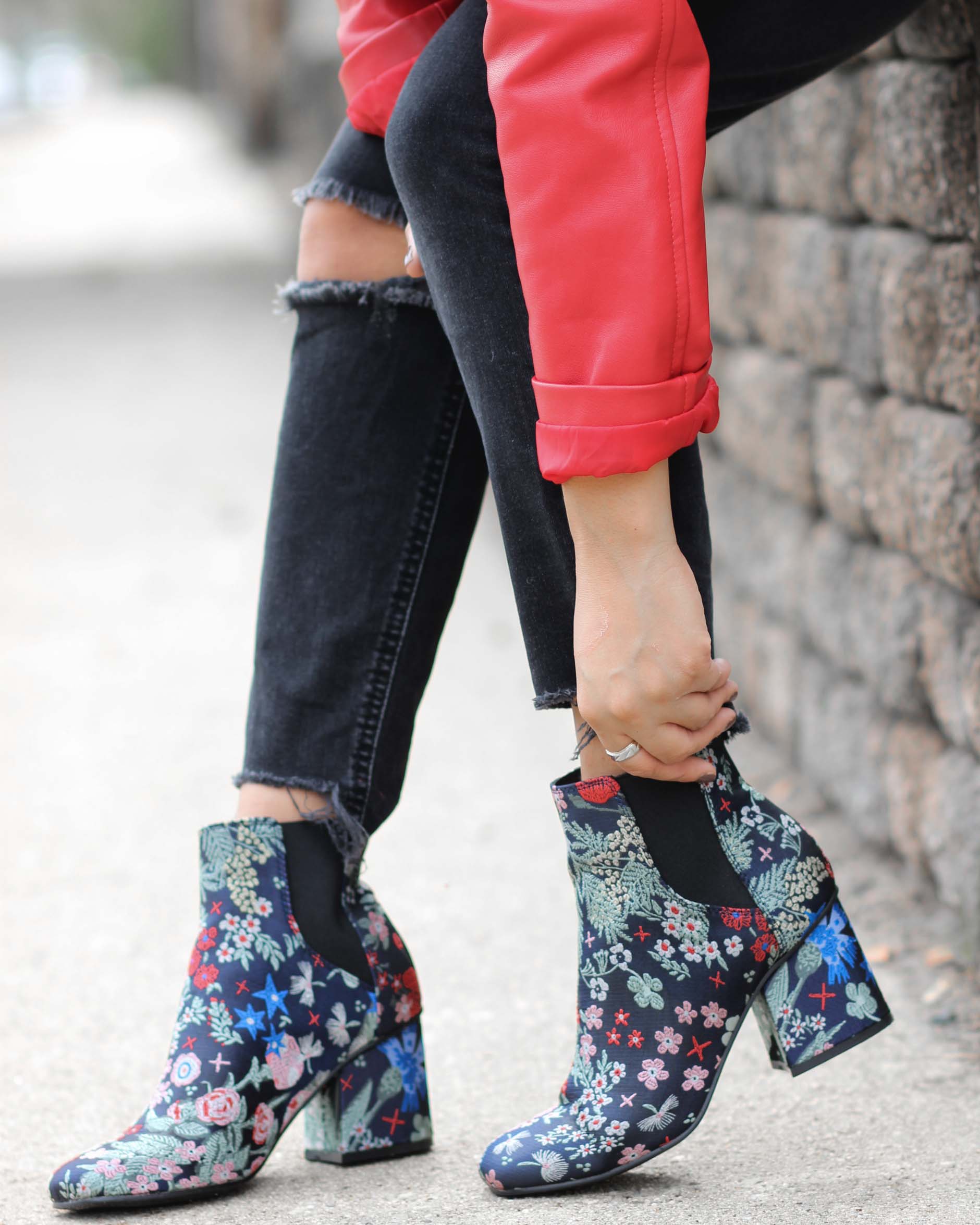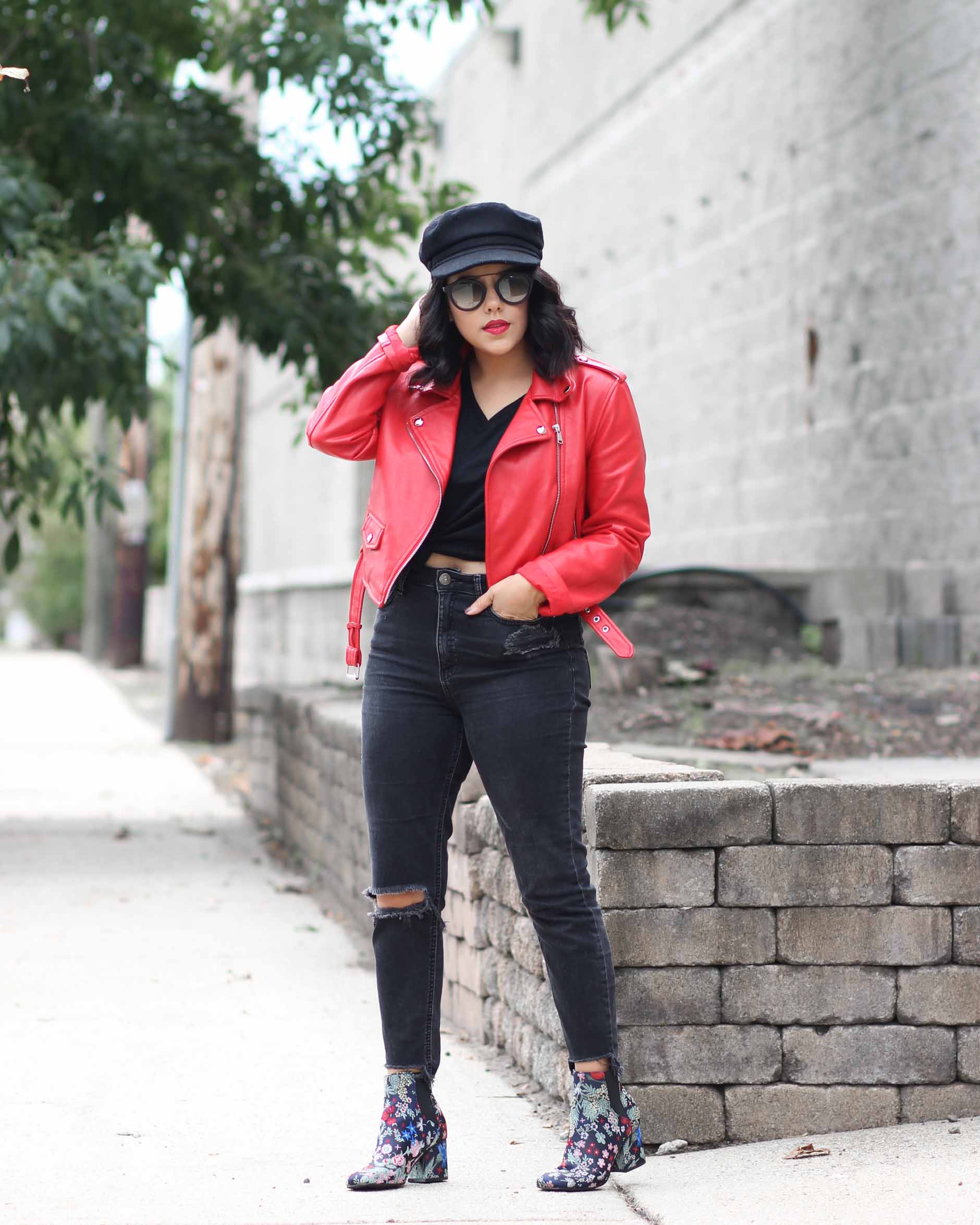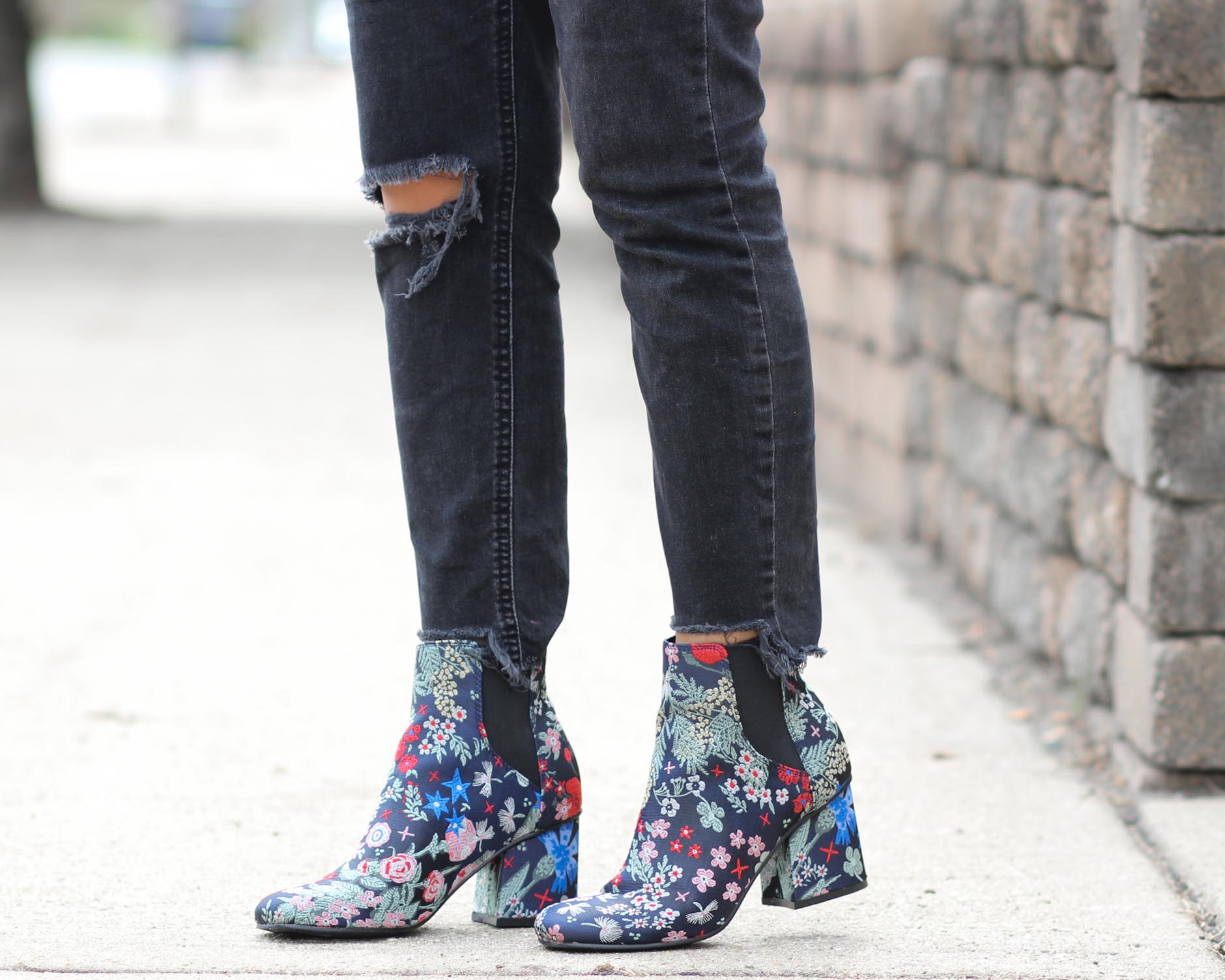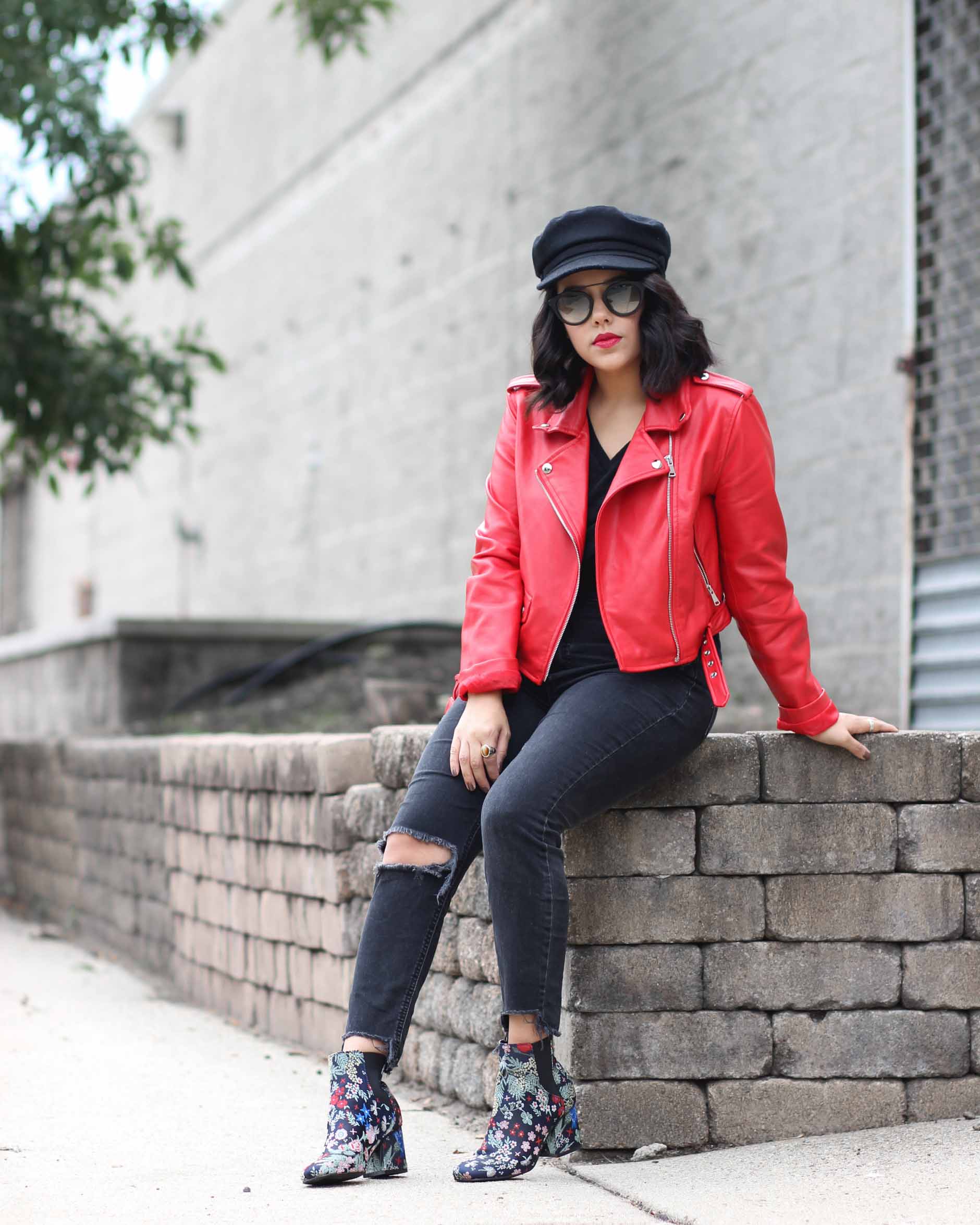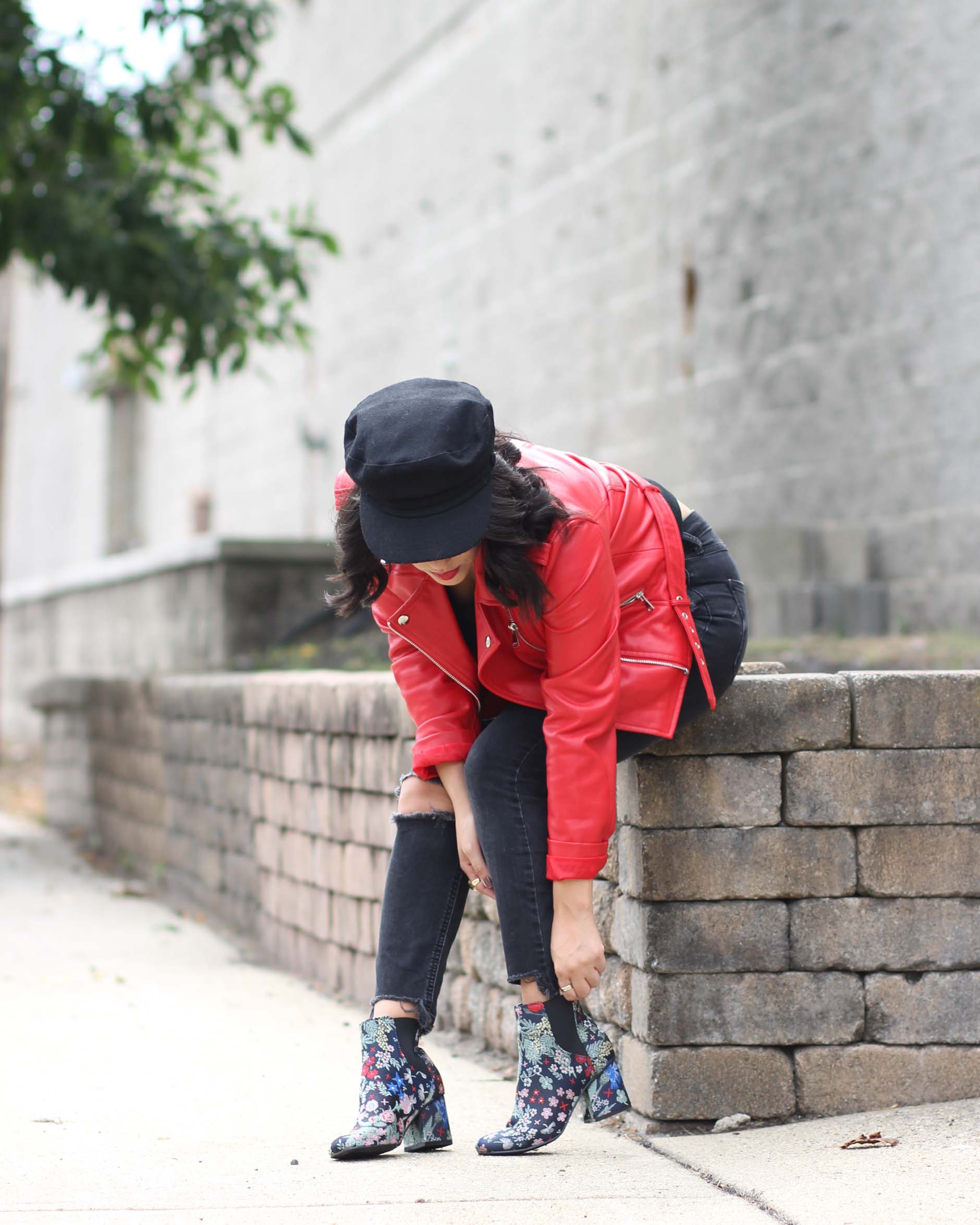 Outfit Details
Faux Leather Jacket: Bershka [also love] | Jeans: Forever21 [old, similar style] | Booties: Indigo Rd. via DSW
Hat: Bershka [similar here]
Talk about a statement shoe! I stepped out of my comfort zone a bit with these floral print booties and honestly had so much fun styling them. You're probably starting to see more and more of this style this season. What's your take on them?
Since they have a lot going on, my main goal was to keep the rest of my look simple. I wanted to bring out the red and this faux leather jacket was the perfect way to do it. Do you remember when I bought this at Bershka in Madrid? I got it in white too!
Besides the bold print, my favorite part about these booties are the low chunky heel. I'm telling you, I've been going through this phase where I don't want to wear high heels unless I have to. I've really been picking comfort over everything else. I think back to a few years ago when most of my style posts I wore pumps and stiletto heels. What was I thinking?!
Thanks for stopping by today loves! What are some of you favorite fall shoe trends right now? Chat with me in the comments! I'm heading to Captiva Island for a work trip Friday morning, so if I can get one more post up before the weekend I will! P.S. Check out Tuesday's post here!
Shop OTK Boots & Floral Booties