I've been really excited to share this travel guide because Bruges was a legit fairytale. I felt like I was walking around inside of a storybook. I mean seriously, how is this place even real? Hopefully my photos do it justice and if by chance they don't I still have tons of videos of this charming town saved to my Instagram Story highlights.
Bruges is considered to be the "Venice of the North." It was first put on my radar a couple of years ago after one of my friends went to Belgium. She told me that I must take a day trip from Brussels, but after doing some research I thought it would be best to get a hotel here and explore for a few days. I stayed for three nights and would have stayed a little longer if I could have because it's one of those places that you just never know if you will have the opportunity to go back to. It's a small city with a population of 118K. Compare that to NYC and it feels very tiny!
There's not a TON that you can do, but I actually loved that fact. It gave me a lot of inner calm and peace that I had been yearning for. Some of my favorite moments were sitting along the canals and just being still. It's interesting because apparently Bruges is a very popular destination in Europe for tourists, but when I shared my adventure on IG most people had never even heard of it. I'm not sure if it's the time of year that I went (September), but it was not overcrowded or too touristy like all of the other cities that I have been to. That was a huge plus for me. Sometimes I was the only one walking down a particular street and I always felt 100% safe here as a female solo traveler. It gave me more of that "hidden gem" feel than a popular tourist attraction.
To say I enjoyed my time here would be an understatement. While I couldn't extend my stay, I did change my train ticket to a later time before heading back to Amsterdam. I would come back here in a heartbeat. I've heard that the Christmas market is beautiful. Wish I could go and see it! If you are coming here for the first time I'd recommend 2-3 nights as this will give you ample time to explore and see what Bruges has to offer. A day trip could be good too, but I think you'd feel rushed and not have the time to truly appreciate it. I personally preferred Bruges over Brussels, although both places have completely different vibes. I personally prefer smaller towns over larger cities.
I have a feeling that you're going to fall in love with the medieval architecture, cobblestone streets and beautiful canals just like I did. Here is my travel guide for 3 days in Bruges!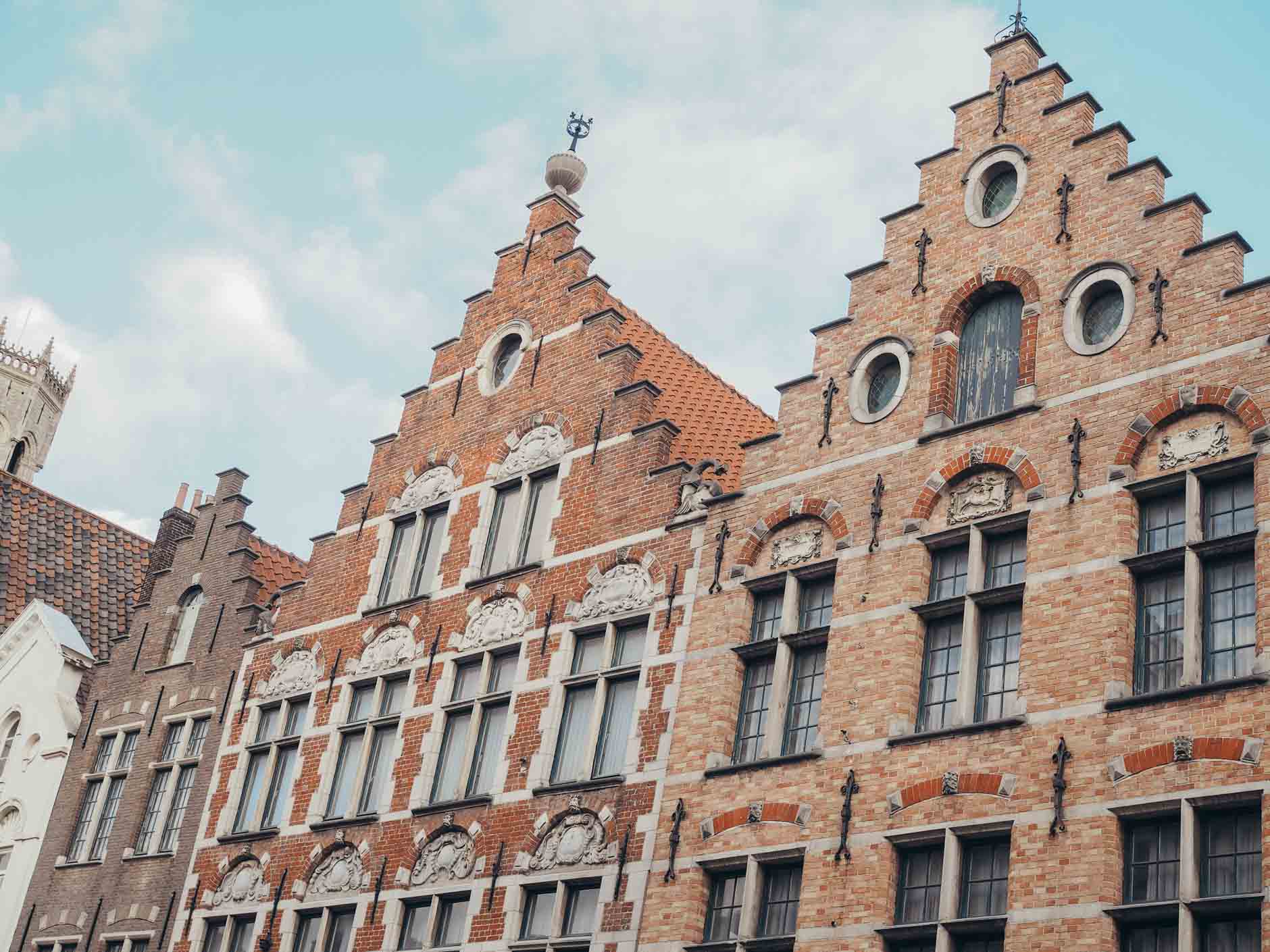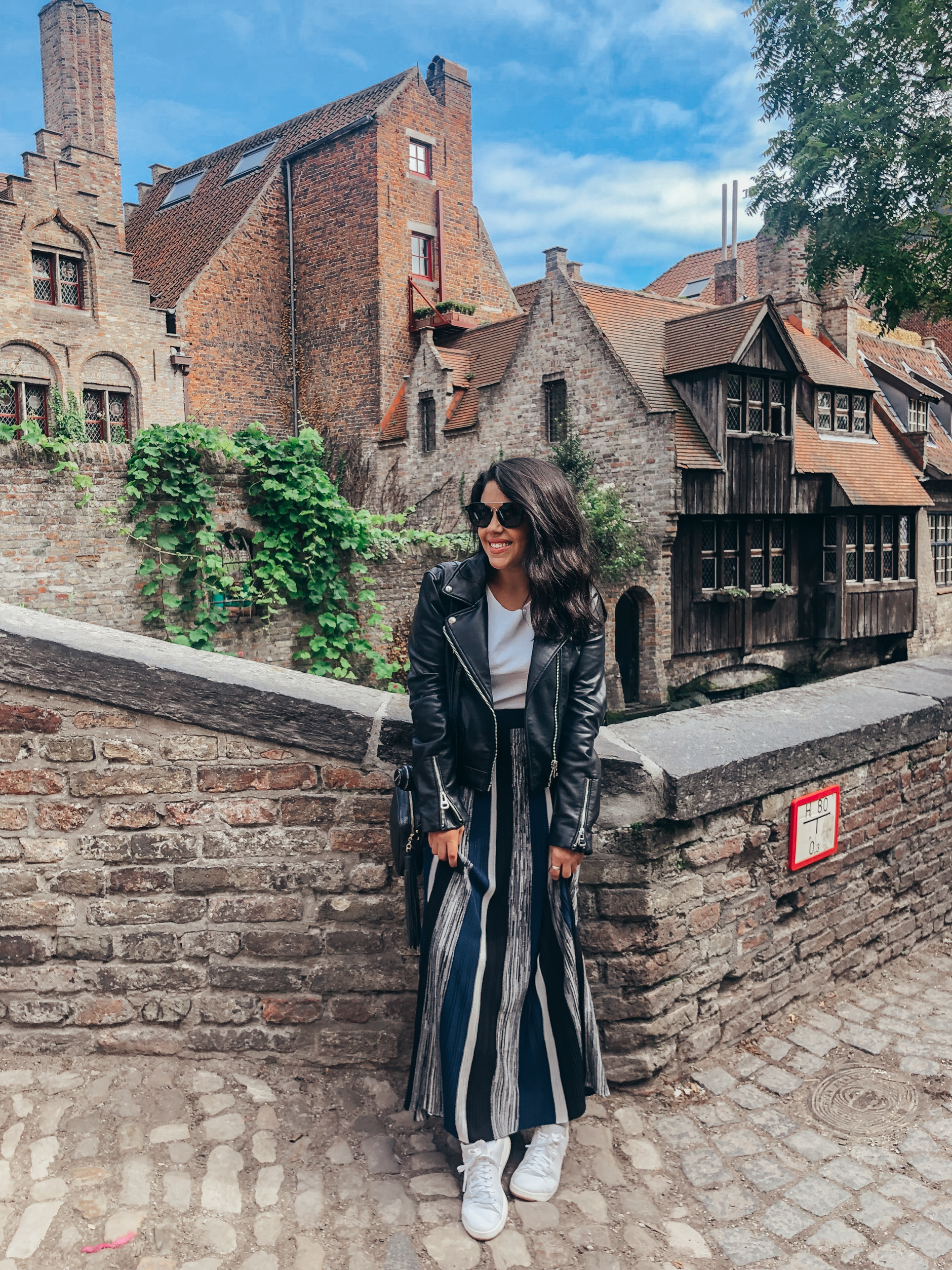 WHERE I STAYED 
Hotel Bla Bla – I had been torn between this hotel and another one (de Tuilerieen) but because of the price for my dates this one won. I believe it was around $90 per night. I'm happy that I stayed here because it was on a quiet little side street, my room was huge and there was a cute outdoor courtyard area where you could have a glass of wine or just hang out. They also offer a breakfast buffet at an additional cost, but I didn't add that on. I stayed in the back building and there was no elevator, which is pretty common for smaller hotels in Europe. You need to enter the building with a door code so if you stay here make sure to write the code down in your phone. They leave the front desk around 6PM and won't be there to help you get in should you forget it. The room key is an actual key and not a swipe card. You can check out the hotel's reviews on Trip Advisor. Thanks for the rec, Esther!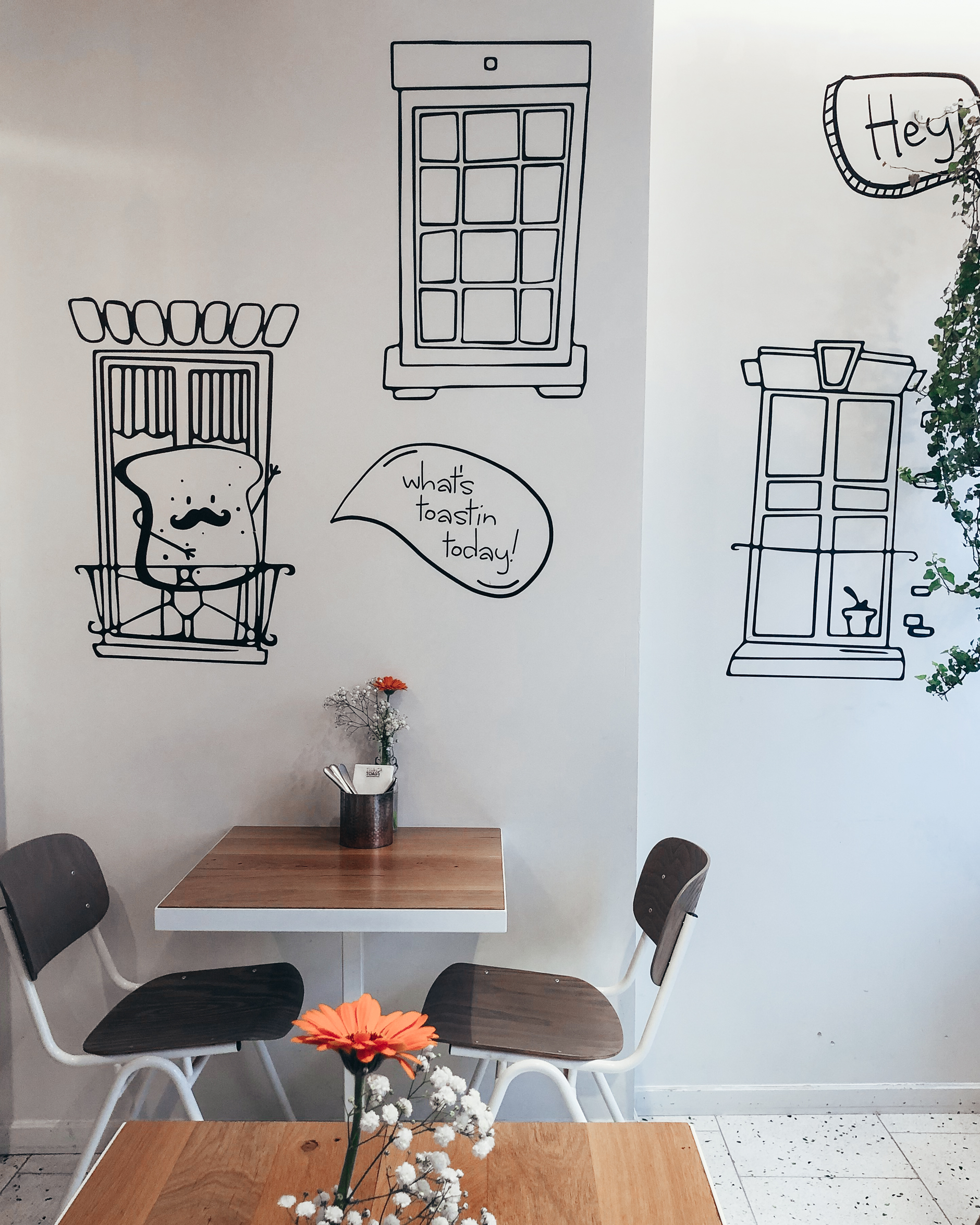 WHERE I ATE 
That's Toast – This is located a few buildings down from my hotel. It's a popular spot! This was the only place that I came to for a sit down breakfast. I ended up getting their french toast from the sweet side of the menu. The food is great and the place is so cute. You absolutely must come here if you're ever staying in Bruges. You can also pop in for a quick coffee to-go. I did this twice!
Poules Moules – I loved this place so much that I ate here twice. Here's a fun little story. The first night I ordered a dish that initially came with a spicy sauce and I asked if they could substitute that for some kind of garlic/butter sauce. The chef whipped up something magical for me and I loved it so much that I went back the second night and ordered it again. My server said that the chef was so happy that I came back because he had first learned to make this sauce when he started cooking school. The chef ended up coming outside to bring me my dish and meet me! Such a fun moment. This place is known for their mussels and fries. Make sure to eat here!
Stoepa – My hotel recommended this place to me. I must admit I got a little lost trying to find my way as it was a tad further out from where I was staying. And when I say a tad I only mean an 11-minute walk. This place has indoor and outdoor seating. I got the Stoepa wrap – better than I expected!
De Halve Maan Brewery – There's a restaurant inside the brewery so you can come here to eat even if you don't plan on taking a tour. I stopped by for lunch and ordered the croquettes. Very good!
QUICK BITES
Chez Albert – Come here for waffles to-go! You quickly order at the window and take it with you. On two of my mornings here I got one with whipped cream and went over to the canals to eat and take in the views. This was my favorite way to start the day. Super quiet and calming. I have to say I enjoyed the waffles more in Bruges than I did in Brussels!
Go.Fre – Waffles on a stick covered in chocolate! This is actually right across the street from Chez Albert.
Chocolate Shops – Hands down the best chocolate I have ever had. I got an assortment of different kinds from La Belgique Gourmande, but you will find chocolate shops all over town.
Tip: There are tons of restaurants everywhere so if you are unsure of where to eat just do a quick search online. Usually you can see the restaurant's reviews and check out their menu ahead of time.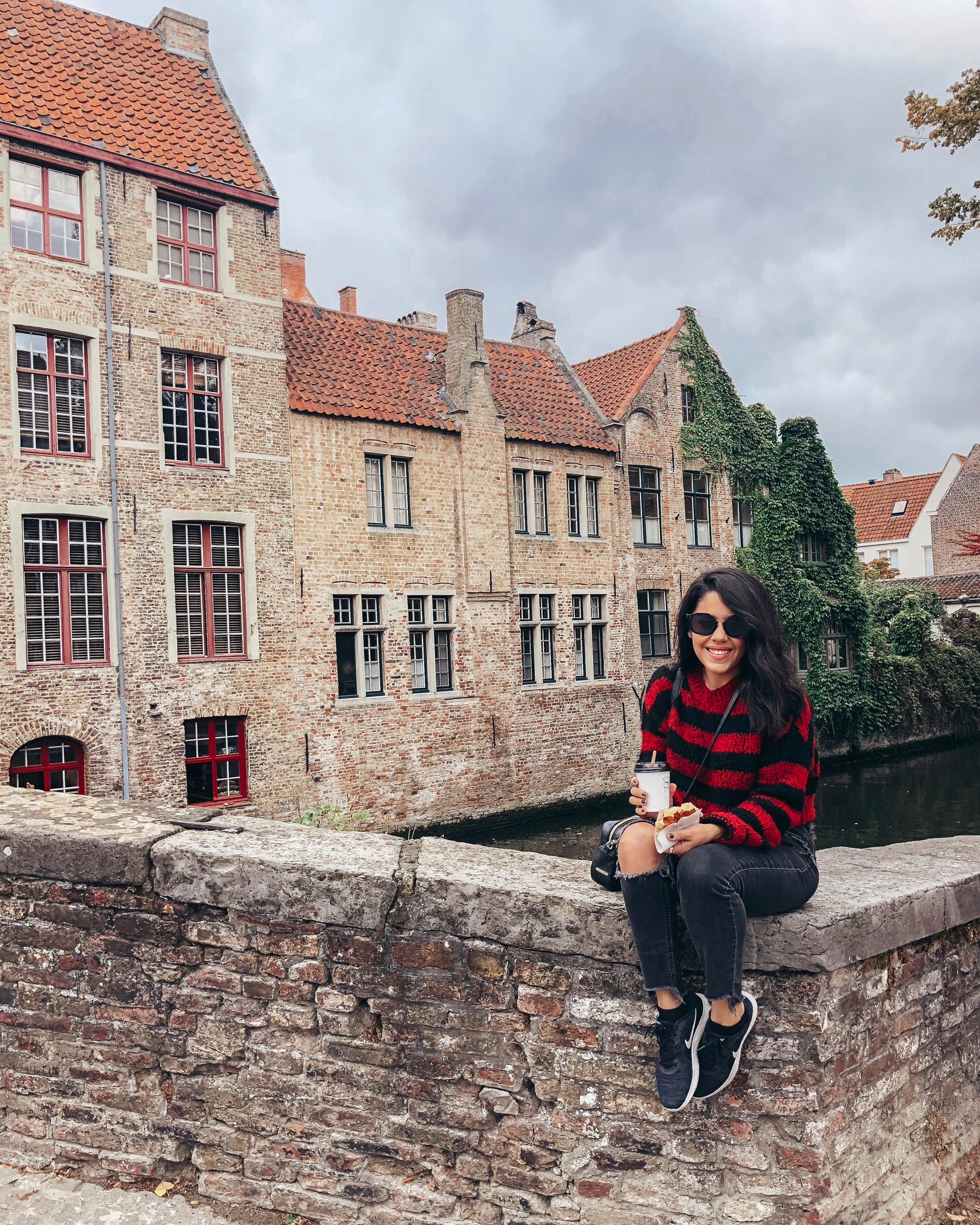 GRAB A DRINK
Rose Red Cafe – It's the cutest little spot with red roses hanging from the ceiling. My friend Dana (met her on my trip to Ireland back in 2015) told me to add this to my list for Bruges. I came here for a beer or two before heading to dinner one night.
The Beer Wall – I randomly found this place, but unfortunately the outside area was packed when I stopped by so I didn't stay. It overlooks the canal, which is a great way to enjoy a drink. It's a really cool spot though. The walls inside are covered in beer bottles.
Vlissinghe – This is the oldest pub in Bruges. I wanted to come here, but it was closed on my first night (closed on Monday and Tuesday) and then I forgot to try and go back. My friend came here and highly recommends checking it out.
De Halve Maan Brewery – Obviously come here for a beer. They have a cute outdoor area with a bar. This place is a great social spot for beer, food and a tour.

THINGS TO SEE/DO 
Canal Tour – The best way to see the town and all of the canals while learning a little bit of history. I think it was 10 euro for a half hour if I remember correctly.
Belfry Tower – You can purchase a ticket (10 euro) to climb all the way up the 366 steep steps with a few resting spots along the way. This was a workout. Totally worth it though for the view you get to see at the top. Once I made it all the way up the bell actually started chiming, which was really cool AND loud, ha!
Grote Mrkt – Located in the heart of the city, this is a great central spot to gather your bearings. It's lined with a bunch of restaurants. Here you will find the Belfry Tower. I found it to be the most touristy and crowded area of the town.
Lake of Love/Minnewater Park – Located in the Southern end of Bruges. Come here to see all the beautiful swans and Lover's Bridge. Legend has it that if you walk the bridge and kiss your loved one, it will become eternal love.
Basilica Of The Holy Blood – Roman Catholic basilica.
Brewery Tour – I did a tour at De Halve Mann and highly recommend. Your ticket includes one beer at the end of the tour. You also get taken up to the rooftop and will see a beautiful view of Bruges. There's also another brewery called Brewery Bourgogne des Flandres.
Tours/Experiences – I had initially set up a fries and chocolate making class/beer tasting tour via Airbnb experiences, but unfortunately my host had to cancel due to medical reasons. There's tons of tours and experiences that you can do and this is such a great way to experience more of the culture from a local.
Wander & Relax – This might be difficult for someone who enjoys a jam-packed itinerary, but the best way to experience Bruges is to simply wander around with no set destination to see what you find. Relax by the canals or try to find the windmills. Just BE.
BRUGES TRAVEL TIPS
Shops close at 6/6:30 and when they do the streets will clear out
When you purchase something from the supermarket, they will not give you a bag so either be prepared to walk out holding all your items or bring a bag with you
Most restaurants close around 10/11PM
There's not much of a nightlife scene here
Eating out was the most expensive part for me. Restaurants were a little pricier than I expected
You will walk everywhere so wear comfortable shoes. No need for a taxi except when going to the train station
There are no Ubers
If you're heading to or from Amsterdam there are no direct trains. You will have to switch trains in Brussels
Brussels National Airport is the main airport for Bruges
Pack an umbrella
MEMORABLE MOMENTS
Out of all the places that I went to on this trip I felt the most calm and happy in Bruges. On my second morning there I sat by one of the canals for a few hours just thinking and writing down thoughts. I asked God for a sign and a minute later the church bell rang. It was definitely a much needed moment of clarity.
Making it all the way up to the top of the Belfry. I've never climbed so many steep stairs before! I just remember the feeling I got when I saw the incredible view.
Eating chocolate for the first time in Belgium! It was HEAVEN.
I randomly came across The beguinage – the quietest area in Bruges. It dates back to the 13th century. There is a small church there and I lit a candle for my father.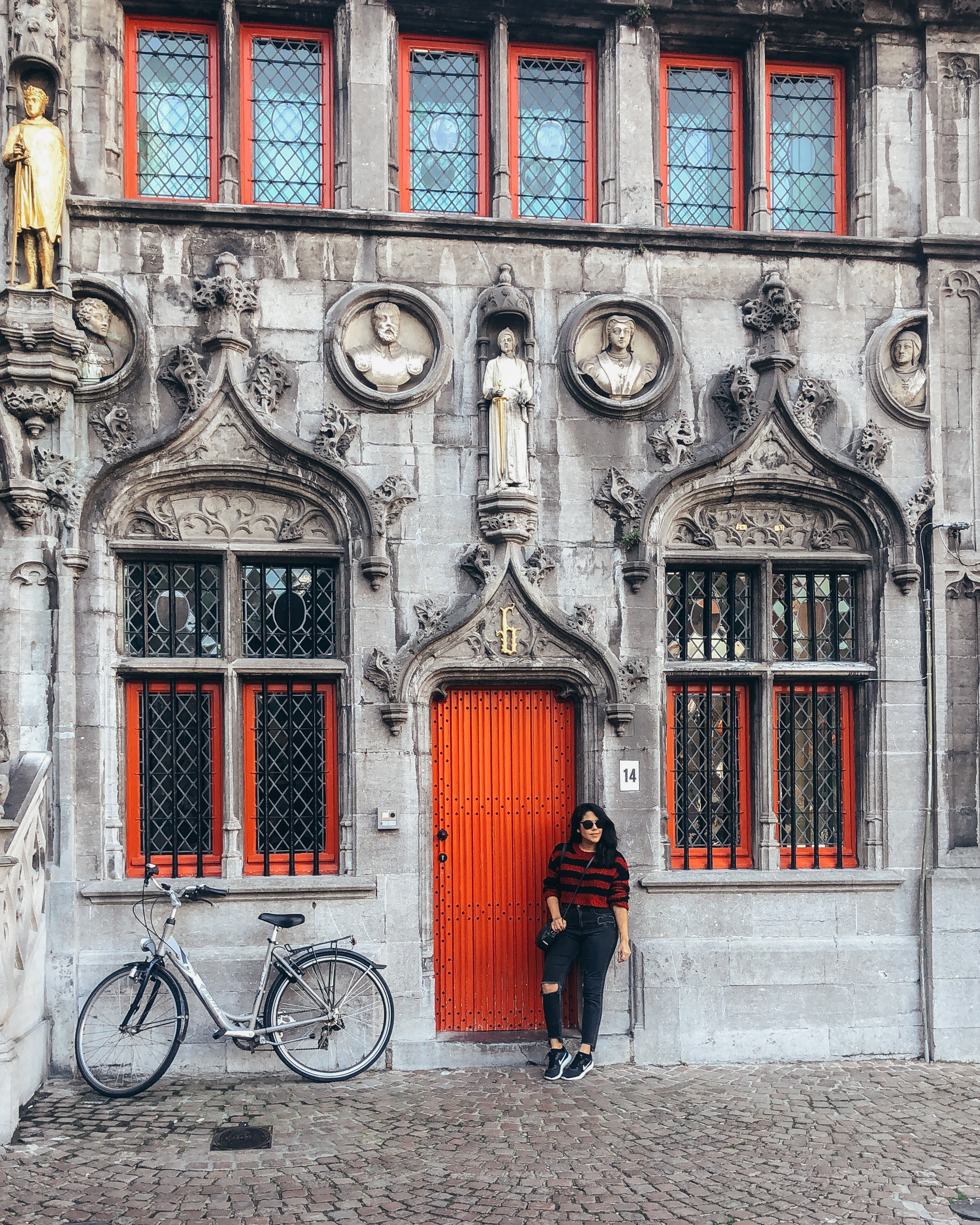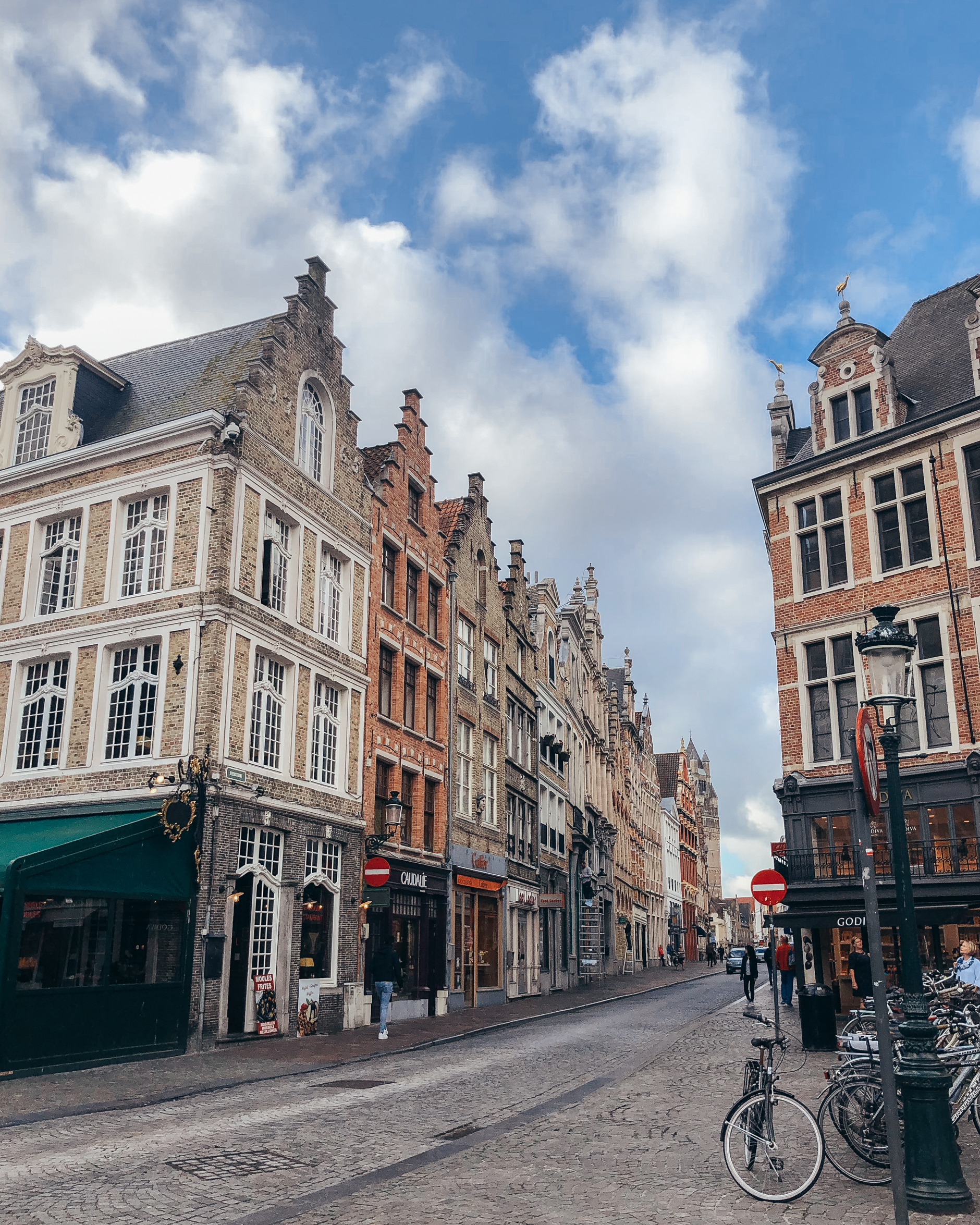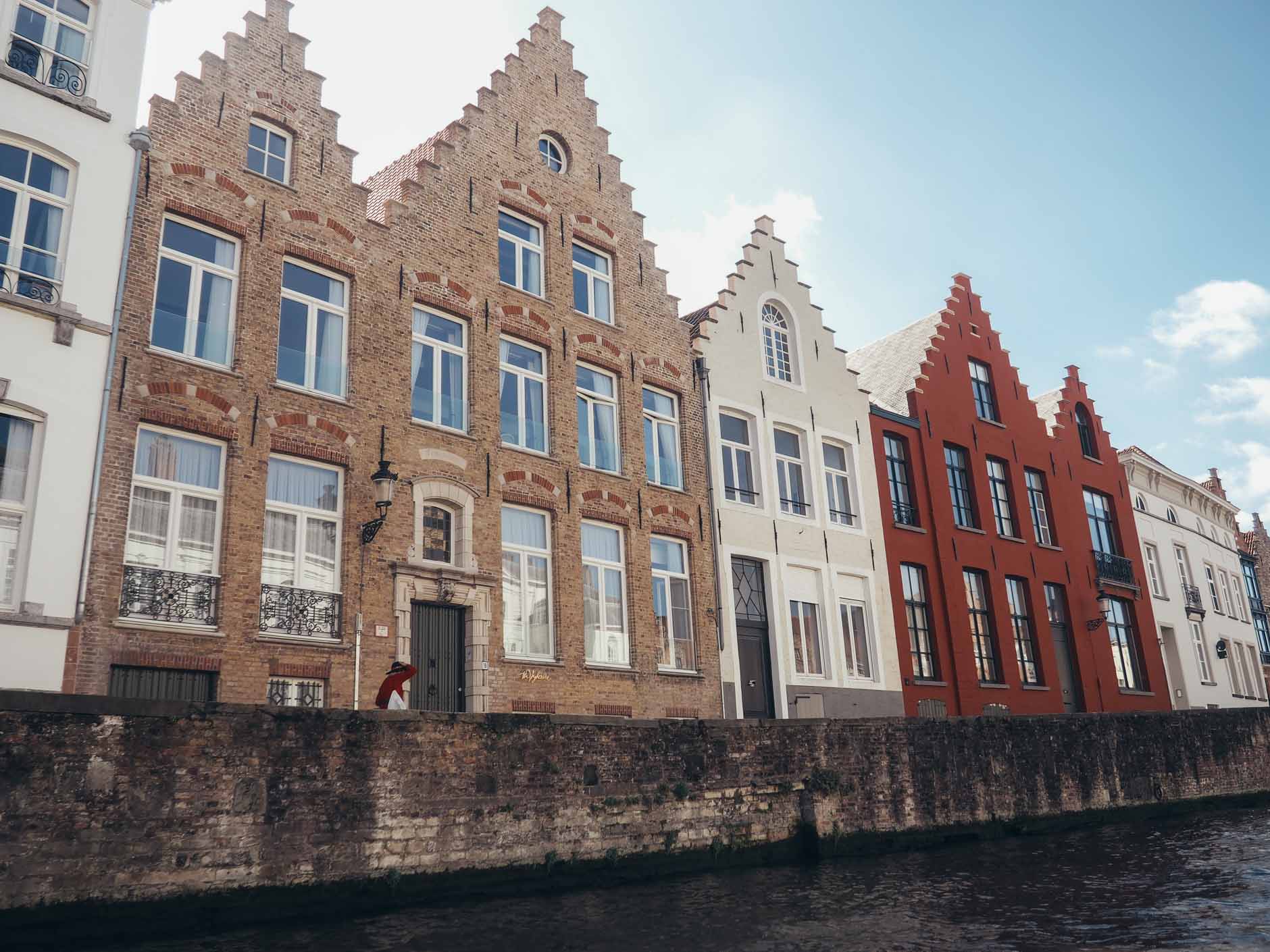 Are you already planning a trip to Bruges? Please add it to your bucket list. You will thank me later! Hopefully I didn't forget anything. I tried to share as much as I could remember. If there is anything I didn't cover and you have any questions please feel free to ask in the comments below. It was especially difficult for me to narrow down all of the photos for this post. There are so many more I could have included, but I think I'll save some of them for another post at a later date!
In case you missed them, you can check out my Brussels Travel Guide and How To Spend A Morning In Utrecht posts. I still have to put together my Amsterdam guide, but I hope to have that up before the end of October! It's been one full month since I returned home from this trip so I'm actually really proud of myself for getting almost all of these guides up already. These posts honestly take a LOT of time between picking and choosing all of the photos (I took hundreds) to editing them all to the writing – so I really hope you enjoy them and find them helpful.
As always, thank you so much for letting me share my wanderlust with all of you! It's always so fun to document these experiences. The best feeling is when other women reach out to let me know that they were inspired to travel by themselves. Solo travel is becoming more popular and I'm so happy to be part of this growing community. Thanks for stopping by and next up will be my guide for 6 days in Amsterdam! ❤️