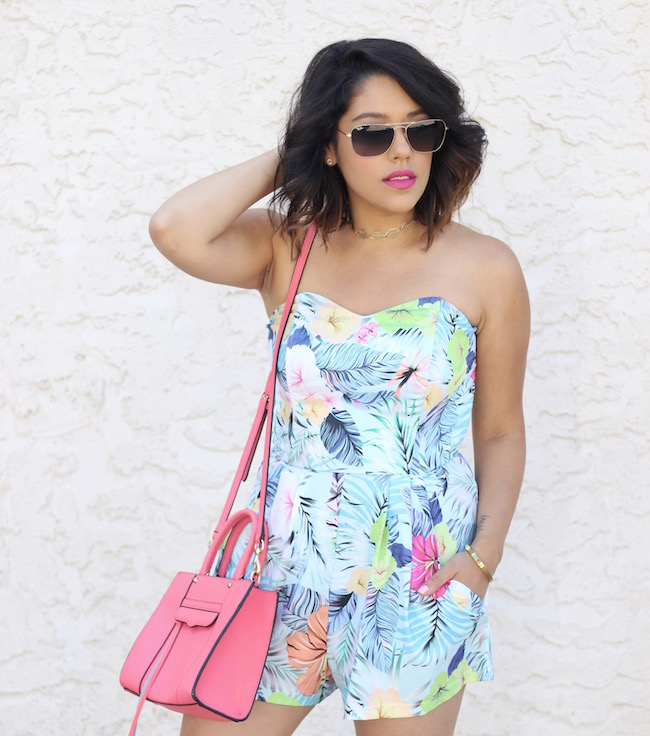 Happiest of Mondays!  I'm pumped for a new week and have got a newfound sense of motivation.   I've been pulling from deep within myself to seriously crush my personal goals and make sure that I stay on track in all aspects of my life.  This coincides with Friday's post, so make sure to give that a read if you haven't already!
What I'm Wearing 
Romper: Molly Bracken [love this style] | Bag: Rebecca Minkoff
Shoes: Aldo [similar style] | Choker: H&M | Sunglasses: Ray-Ban
Apparently I could not stay away from prints for too long.  The summertime has that effect on me.  You may or may not remember this colorful romper from a few months back when I wore it in Charleston.  I styled it a little different with a blue blazer and white clutch.  This time I decided to pull out the pink in the print with my mini tote. I wore this outfit to a rooftop "pool party" event.  I put that in quotations because there was a pool, but no one was in it. lol I thought it would be fun to bring out the tropical vibes for the occasion.  This romper instantly makes me feel like I am away on vacation somewhere.  It's funny though because typically in New York, most people tend to stick with neutrals and toned down classic pieces, so at this party I stuck out like a sore thumb.  I love my classic staples, but pieces like this are just so much fun to wear, especially during the summer months.
Let's talk about my hair for a quick second.  I've been trying something new with it and it's actually been working out really well.  It sort of happened by accident, but I loved the outcome and did this hairstyle for a week straight.  My blowdryer broke, so I let my hair airdry.  I added in this texture spray and tried out this foamy airdry waves product.  It created this volume that I loved with minimal frizzes, although parts of my hair were straight while the others were wavy.  I took out my wand and curled a few of the straight pieces, then sort of just combed through and shook my head around.  It ended up creating natural looking curls. It's been quite some time since I did a beauty post so I am thinking of doing a quick tutorial for this.  Let me know if you want to see!
Have a fab week. <3