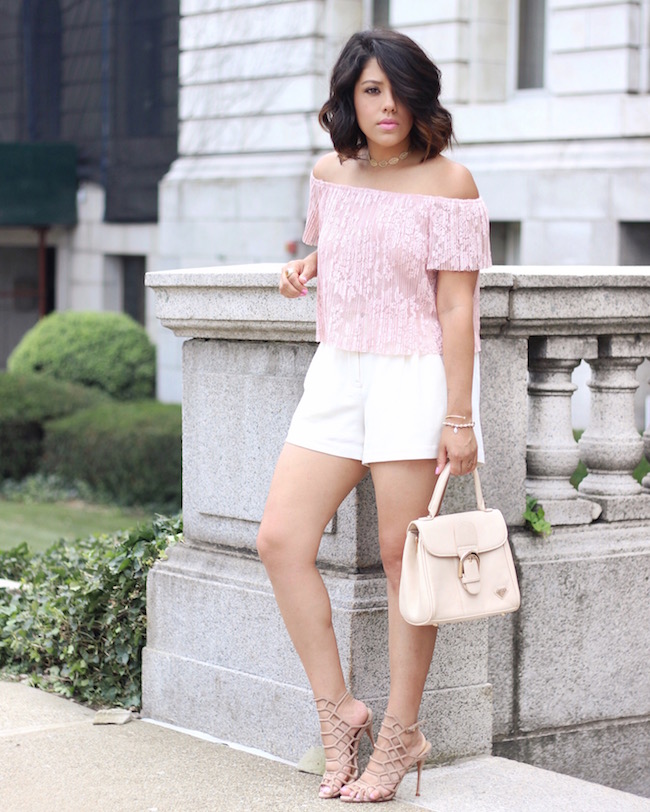 I wanted to touch on something personal before getting into this look.  For the last several years, I've had this ongoing battle with something that's very similar to psoriasis.  It comes and it goes, but when it comes the flare ups can get really bad.  It's mostly on my legs or thighs and sometimes I even get it on my hands and stomach. This is probably TMI, but I can even get it on the sides of my butt.  It first happened a year after my father died and the dermatologist said that it was brought on by stress or a traumatic event in my life.  So crazy how that can cause something to happen to our bodies. When it first appeared, it was BAD.  I mean so bad that I could not wear shorts or anything showing my legs.  Well, I still could have but I was super self conscious of it.  I had actually just started blogging around this time and remember feeling so discouraged that I had to limit myself to what I was wearing.  In time and with medication it went away completely, and then with no warning it just came back and it was bad again.  This has been happening for the last 5 years.  I notice when I am stressed the most or when the seasons change [typically winter and summer] that's when it starts to flare up.  Two years ago I was in Miami for Swim Week and it suddenly came back.  I got so self conscious to put on a swim suit because I knew how noticeable it was and let it ruin the rest of my trip.  I went through the same thing last year and it was one of the reasons why I stayed away from the beach. Back in February when I was in Sweden, I remember getting out of the shower the first day we arrived and my legs were completely covered in red marks.  Thankfully I was able to keep my legs covered on that trip, but it was upsetting and frustrating. Battling with skin issues is not the end of the world, but my point in sharing this is that in many ways it did mess with my self confidence and I did allow it to interfere with doing certain things like putting on a swimsuit and hitting the beach. I've FINALLY learned to just accept the fact that this is going to happen for the rest of my life.  It sucks, but it will never go away completely and it's just something that I need to be OK with.  Thankfully right now it's barely noticeable when I show my legs, but even if it weren't I would still be wearing shorts regardless.  Instead of always trying to hide it and cover it up, I am learning to embrace these flaws and accept them because now they are apart of me.  It's been a struggle over these last several years with my self confidence because it's something that I am constantly aware of.  I know I am not the only one who has held on to an insecurity or the only one to battle skin issues, so if you have experienced something similar I hope in time that you too can embrace it.  Don't let it hold you back.
What I'm Wearing 
Top: Forever21 | Shorts: Dynamite [old, similar style]
Shoes: Schutz [similar here] | Bag: Lany | Bracelet: Kara Ross
Choker: H&M [also love]
Ok, let's lighten up the mood now, shall we?  On to this look!  I love this off-the-shoulder top so much because of the lace detailing.  I bought it several weeks back and even took it on my trip with me, but it was another piece that I just did not wear.  It was also another piece that I instinctively wanted to style with white denim, so I figured I had to do something completely different. It's so hard though when my mind literally gravitates towards specific items.  Not sure why this always happens!  These shorts are an oldie but a goodie so I knew that they would be perfect.  The combination of blush with neutral tones just feels so fresh and feminine for summer.  I decided to stick with this color palette throughout the whole outfit and I'm happy that I did.  The caged sandals were a way to add a bit more dimension and I like how the bag created an even softer feel to the look.  Overall, I just love these different shades together and think they blended really well.  Super chic, just the way I like it.
Hair Tip: Try letting your hair airdry and then curling it with a wand.  I've found that this creates a more natural looking curl and it adds more volume. 
Thanks for taking the time to stop by today.  Happy Thursday loves.