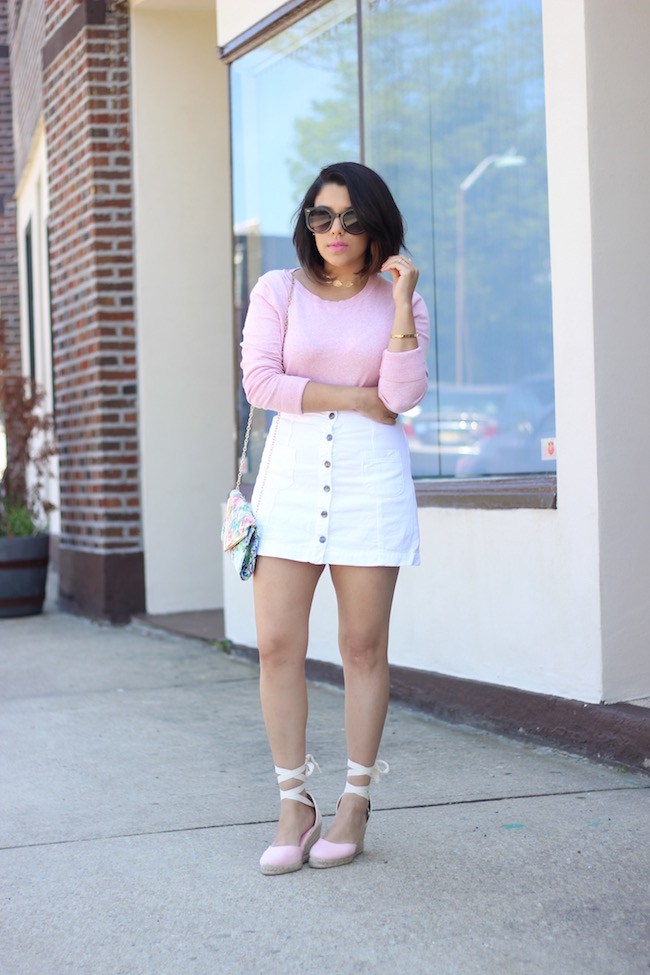 Happiest of Mondays!  I hope your weekend was great.  Mine was spent mostly with family.  I got to have some QT with my niece, celebrated Mikey's 4th birthday [my dog lol] and went to my friend's baby shower.  In the midst of that I also did some retail therapy and finally got to relax and recharge.  The week before I went to Chicago and most of this past week made me feel like I was just constantly on the go with no time to really breathe!  When my schedule is hectic it makes it that much harder for me to stick to my workouts and healthy eating, so I am getting back on track once again.  It's always a process.
What I'm Wearing
Sweater: Gap Factory [similar here] | Skirt: Forever21 [this one too]
Wedges: Soludos | Bag: Aldo [old, similar style]
Now on to this look.  I pretty much styled this outfit around these espadrille wedges, my first pair!  Thanks so much to Soludos for sending them. I have to admit that it took me some time to hop on the espadrille bandwagon.  They always seemed so comfortable, but I wasn't really sure how I felt about them.  Over time though, they started to grow on me to the point where I wanted to get a pair.  I think that's what happens when you see the same styles over and over again.  Everything about these wedges screamed my name especially since they lace up.  I definitely have an obsession with lace up shoes in any style. I feel like they would work so well with all different kinds of pieces this spring and summer from skirts, to dresses and shorts.
 I knew right away that I wanted to pair the wedges with something white [surprise, surprise] so this front button denim skirt won me over.  I bought this right before my Charleston trip and wore it there, but never did a separate style post with it on.  I was in a girly mood and felt like matching my top to the shoes, so I decided on this lightweight pink sweater that I've already worn a bunch of times. We are at that point in the season where it's definitely starting to warm up, but it's still been very breezy.  I think this combination was perfect for the weather.  I added in the floral print clutch to break up all the pink and solid colors. 🙂
Have a great day! <3