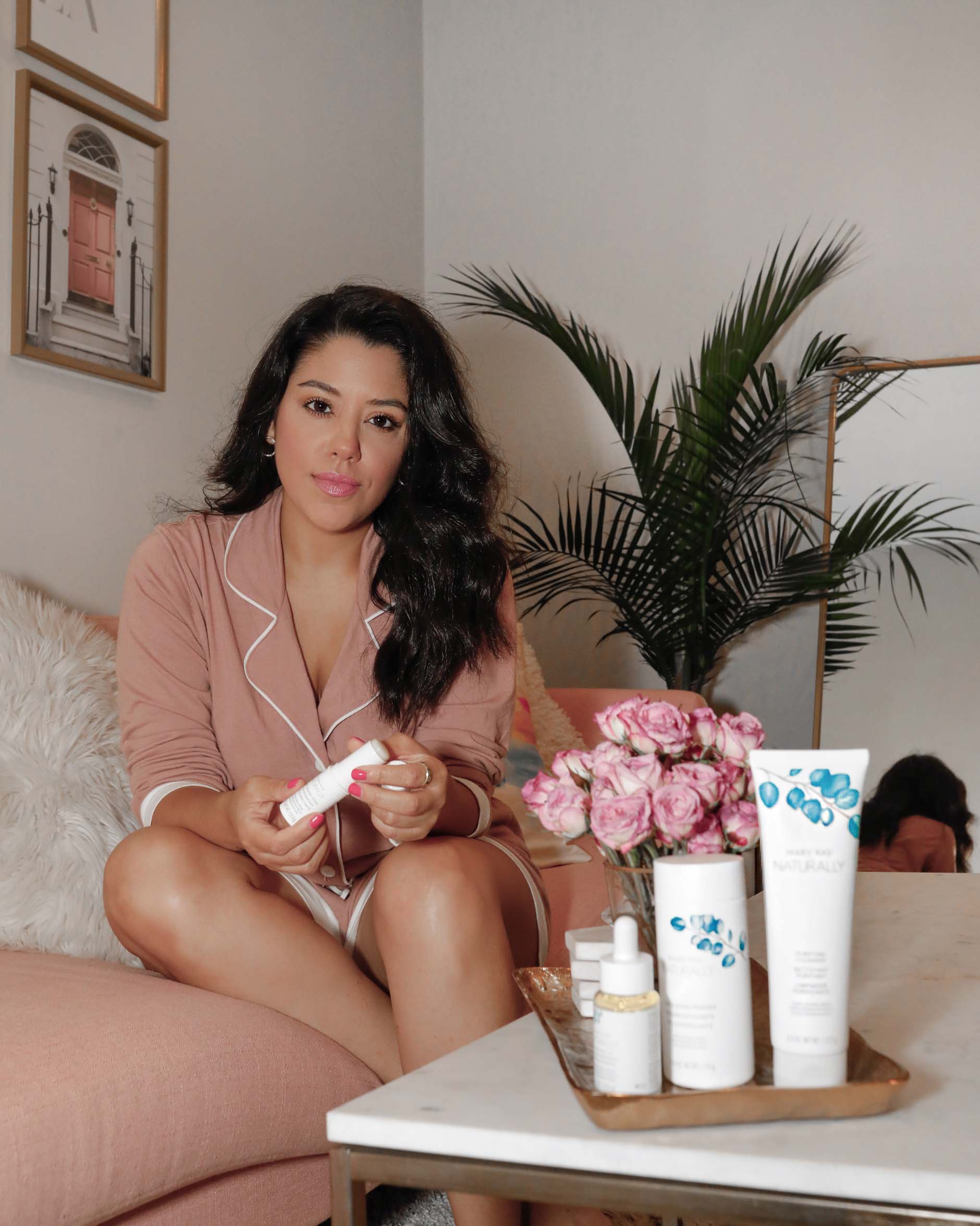 Let's have a skincare chat! It's been such a long time since I've shared or talked about the products that I am using. Now that I am in my mid-30s (eek!), I've definitely been doing all I can to take the best care of my skin – not just my face, but my body too. I am constantly on the hunt for new products and love trying out different things to see what works best for me. My skin type is normal to dry, leaning more towards the dry side, so it's important for me to use products that are super moisturizing and hydrating. 
When I found out that Mary Kay was launching its first natural-certified skincare line a few months back at their HQ in Dallas, I couldn't wait to try it. "Nature is bountifully rich with skin-benefiting wonders." This was the inspiration for the new collection, Mary Kay Naturally. 
I think we are all starting to become much more aware of the ingredients we are putting on our bodies. I must admit, I never used to read product labels, but I've been learning more about this over the last couple of years. It's so refreshing when brands like Mary Kay take this into consideration to create something that's naturally derived. The Mary Kay Naturally  line is free of parabens, silicone, phthalates, dyes, SLS/SLES, and synthetic fragrances. We need more of this!
The Mary Kay Naturally collection contains four different products that are formulated for normal to dry skin types and suitable for sensitive skin. I will be introducing you to them all below. The brand sent them out a couple of weeks ago so that I could test the products and  start incorporating them into my skincare routine.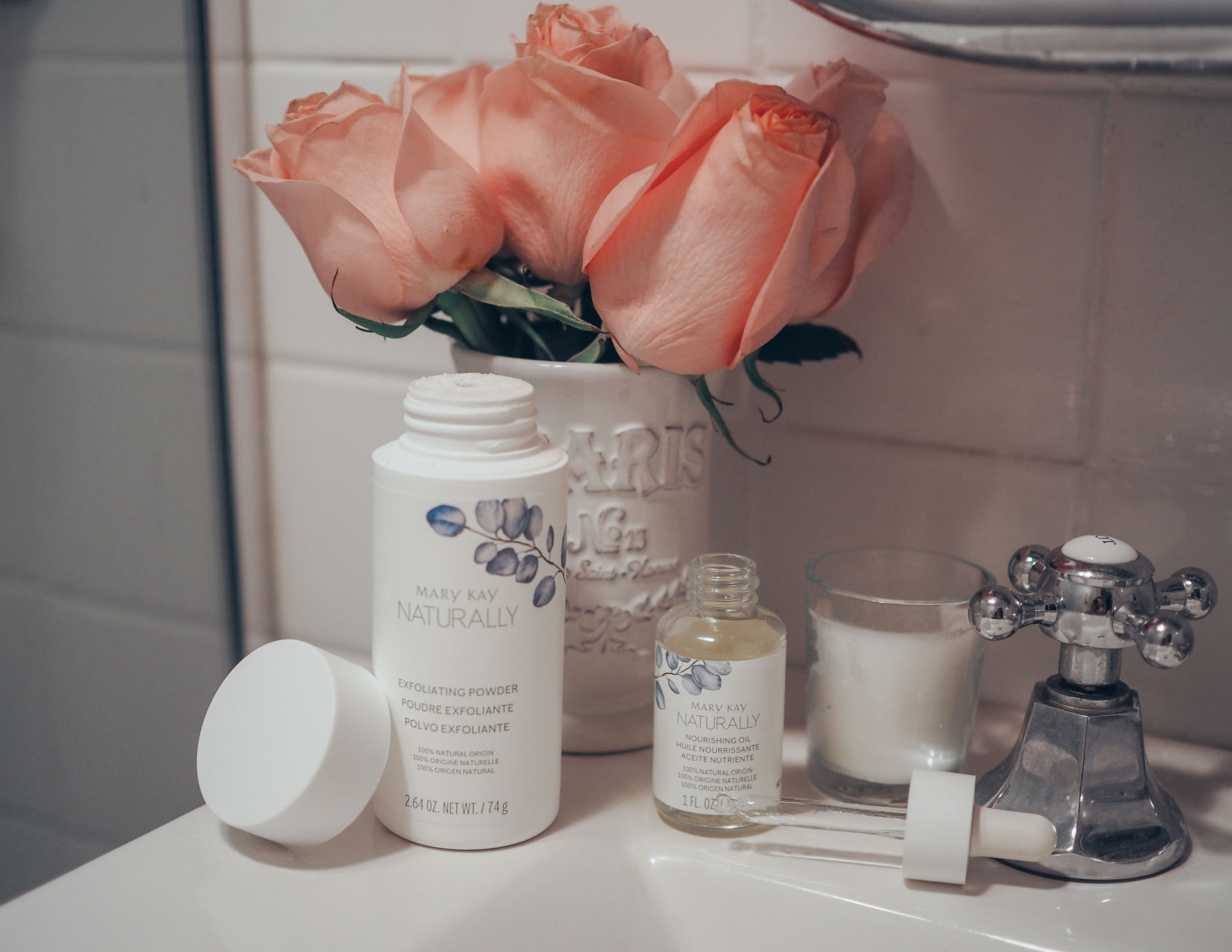 Mary Kay Naturally Exfoliating Powder
This gently exfoliates by lifting away complexion-dulling dead skin cells, leaving skin feeling smoother and softer.
This is the first time I've ever used an exfoliating powder. I initially didn't know how I felt about having to create my own exfoliant since I'm so used to applying ones that are already made. In the past, I've experienced issues with exfoliants as they were too harsh on my skin, and because of this, I stopped exfoliating as much as I should. With this product, however, I get to be completely in control of its consistency, which results in a less gritty, gentler experience.It feels much lighter than other exfoliants I have used.
I've been applying this about 2x a week since I received it and have been adding in the Mary Kay Naturally Nourishing Oil. I really like the combination of these two products together. I think that this powder is worth the extra prep time, which really is just another minute!
HOW TO APPLY
 Shake well and pour a quarter sized amount onto the palm of your hand
 Slowly add water and mix to create desired consistency
 Customize by adding in 2-3 drops of Mary Kay Naturally Nourishing Oil (optional)
 Gently massage mixture onto face in circular motion. Rinse thoroughly and dry
Mary Kay Naturally Moisturizing Stick
Made with candelilla wax and beeswax, this helps relieve dry skin. It's suitable for both the face and the body. 
As most of you know, I've had dermatitis for years which results in flare ups of dry patches on my skin. I tend to get these a lot on my hands, arms and legs. With this Mary Kay Naturally Moisturizing Stick, I can easily and quickly apply some moisture to those problem areas at anytime, anywhere.
While often caused by stress and the change of seasons, I also get dermatitis flare-ups during my travels, most likely due to the airplane air drying out my skin. Since this stick is the perfect size for travel, I will definitely be packing it with me to Europe in September. I actually prefer the quick fix of a moisturizing stick over applying lotion!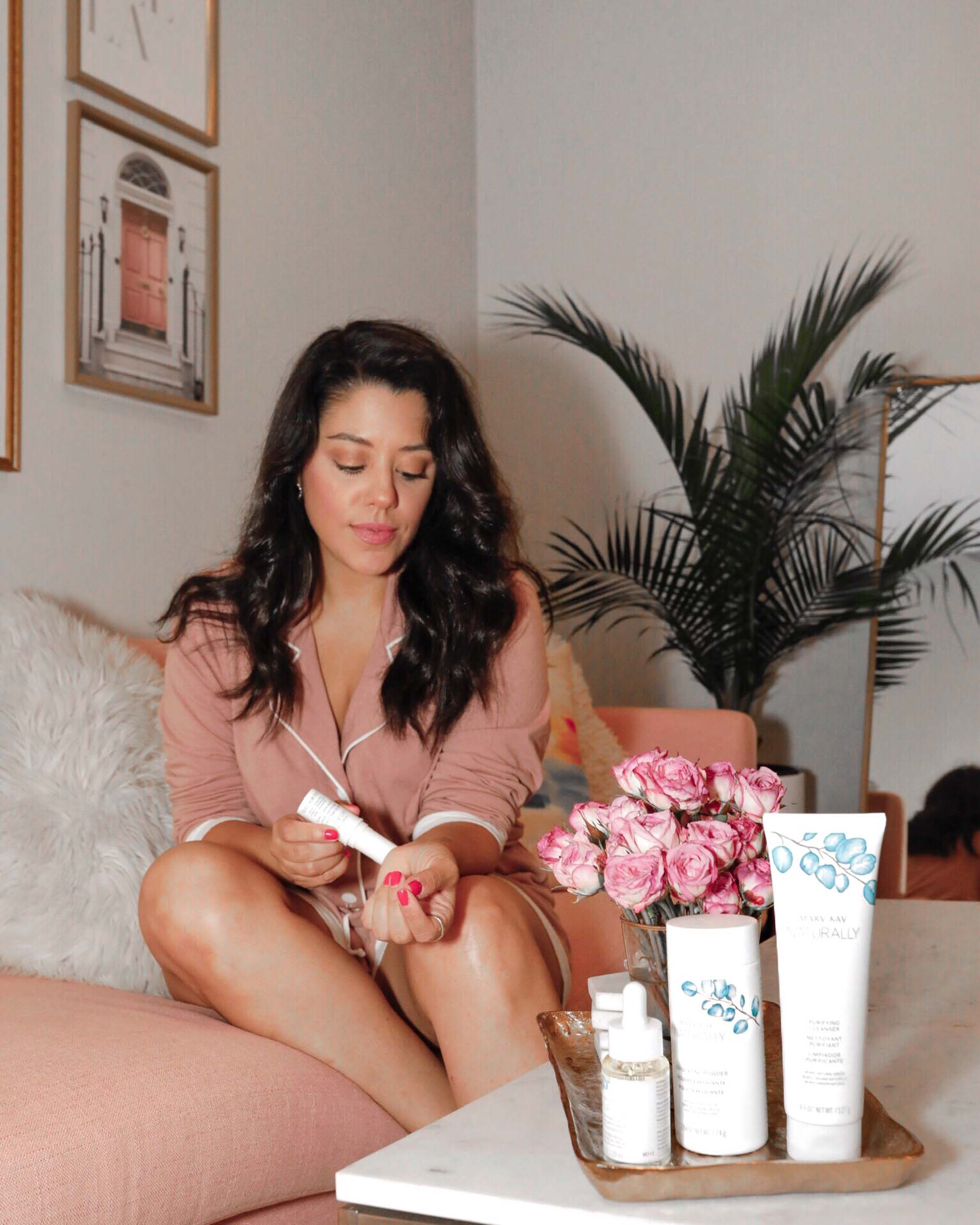 Mary Kay Naturally Nourishing Oil
Contains a blend of sweet almond, olive and sesame oils. Leaves skin feeling hydrated.
I wish there was a scratch and sniff option on the Internet because this oil smells good. It's not overpowering or too bold, but it has a light and noticeable scent. This just might be my favorite product in the Mary Kay Naturally line. I've gotten more into oils over the last few years, especially since they can serve more than one purpose. While I typically use this on my face the most, it can also be applied to your cuticles, elbows and hair.
I have been mixing this in with the Mary Kay Naturally Exfoliating Powder, but also using it separately as part of my nighttime skincare routine. I like applying a few drops to my face after cleansing and moisturizing before bed. It gives such a deeply hydrating feeling to my dry spots and blemishes. My skin really soaks it up!
HOW TO USE 
 Apply 2-3 drops to your palm
 Press both palms together and gently massage on clean face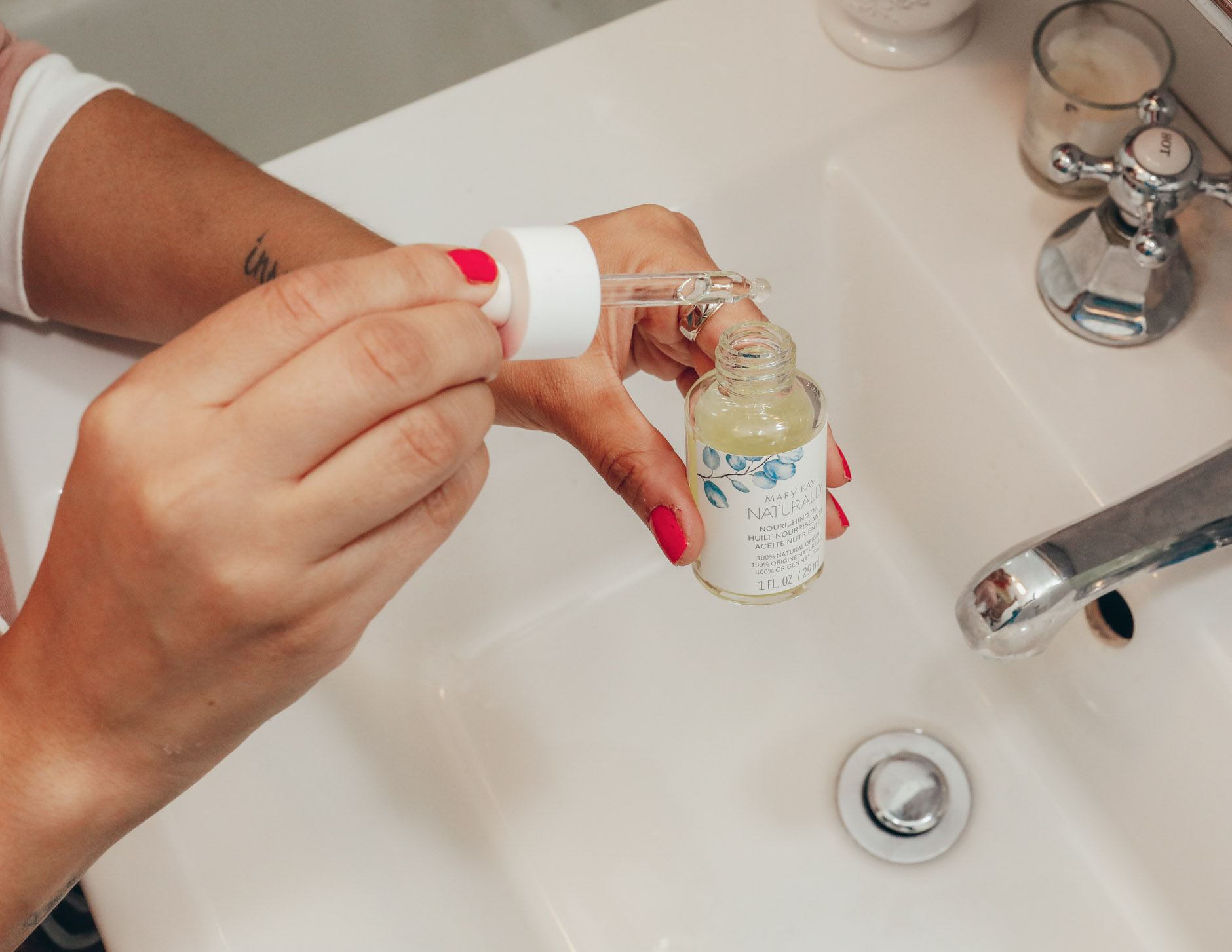 Mary Kay Naturally Purifying Cleanser
A creamy cleanser that is infused with skin-soothing cornflower floral water and sweet almond oil. It removes impurities and leaves skin feeling nourished and smoothed.
While I admit to having a few lazy moments here and there that prevent me from doing my full skincare routine, cleanser (along with moisturizer) is the one product I make sure to use every morning and night. I'm pretty sure that this is the very first naturally derived cleanser I've tried that doesn't dry out my skin.. This one is creamy, light and leaves my face feeling so smooth and refreshed after each use. 
HOW TO USE 
 Apply to a cotton pad and massage onto damp face.
 Rinse thoroughly and pat dry.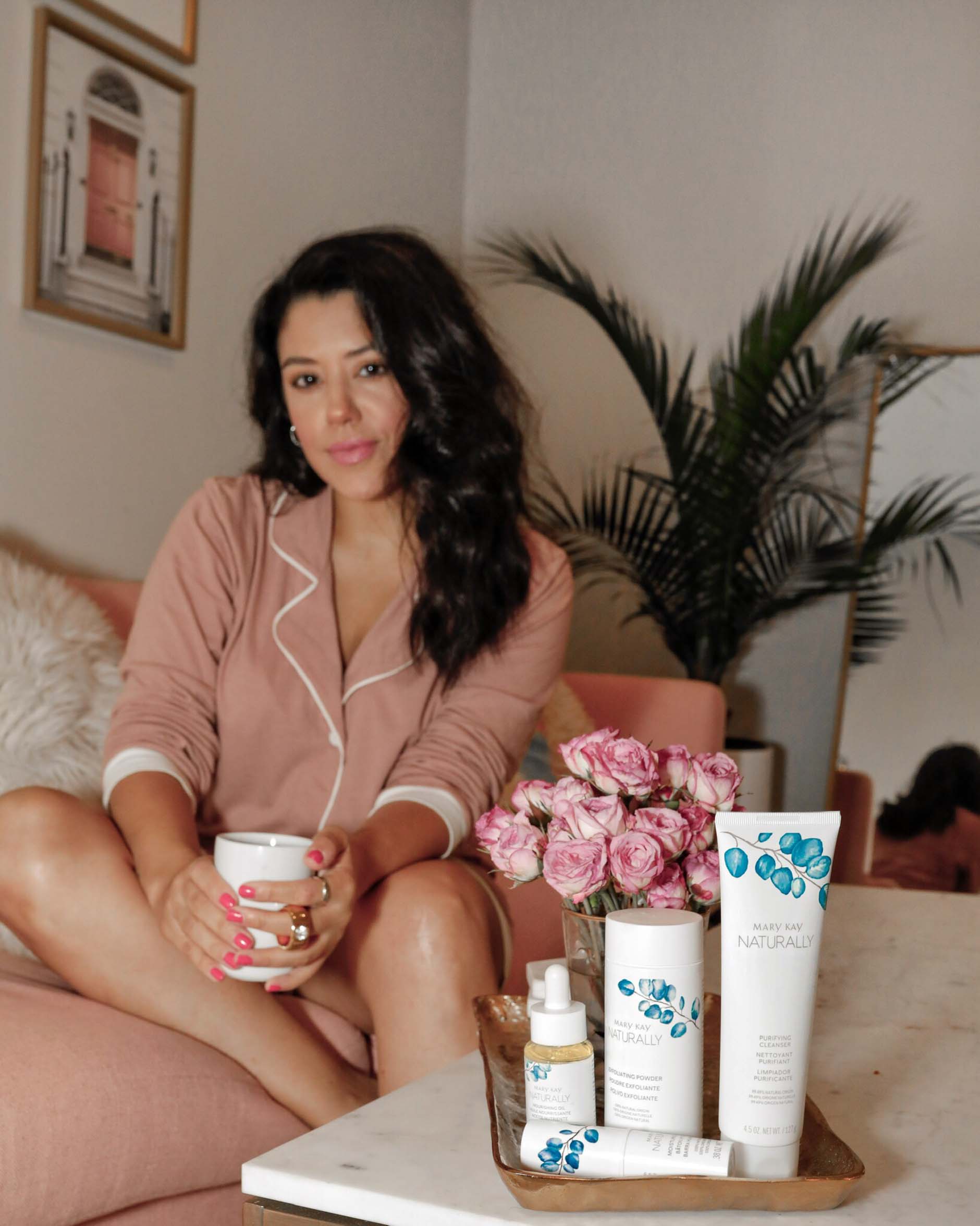 So there you have it – Mary Kay Naturally! Have you used any naturally derived skincare products before, and is this something that you've become more conscious about? I'd love to get your thoughts!  💕
Photos by Lydia Hudgens
Disclosure: This post was sponsored by Mary Kay. All opinions expressed are my own. Thank you for supporting the brands that support Naty Michele!