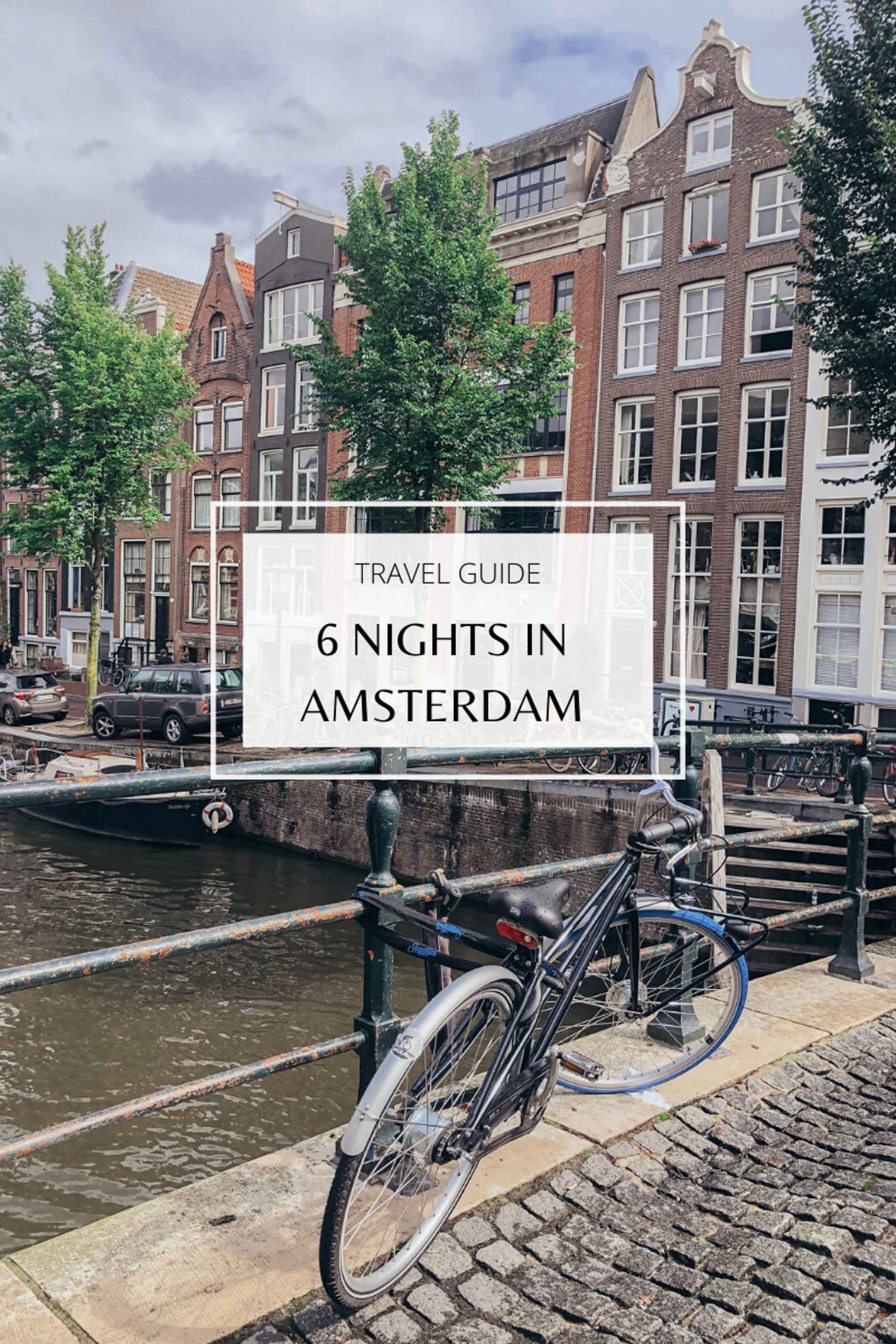 Exactly one year later and it's finally here – my Amsterdam travel guide! This post has been sitting in my drafts for 12 months too long. I definitely procrastinated putting it all together and then everything happened with COVID-19 and it didn't feel like the right time to post. I know that it's going to take some time for us to be able to travel regularly again, but the hope is that my travel guide will be helpful in planning any future trips to Amsterdam.
This city had been on my bucket list for years, but for whatever reason I couldn't seem to make that trip happen when I wanted to. Initially, I had hoped to go in spring for tulip season, but that always ends up being a tricky time of year for me. After doing a bit of research, I found that going in early fall would still be a great time because it's considered off-peak tourist season.
Travel Tip: This is always a great time to travel because the cost is usually lower for flights and hotels since it's not a popular time to visit.
Since I spent the most amount of time here I thought I'd give a quick rundown of what I did everyday followed by a breakdown of where I stayed, where I ate, where I went, travel tips and more. I'm also sharing an abundance of beautiful photos because Amsterdam truly is one of the most photogenic cities I've ever been to. So go get a cup of your favorite beverage, sit down and travel with me virtually to Amsterdam. I hope you enjoy.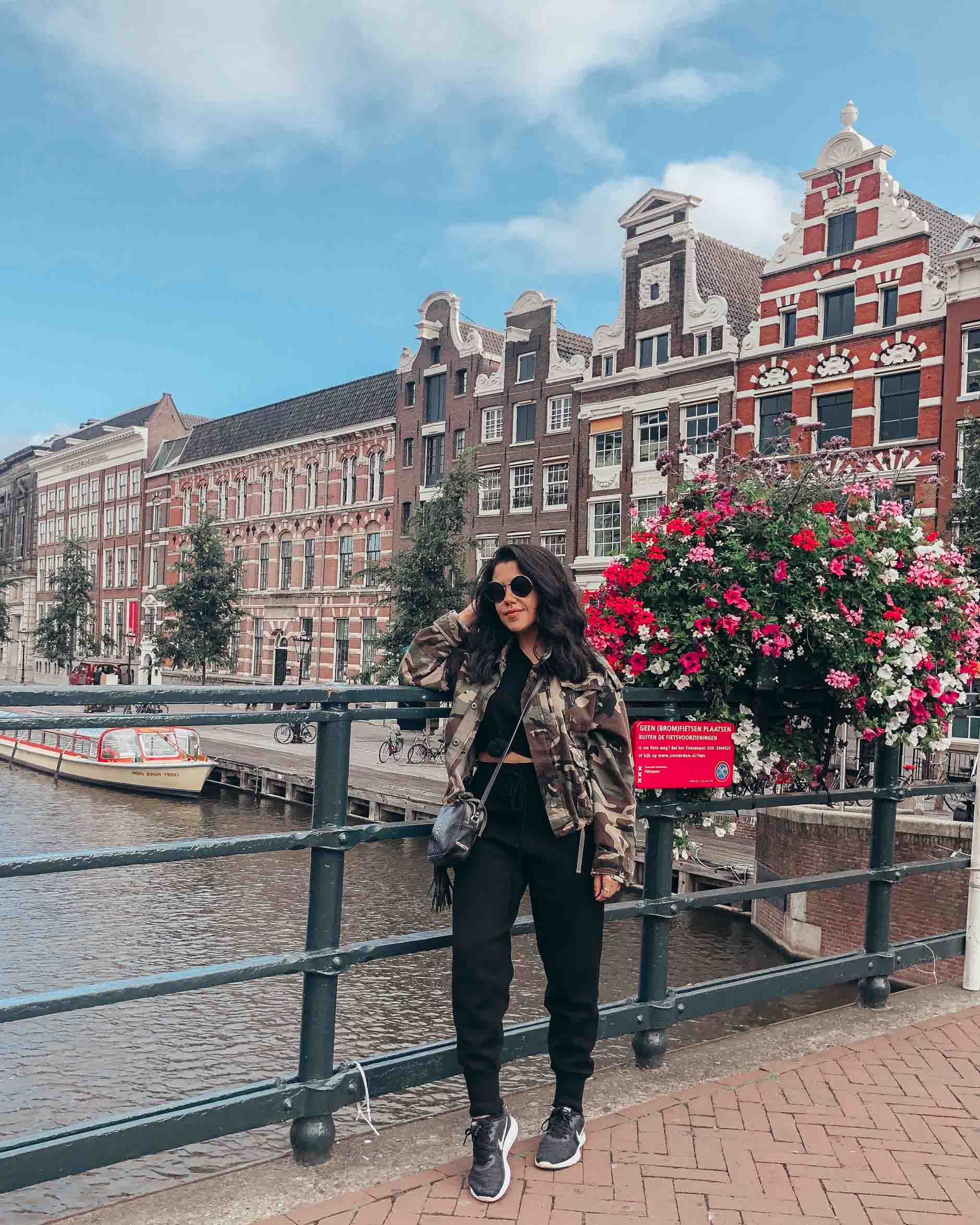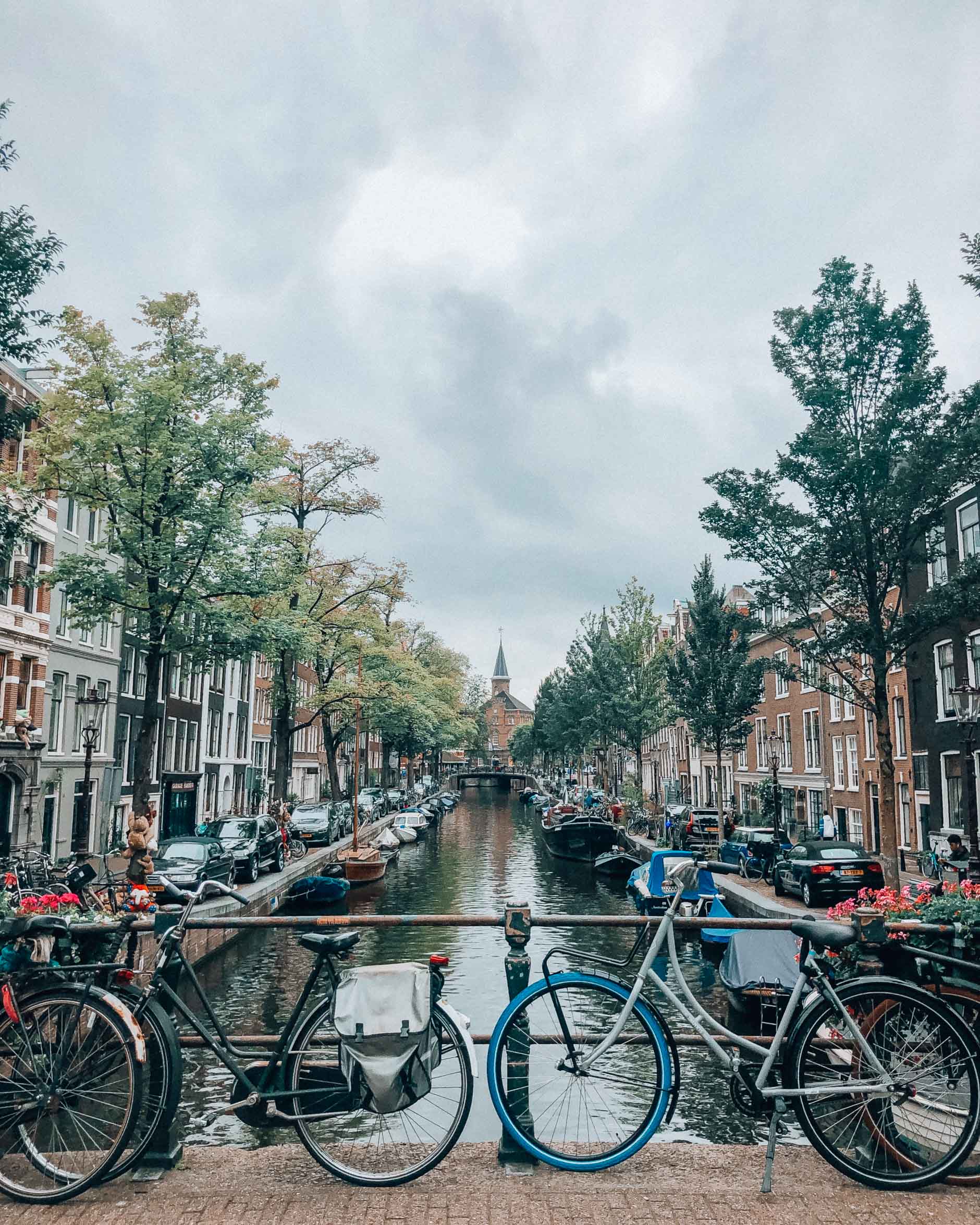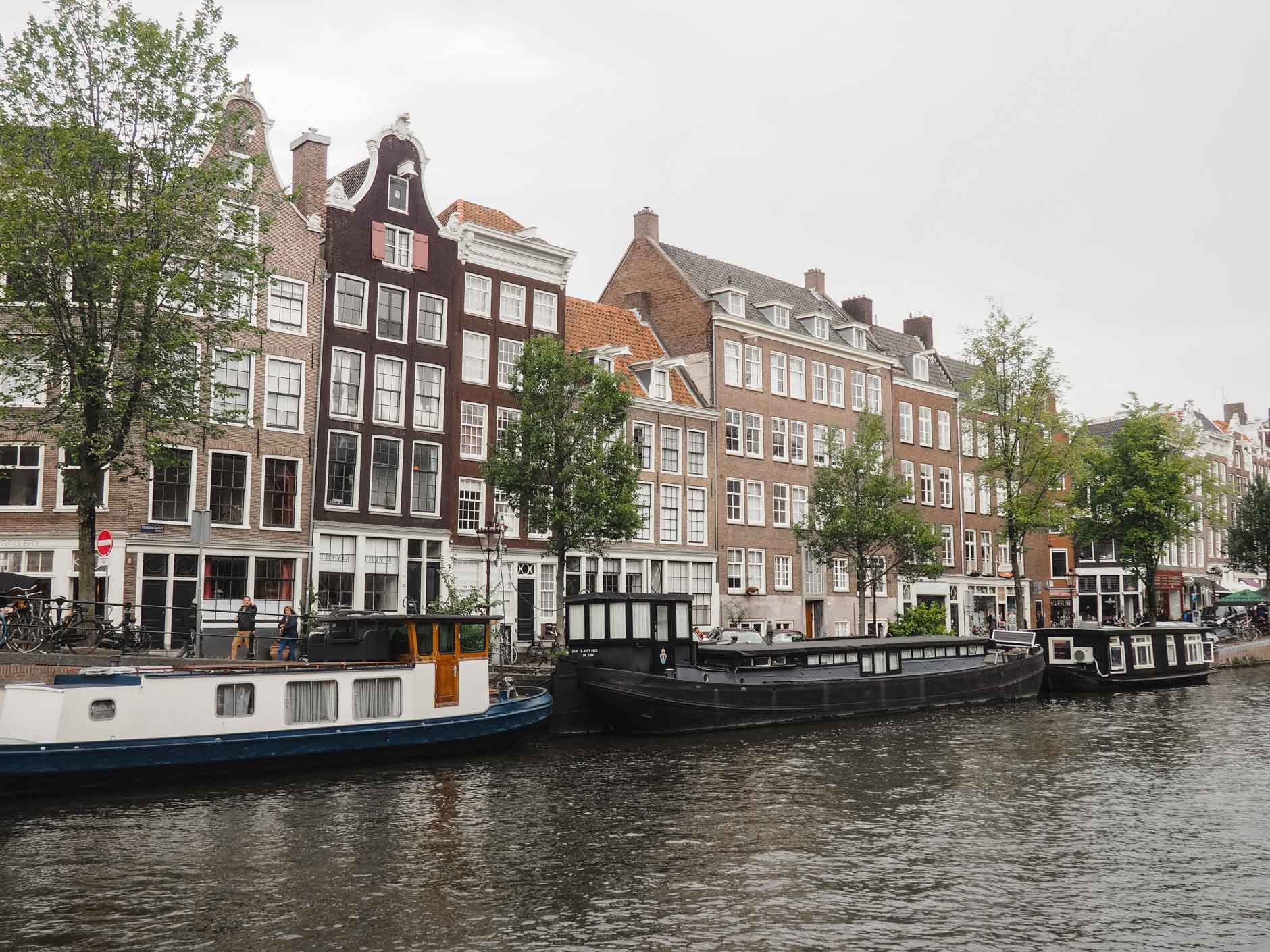 The morning I arrived mostly consisted of me wandering around and exploring part of the city by foot trying to familiarize myself with my new surroundings. This is typically what I do on the first day of all my solo trips. It ended up being very cold, windy and rainy, but I made the best of it. The weather cleared up at night and I was able to take a canal cruise before dinner, which was such a beautiful way to experience the city. 
The next day I hopped on the tram and went over to the Anne Frank House – an absolute must. I stayed in that area for a bit to grab lunch and explore. Then, I met up with Eating Europe for a food tour before sunset. On the third day I met up with Flytographer for a fun shoot in the Jordaan area. You can see all of those amazing photos here. I got caught in a downpour and had to head back to my hotel to change and then I spent the better half of the day sitting outside, drinking Pilsner and people watching once the sun came back out. Later at night I met up with a friend who lives there and went out to dinner with her and her boyfriend. They took me to a bar afterwards where I got to experience a little bit of Amsterdam nightlife.
I headed to Belgium the next day for 5 nights and then made my way back to Amsterdam for the last leg of my trip. It was already late afternoon when I got back, so I just explored the new area that I was staying in and grabbed dinner near my hotel. The next morning I went over to the Rijksmuseum for a few hours and luckily there was not a wait when I arrived. You can easily lose track of time here. It's massive and I got so immersed in all of the beautiful art and history. 
On my last full day I took the train over to Utrecht in the morning for several hours. You can read all about that here. If you have enough time definitely try to take a day trip to  a nearby city in The Netherlands. Once I got back into Amsterdam I met up with the beautiful Anika for coffee. Before my trip I had been searching for photos of Amsterdam on Instagram and I came across her account. I immediately fell in love with all of her beautiful photos and sent her a DM to see if she'd like to meet when I visited. Luckily she said yes and I have kept in touch with her ever since! I even got to spend some time with her here in NYC when she visited earlier in the year. Making new friends and connections is always my favorite part about traveling alone.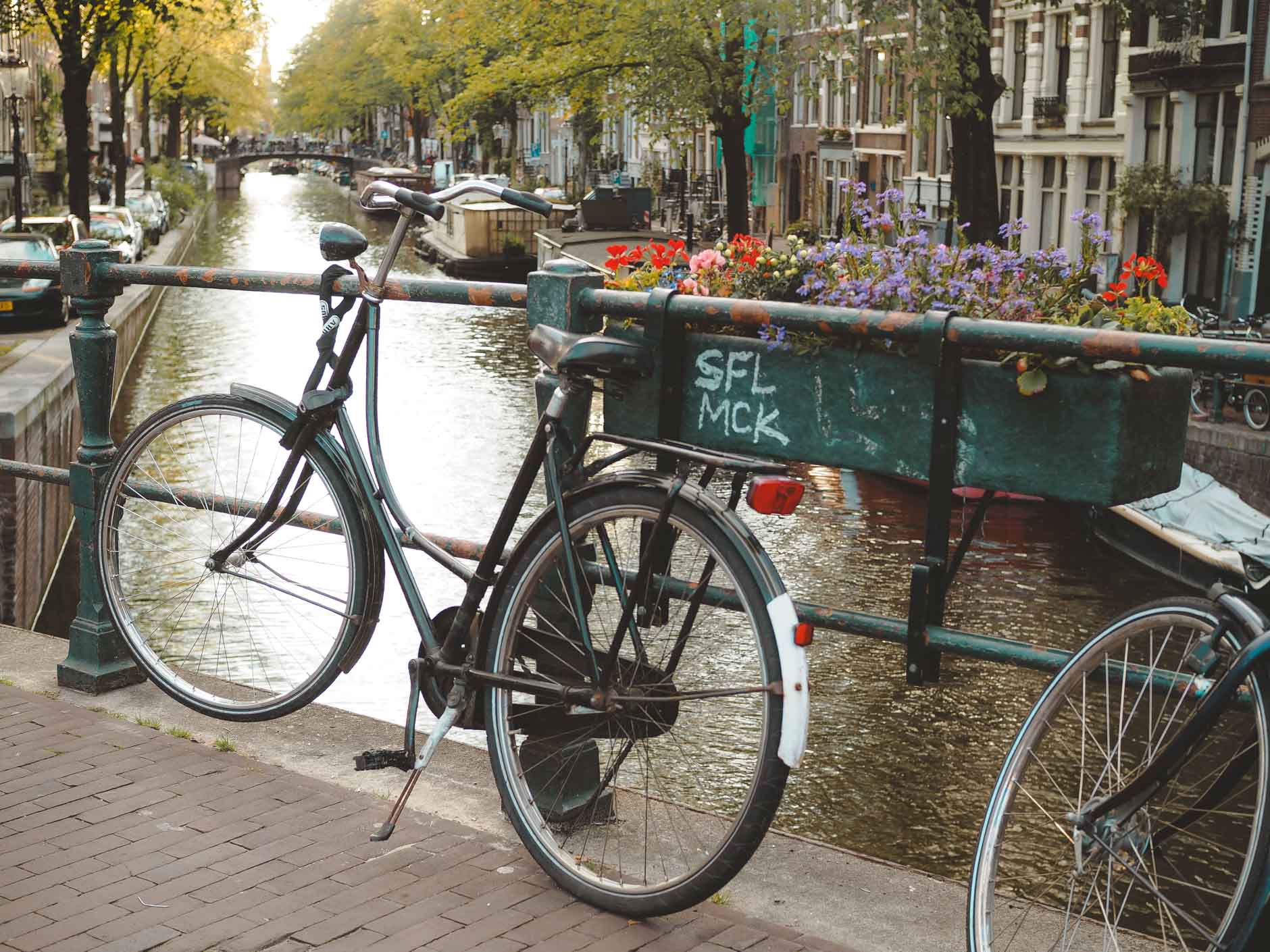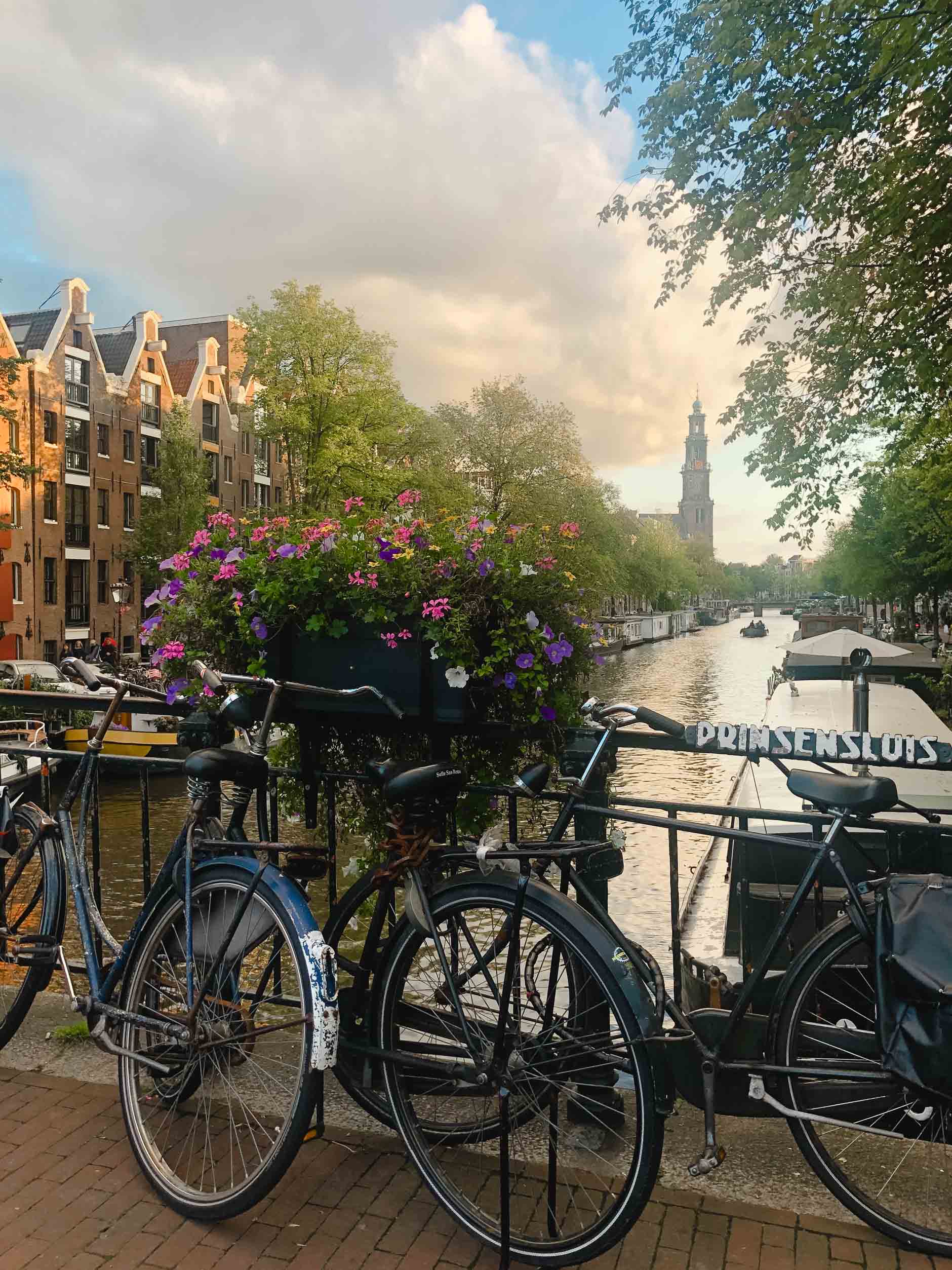 WHERE I STAYED 
As I mentioned before my time here was broken up into two parts. I kicked off my Euro trip with 3 nights in Amsterdam and then after Belgium made my way back for three more nights. I ended up doing a round trip because it saved me several hundred dollars on my flight. This is the first time I've ever done a round trip in Europe when traveling to more than one country. It was the best decision because it gave me the opportunity to really explore two completely different areas of Amsterdam.
Hotel Asterisk – I found this cute hotel on Trip Advisor. It's a small, family-run boutique hotel located just a 2-minute walk away from the metro and tram in the Centrum neighborhood on a quiet street. This made it super easy (and cheap) for me to get around the city. There's a video on their website showing how to get from the airport to their hotel and I loved that I didn't need to take an uber or taxi.
The hotel itself was really affordable for 3 nights and even though my single room was very small, I had everything that I needed. Plus, the staff was so friendly and helpful during my stay. When you check in, they give you a complimentary glass of prosecco and when you check out they give you a beautiful gift of dutch shoes that I used as an ornament on my Christmas tree. I thought that was such a nice touch! It's located just a short walk from the De Pijp neighborhood, where you will find tons of restaurants and shops. It is also close to the museum quarter and the Heineken experience. There is so much in walking distance, but in order to explore more of the city you will have to use public transportation or rent a bike. This will be the cheapest way to get around!
Mr. Jordaan
Located in an old canal house just a few streets away from the Anne Frank House, this modern boutique hotel was one of my favorites during this trip to Europe. I even had a canal view from my room. There was a conference going on in Amsterdam, so the hotel prices had gone up on my last three nights here. I ended up paying more than I had planned to, but I'm really happy that I stayed at Mr. Jordaan. The staff was very helpful, they had complimentary coffee and tea all day, and when I checked out they gave me a goodie bag filled with some treats for my travels.
A hilarious thing happened to me here when I went through the wrong door and ended up getting locked in this secret hallway with the most narrow stairs I have ever seen. I had to be saved by the guy at the front desk. I shared that whole experience in real time on Instagram Stories and will never forget it. It's still saved to my story highlights on my profile. Trust me, it's a good story. LOL!
Jordaan was a completely different vibe from where I stayed at the beginning of my trip. I felt very calm and safe here. It's more of a residential area, but there were tons of restaurants, bars and shops. There are so many beautiful canals all over and this is where you'll be able to get tons of those "classic Amsterdam" photos.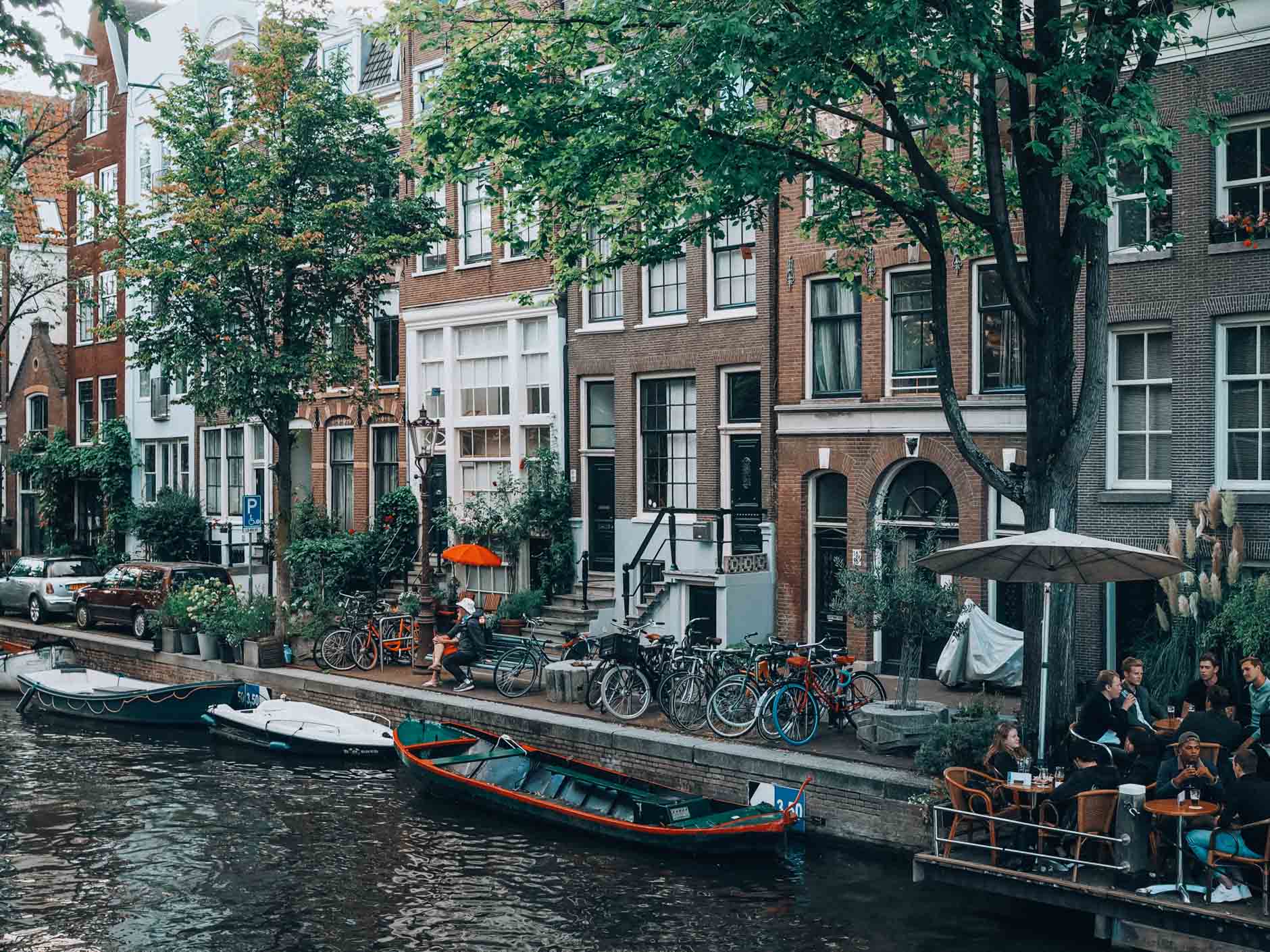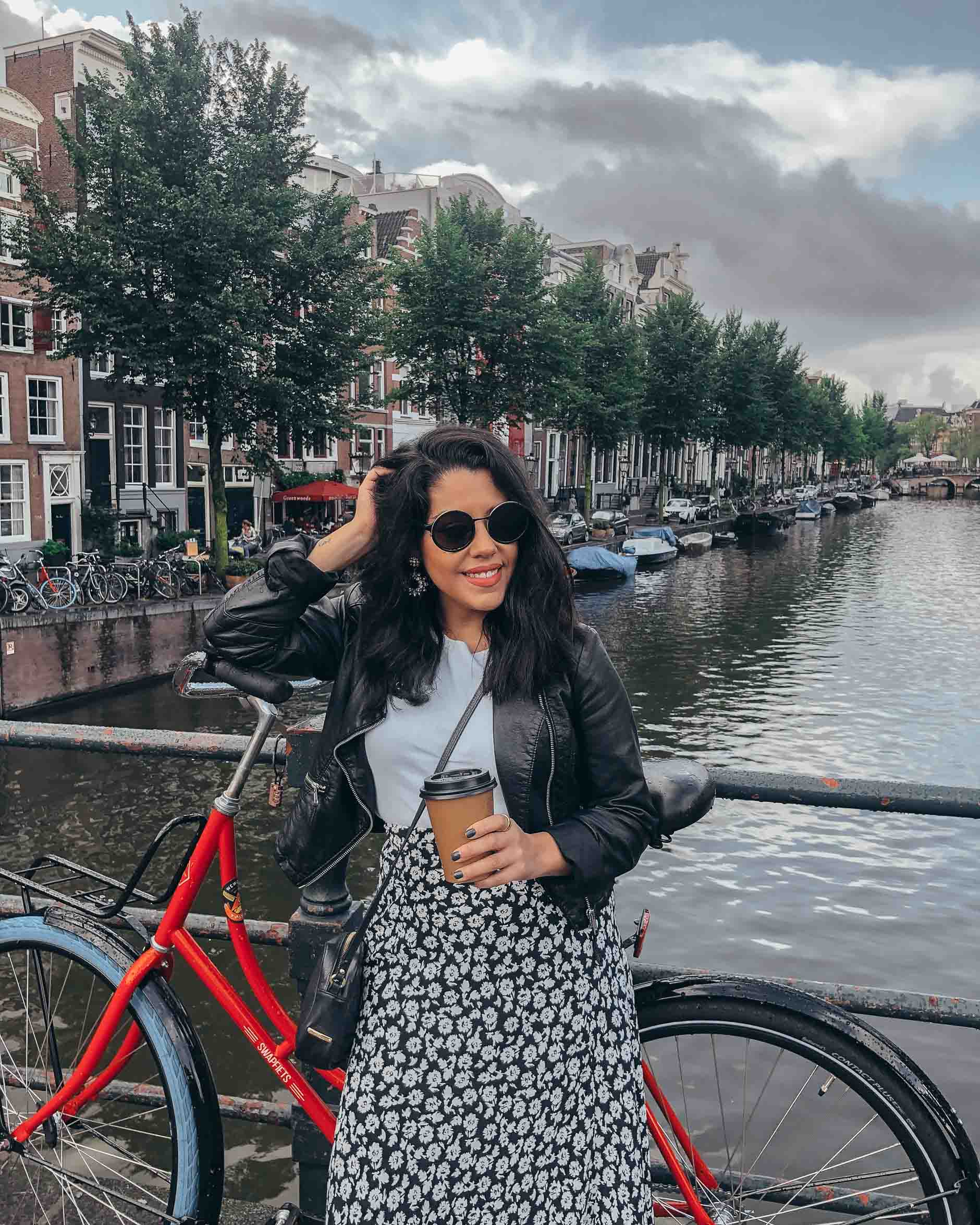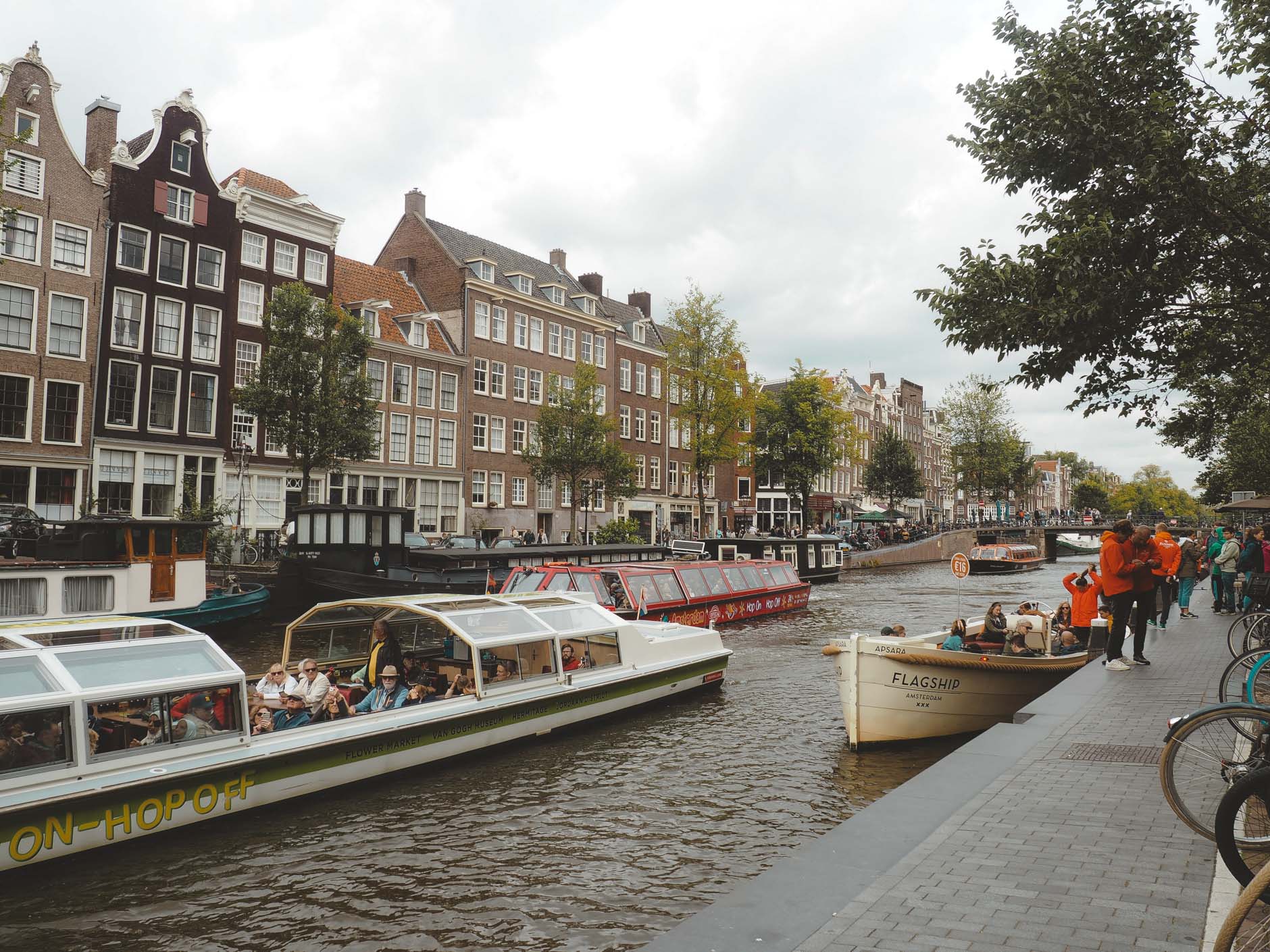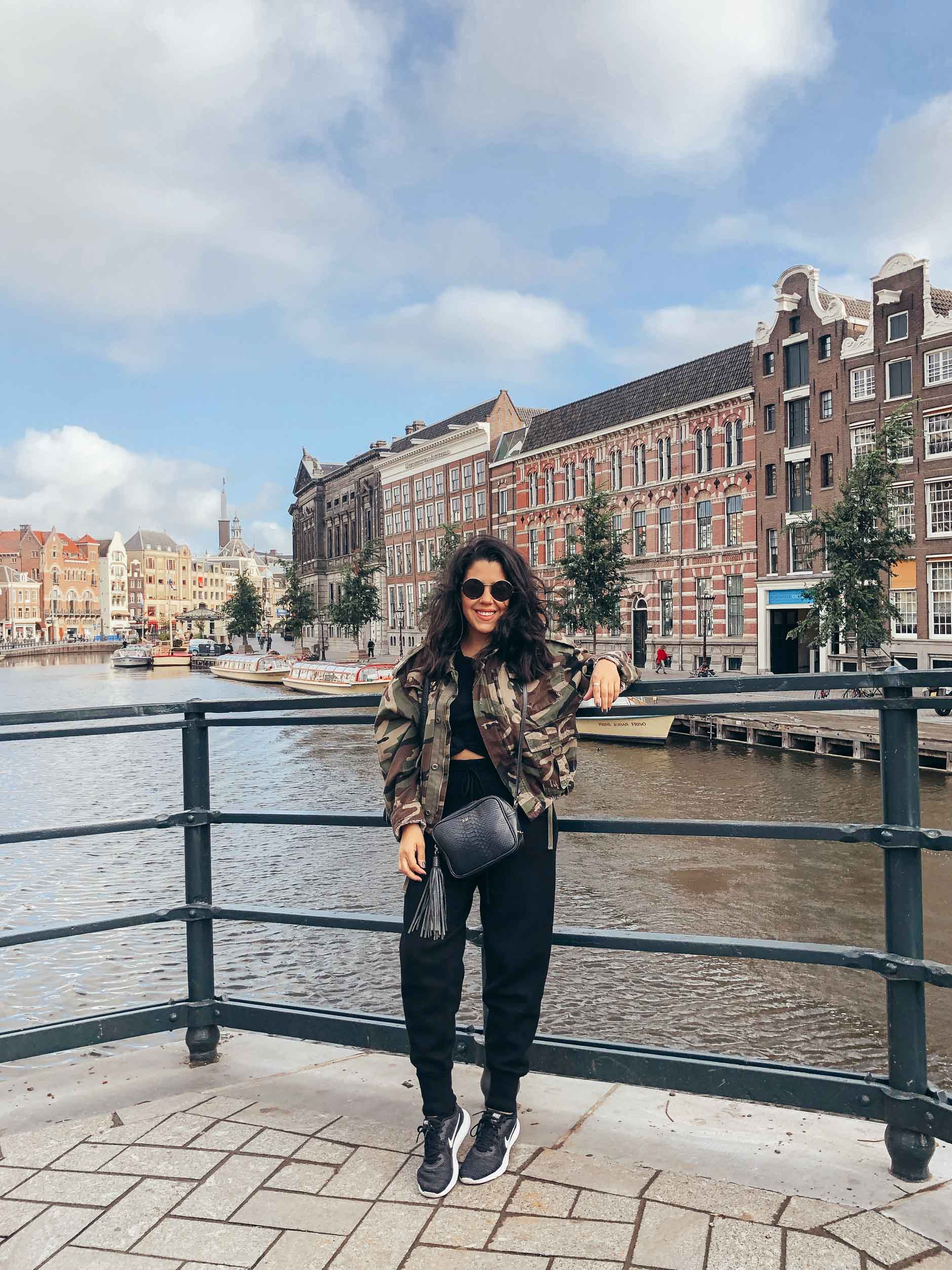 THINGS TO DO/PLACES TO GO  
Canal Cruise – You will see these pretty much all over Amsterdam, but I went on the one that's located directly across the street from the Heineken Experience since Hotel Asterisk was a short walk away. This one allowed you to bring your own booze, so I purchased a tiny bottle of wine inside the ticket booth and enjoyed it while soaking up all the views of Amsterdam at sunset. 
Anne Frank House – This is an absolute must and I highly recommend purchasing your tickets weeks in advance online. I had been warned that spots book up quickly and you definitely do not want to miss this. It was an emotional experience to learn more about the history of what happened to Anne and her family. It was also very moving to be in the same exact house and secret annex that they hid in for 2 years. There's a museum inside that you can check out after the tour. 
Rijksmuseum – This is a Dutch national museum dedicated to arts and history in Amsterdam. It's massive (the collection size is 1 million!) so you'll definitely need to carve out a couple of hours in your schedule to see all it has to offer. 
Van Gogh Museum – This museum is dedicated to the works of Vincent van Gogh and his contemporaries. I did not make it here, but heard that it's another beautiful museum to explore.
Dam Square  – This is a town square in the historical center. 
Vondelpark – Amsterdam's largest park. I didn't come here and wish that I did. It has several cafés and restaurants.
Biking – Rent a bike – this is another great way to explore and experience the city. I didn't trust myself to ride alone and actually felt very intimidated to try, ha! Amsterdam bike culture is no joke. I still remember seeing a woman riding in the rain holding an umbrella and all of her groceries. 
Heineken Experience – I did not go here so I can't speak to whether or not it's worth checking out, however I always see it on lists of things to do in Amsterdam so I wanted to mention it.
Tulip Museum – Museum showcasing the history of the tulip and a giftshop with bulbs for sale. I didn't do the museum, but went inside quickly to browse the shop. It could be interesting if you'd like to learn more about tulips.
Amsterdam Cheese Museum – Small museum featuring the history of cheese making and tastings, plus a store where you can purchase cheese. I only went inside the shop and did a few tastings.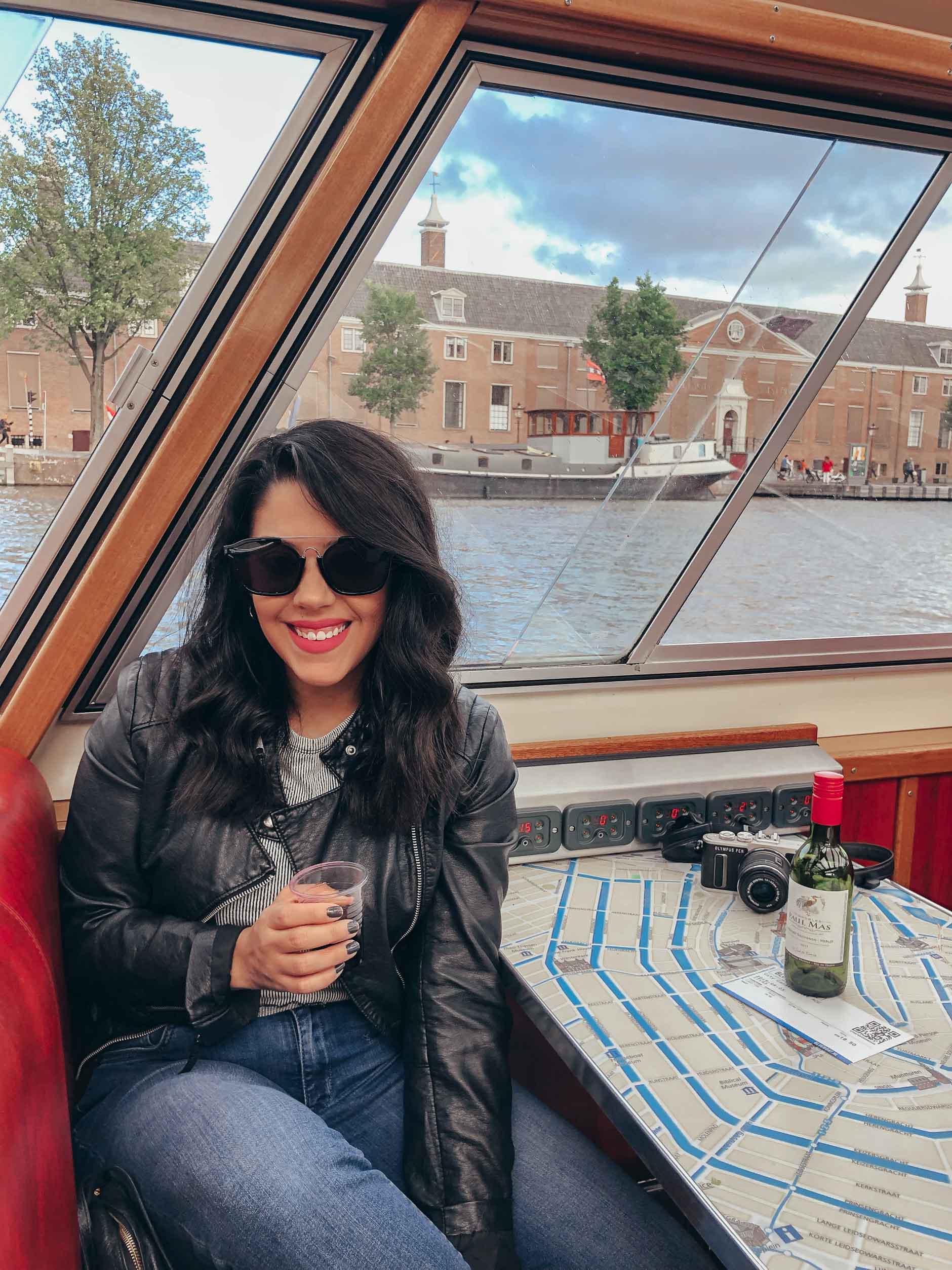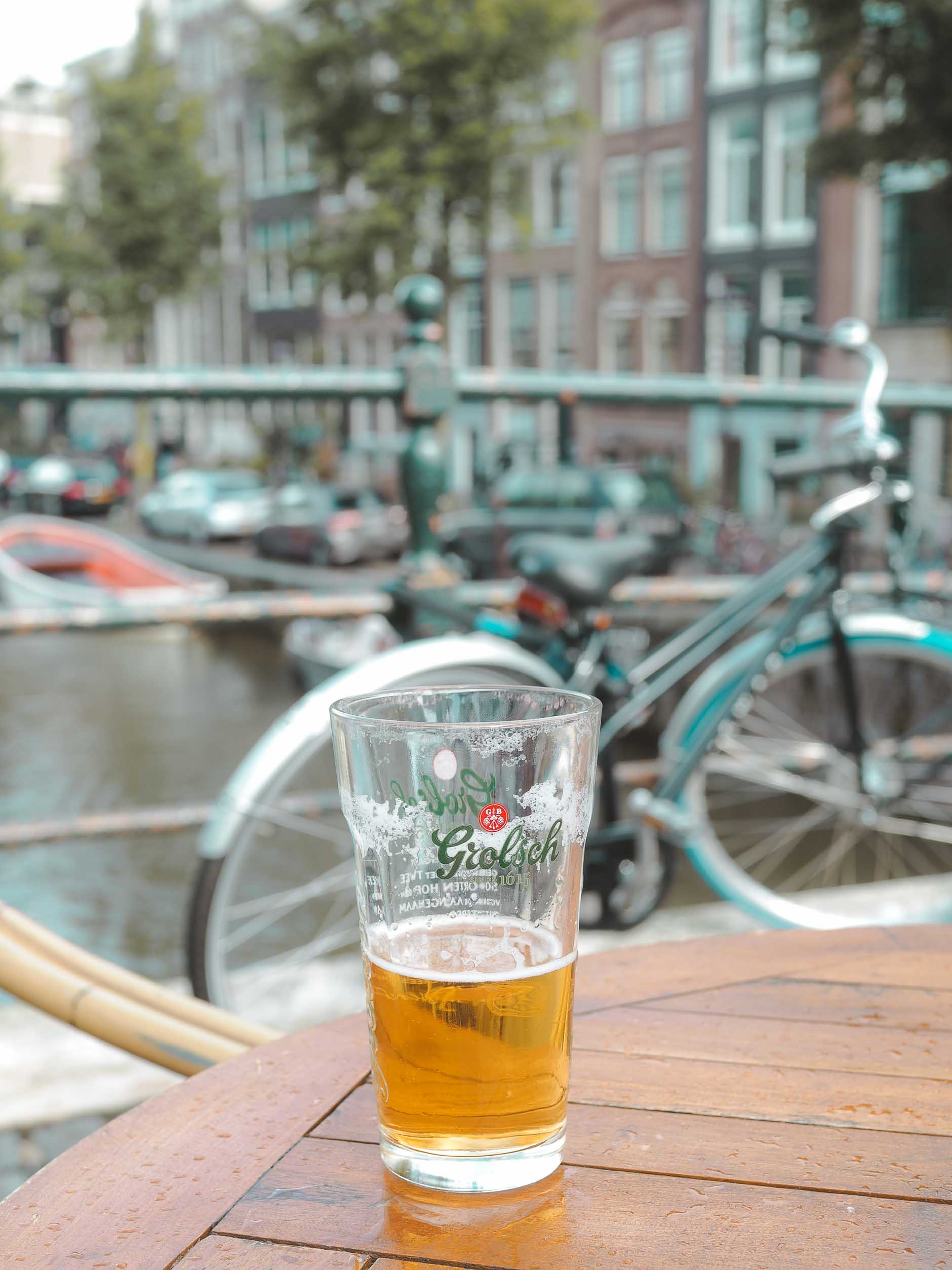 WHERE I ATE
My most indecisive moments of solo travel have always been deciding where to eat! I'm sure that I missed out on a ton of incredible restaurants and probably should have researched them more in advance, but here's a list of all the places that I went to. (at least the ones I can remember)
Picoteo – I had dinner here with a friend who lives in Amsterdam and probably wouldn't have known about this place otherwise. It's a tapas restaurant and it was seriously so good! This was probably my favorite meal in Amsterdam. It's a bit further out from city center and about a 10 minute drive from the Jordaan area. 
The Avocado Show  – I found out about this place on instagram when a few people recommended it. As you can tell from the title everything on the menu is made with avocado in some way. I ate lunch here on my first day and luckily there wasn't a line, however in the mornings and for brunch there's typically a long wait.
La Oliva – Located in the Jordaan area, this is a great little spot for tapas and wine. It definitely felt like more of a local place. I had no idea what to order, so my waiter just sent me out a few things that he thought I'd like. It was all delicious and the wine was good too!
Cannibale Royale  – A friend recommended this place to me. I remember getting their burger and it was so yummy! Cute little spot in the Jordaan area.
Albert Cuyp Market – I don't remember the name of the streets, but there were a bunch of restaurants in this area. I went here on my first night in Amsterdam and it was a bit tough to find a spot as all the places were pretty booked up when I arrived. Service in Amsterdam tends to be on the slower side too and I actually walked out of a restaurant after 20 minutes of just waiting for a menu and not being attended to. This wasn't the case at all places, but keep that in mind. It's definitely a change from NYC when everyone is trying to get you in and out quickly.
Foodhallen – I came here during my food tour with Eating Europe and tried bitterballen for the first time along with some Amsterdam beer. Inside you will find a bunch of different places to eat and drink – both Dutch food and international food. Highly recommend.
PANCAKES (Jordaan) – A few people told me to come here for pancakes.  I tried the traditional Dutch pancakes with cheese and bacon, but they had American pancakes as well. 
Winkel43– The BEST apple pie. It's true. Don't miss out. Located in Jordaan.
Food Tour With Eating Europe – I always recommend taking a food tour when traveling, especially in Amsterdam! I did an amazing one with Eating Europe that took us to so many local spots I would have never known about. I shared that experience here.
CHEAP EATS/STREET FOOD
It's always good to know about a couple of quick and cheap eats that you can grab on the go while you're out and about. 
Street Fries – Apparently Vleminckx is a very popular spot to get these, but you will find them all over. The line here was long, but worth the wait! I topped mine with mayo, chopped onions and peanut sauce.
Stroopwafels – I got mine at Vanwanderen, but you will find them all around the city. Definitely a must if you have a sweet tooth.
Bitterballen – A quintessential bar snack in the Netherlands.
Poffertjes – Fluffy, mini pancakes.
GRAB A COFFEE/DRINK
Scandinavian Embassy – I met Anika here for coffee and remember her saying it was one of the best spots to get coffee in Amsterdam. 
Lexi's Coffee & Bakery – I wandered in here on my first morning and loved the coffee. It's a cute little café and I enjoyed people watching through the window.
Duke of Tokyo – This is the only bar that I went to at night, but I remember the cocktails were amazing! Apparently one of the best mixologists in Amsterdam was there. He made my drink! They also rip out pages from a comic book as your coaster.
Terras Cafe de Prins – I came here randomly for drinks and also tried their apple pancakes. It's right by the canal so it's a great casual spot to hang outside.
Cafe van Zuylen – A cozy pub with indoor/outdoor seating. I came here twice to sit outside and drink Pilsner. I love that their seats are right on a canal bridge.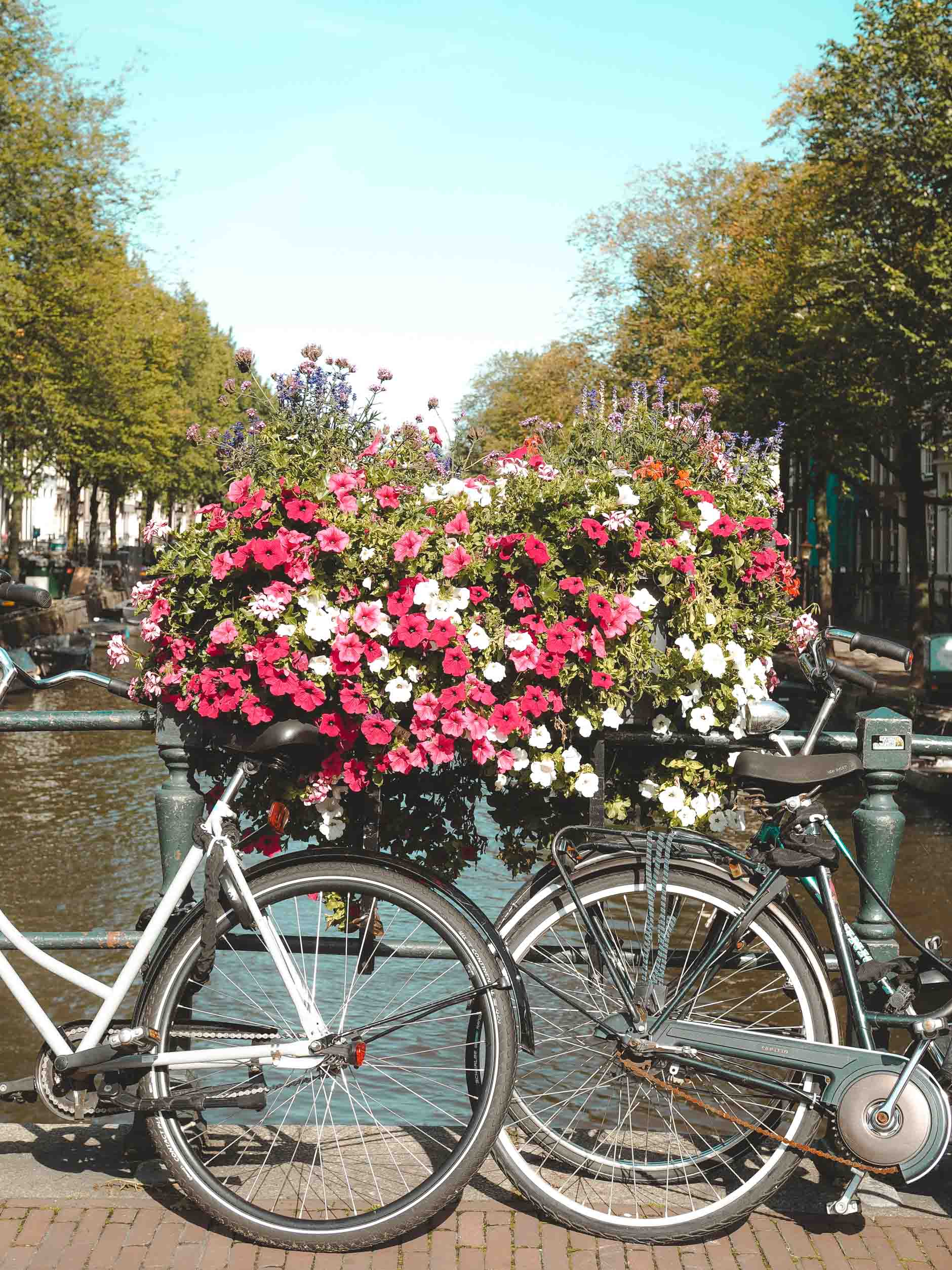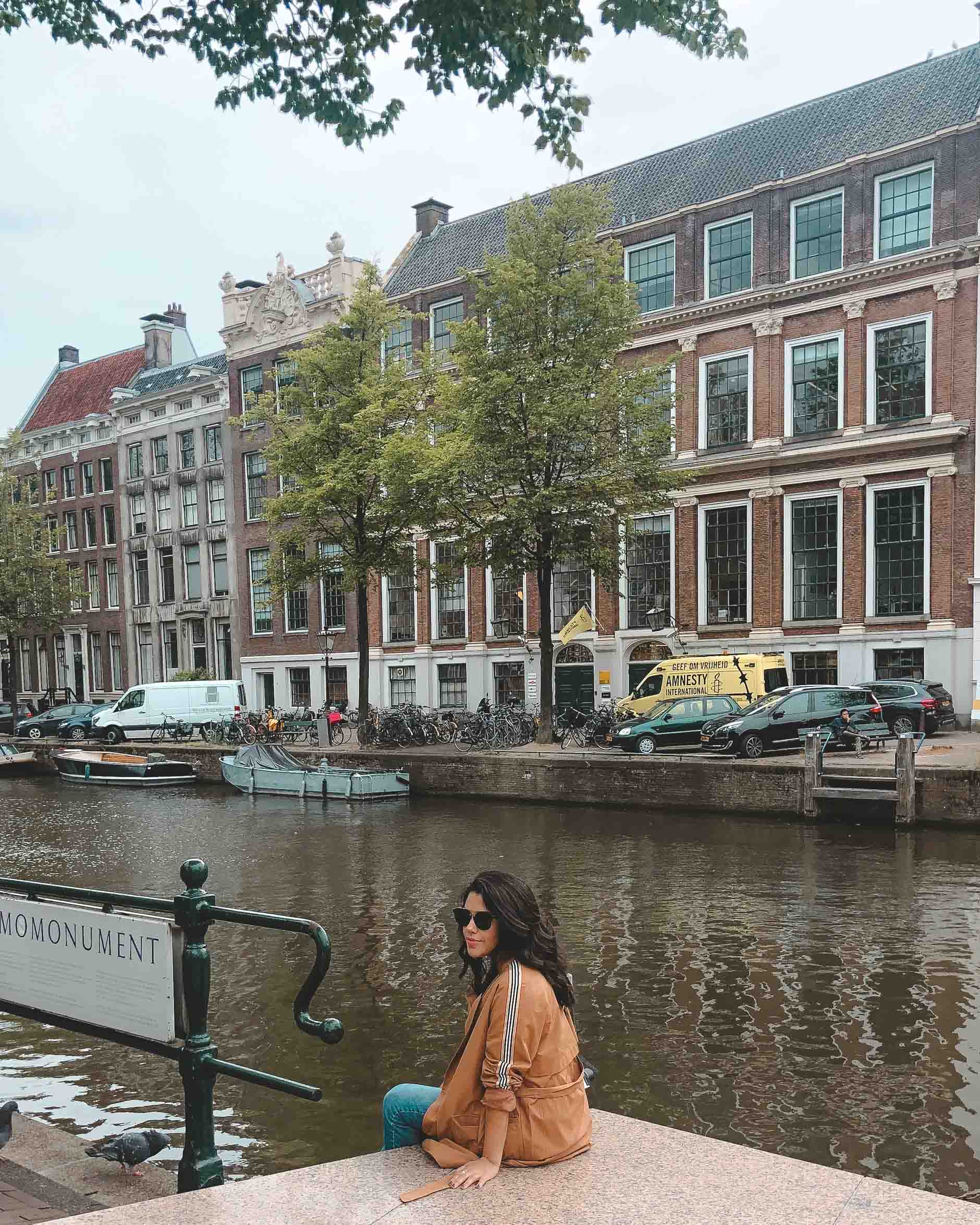 AMSTERDAM TRAVEL TIPS 
There's a difference between a café/coffee shop and a coffeeshop. (The space makes a big difference) If you actually want a cup of coffee, make sure to go to a café/coffee shop. If you are looking for cannabis, then go to a coffee shop. 
Pack for all kinds of weather and bring an umbrella! It was freezing when I first arrived, then I had a couple of days with heavy rain and then towards the second half of my trip it was warm and sunny. The weather is extremely unpredictable.
Wear comfortable shoes for tons of walking and/or biking. 
Noord means North and Zuid means South. Good to know when taking the metro and tram. 
Do not stand or walk in the bike line. 
If you take the tram or metro, make sure to keep your card handy at all times as you'll need to swipe it to enter and exit.
Be mindful that customer service is different in Amsterdam and depending on the place you might have to wait awhile before being attended to.
There's not a big tipping culture here, but I always left a little something. It's customary to leave 5-10% of your bill.
I felt very safe in Amsterdam at all times, even at night. Always be cautious and alert though so that you are constantly aware of your surroundings and belongings.
Now here are a few more beautiful photos that I snapped around the city. I took over 500 pictures in Amsterdam, so of course it was difficult to narrow them all down. That's always the most challenging part for me about putting these travel posts together. I wish that I could share them all!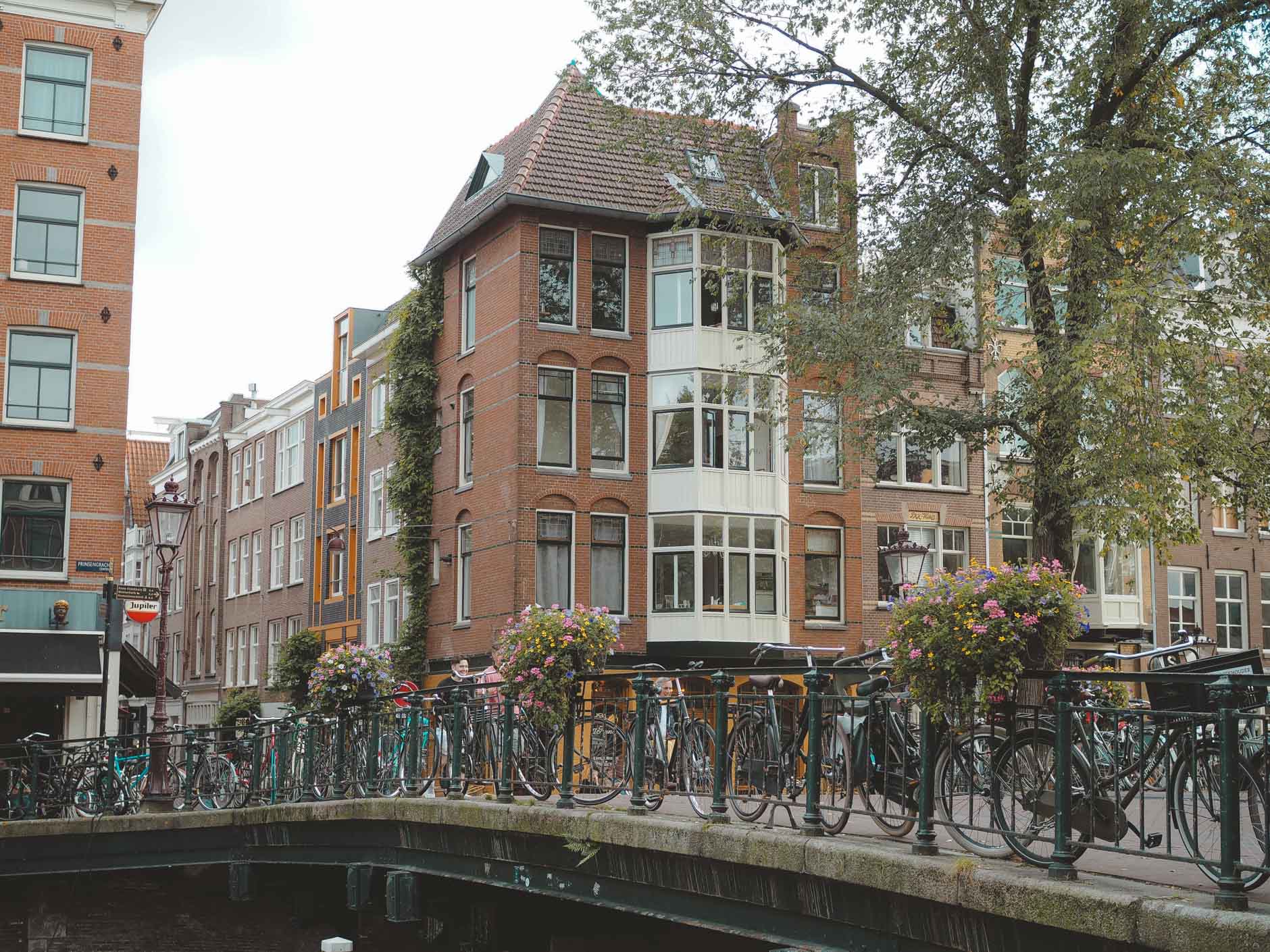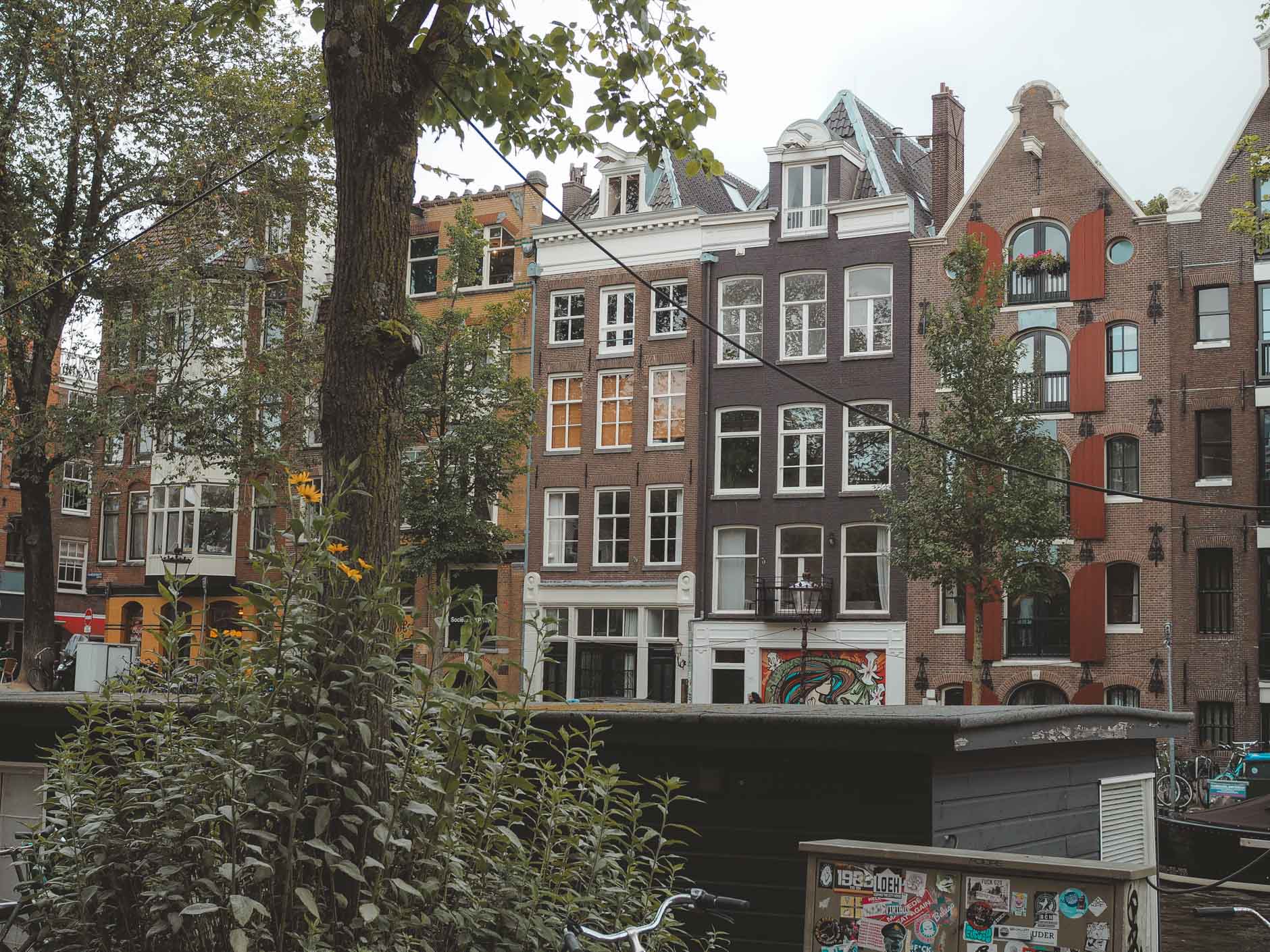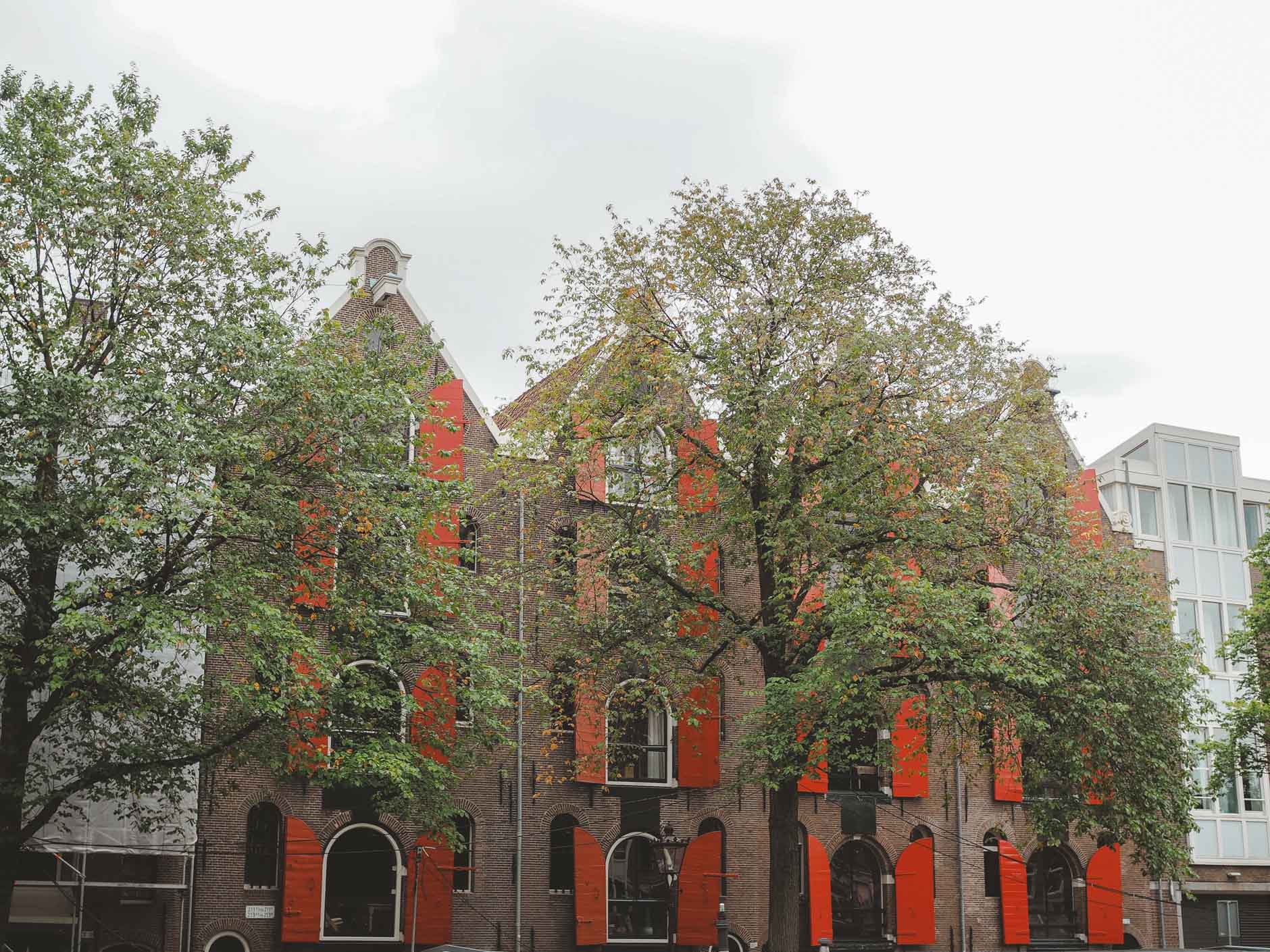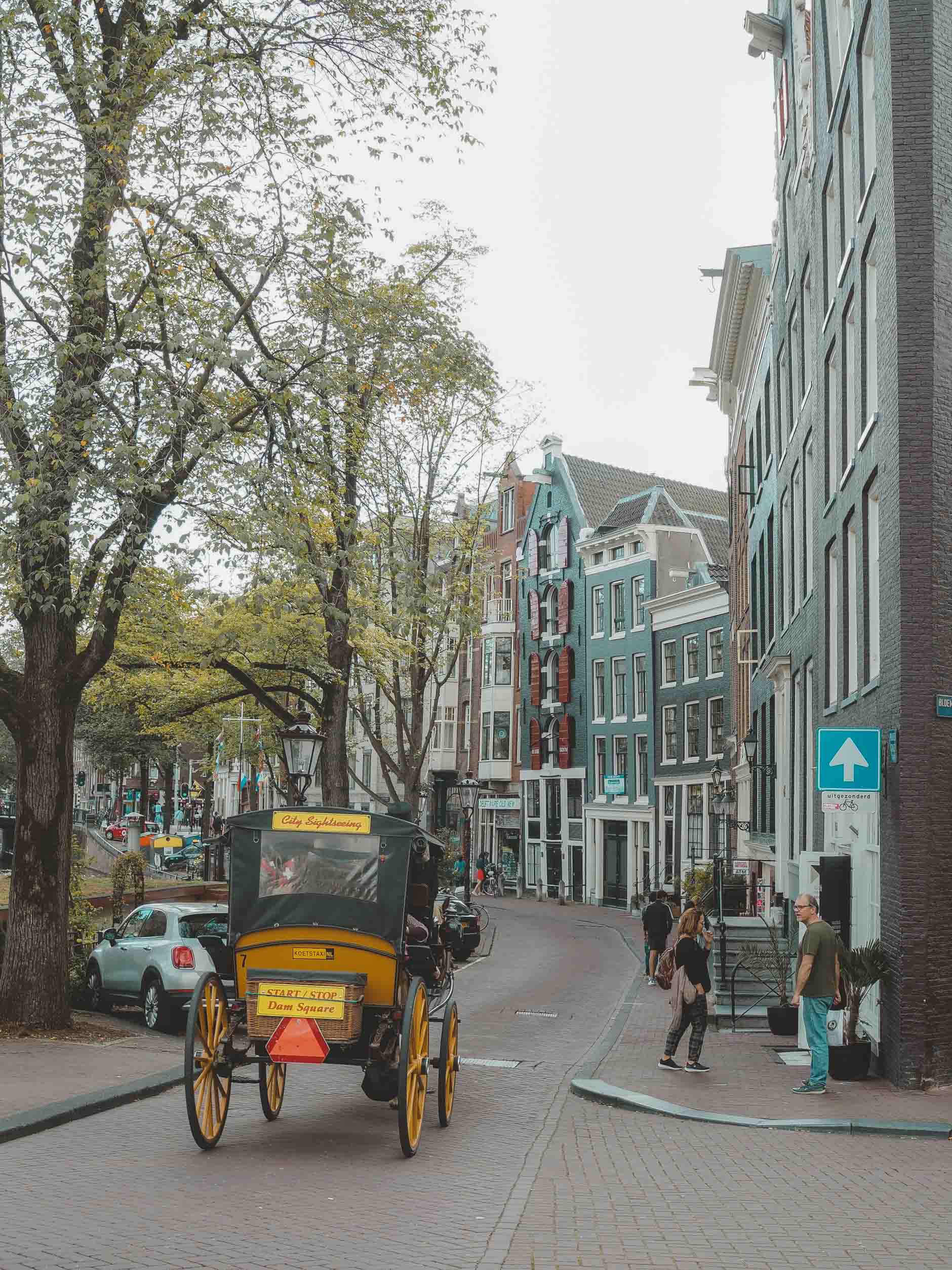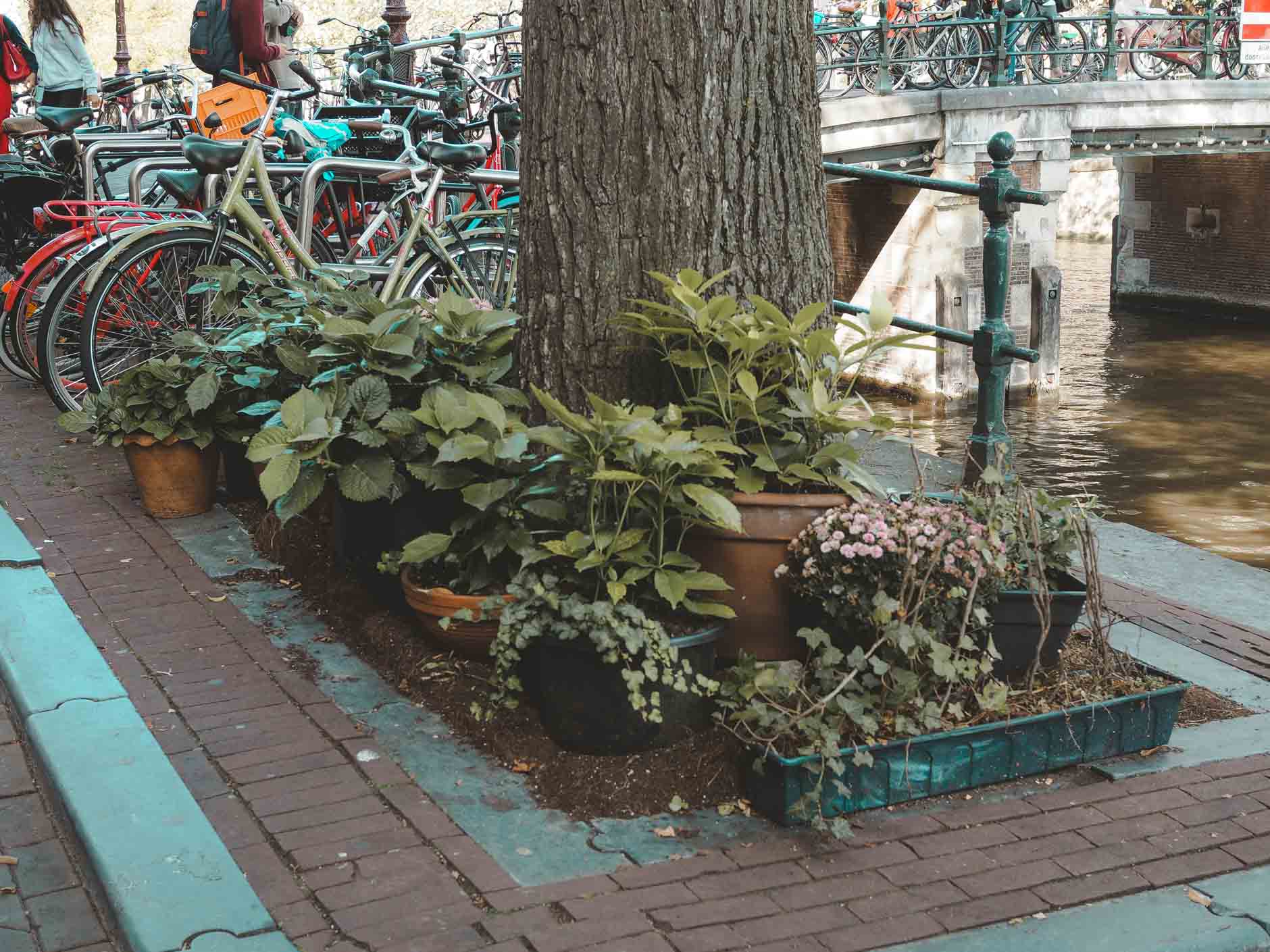 I hope that you enjoyed this post and virtually immersed yourself into this beautiful city for a few moments. I'm so happy that I finally put it all together and shared on here with all of you. This is the first year since 2015 that I didn't get to take a solo trip and that has definitely weighed heavily on me. I know that all of us are missing our travels so much and I hope that things will be safe again soon so that we can hop on a plane to our next destination. I've been thinking about traveling to Portugal as my next stop in Europe whenever that may be. Or I am still highly considering Prague and Budapest. I'll just have to wait until next year to see where it takes me.
Thanks so much for taking the time to read this post. I can't wait to share more solo adventures soon!