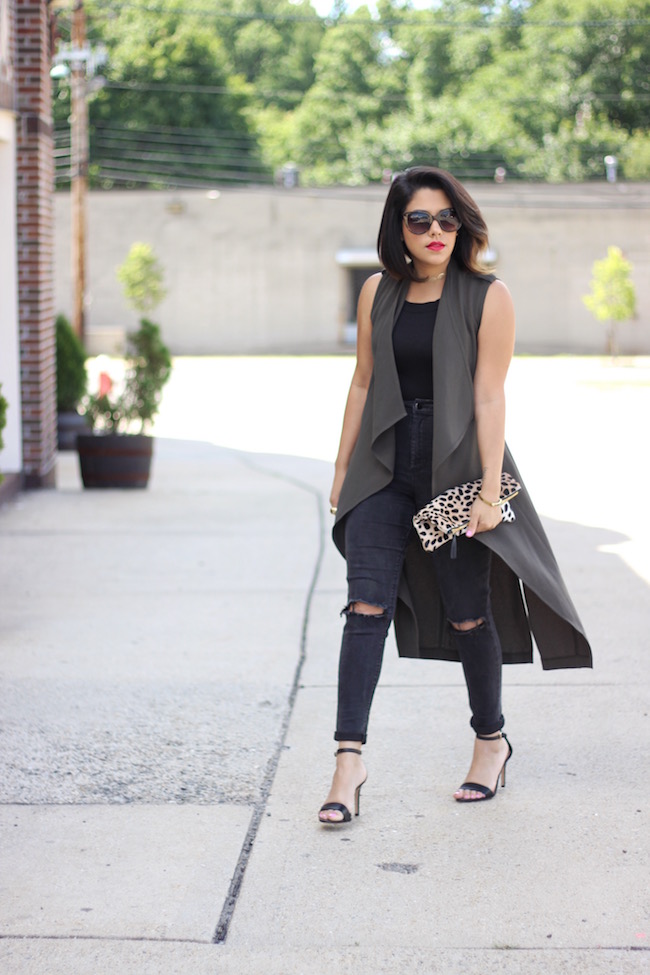 It's been such a hectic week since I am leaving tomorrow night for Europe! I won't be posting much on the blog while I am away, so this will most likely be my last post on here for a bit.  The best way to stay connected with me would be through instagram @natybaby and snapchat @natymichele for daily posts of my trip!  Of course I will recap everything on here once I get back and if I am able to pop in with a quick hello from either or London or Paris then I will make sure to do that! I hate taking too much time away from the blog, but I think it's best for when I am traveling.  A break away is always good and definitely needed.
What I'm Wearing 
Jeans: TopShop | Vest: Dynamite | Tank: Cotton On
Shoes: Aldo | Clutch: ClareV | Sunglasses: Forever21
I wore this look yesterday and darkened up my summer color palette just a little bit.  I've been wearing white denim so much lately, so I decided to give that a break and switched it back up to my favorite black pair. These jeans are seriously going to walk away on their own soon. I swear.  I'm bringing them on my trip too.  Time for a new pair? Probably.  I ended up styling them with this long vest that I wore a few weeks ago with my distressed denim shorts.  I've always been a fan of pieces like this because of their versatility.  They work great for several seasons too, which is always a plus. I could easily style this differently and wear it during the spring and fall.  I really like this army green color too, especially when paired with the leopard clutch.  Leopard is always a fun way to incorporate  print into an outfit and since I consider it a neutral, I would pair it with pretty much any color.
Do you prefer lighter or darker color schemes for summer?  I think it's fun to switch it up!  Thanks for stopping by today and I will be back soon.  You can catch all my travel adventures on Instagram with #natystravelgrams. <3