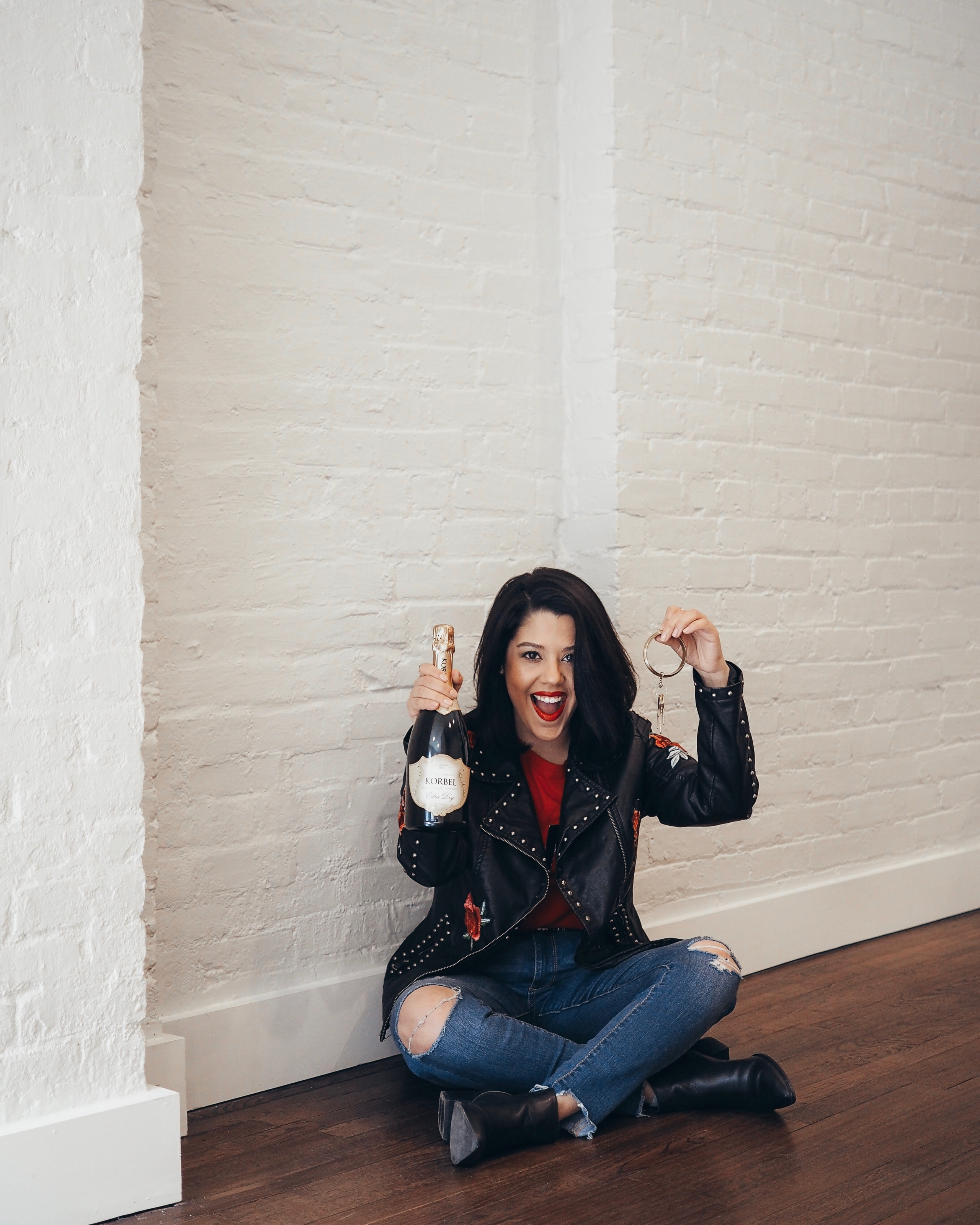 I got the apartment!! Now that's a sentence I didn't know if I would ever get to write. I'm filled with so many mixed emotions right now that I'm not even sure where to begin. My hands are literally shaking as I type.
Years ago, I thought that I would be married with at least one child by the time I turned 34. My life's plan turned out to be completely different than what I had initially expected. I am a single, 34-year old woman who is about to move into her very first apartment. I've watched all of my friends purchase homes, plan weddings and have babies. Deep down inside there's always been a part of me that believed none of that would ever happen for me. I've always wondered when it would be my time to reach a milestone of that magnitude, but I've learned you can't compare timelines.
I guess you can say that things have unfolded for me at a much later time than most people. While I've never actually spoken or written about it before, I'm sure that you all knew. I've lived at home with my mom up until this point, for many different reasons. It took me awhile to get my business off the ground and once I finally got into a position where I could leave, my mom lost her job. I tried to help her as much as I could and I even felt guilty to move out. Honestly, I still do feel a little guilty.
I have such a close and special relationship with my mother. She is literally my best friend and the most supportive person in my world. I wouldn't even have this blog if it weren't for her taking my photos every week for the last 6 years. We've become such an incredible team and I owe so much of this to her. She's made so many sacrifices for me and I have tried to make some for her too. The thought of leaving her alone breaks my heart, but at the same time I have to move on to the next level of my life. Even though she's sad for me to go, she's still incredibly happy for me and I'm beyond blessed with her support.
It's been really difficult for me to not be able to share all of this with my father. I always find myself feeling this way whenever I experience any type of milestone in my life. He would be so nervous about me living in New York, but he would also be so proud and want to help with every little thing in the apartment. I swear that he's been sending me signs over the past few months about this move, so I do believe in my heart he's still sharing this experience with me. I'm so thankful to have him as my Guardian Angel.
New York City is not far away, but this will still be such a huge transition for me. Everything in my life is about to change. I must admit that I'm feeling a little scared, nervous and overwhelmed, but at the same time I'm so excited to begin this next chapter. I have worked so hard, for so long, to achieve this goal.
It makes me think of that quote, "If it doesn't open, it's not your door." For awhile, there were moments when I honestly didn't know if and when this would ever happen. I started to think that maybe this wasn't going to be part of my life's story. The dream felt so far out of reach at times. But here I am, sitting down in MY apartment holding the keys to MY door!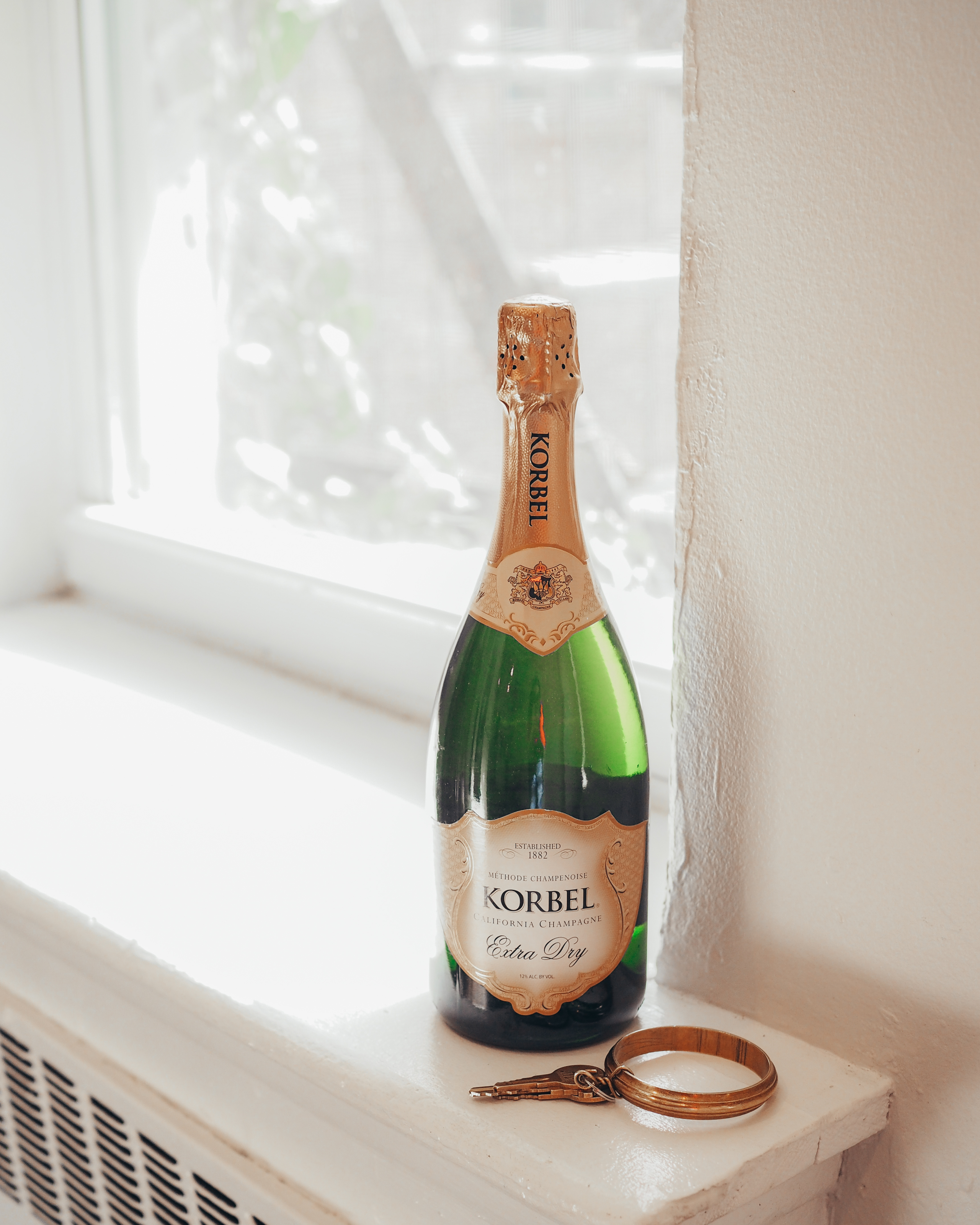 If you've been keeping up with my blog, then you know I have been talking about this specific apartment since last fall. As a quick overview, one of my close friends owns this unit inside a co-op building. She moved out a few months ago to a bigger space with her husband, but she wanted to be able to rent this place out to someone. After multiple discussions, it seemed like the perfect opportunity for the both of us.
I still had to go through the whole approval process with the board, which I admit was a bit nerve-wracking at first. Co-op boards can be tricky, so I didn't know for sure if I would even get approved. I'll be honest though, it ended up making this whole process that much more rewarding because I did it and I did it on my own!
I found out about two weeks ago that I got approved, but part of me didn't feel like it was real yet. I wanted to wait until I got the keys before making the official announcement. When I walked into the empty apartment with my mom a few days ago, it all started to hit me. I went through this thought process of, "Omg, I can't believe I did it! This is my apartment. I am moving to NYC!" Then that immediately followed with, "Omg, what have I done?!" lol – I think that's normal though, right?
Now here's some details on the apartment. It's petite, like me! It's right in the heart of Hell's Kitchen, which is such a great location for me. I literally have everything that I need right at my doorstep and I'm just a few blocks away from the train and Port Authority. I can easily take the bus back to NJ whenever I want. The unit is in a walk-up, so I guess it's safe to say that my legs will be in the best shape of my life!
It's a studio alcove, which means that I have a half wall separating the living room area from my bed. One of the walls has white exposed brick, as you can see here in the photos. It's my favorite part about the apartment because I think it adds so much character. The kitchen is small, but I can make it work. I'm actually waiting on the countertop to be redone. My friend cut off the overhang when she lived here so that she could create a little dinette area, but I prefer to have barstools instead so that I can save space!
There will definitely be some challenging aspects for me. I have to create a living room, office, bedroom and dining area all in the same room. There is not a ton of space for storage. I've actually been downsizing a lot over these last few weeks. Everything is also so high up that I will need a step stool to reach most things in the closets and cabinets. Where's my tall future husband when I need him the most? Only half joking. 😊
I've got two windows with great natural light. The unit faces the back of the building so it's actually super quiet for an apartment in NYC. I plan to show you all the full empty space soon and would love to share this whole process with you. I'll be moving things in within the next two weeks and still have to order all my furniture. It's definitely been so overwhelming that I don't even know where to start, but it's still so exciting!
Kiko is moving with me too! It's going to be a tough transition at first, taking him from a house to a small apartment. I am taking him away from Mikey too, who will be staying with my mom. That part makes me sad, but I'll definitely be bringing him back to NJ with me for visits. I think he'll love going for walks constantly and he'll probably be excited by the new environment. At least this is what I am hoping for. He's so attached to me that I think he will be happy as long as he is with me. 
So what does all of this mean for the blog? 
That's going to be another big transition for me as I won't have my mom to take my photos each day anymore. We are hoping to still shoot together sometimes, it just won't be as often. Whether I hire a photographer a few times a week or simply have a fellow creative snap my pics, I am sure that I will figure something out. I am definitely going to miss shooting with my mom though as she's been the other half of this site. It feels like the end of an era.
It's going to take me some time to get into a new groove, so I apologize in advance if my content becomes even less consistent in the beginning. I've been so comfortable doing things a certain way for such a long time that this will definitely shake everything up for me. One of the great things about moving is that I can be more present in the city, which I hope will bring me even more work opportunities.
I also plan to create a Home section on this site, where I can share the moving process, home decor, and the fun and challenging aspects of living in New York City. I believe this change will leave me feeling more inspired and creative. For so long, I have been craving a change this big in my life and now it's finally here.
These last two weeks have been somewhat of an emotional rollercoaster. As I begin to move my things and say goodbye to living in my childhood home, I know these emotions will only heighten. In many ways, I am letting go of certain parts of my life, but this is going to challenge me, take me out of my comfort zone and help me to grow even more. It's prepping me for what's to come. My story is just beginning!
Never give up on your goals and dreams, no matter how long it may take you. And don't allow fear to hold you back from reaching that next level of your life. Now more than ever, I'm a firm believer that everything happens exactly when it's supposed to. Trust the timing! I've prayed on this for so long and God waited until He knew I was ready. I truly believe that.
Thank you so much for reading this long post. I can't wait to share more of this experience with all of you. Cheers to new beginnings! ❤️