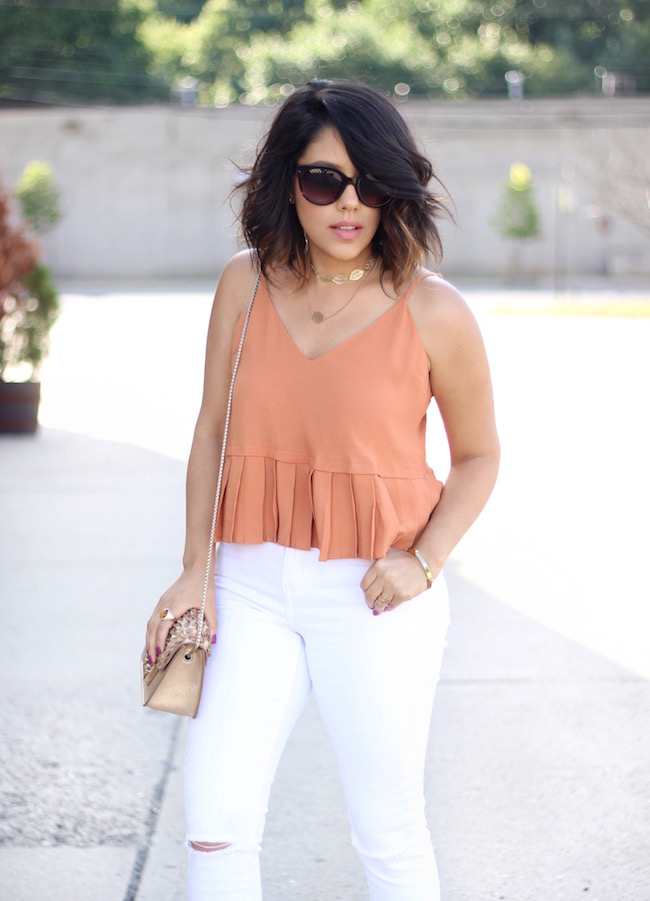 Happy Wednesday beauties! I didn't mean to get this post up so late today, but here it is.  I couldn't wait to share this look that I wore out on Saturday night.  I had major summer vibes going on with this color palette.  It's definitely another favorite combo of mine for the season, but then again I love anything paired with white.
What I'm Wearing 
Top: Forever21 | Jeans: Cotton On [also love] | Shoes: Aldo [similar]
Bag: Furla | Sunglasses: Forever21
  I went to Forever21 for the first time in well, forever, and fell in love with this cute pleated top.  The peachy color gives off such a chic vibe when styled with the gold accessories.  It really is perfect for summer and can be worn with so many different pieces.  I need to get this top in the mint color too, although I couldn't find it in the store. 🙁 I especially like how the knee ripped jeans added in a touch of edginess to the overall feel of the look. It's always fun to mix & match different styles in either a subtle or bold way.  I just need to interject for a quick second and say that these jeans finally fit me perfectly!  I've worn them before and love them so much, but they were always a bit snug on me.  For the first time since I got them I was actually able to wear them without feeling as if they were too tight on me.  Little things like this are so motivating for me to continue with my fitness journey! I talked about it briefly on snapchat, but I am doing the BBG workouts and am currently on week 2.  Still a long way to go, but it feels good to see some progress already happening. And the best part is that I can do these workouts in my hotel rooms when I'm in Europe.  No excuses this time!
Thanks for stopping by today loves.  Hope you are all having a great week so far. I'll be back again with a new post Friday. <3