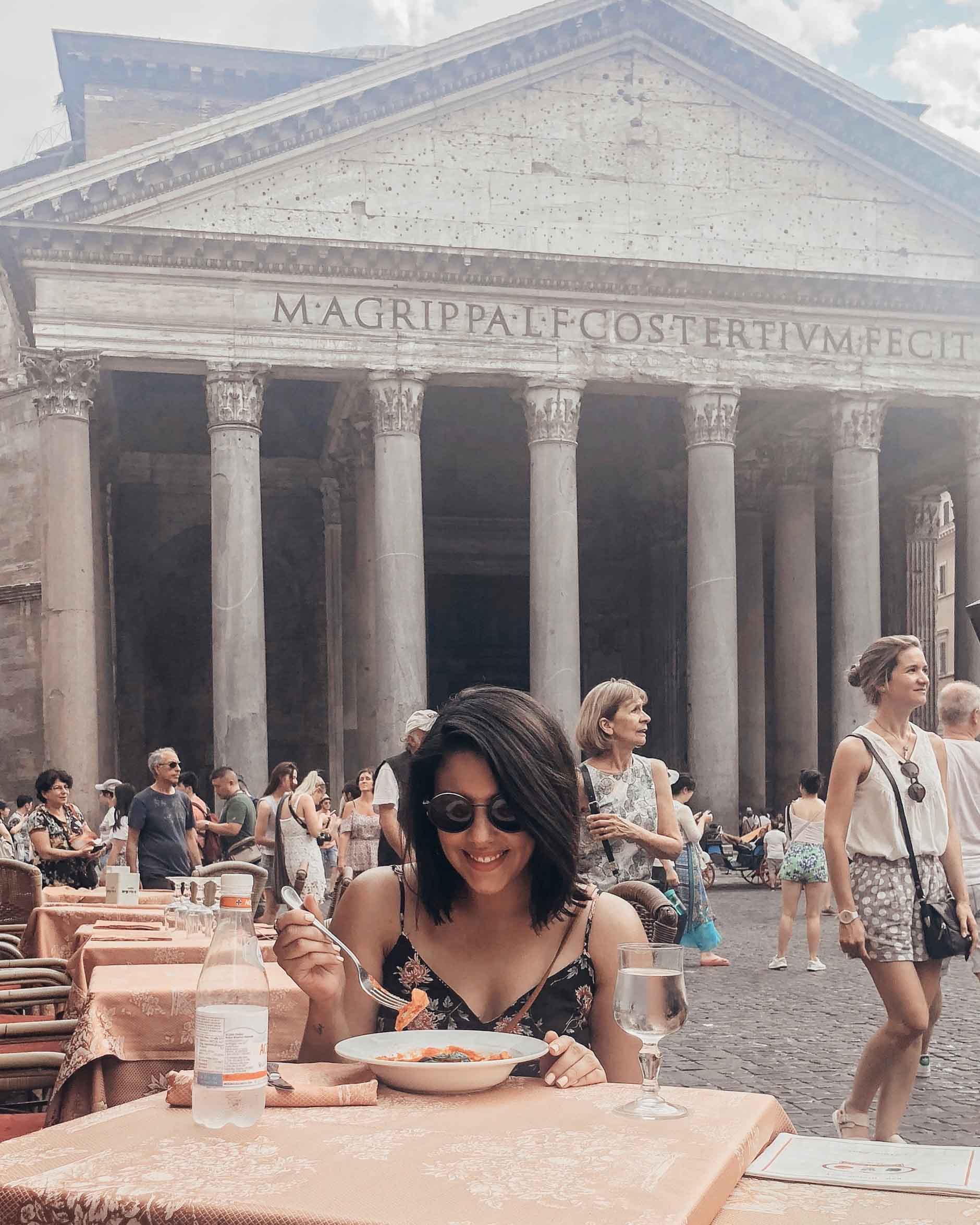 ROME GAVE ME ROMANCE.
Italy had been on my bucket list for as long as I can remember, so when my best friend announced that she would be getting married there, I knew I had to make the most of my time and see as much as possible. This trip had been in the works a year and a half in advance, but truthfully I didn't book it all until a month or two before. My first stop on the itinerary was Rome!
Ah, the Eternal City. Before arriving, I did a bunch of research – mostly because I knew that there was SO much to see and do. Rome is such a big city with tons to offer. I received some mixed reviews about it before my trip. There were some who absolutely loved it and recommended I stay for at least 3-4 nights. Then there were those who didn't like it at all and suggested that 1 day was plenty. Here's the thing about travel. You can ask for recommendations and read reviews, (I do both of these things) but everyone is going to have their own experience. We are all seeking different things during our travels. It will be what you make of it and the best way to find out is to go and see for yourself.
I made a list of everything that I wanted to do and based on my Italy timeline, I decided to go with my instincts and stay for 3 nights. For me personally, it was the best decision. I actually left Rome wishing that I had stayed an extra day. As a solo traveler, I LOVED the vibe and energy there. It was definitely very touristy in certain areas, but I made friends almost instantly. I got hit on by all the waiters (LOL!) and I even went on a date my last night with an Italian! Nothing crazy, we just got drinks. He was actually born and raised in Rome. So yes, out of all the things that Rome could have given me, it gave me a little bit of unexpected romance. Thank you, Italia!
It wasn't a perfect 3 days though. There were definitely challenges there. I think my biggest complaint was the heat. At times it was unbearable for me, especially with all of the miles I walked daily – 10+! I ended up having to change my outfit 2-3 times a day while I was there. That's how hot it was! I would highly recommend to visit when it's a bit cooler, but if you do go during August or any of the warm summer months, make sure to stay hydrated with plenty of water. By the second night I was already starting to get sick. Thankfully there were Farmacias everywhere so I was able to pick up some medication.
There were also some areas that had a lot of trash on the streets and overflowing from the garbage cans. I actually didn't know that Rome was currently going through a waste disposal crisis. Coming from living in New York City, it honestly didn't phase me much. I know that could possibly be an issue for some, so just wanted to make sure I mentioned it on here. But please don't be mistaken. There is still so much beauty in this city and I am so thankful that I had the chance to explore and experience some of it.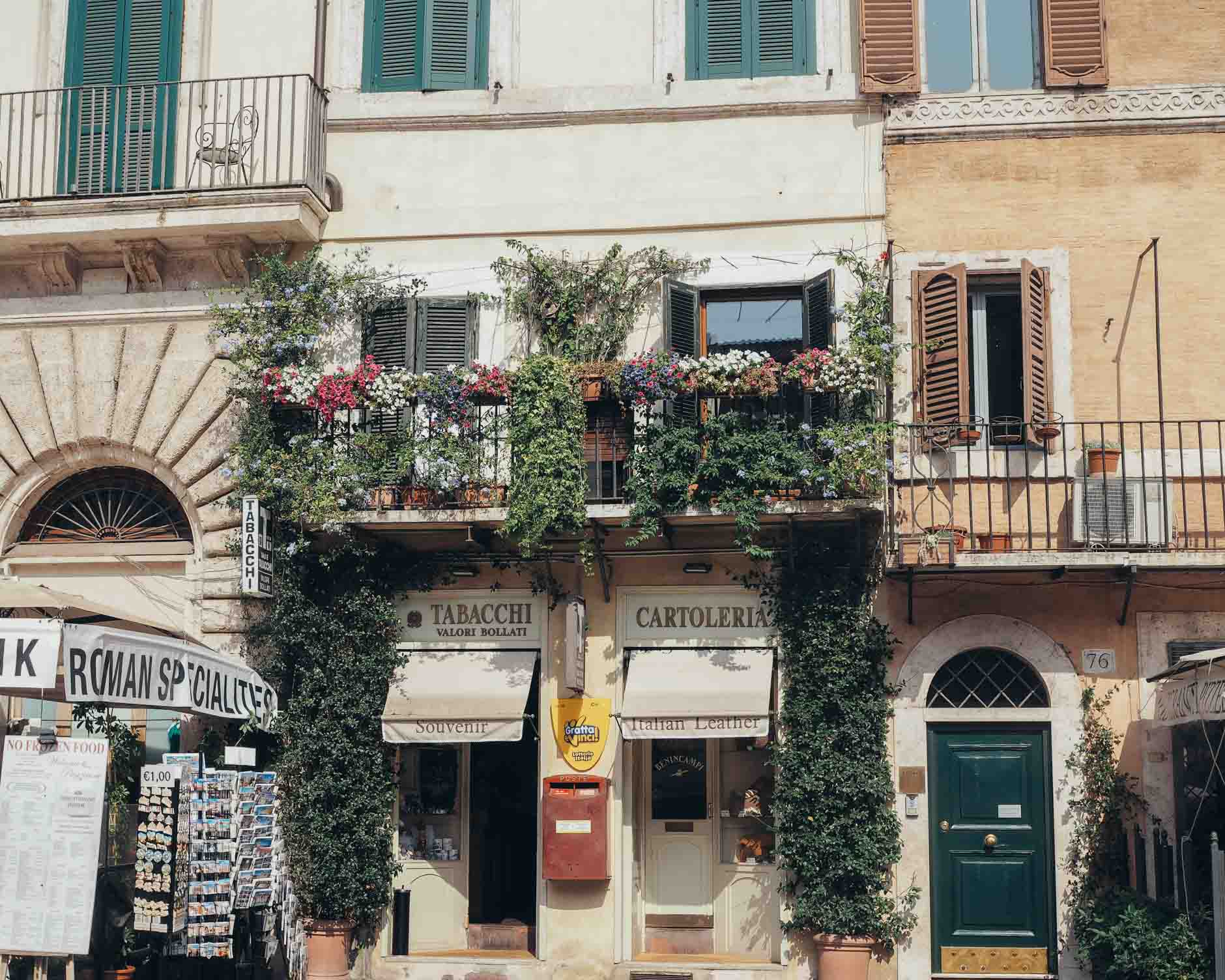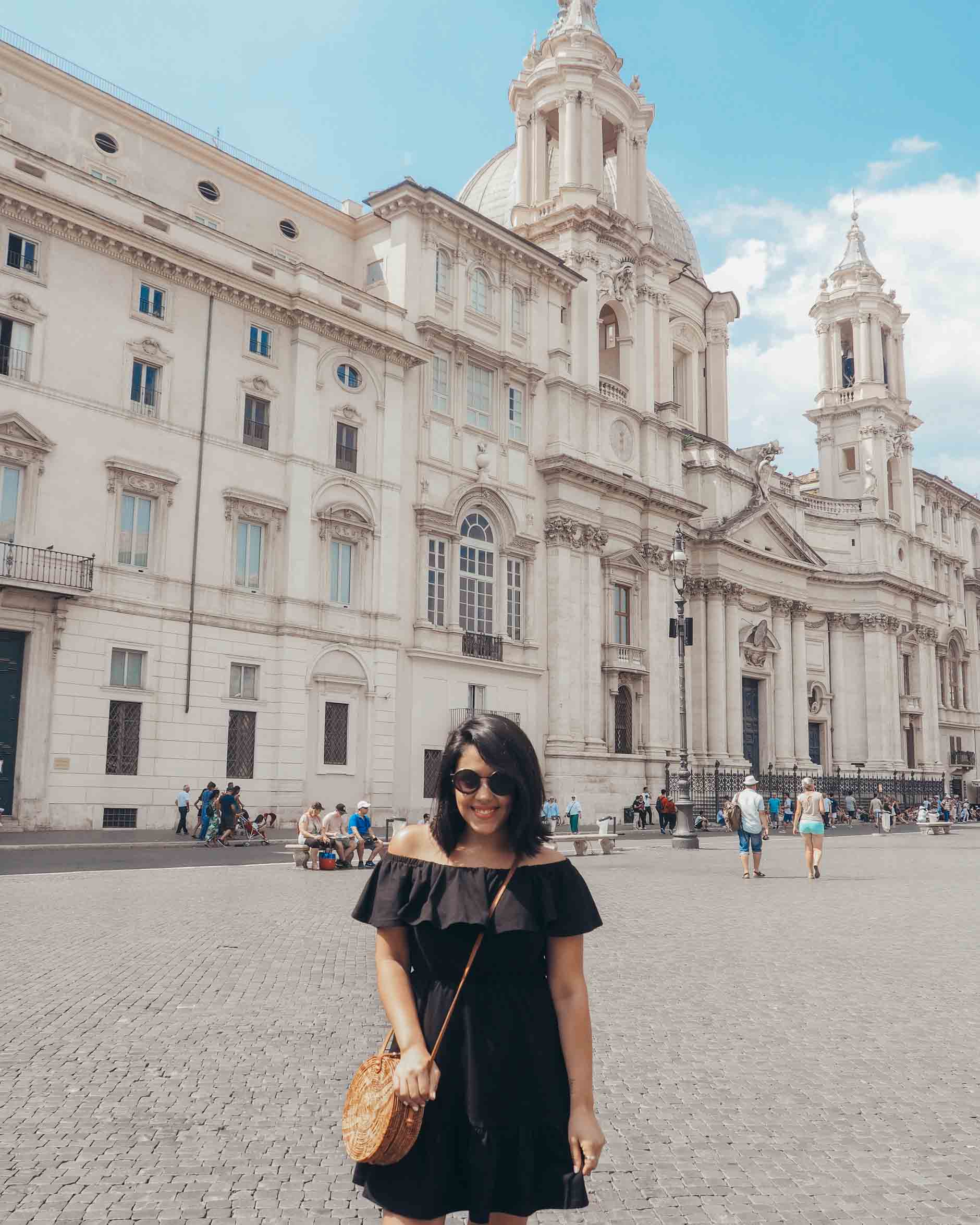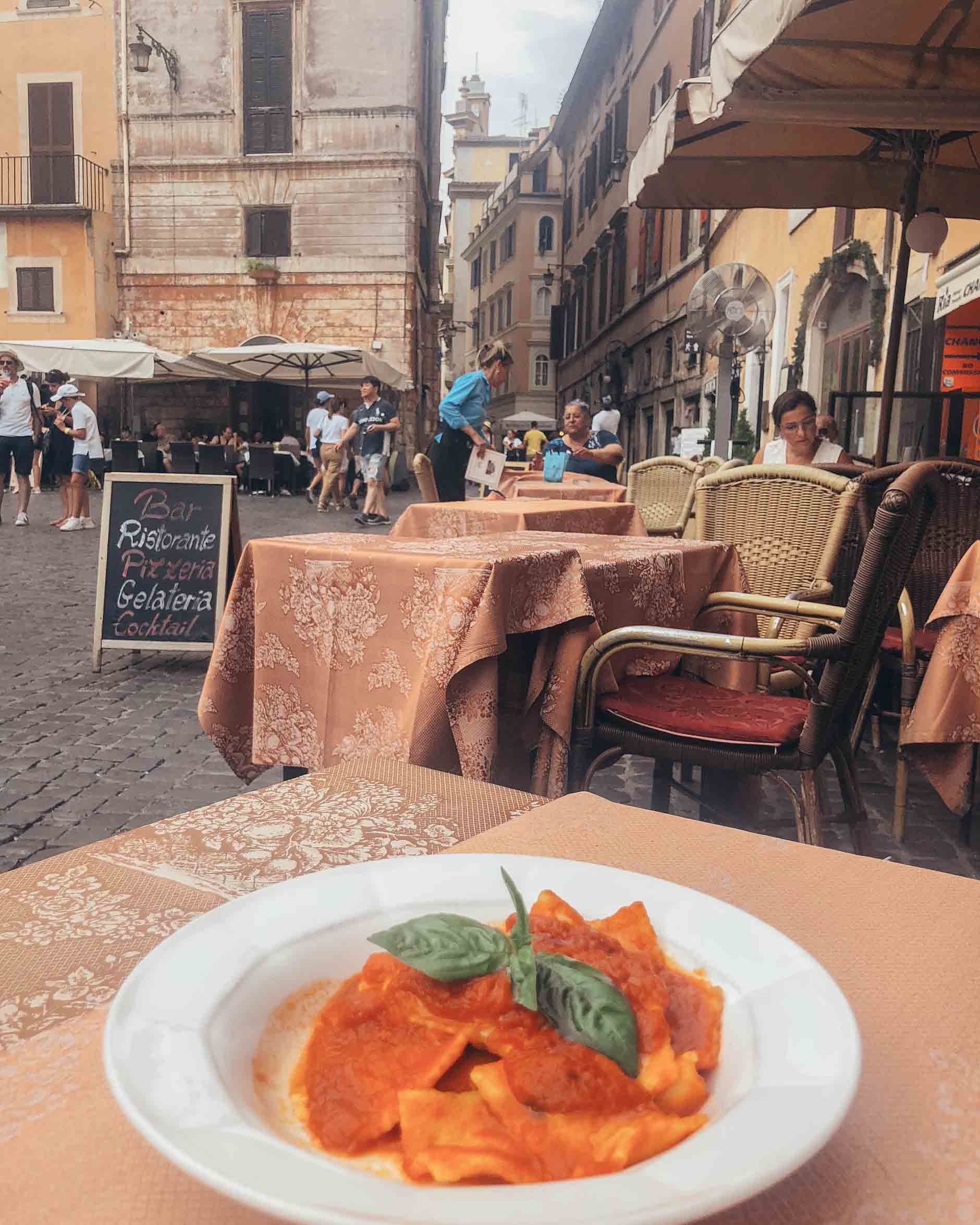 WHERE I STAYED 
I took a recommendation that I got via Instagram (thanks Ambar!) and decided to stay in Campo de' Fiori at Boutique Hotel Campo de' Fiori. I can't say enough good things about this hotel! It really gives you that old school Italian feel with the indoor decor. It has a beautiful rooftop with an incredible view of Rome. There's no bar inside, but you can ask the front desk to bring you a drink up to the rooftop. I had a glass of prosecco here my last night.
The staff was super friendly and helpful. When I booked the room they sent an email asking if I wanted to book a taxi from the airport through them. It was so great to land and have the car already waiting for me. It cost about 55 euro with tip. The last day I missed my train to Florence. I woke up extremely sick, so they were so kind to give me a late checkout and helped me book a new train ticket that morning. There was also a really hot guy who worked at the front desk, haha! If you watched my stories then you already know! That was a nice perk. 😉
It was in an ideal location – literally a few feet away from the Campo de' Fiori square. It was a 5 minute walk across the street to Piazza Navona and about 10-15 minutes to get to the Pantheon and Trevi Fountain. My furthest walk was probably to the Spanish Steps and Trastevere, which actually weren't too far away either. One thing to note about this hotel is that they also have apartments around the corner and across the square. I initially booked the apartments because they didn't have any rooms available in the hotel. I ended up getting lucky when Trip Advisor notified me that a room opened up and it was much cheaper than the apartment. Yay! If I ever go back to Rome, I would probably stay here again.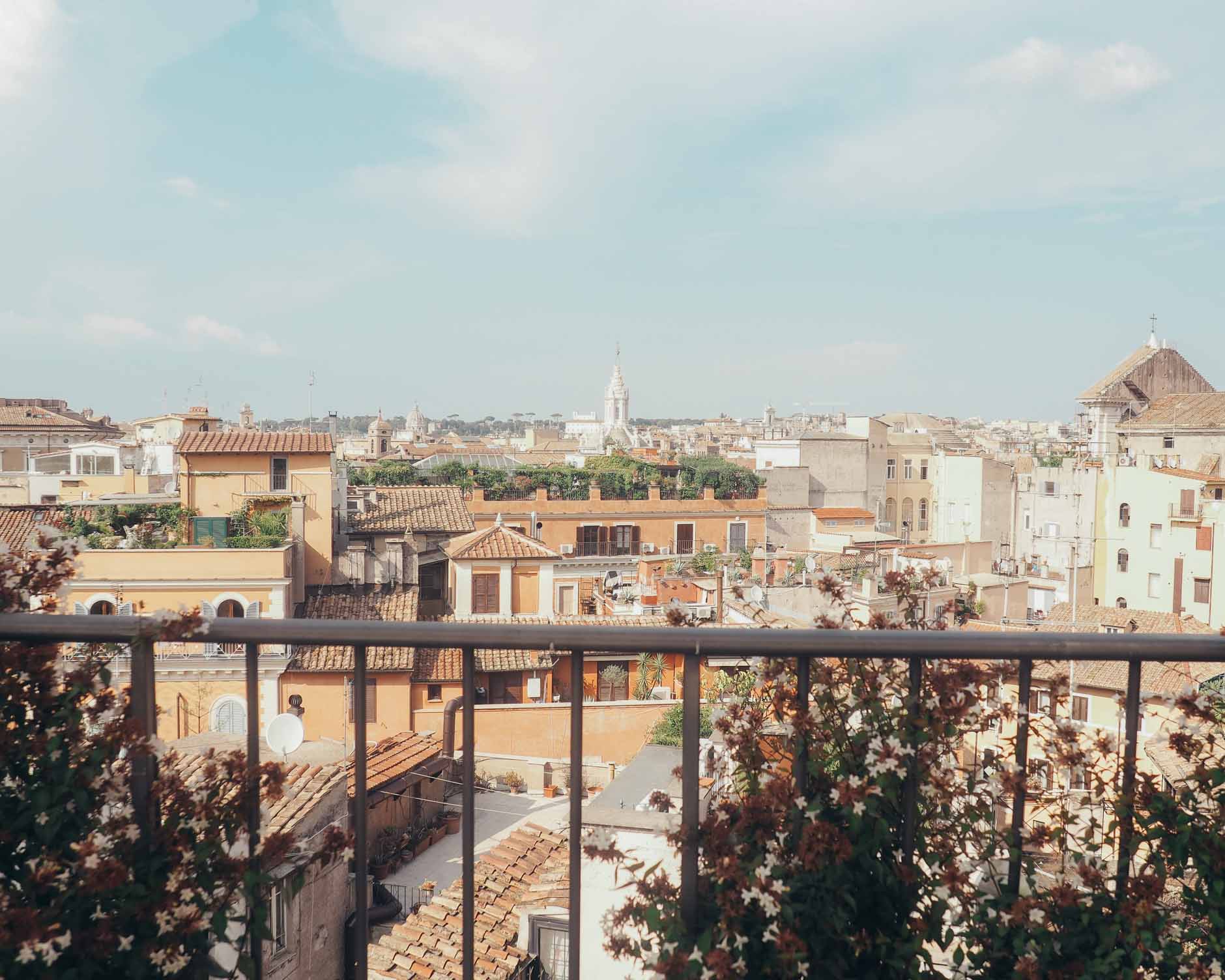 TOP ATTRACTIONS  
Pantheon – The Pantheon is a former Roman Temple that is now a church, so it's definitely cool to see it in person. This was such a short walk from my hotel, so I wandered over here on the first day. That whole area was filled with people at all different times. While super touristy and expensive, there's several restaurants surrounding the Pantheon. I did eat at one of them as I was  starving and loved having the Pantheon as a backdrop for my first photo in Italy! A quick note: I didn't go inside, but if you choose to go in it's free admission, unless you want a guided tour.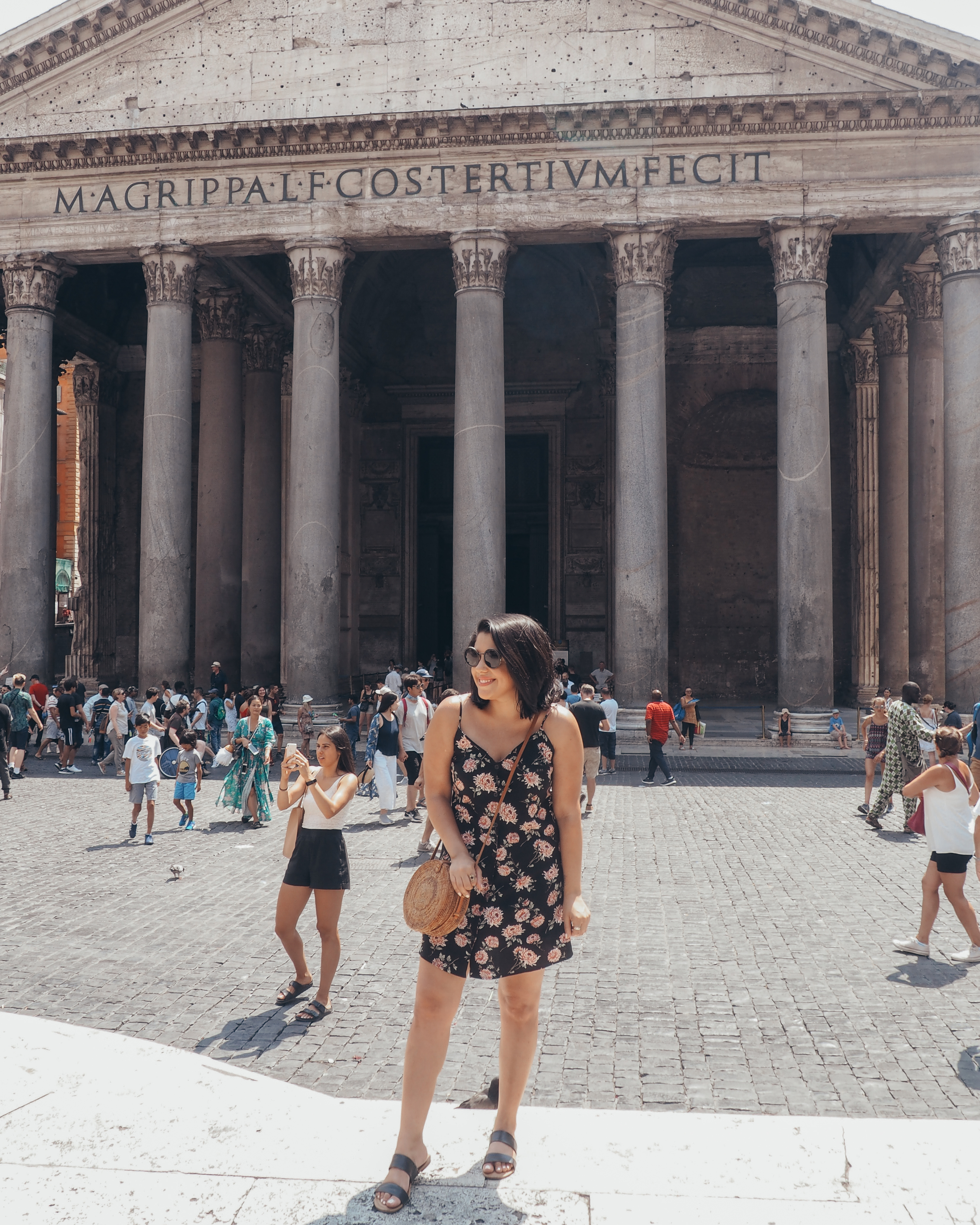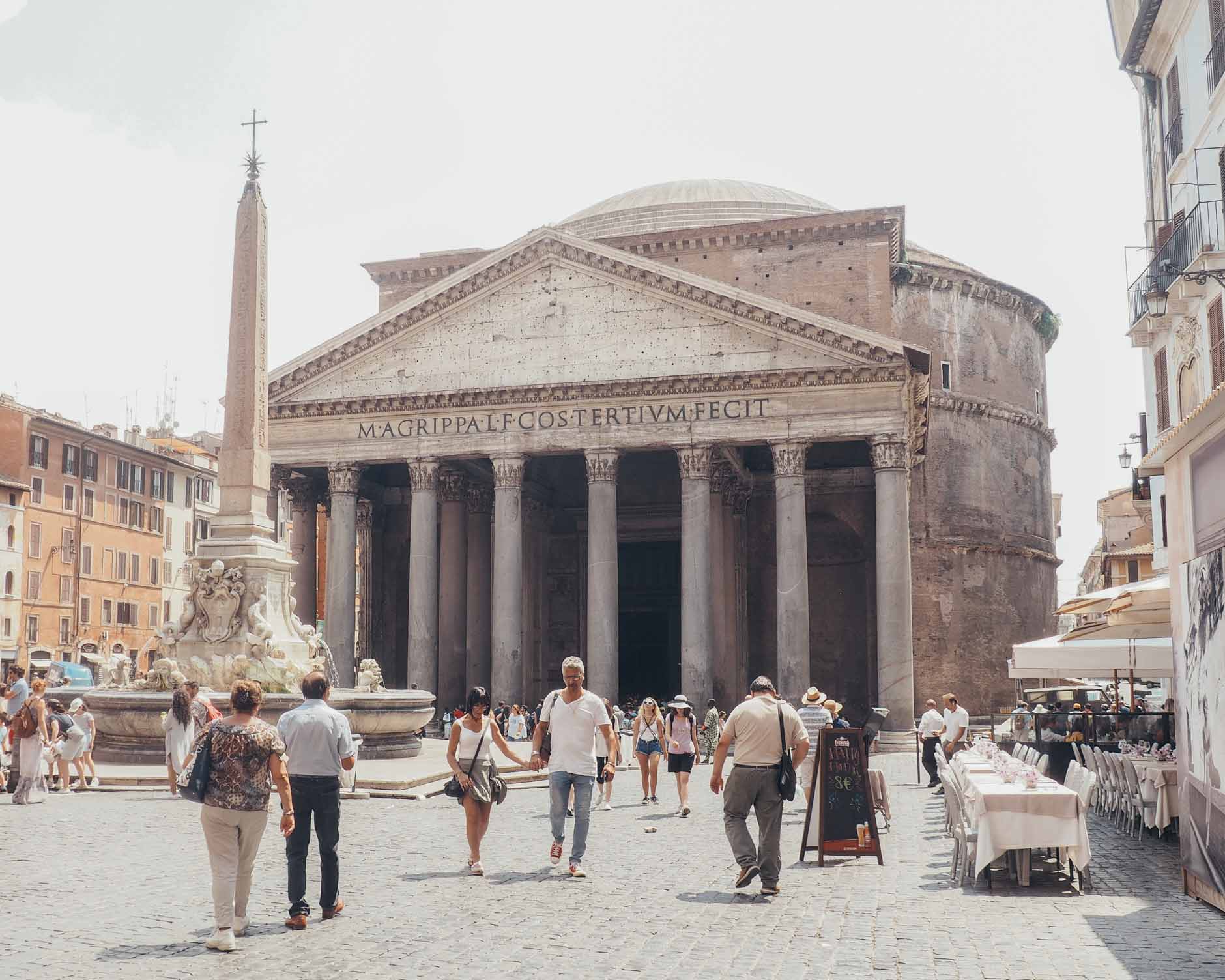 Trevi Fountain – I was so excited to finally see the fountain in person and ended up walking by it several times during my stay. It's so beautiful and one of the oldest water sources in Rome. You are supposed to throw in a coin from your right hand over your left shoulder to ensure that you will return to Rome in the future. There is also a second legend that you should throw in three coins. A quick note: This was an extremely crowded area overflowing with tourists and probably the most difficult spot for me to get a decent photo.  Depending on the time of day that you go, don't expect to hang out here for too long unless you're eating at a place nearby.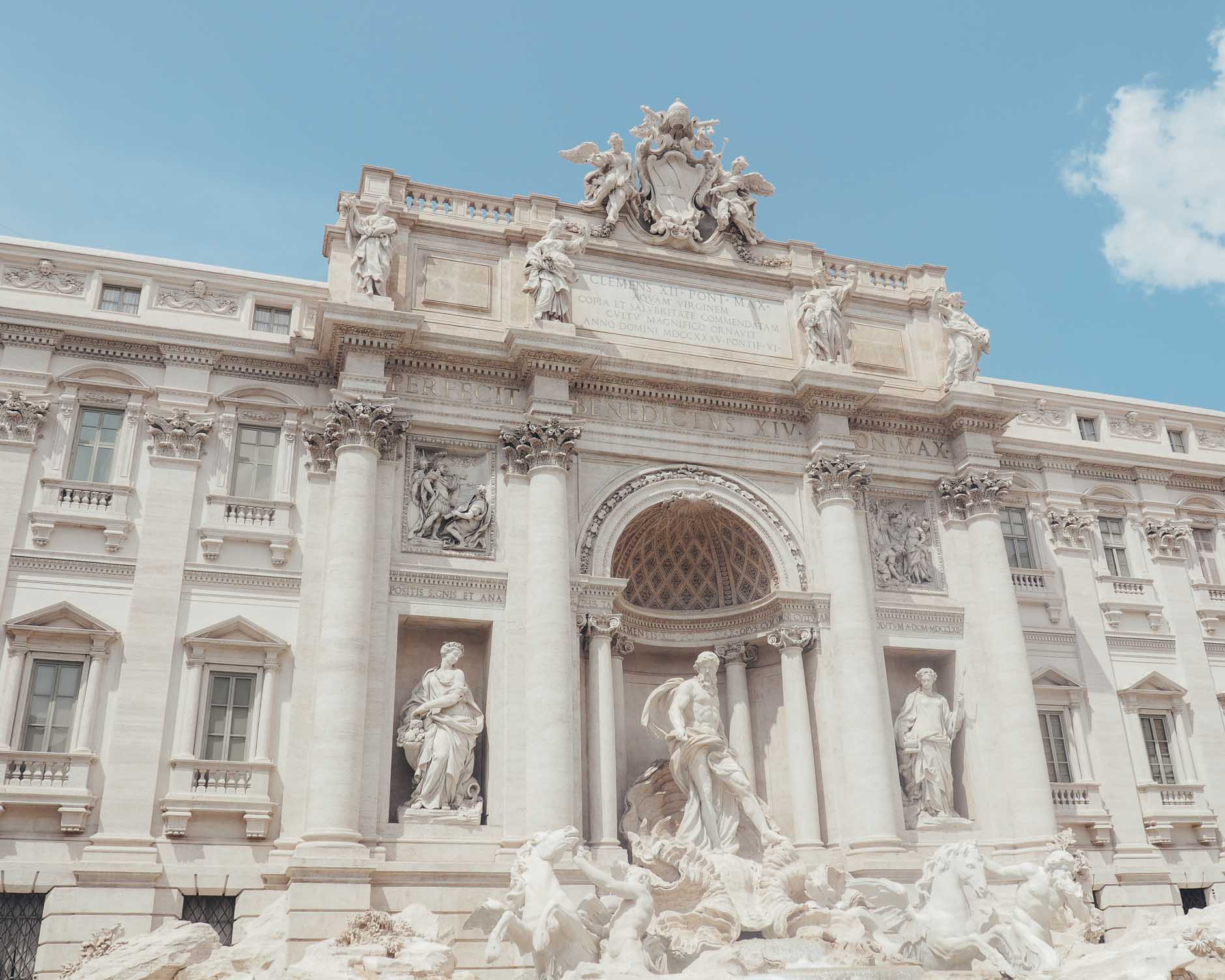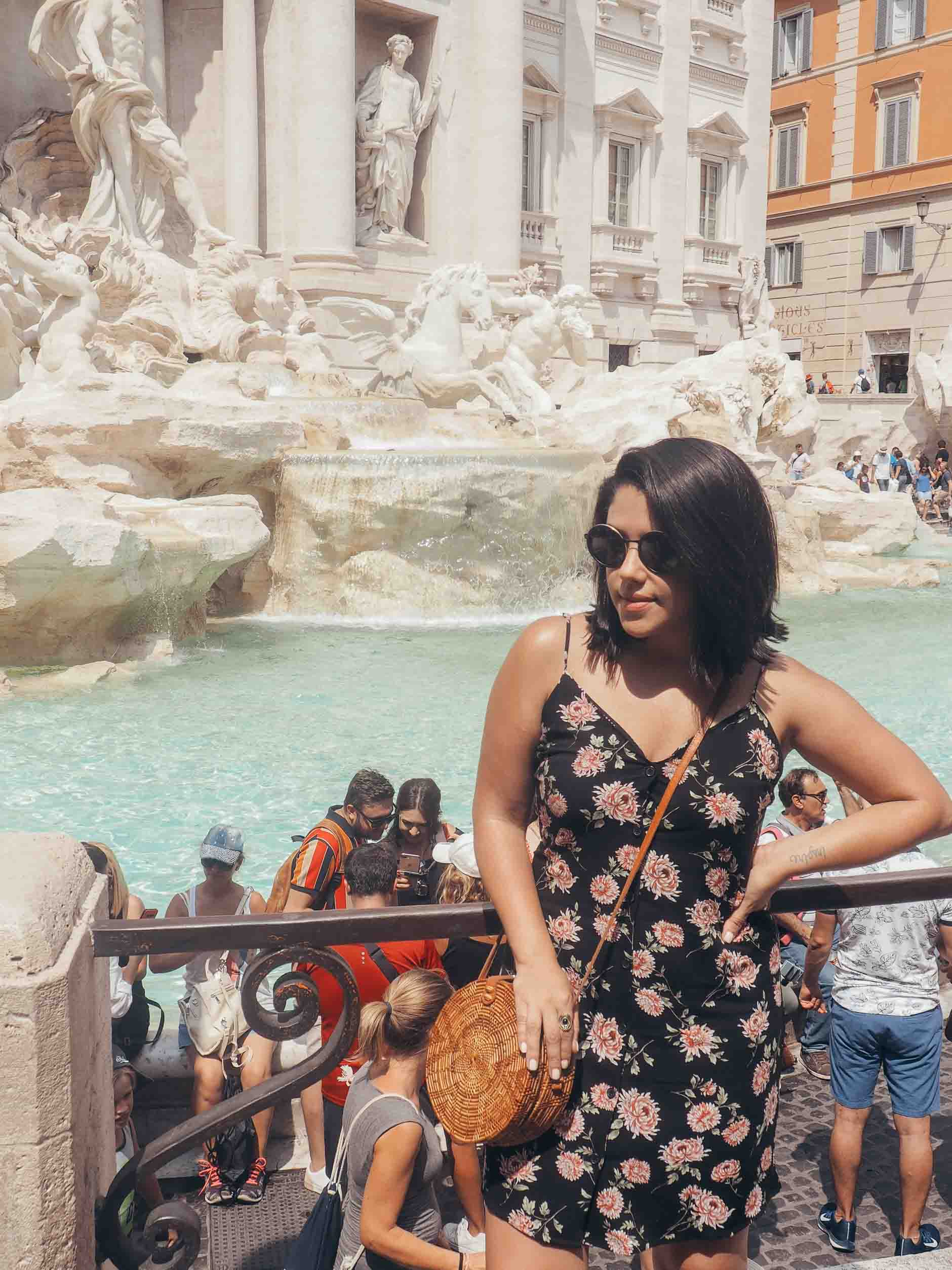 Spanish Steps – You don't need to spend much time here, but it's definitely worth checking out. I would recommend stopping by early morning or early evening when it's not as crowded. The first time I went was in the afternoon and the steps were jam packed with tourists. I still climbed to the top (extra cardio!) and also sat on the steps to take everything in. The area that it's in has a bunch of restaurants and stores to check out too with cute little side streets to explore. A quick note: They recently redid the steps and you are not allowed to bring any food or drink on them. I had no idea, walked up the steps with my gelato, took a quick photo and then I got yelled at. Sorry, Roma!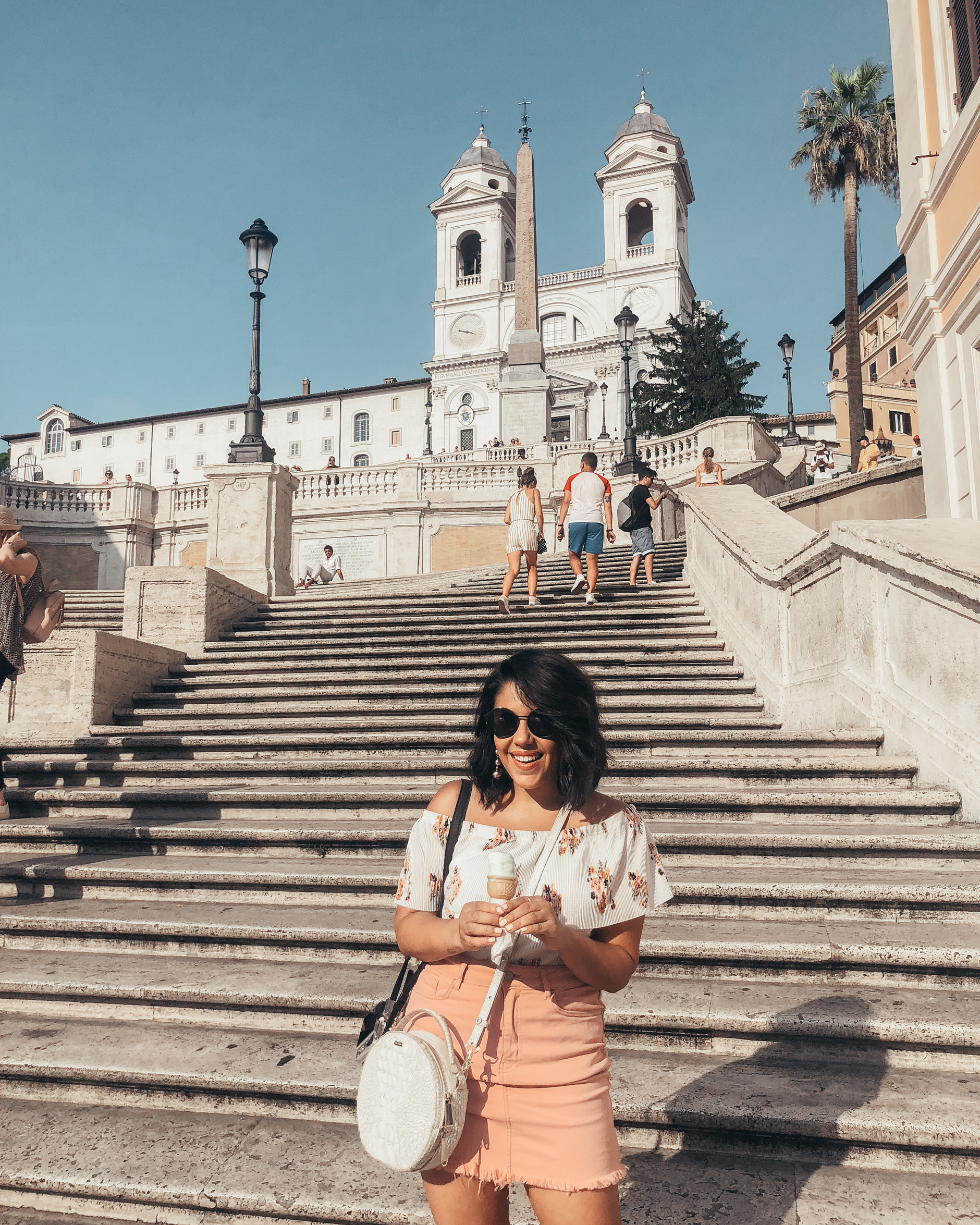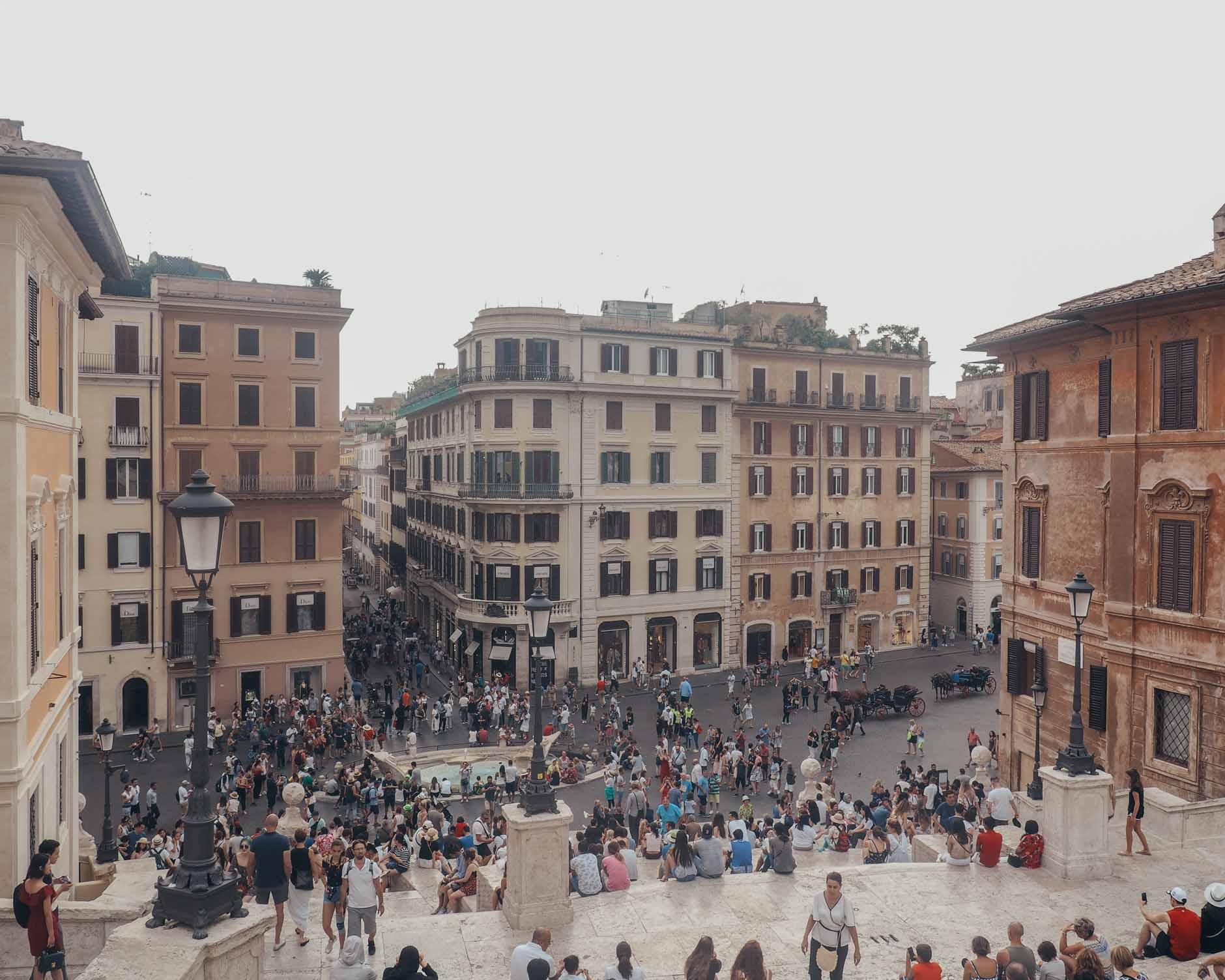 Colosseum – I made the mistake of not purchasing a ticket ahead of time and that sort of ruined the experience a little bit. I got to the Colosseum later in the morning than I had initially planned (I blame the jet lag) so I had to wait on line in the extreme heat for about two hours to go inside. By the time I actually got in, I was honestly sweating my you know what off, so I didn't stay inside as long as I would have liked. It was still absolutely breathtaking to experience one of the 7 wonders of the world! There is so much history in the Colosseum. A lot of people go there just to take photos of the outside, but I would suggest booking a ticket ahead of time for either a guided or audio tour and to be able to skip the line. A quick note: Be careful of all the guys trying to get you to buy a ticket as you're waiting on line. I didn't know if they were legit and felt more comfortable to just buy my ticket inside.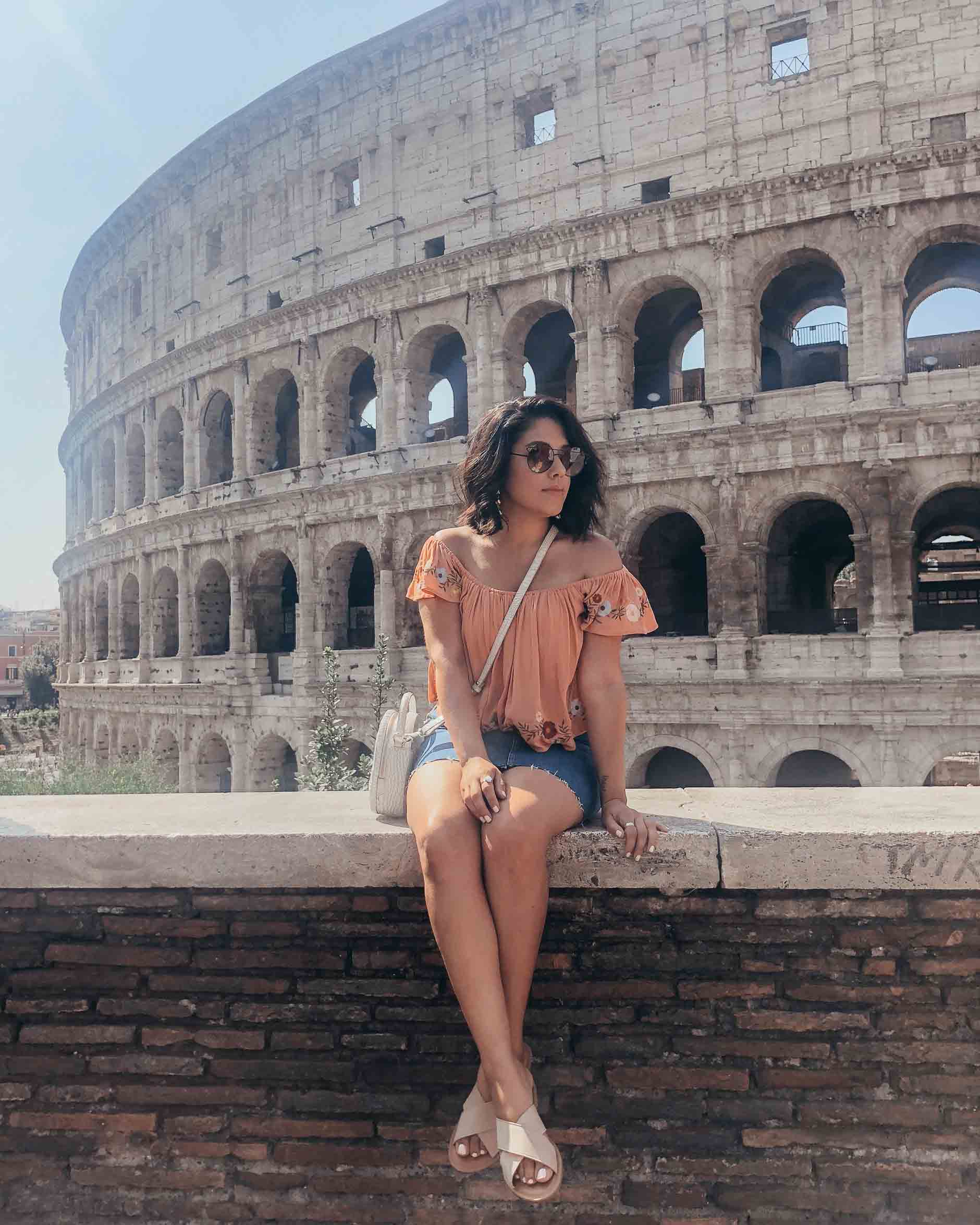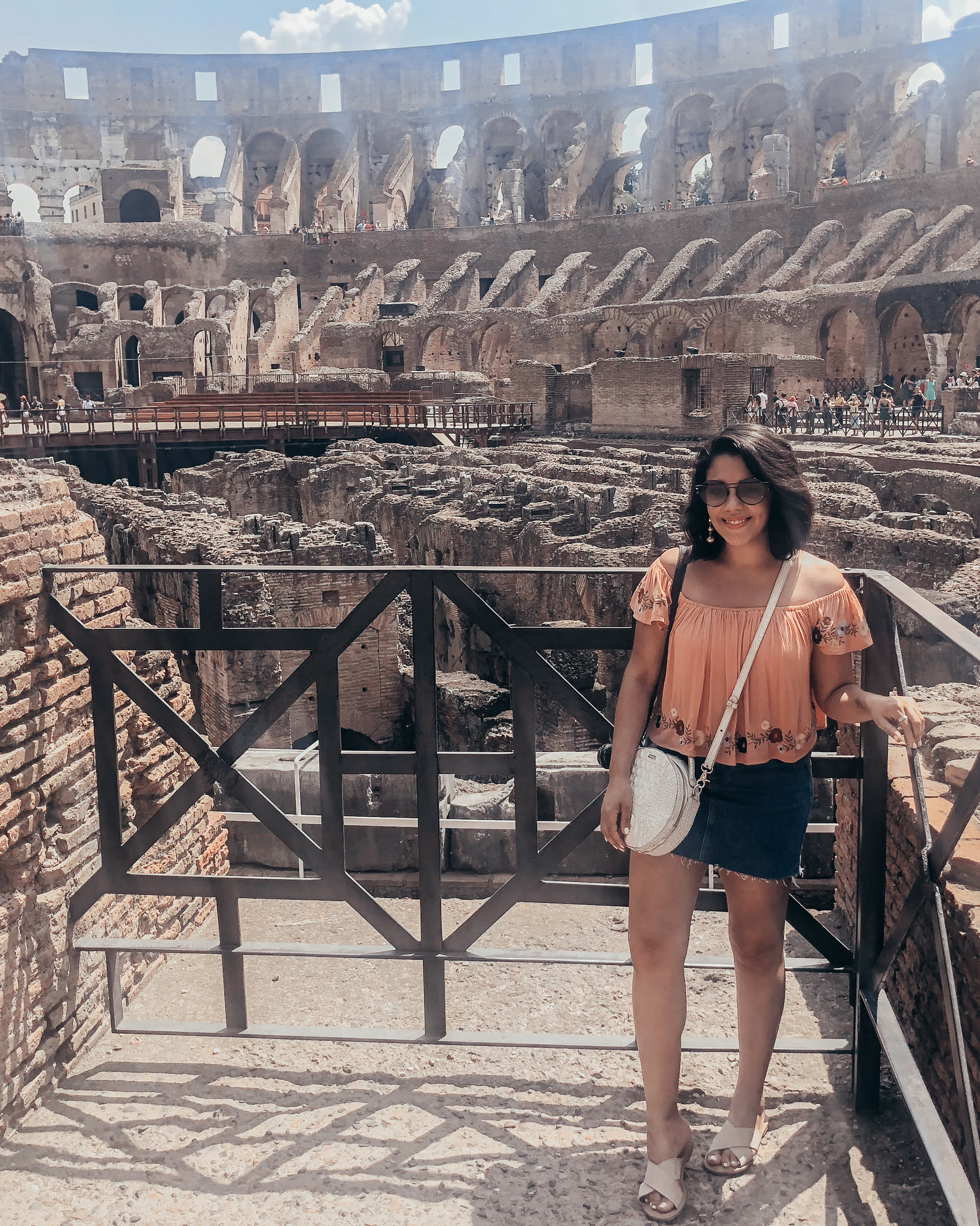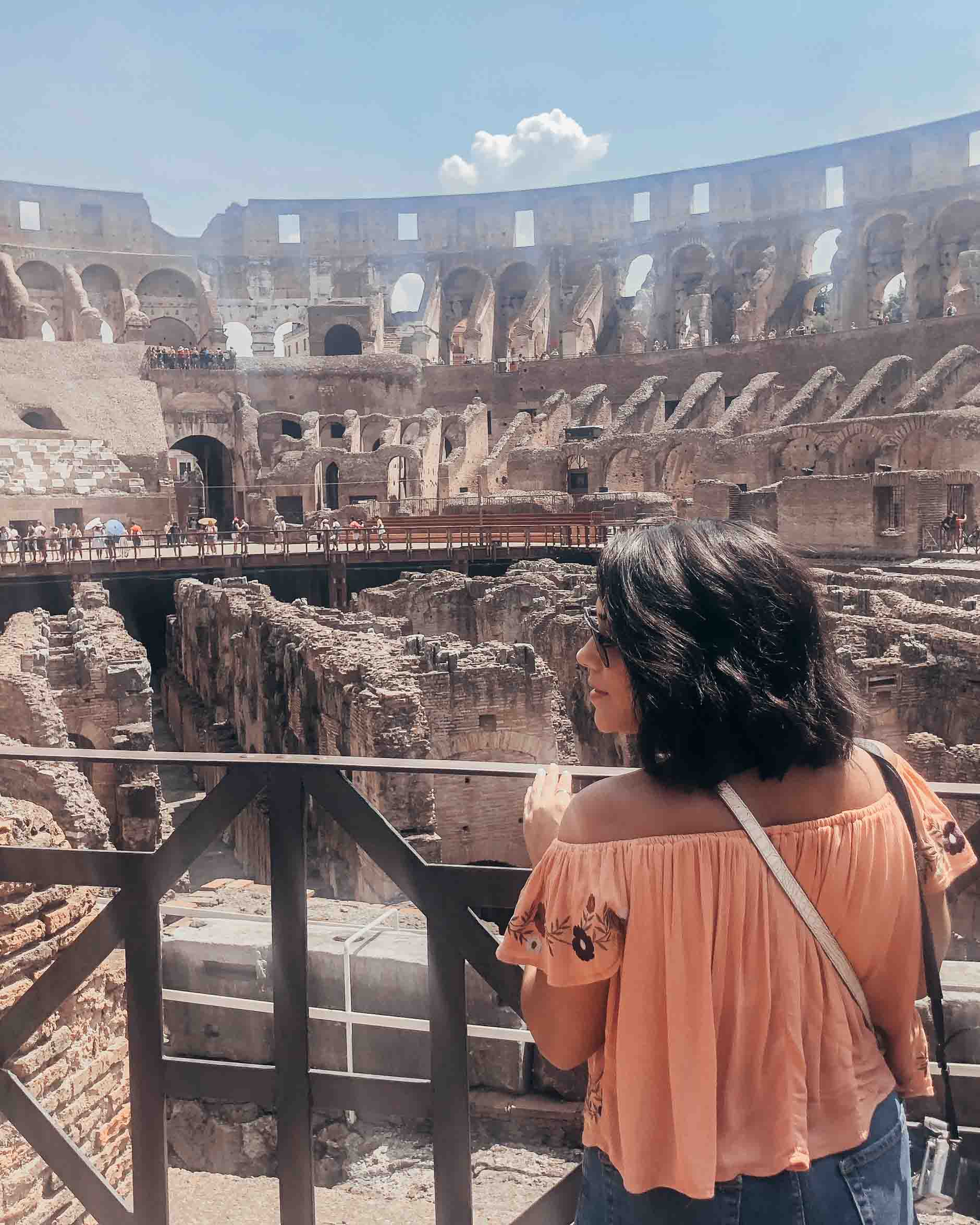 Vatican City – I booked a tour ahead of time via Viator. I've used this company many times during my travels. The ticket included a guided tour of St. Peter's Basilica, Sistine Chapel and Vatican Museums with the ability to skip the line. Vatican City gets very crowded and hectic, so I'm happy that I decided to do the tour. I don't think I would have had the same experience if I did it by myself. Our tour guide was super informative, while also giving us the opportunity to soak it all in. I still can't get over the beauty that I witnessed that day! The only place that we weren't allowed to take photos of was the Sistine Chapel. This is a must-see if you ever visit Rome! A quick note: You must cover your shoulders and knees when going inside the church. If you are wearing something sleeveless, just bring a scarf to wrap around your shoulders.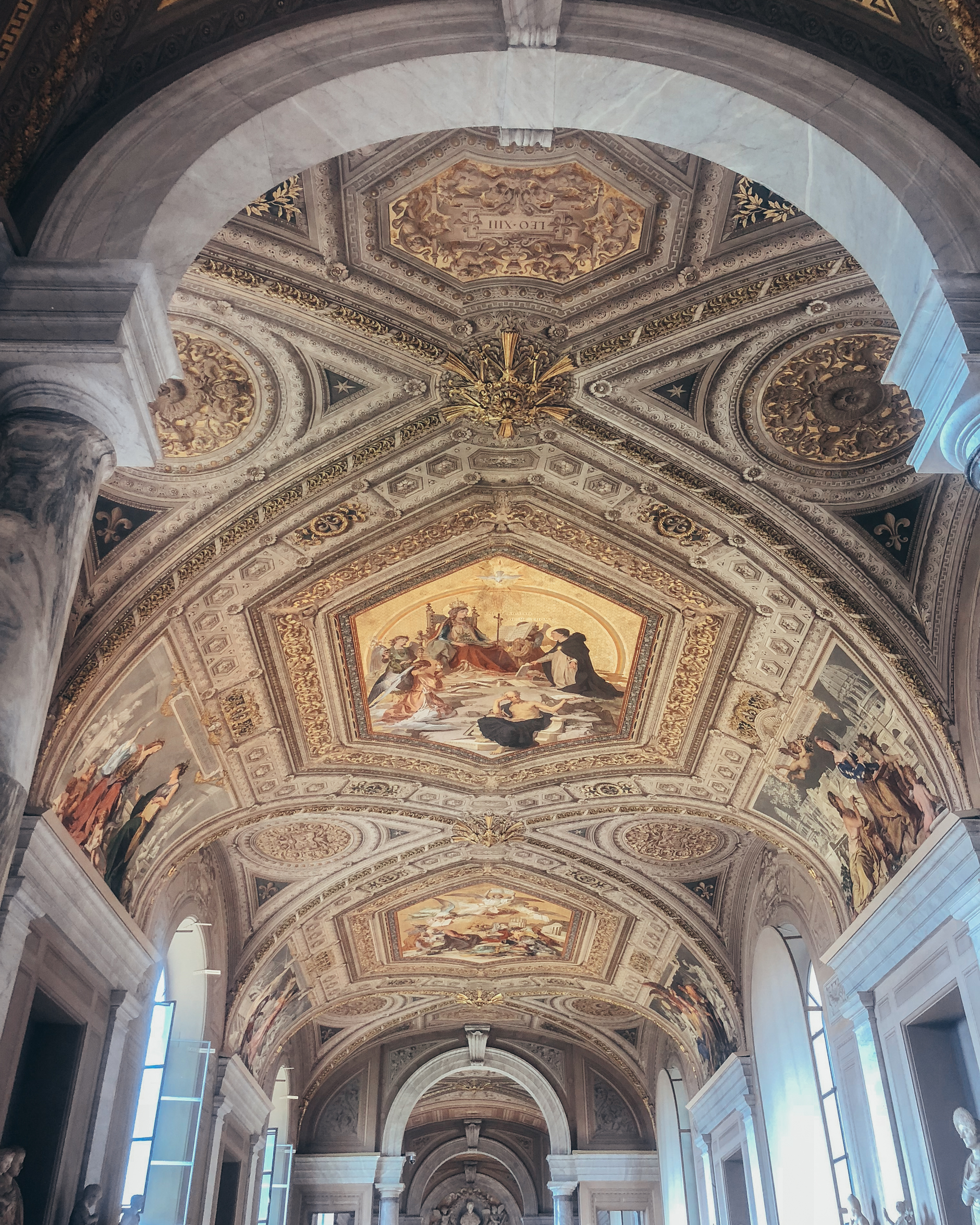 WHERE I WENT
Campo de' Fiori: I really loved this area. The Campo de' Fiori square was right around the corner from my hotel, so I hung out here a few times. Every morning they have a big market with fresh foods and a bunch of other goodies. The square itself and that whole area has several restaurants and cafés. I loved the vibe and energy at night. I actually made friends with 3 girls from France my first night here and this is where I met the guy I went out with!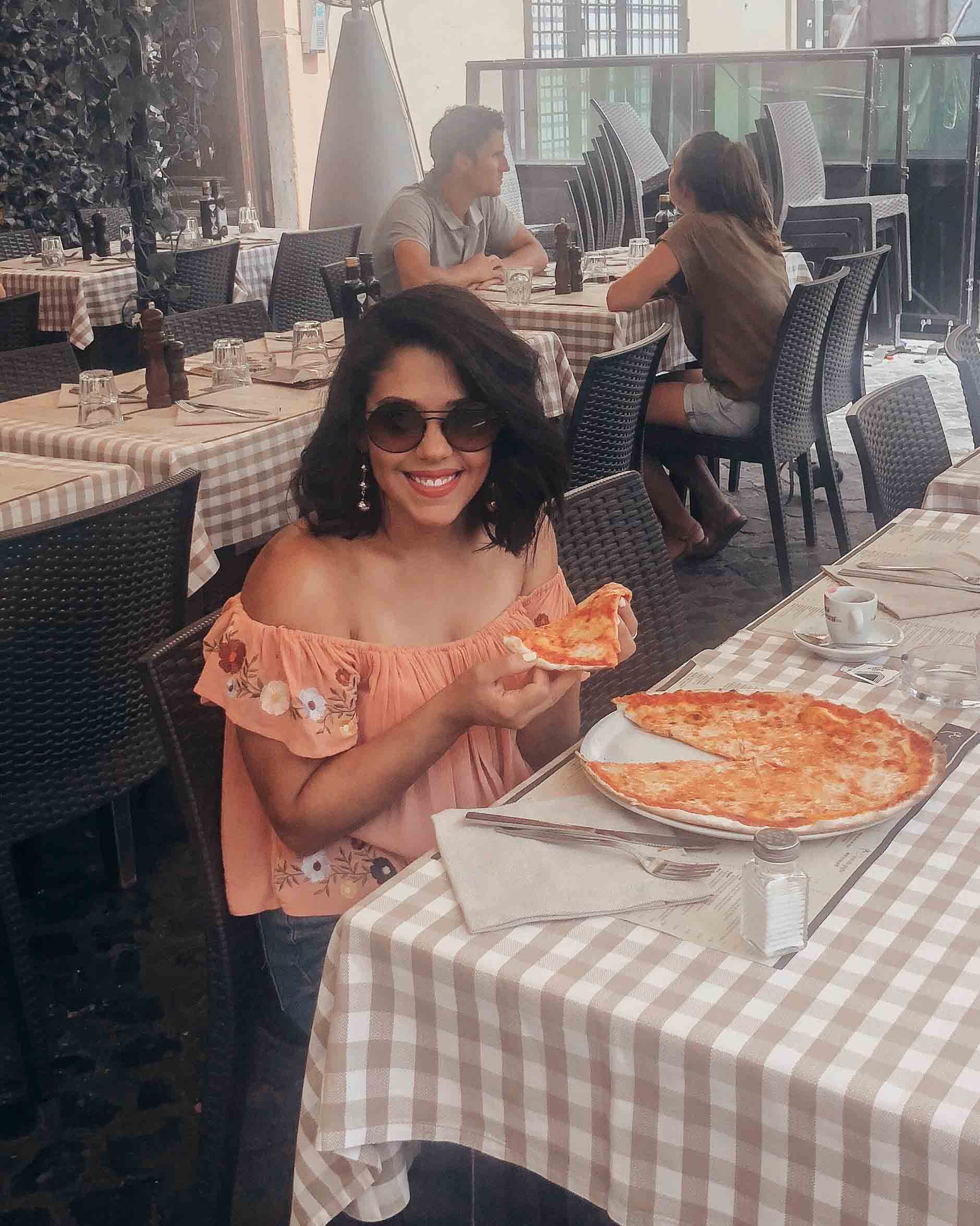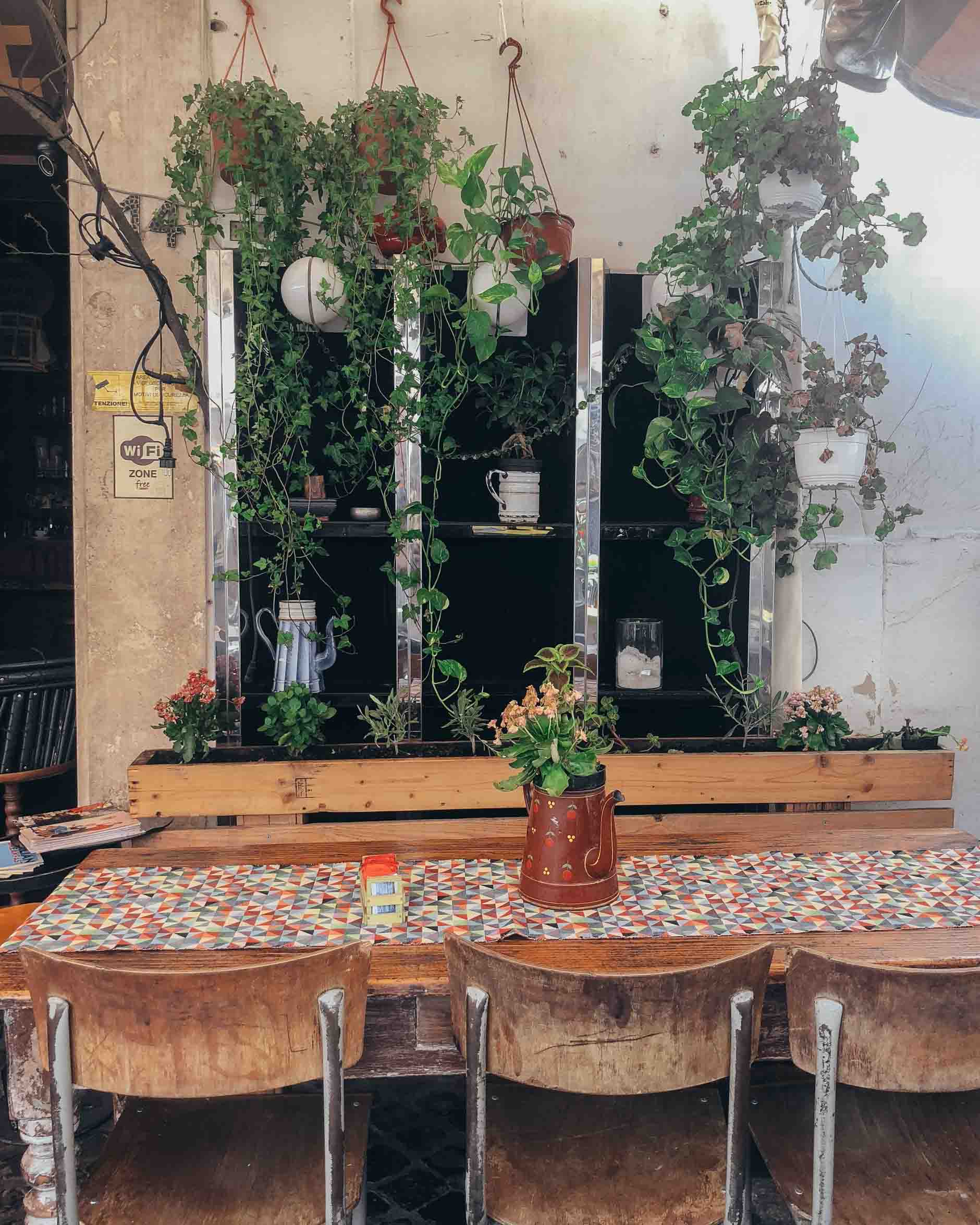 Piazza Navona: This is another one of the main squares in Rome with several different restaurants and some live music/street performances at night. I didn't eat here, but went for an Aperol Spritz one day after an early dinner. I also walked over a few times during the afternoons to sit by the fountain and people watch.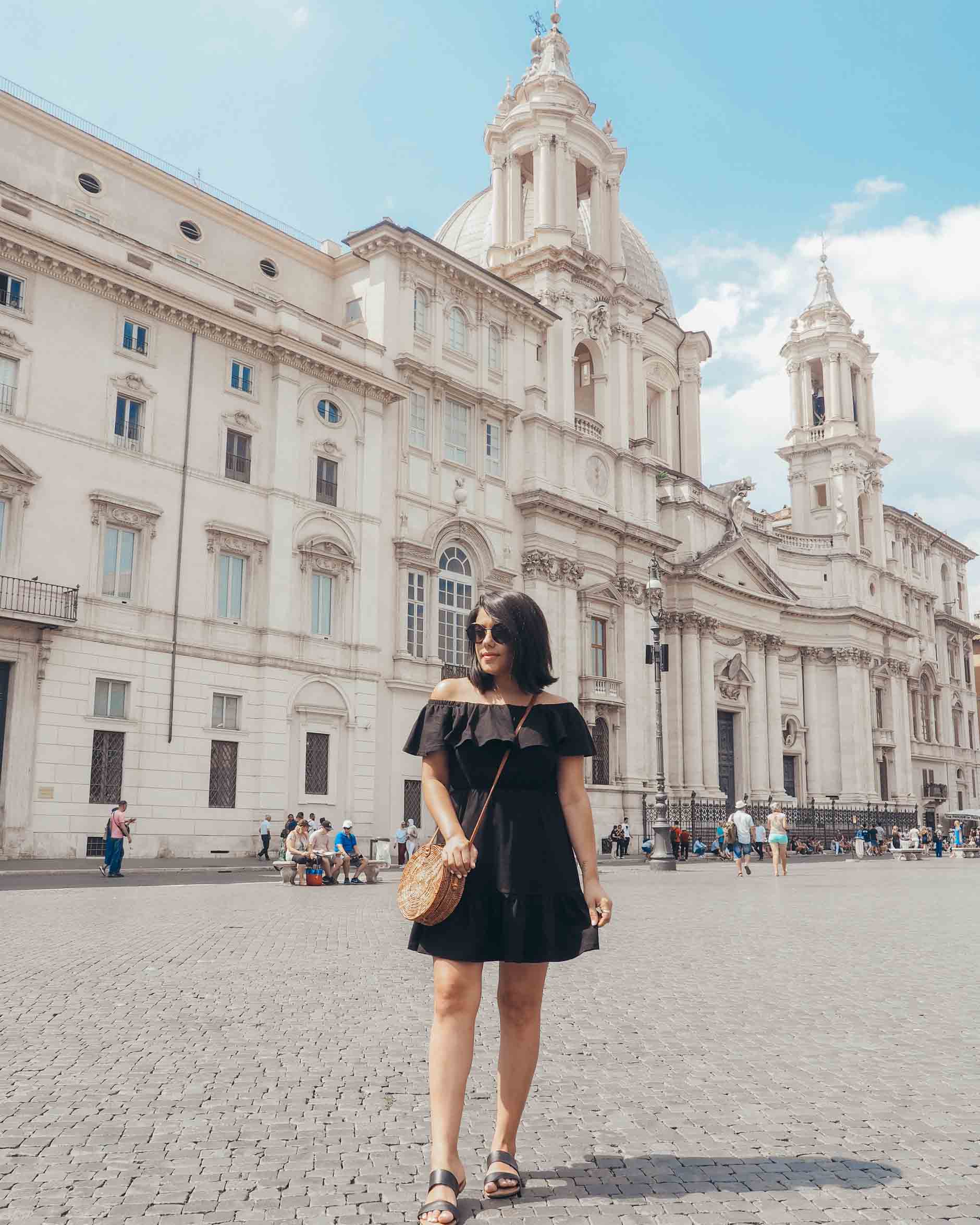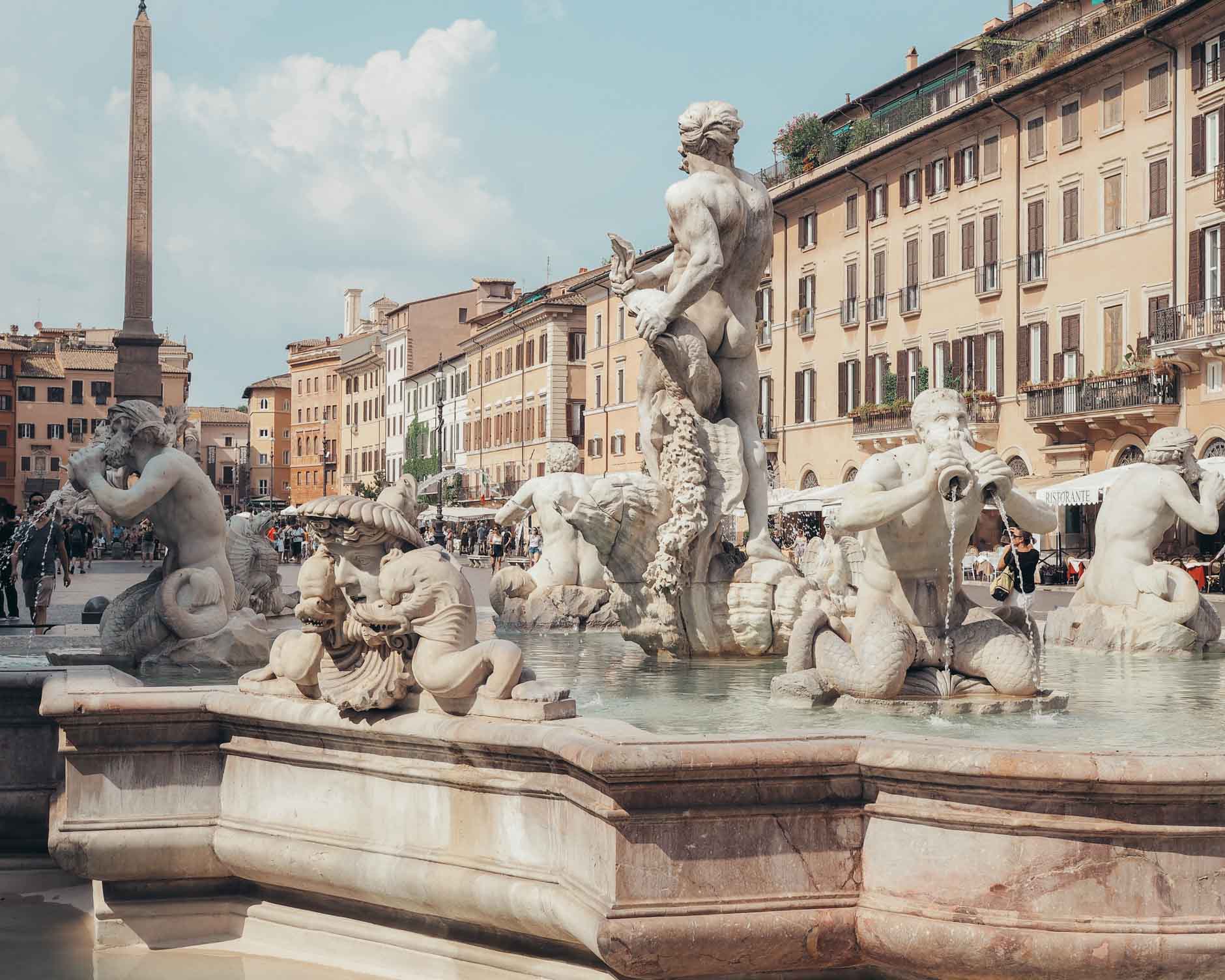 Trastevere: I completely got lost in these cute little cobblestone streets and it quickly became one of my favorite areas of Rome. It was actually the least touristy compared to the other places that I went to and I loved that so much. It's right across Ponte Sisto and it has such a fun vibe with tons of restaurants and bars scattered around. I came here once during the day to wander around and then again at night for dinner. I had received a dinner rec, but unfortunately the restaurant was closed when I arrived so I had to find something else. Tons of places to choose from though!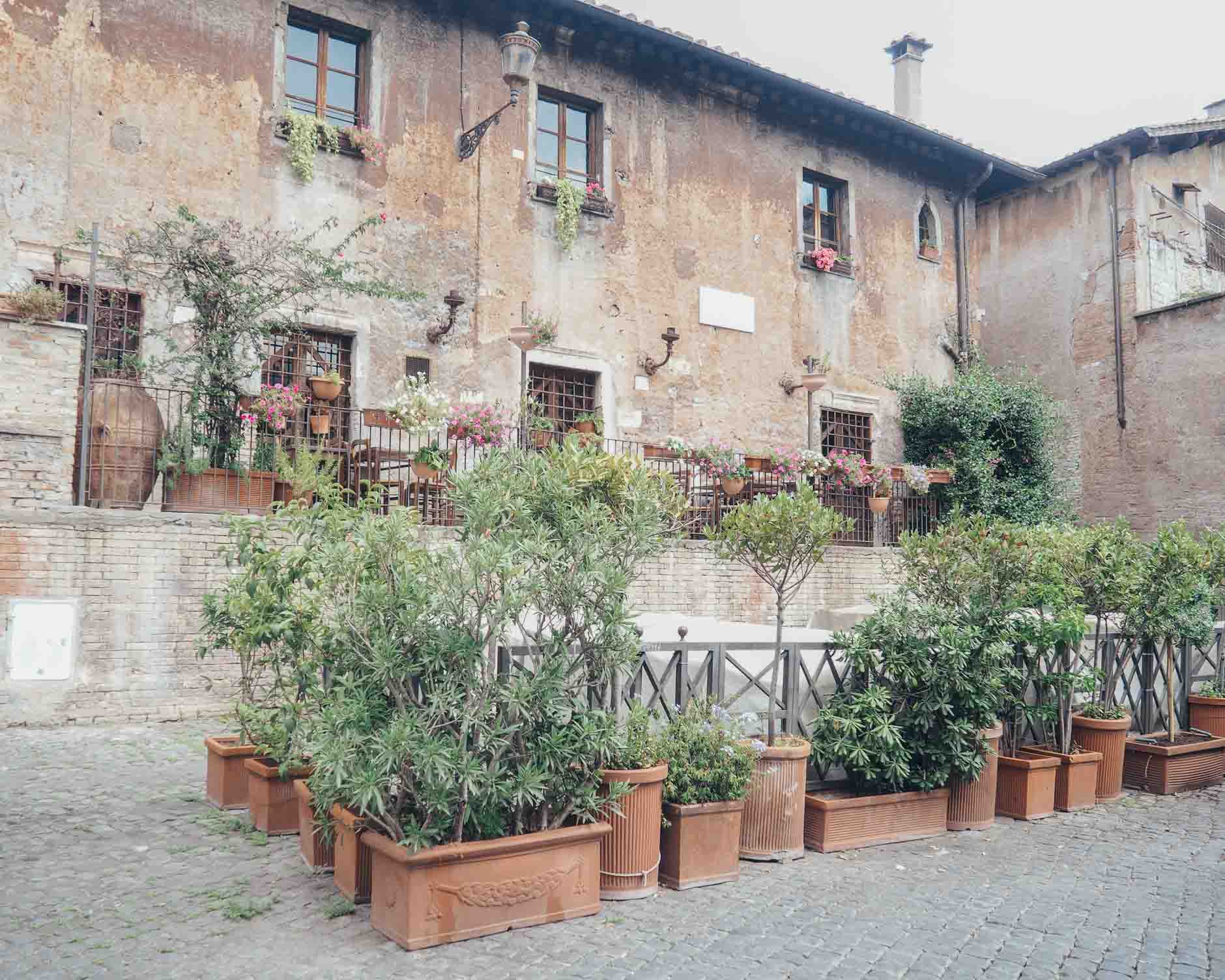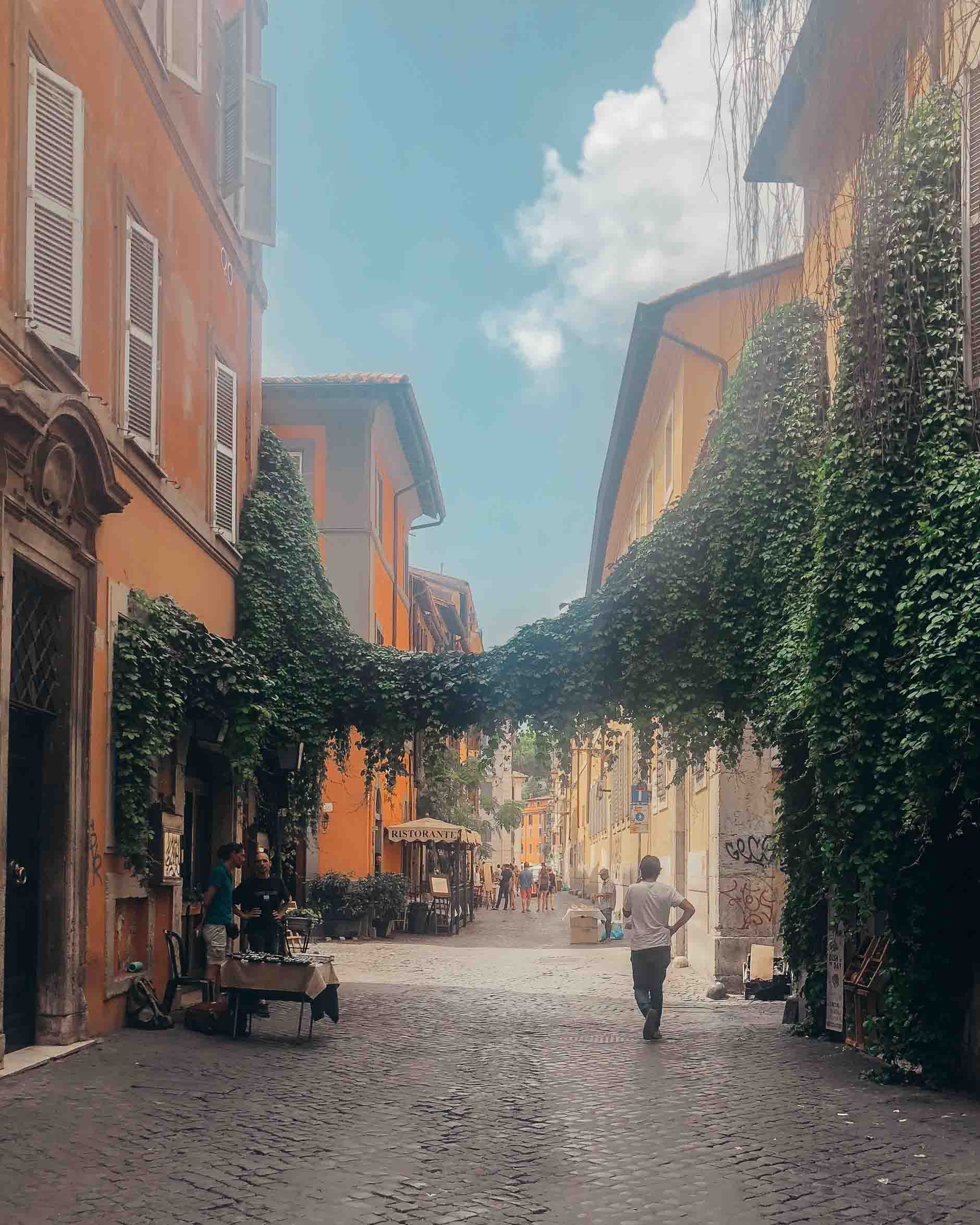 FAVORITE RESTAURANT
Osteria da Fortunata: I got so many restaurant recs and have to admit that I couldn't find them all. I got lost a lot in Italy. I don't remember the names of all the restaurants that I went to, but I ate here twice! It was recommended to me by my hotel and it's located in Campo de' Fiori. It's much more local and the food is so good. You get to watch the nonnas in the window making the pasta, so it's super fresh! My go-to dish here was the Gnocchi Sorrentina. Grab a seat outside if you can. It gets crowded!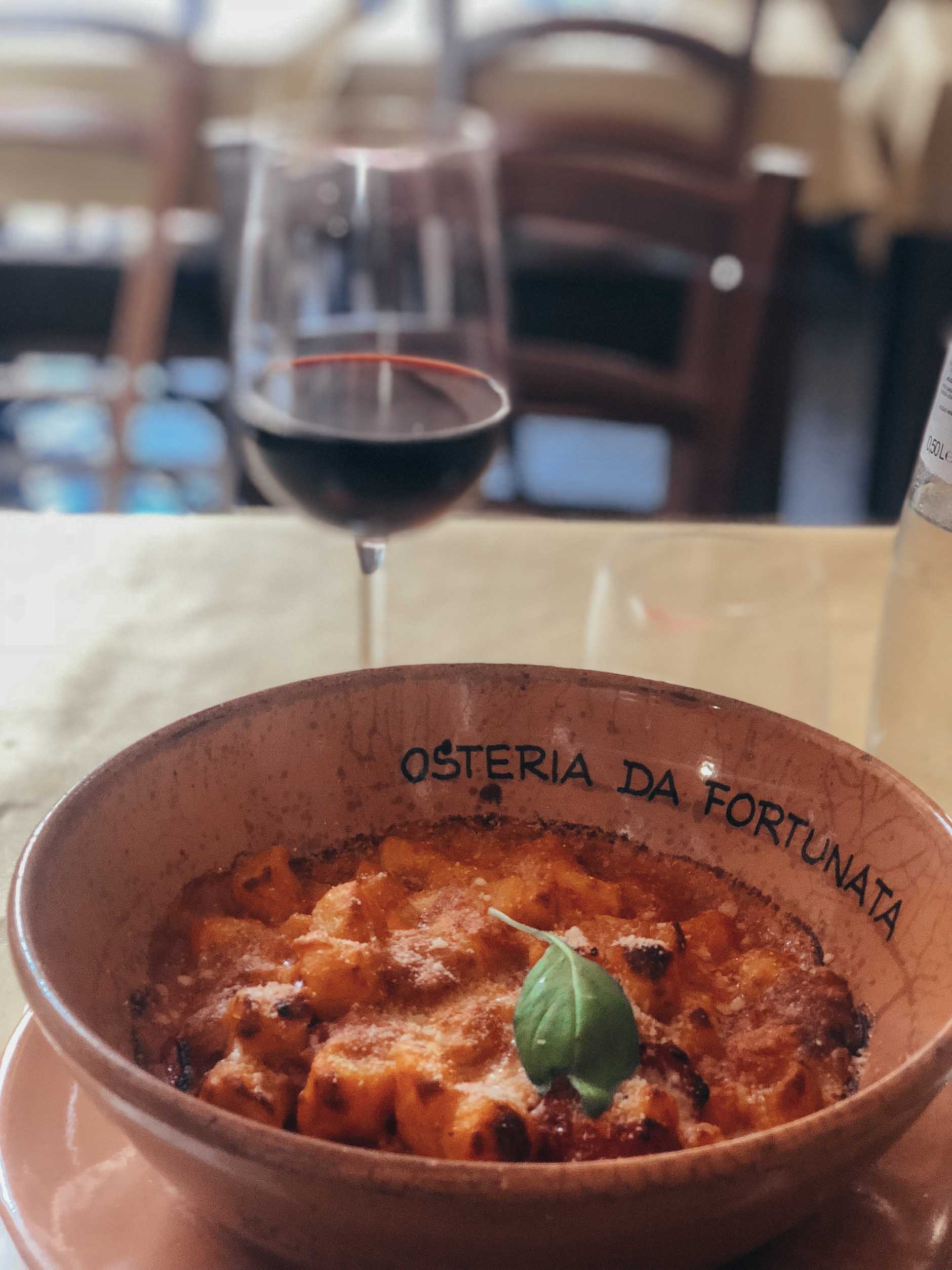 A FEW TIPS & THINGS TO NOTE
Most restaurants (except the touristy ones) close from around 3-7:30PM.
Always check your bill to see if a service charge was already included. Some restaurants will also have a Coperto charge, which is basically charging you for the bread they bring to the table. If you don't want the bread make sure to tell them right way.
As in most big cities, pick-pocketing happens frequently. Don't keep valuables or money in your pockets. Wear a cross-body bag and keep it in front of you.
The easiest way to get a taxi is at the taxi stands. It's definitely not like NYC where you can just flag down a cab. I learned that the hard way.
You shouldn't have a difficult time communicating as most people spoke English and even Spanish.
You must try Cacio E Pepe when in Rome! I got it while I was in Trastevere.
When ordering pizza, you will get an entire pie! At least this happened every time I ordered it. You will have to cut it with a fork & knife.
I think I ate the most in Rome, but with all of the walking I did I actually lost weight! The ingredients in Italy are just so much fresher than they are here in the states. I miss the food so much. Now I know why the eat portion of Eat, Pray, Love was based in Rome.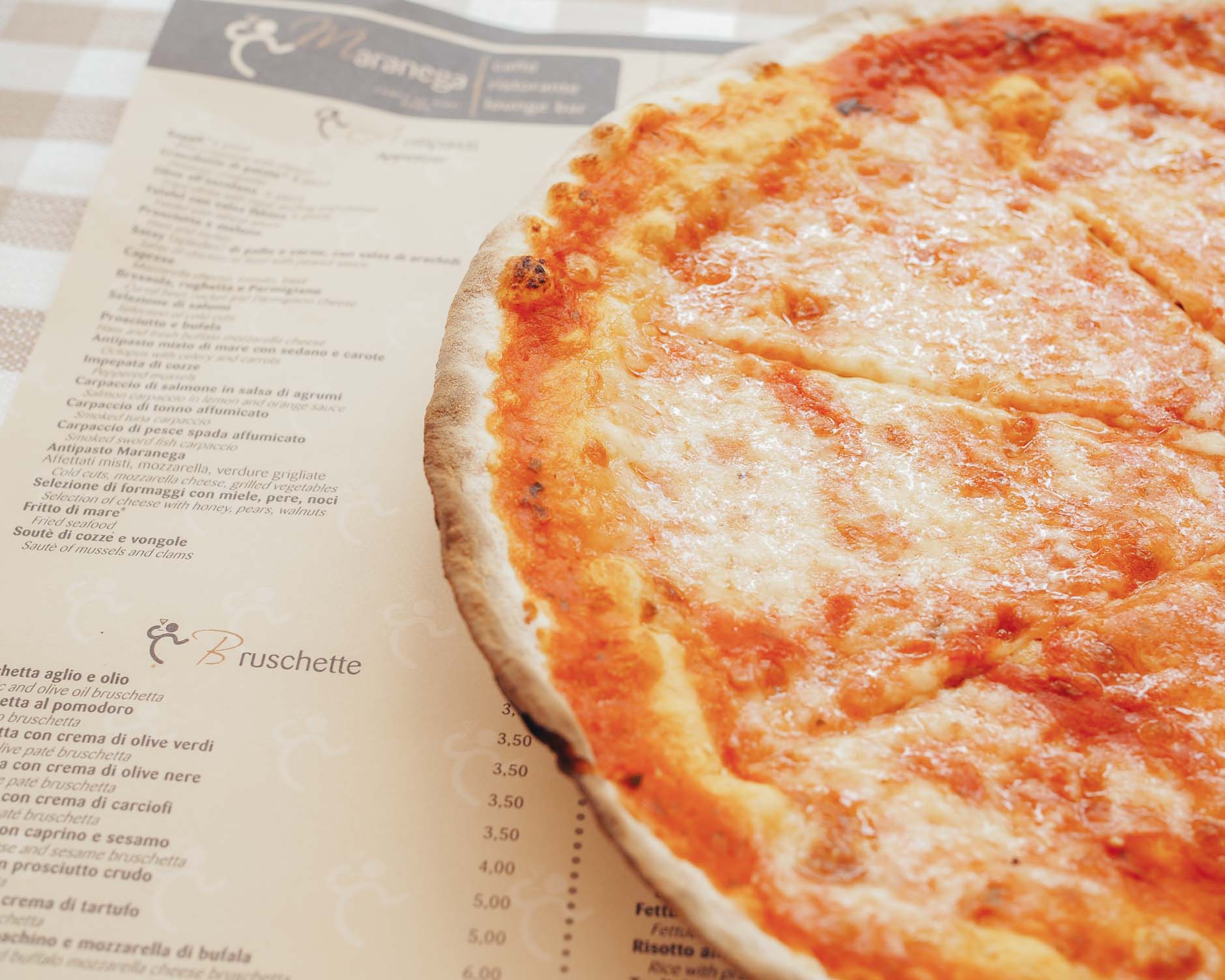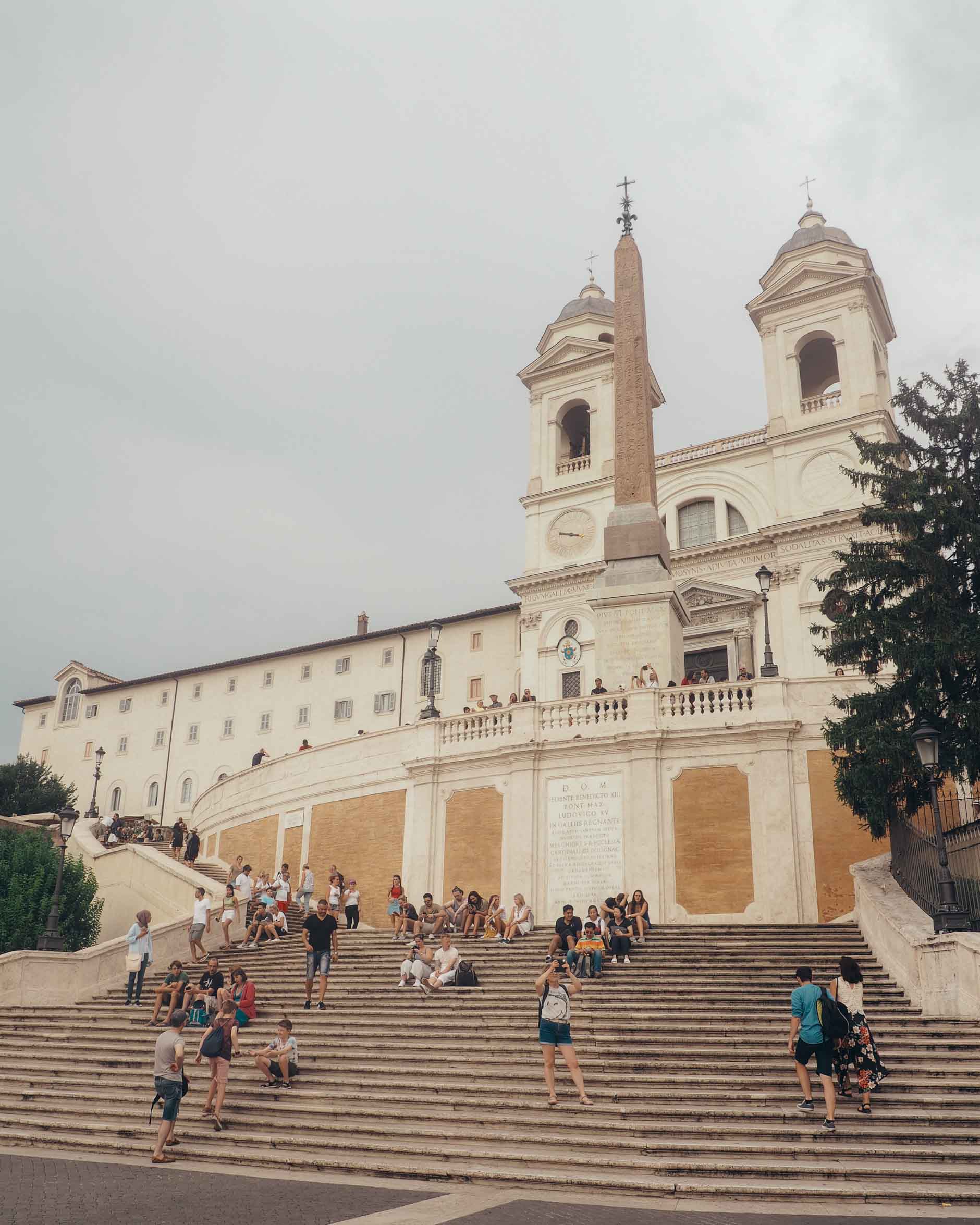 To answer the more frequently asked question: all of my photos were taken by strangers! The majority of these were actually from my iPhone. It was just much easier and way less stressful that way!
Overall, I had a great experience and most importantly, I felt safe. With Rome being my first destination in Italy, I can honestly say that it started my trip off on such a great note. It felt a little overwhelming at first because it's such a big city, but I loved my location and getting everywhere by foot was  so easy. I would definitely go back, but during a different time of year and I would change up the itinerary. I'd love to explore more of Trastevere and other areas that I didn't get the chance to see. I know there's more to offer than where I went, but I also feel as though I experienced a good amount of this bubbling city.
I'm thankful for the people that I met here because that helped make my experience even more enjoyable. I have to say that everyone I encountered was friendly with me. The guy that I went out with, Cristiano, also made me realize that I have to start putting myself out there more when it comes to dating here in New York. We even had a life chat and I learned that he too lost his father. While I'm pretty sure we will never see each other again, I know that he was put in my path in Rome for reason.
If you have any questions, feel free to ask and chat with me below! I tried to share as much as I could. My Rome IG stories are saved as a highlight on my page in case you want to check out more of the experience that I had. Thanks so much for reading and I hope you enjoyed seeing a little bit of Rome through my eyes. Next up: Florence! Can't wait to share more on that this week. ❤️