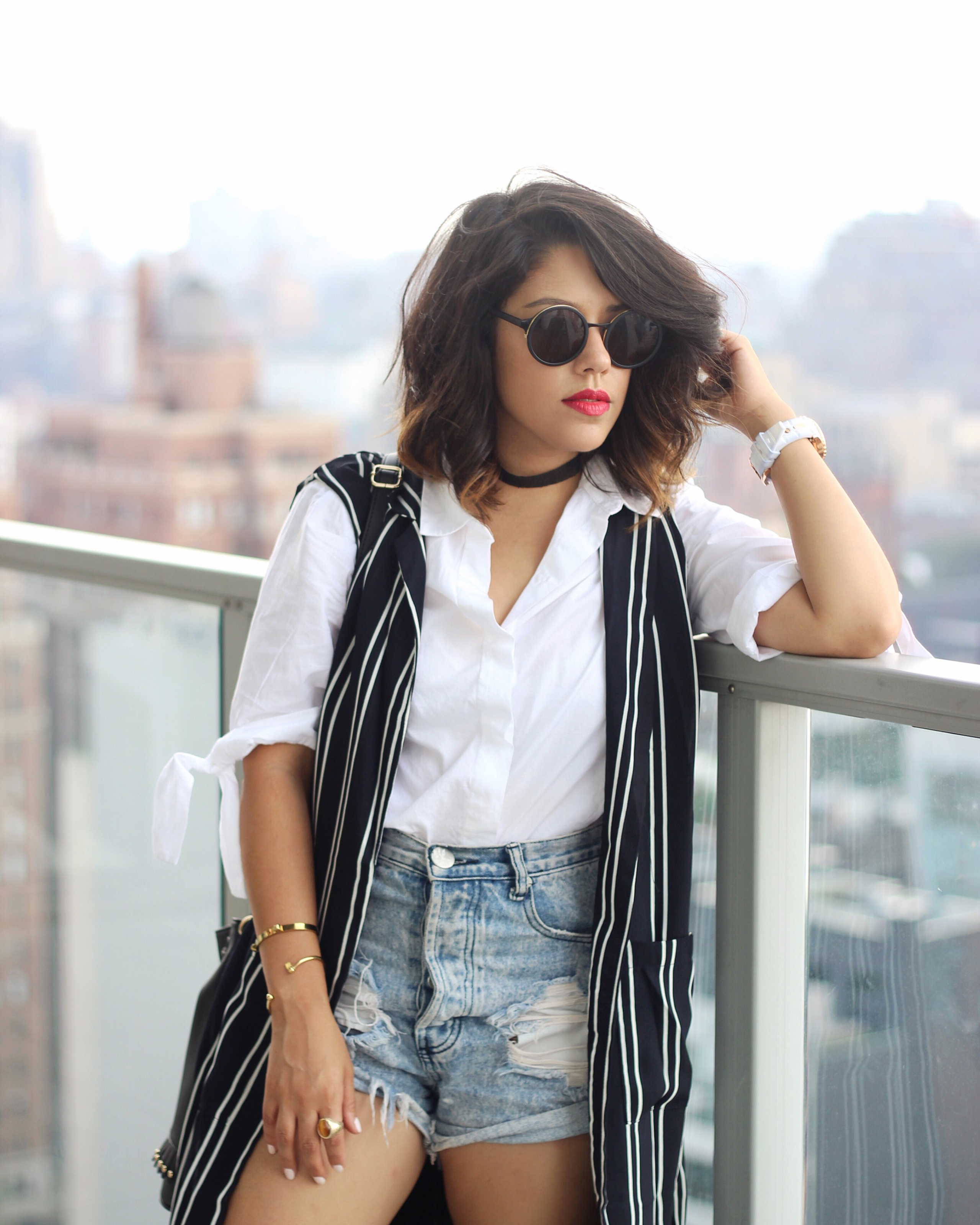 I had to cut my fashion week short on Sunday night and come back home.  I've been sick in bed for the last two days with a fever and I am super congested. I sound like a boy. It's true. 🙁  I was a little bummed that I had to miss the Bloglovin' awards last night, but to be honest I was not really into NYFW this season.  I spoke candidly about this on my snapchat because I just wanted you guys to know that things aren't always what they seem.   Don't get me wrong, I am always thankful for the invites and opportunities.
Attending fashion week was a dream of mine for years and it's still very exciting. It's just not how it was when I first attended back in 2013. The best part though was spending time with friends that I don't get to see on a regular basis. They made these last several days so much better for me!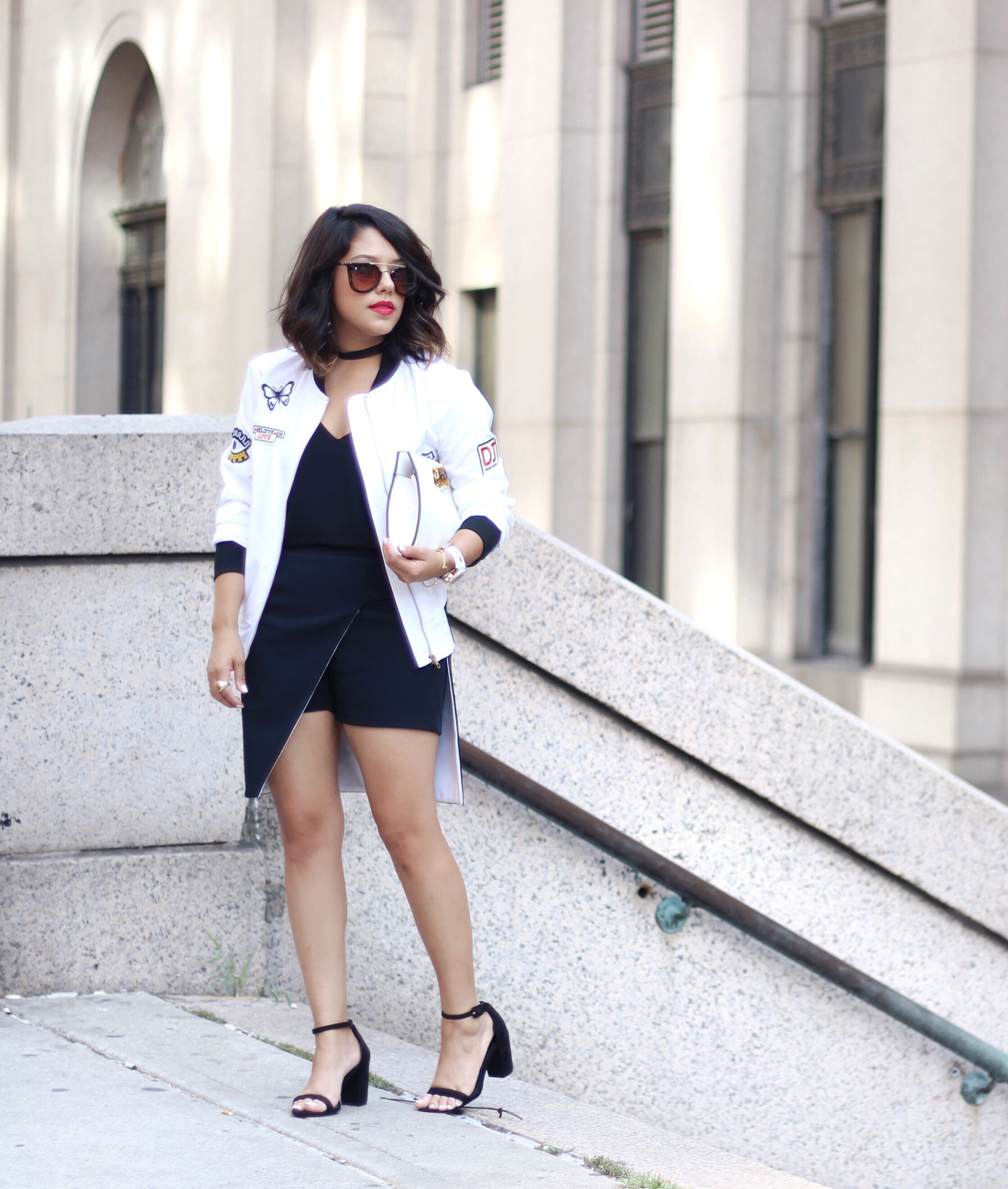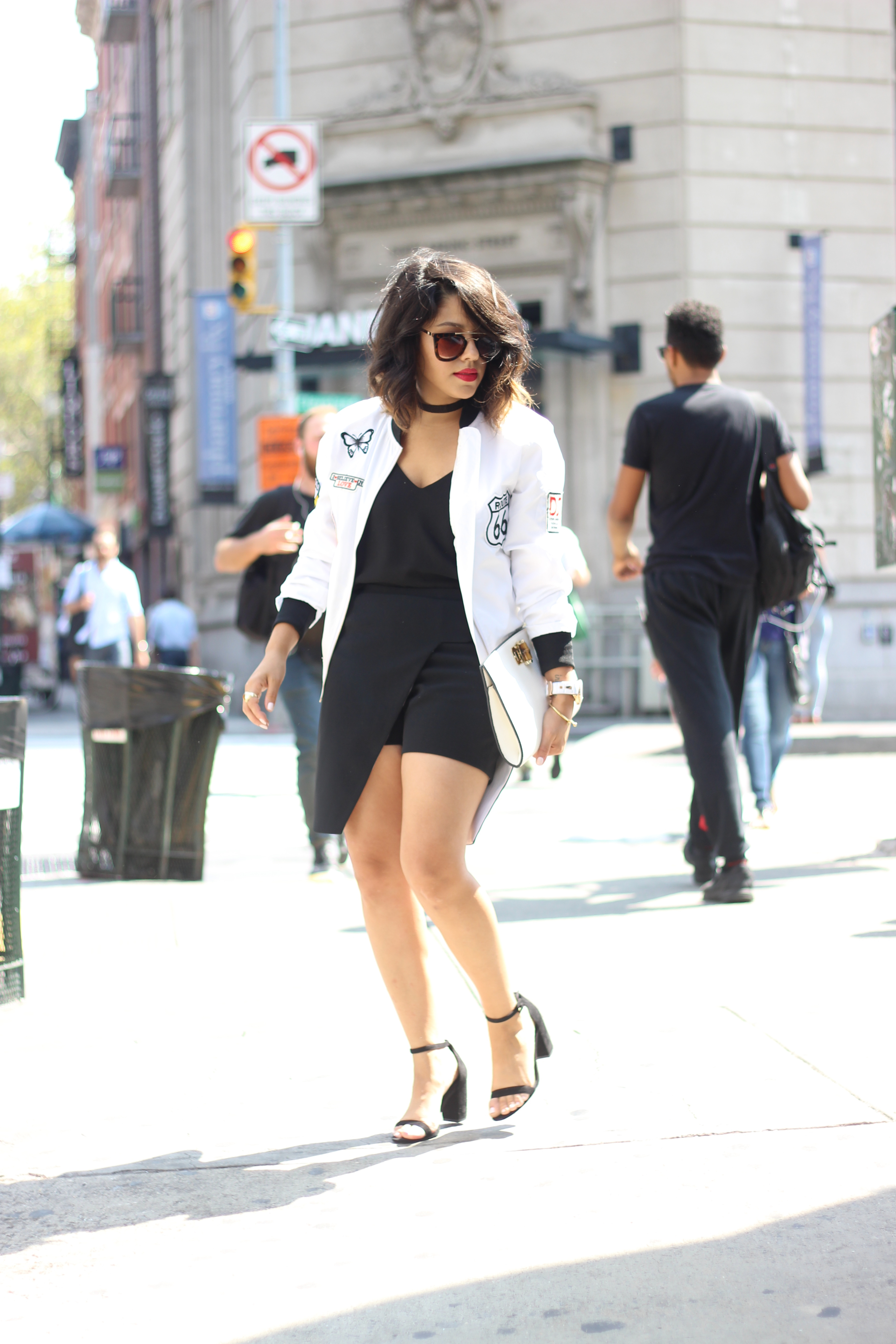 The first day I went to the Concept Korea and Michael Costello shows in this sporty chic look. Bomber jackets are definitely going to be a huge trend this fall and skorts are making another comeback. I put this outfit together the morning before my first show and really loved the outcome!  After the shows I had a few showroom visits and then changed for the night events.  I didn't take photos in any of my night time looks, but later in the day I went to a dinner with my agency followed by an event with Nylon and Minnie Style!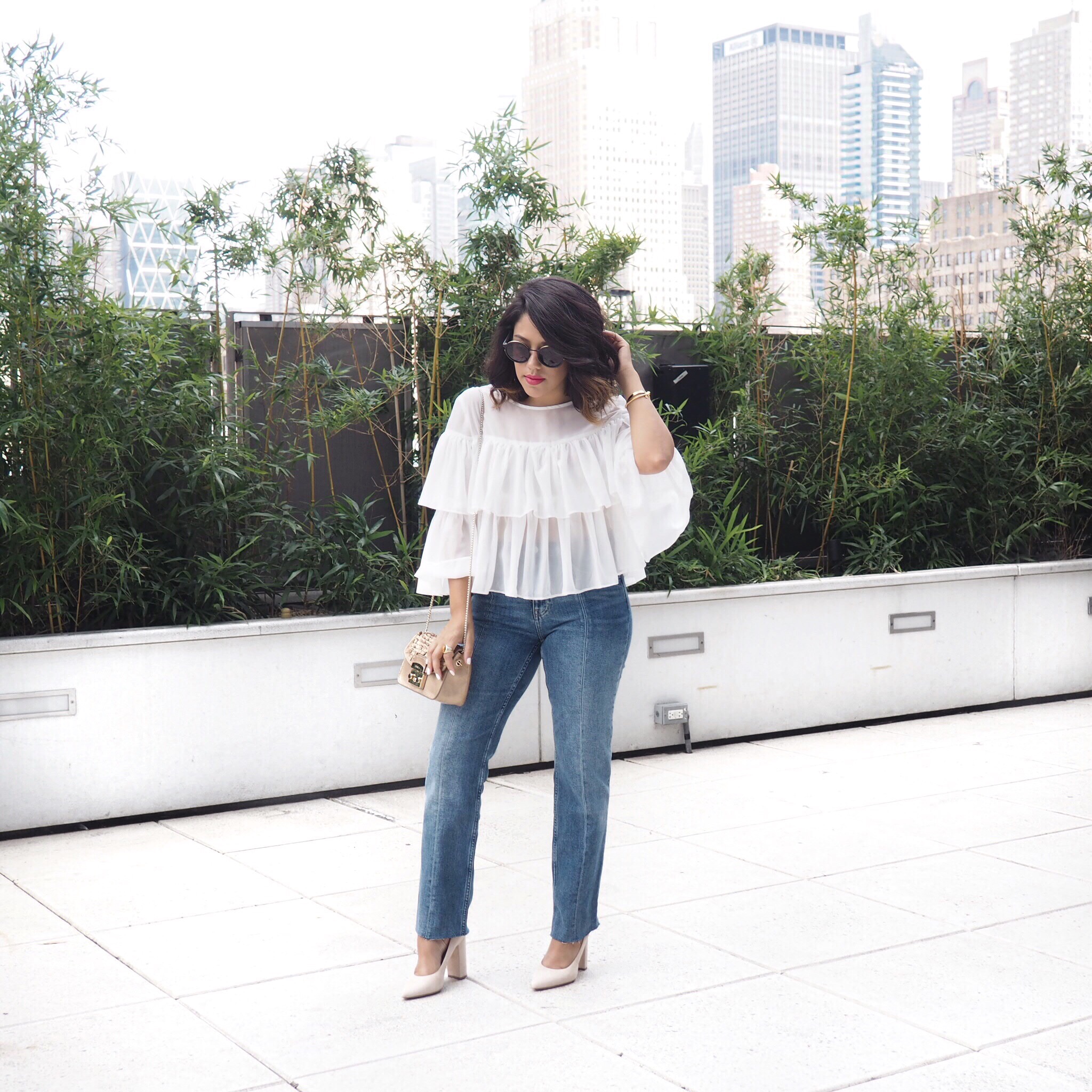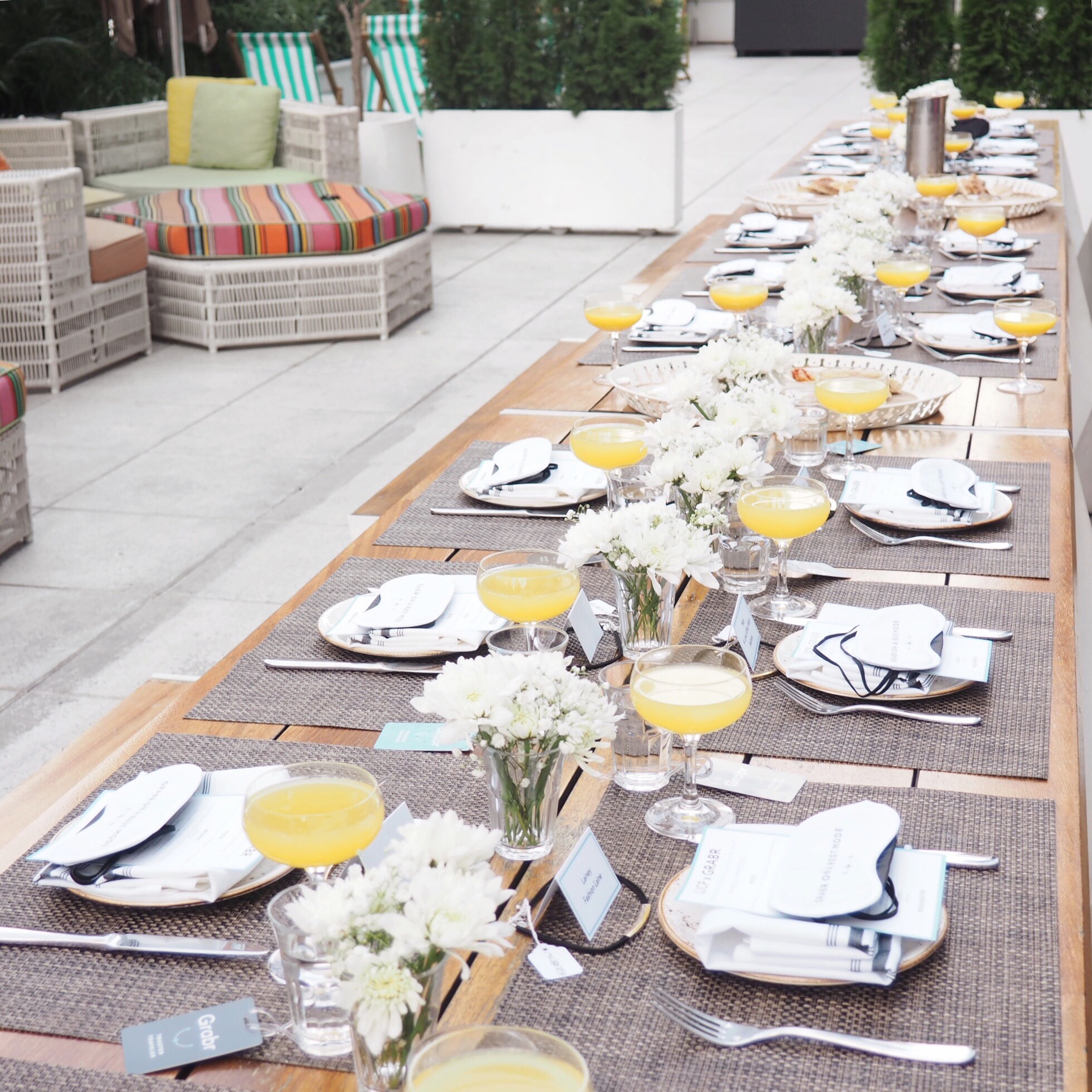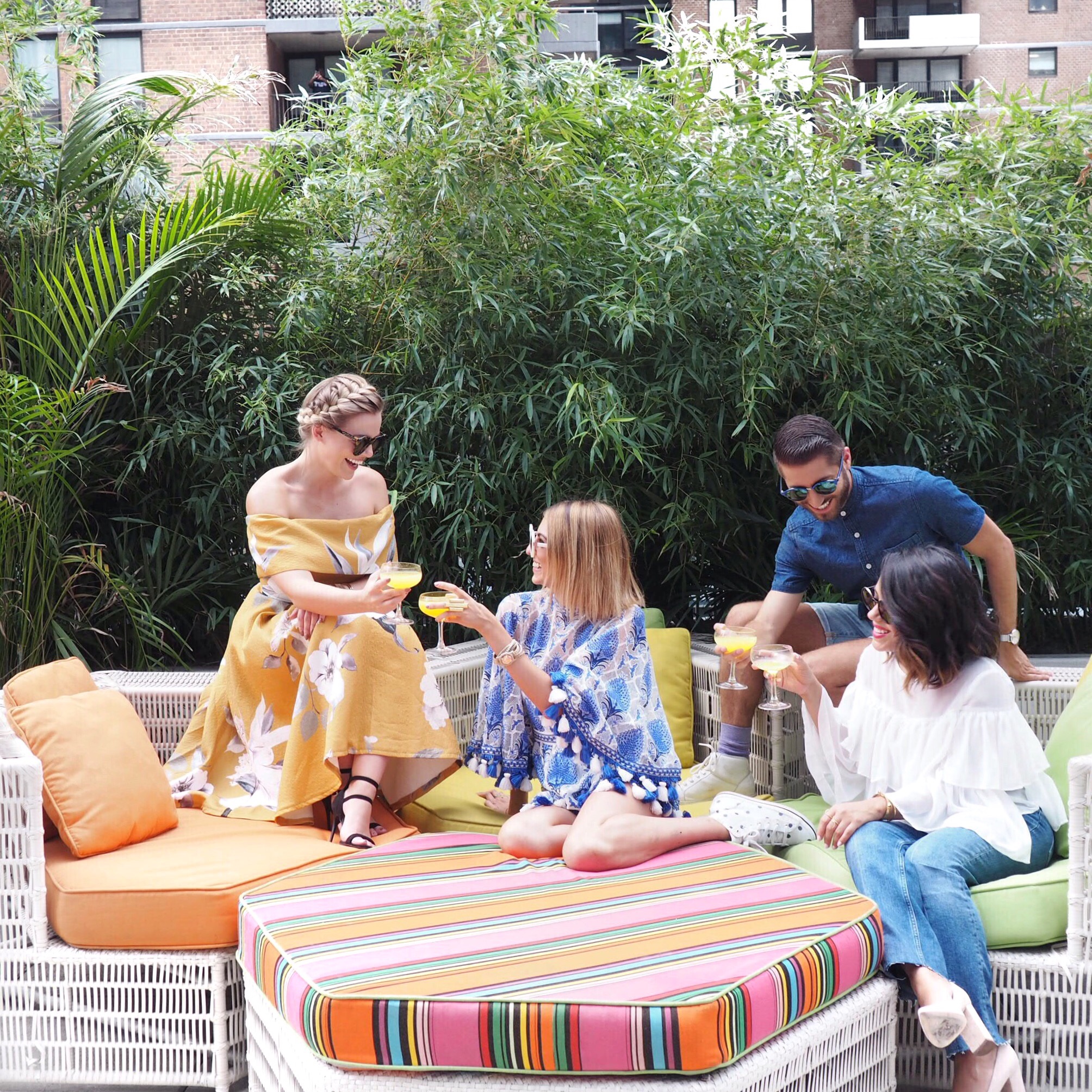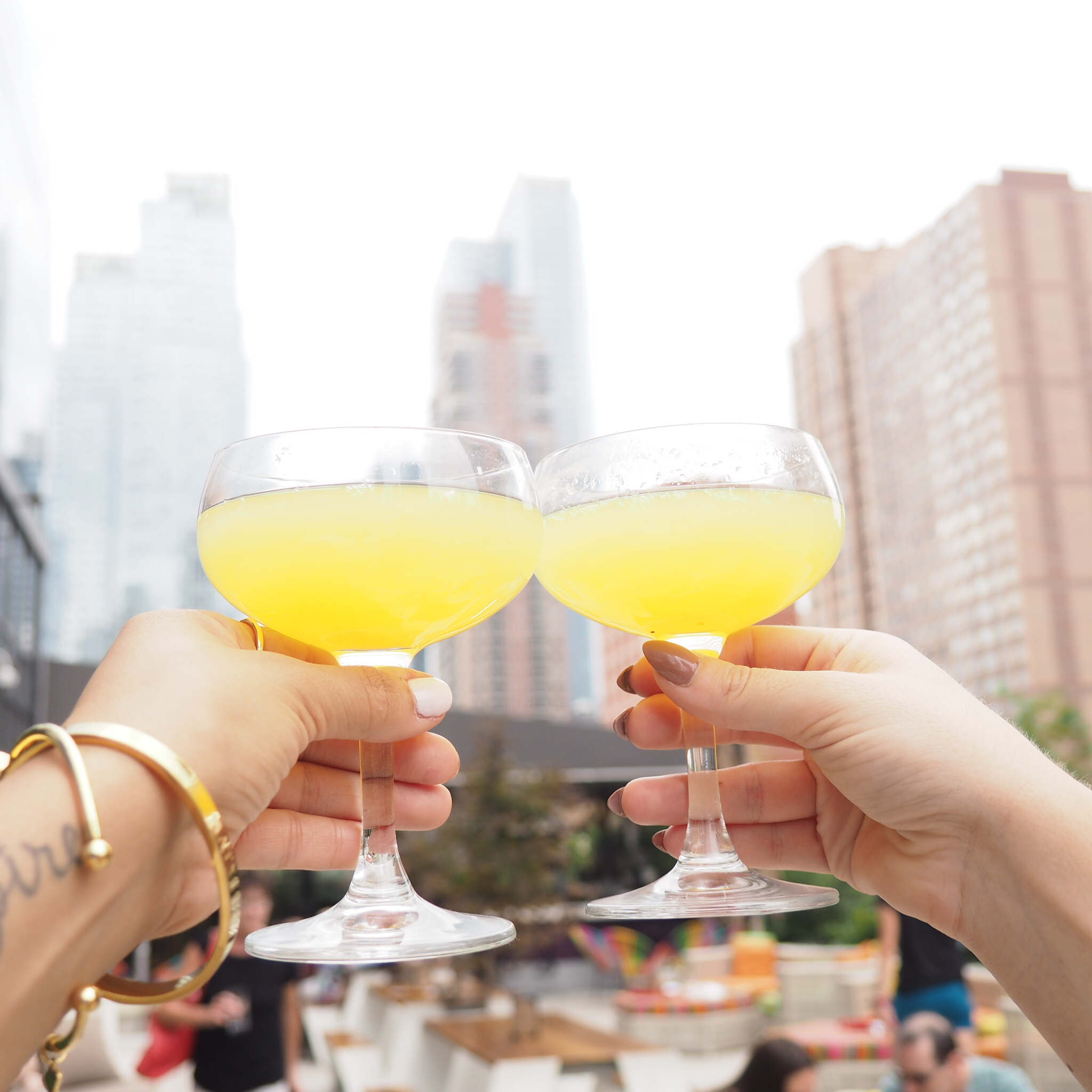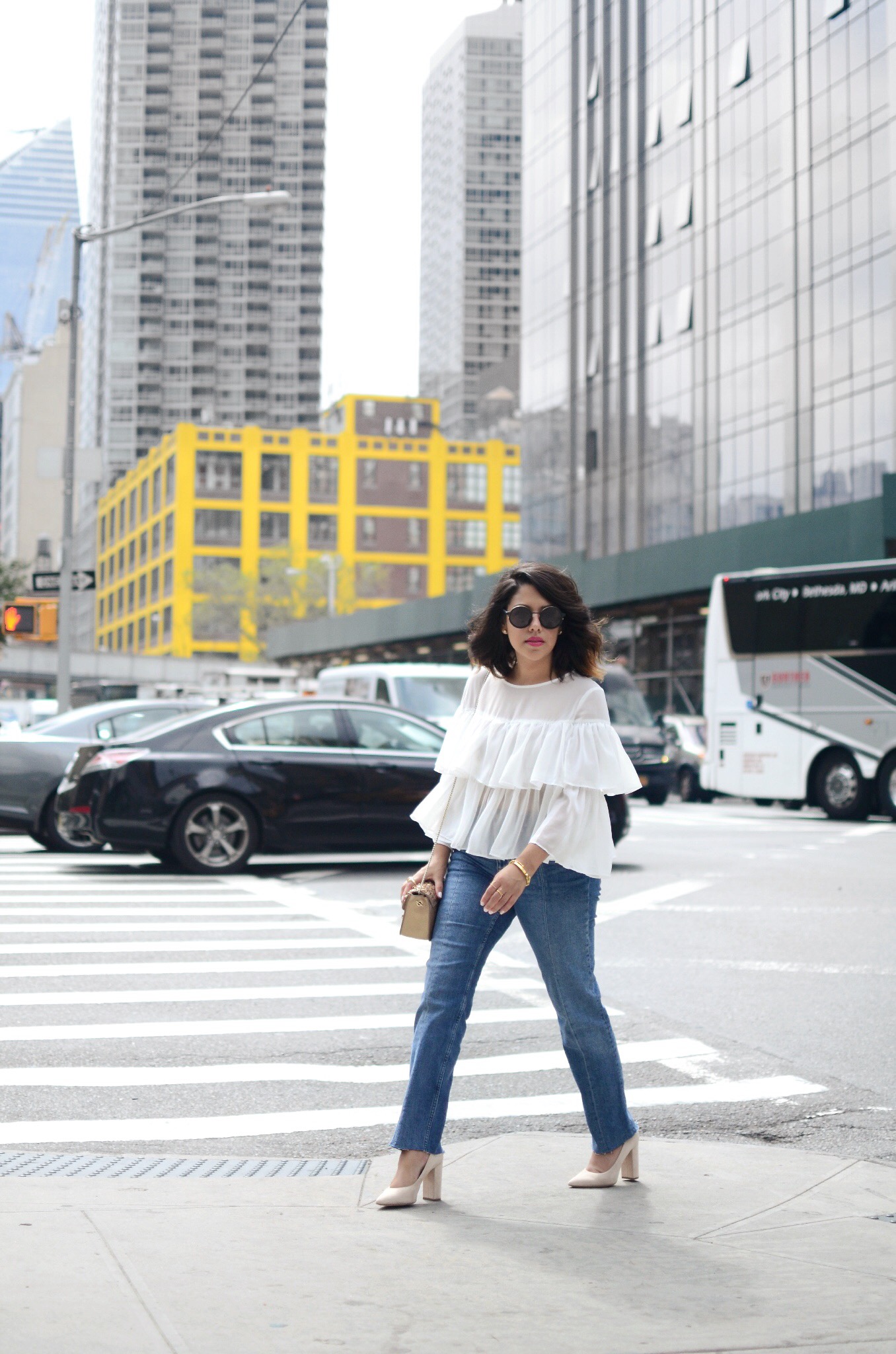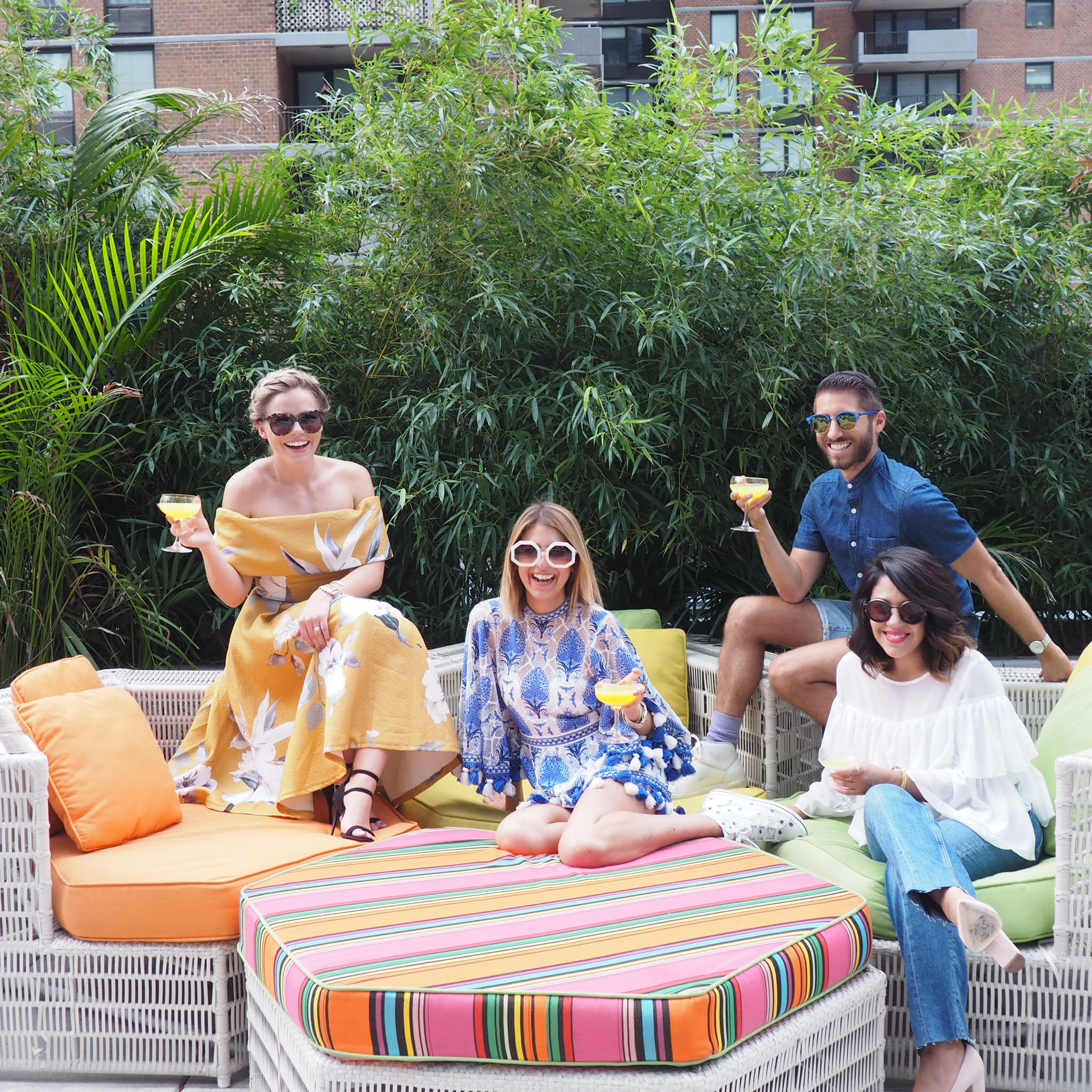 The next day one of my babes, Kristin, hosted a fun brunch on the Yotel rooftop with Grabr. Don't even ask how I wore jeans in 90 degree weather.  You'd think I would pack
appropriately since I live here, but apparently not.  This was my first pair of straight leg denim and I really wanted to try something different.  I paired them with this ruffle top and heels that I scored on sale at Nordstrom Rack. After brunch, I changed and went to a fun dinner with Sole Society & Alcona and then we went to the Tadashi show, which I absolutely loved. I shared all of the shows on my snapchat and insta stories!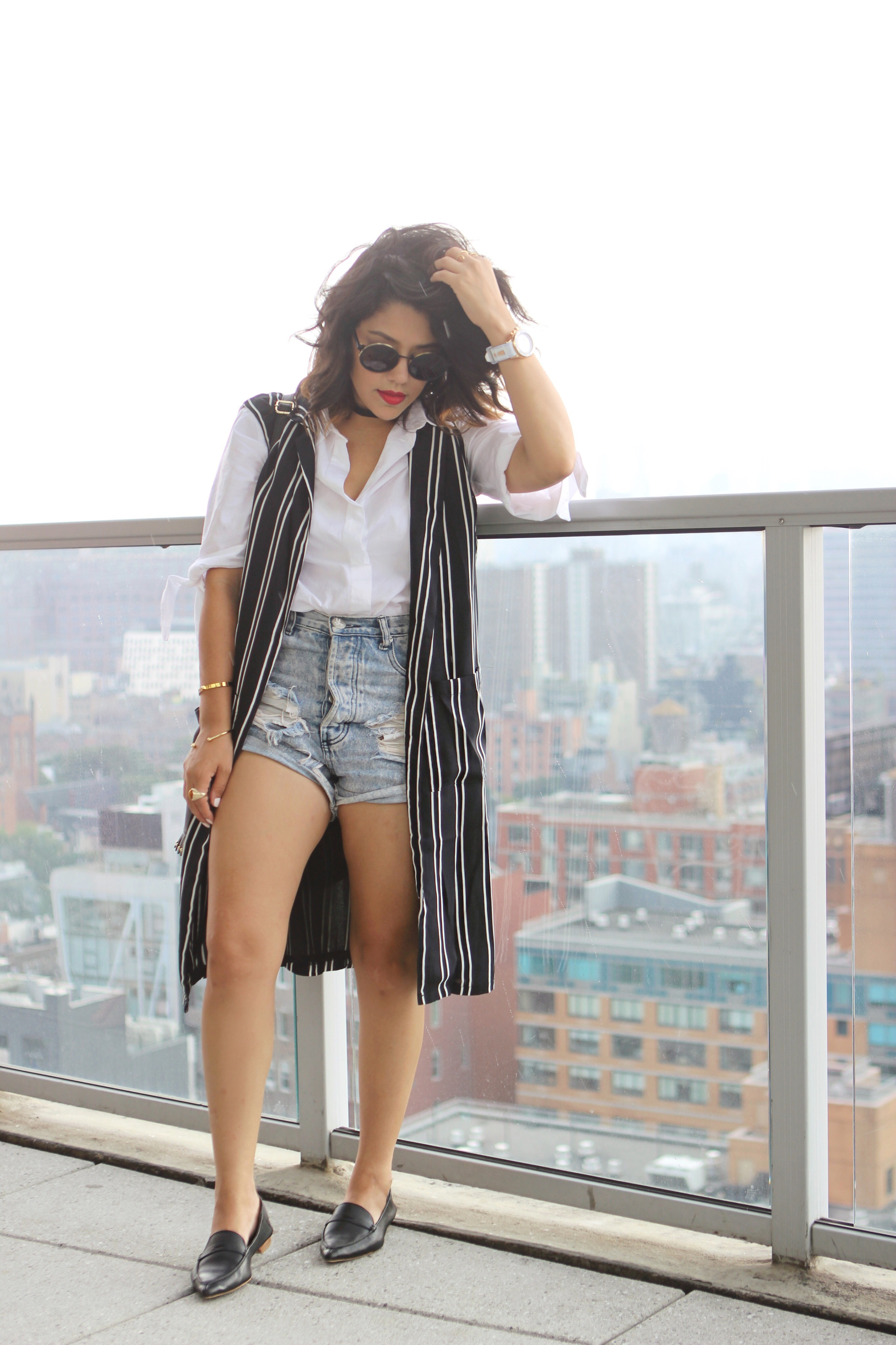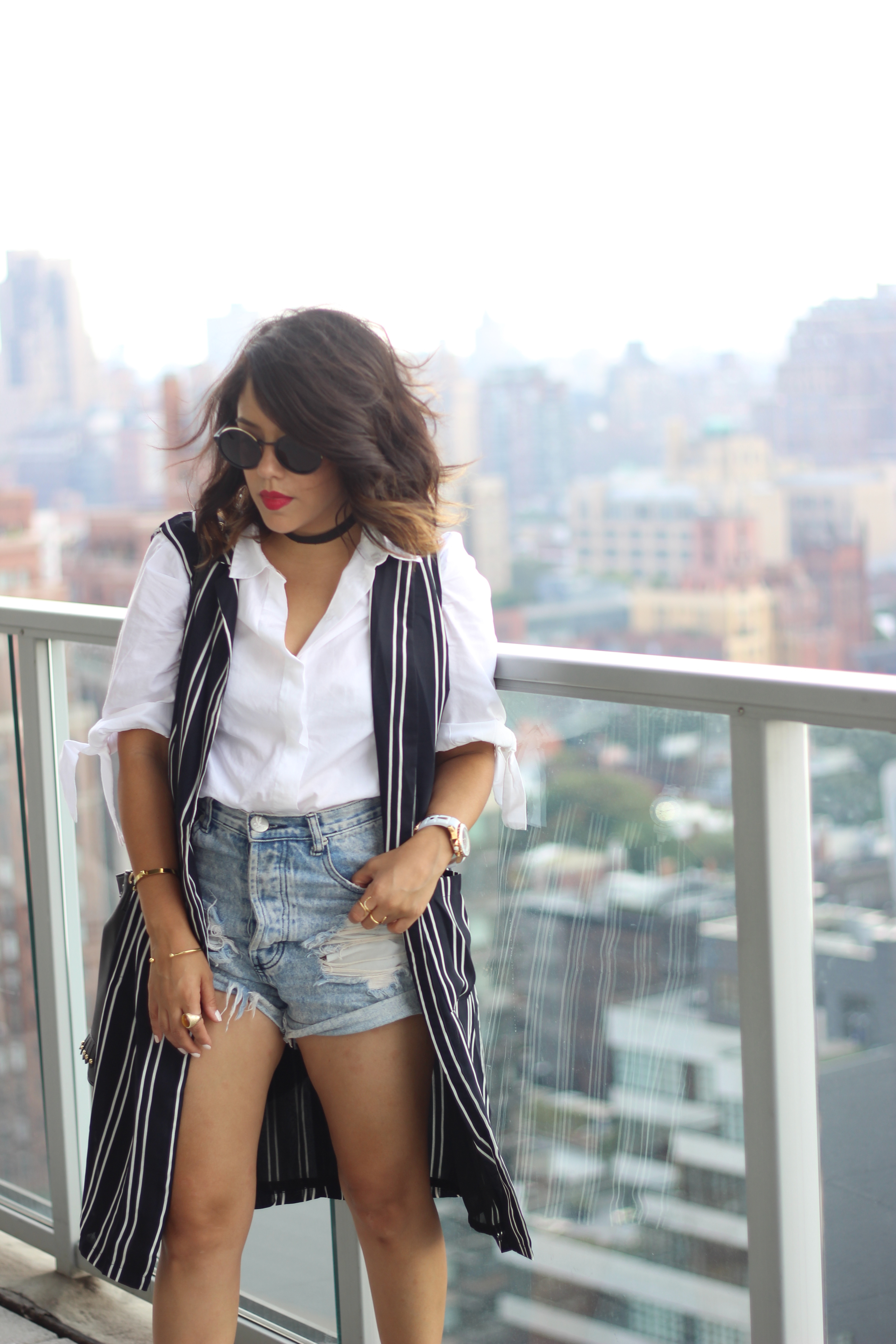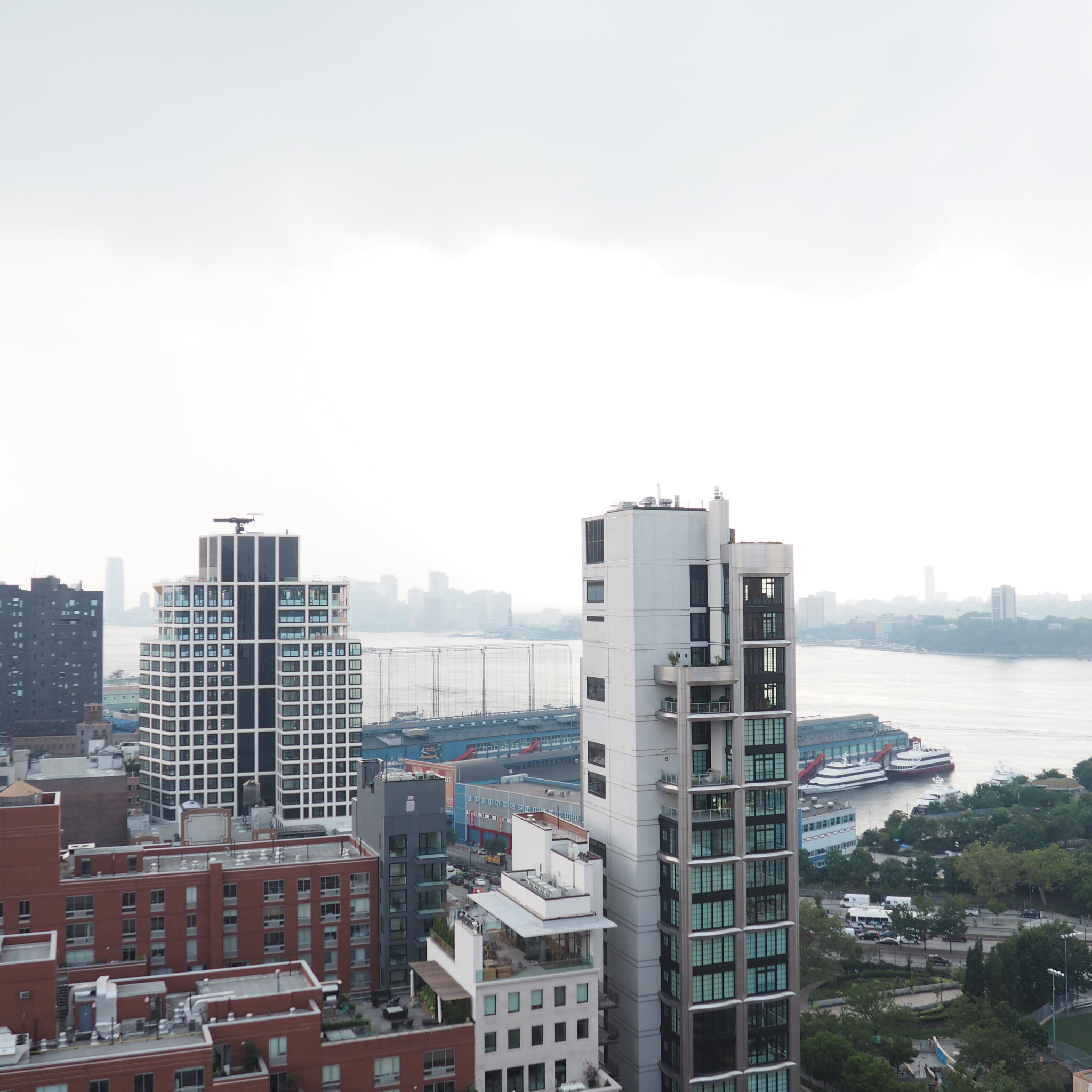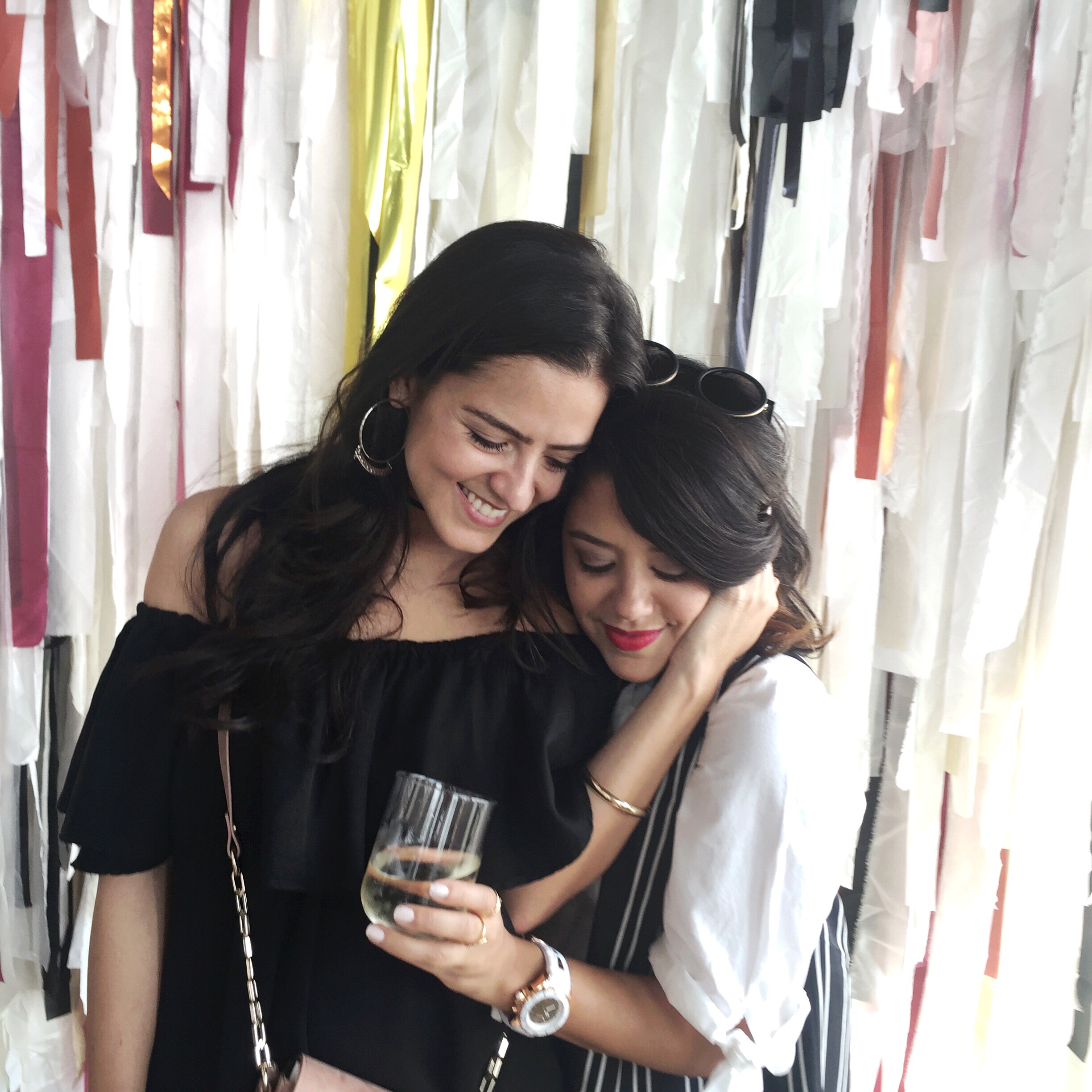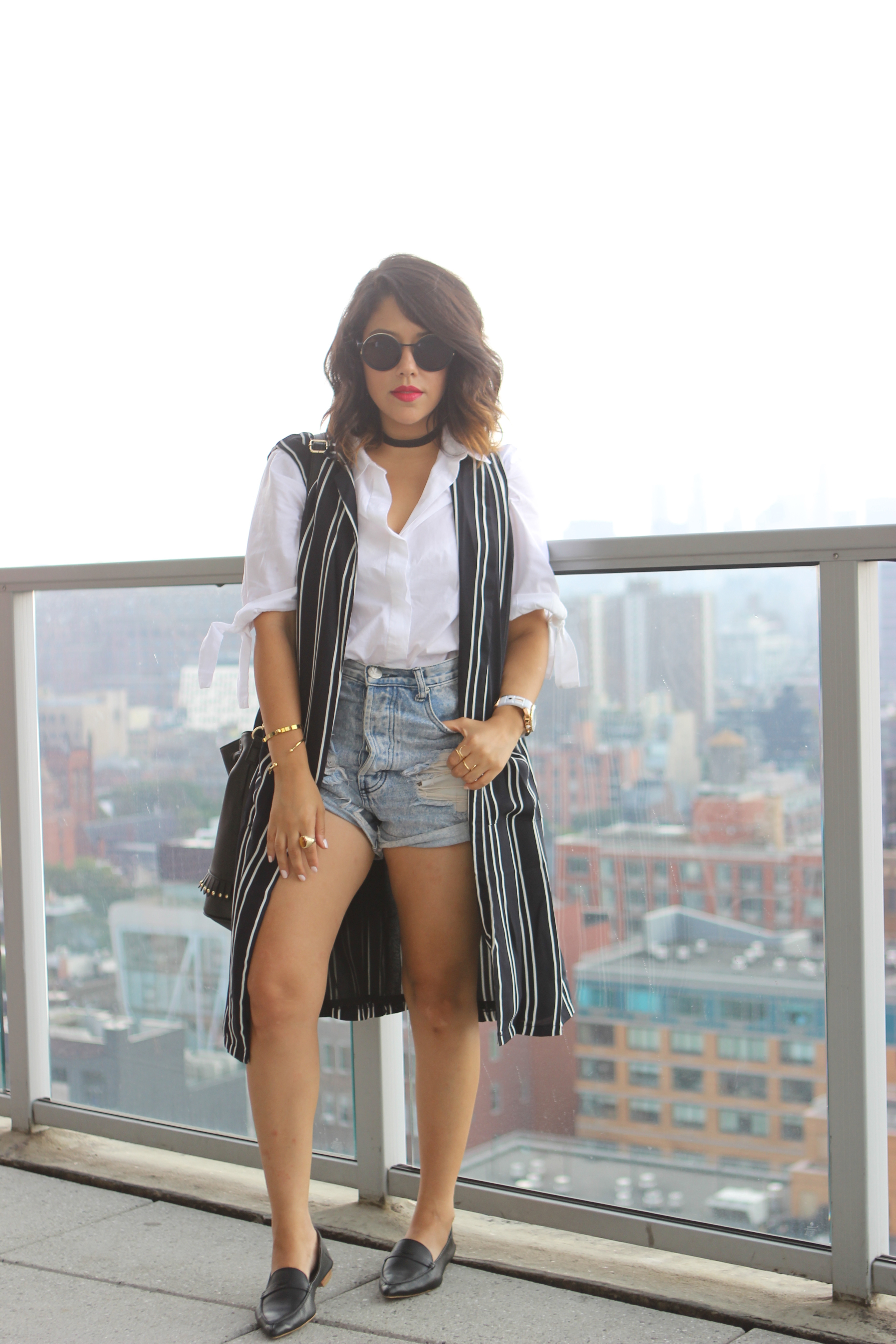 By Saturday, I had completely given up on heels, but that's ok because my new loafers  are SO comfy! They're definitely my favorite recent purchase.  This outfit was pretty much the result of all the random pieces I had thrown into my suitcase.  I was totally unprepared with outfits this season.  I got this vest on clearance at Nordstrom Rack and loved it so much.  Initially I had zero idea how I was going to style it because I didn't want to wear it an obvious way. I decided to layer it with this button down and completed the look with my go-to distressed shorts.  I ended up loving the look! Saturday was probably my favorite day.  I went to the KYBOE show during the day followed by a fun afternoon at the ShopStyle event where they had this amazing city view.  I skipped my nighttime show and went to a big group dinner with a bunch of my blogger buds that all live out of state, so that was fun too! This was the night that I started to get sick. 🙁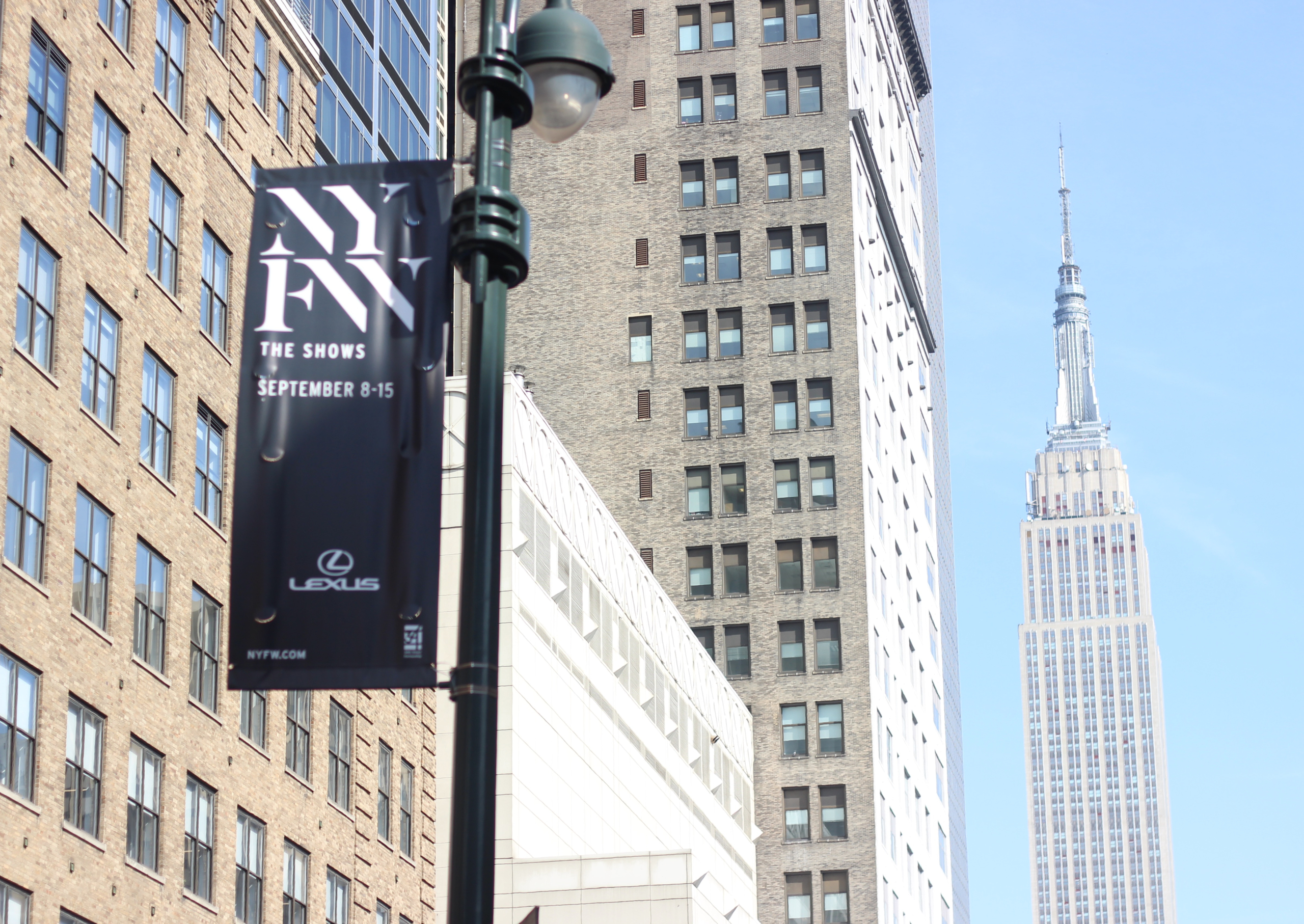 My last day I went to the Custo Barcelona show.  It was so good!  By this point I was getting sicker and knew that I had to cut my trip short. Loved my outfit this day, but didn't get a chance to shoot it. 🙁 Maybe I will rewear it and shoot for a separate post.  I ended up just grabbing lunch after the show and then I went back to the apartment to change and pack.
A few of my favorite trends that I noticed on the runways for SS17:
Irregular Hemlines
Bell Sleeves
Bomber Jackets
Ruffles
That's a wrap on my Sept 2016 fashion week!  I didn't shoot or post as much as I normally do, but honestly this allowed me to be more in the moment.  I did share a lot on snapchat and insta stories though and loved getting all of your feedback on what you thought of the shows. I snapped Tyson Beckford walking the runway at the Michael Costello show and that seemed to be everyone's favorite part lol. Well that and all of the shirtless male models walking in the KYBOE show. Eye candy for days!  I am trying to rest up more between today and tomorrow because I am leaving for SEATTLE on Thursday for a media trip with Volkswagen!  Never been to Seattle before so I am really looking forward to it and can't wait to share more on this next week.  It's a very quick trip, but hopefully I can capture some great moments there.  Hope you are all having a great week so far! 🙂