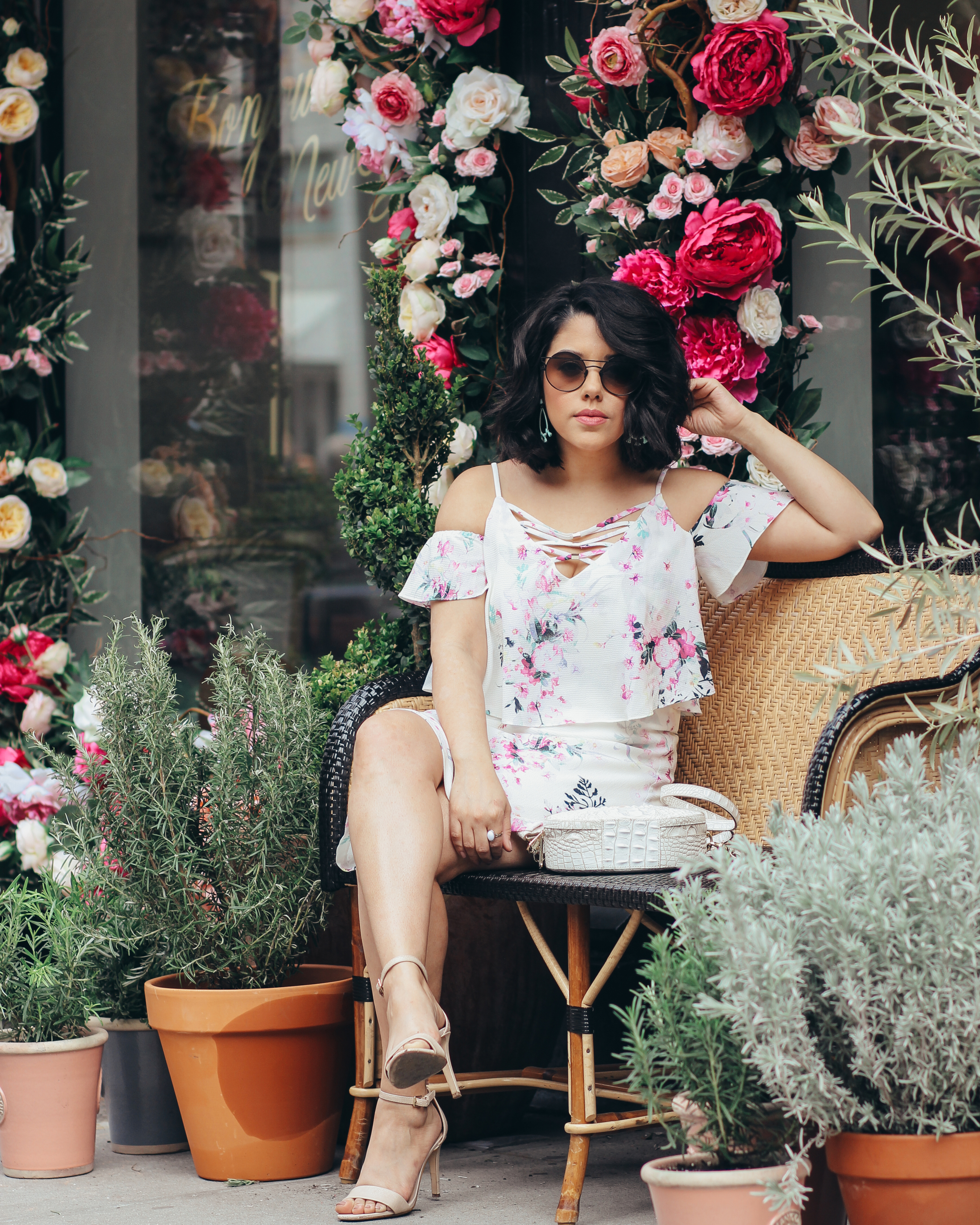 I've missed you all so much! I hate going so many days without updates on here. Settling into the city has been taking me much longer than expected. I'm trying not to rush it so that I can truly enjoy and embrace this whole process. I don't have a set routine or schedule just yet, so it feels like one day is blurring into the next. I joked with a friend the other day that I actually feel as though I'm on vacation.
Little by little, I'm adjusting to this new life and my apartment is becoming a home. It's all coming together slowly, but there's still a few key pieces that I need to get soon. I've shared a ton of sneak peeks of the space so far on my IG stories and as I complete my vision for this little nook, I'll make sure to share on here too. Stay tuned!
I got a bit excited to work on my first partnership last weekend here in New York with Macy's for their spring dress collection! That's when it really hit me. "I live here. I work here. I'm a New Yorker now!" I'm honestly still getting used to saying that.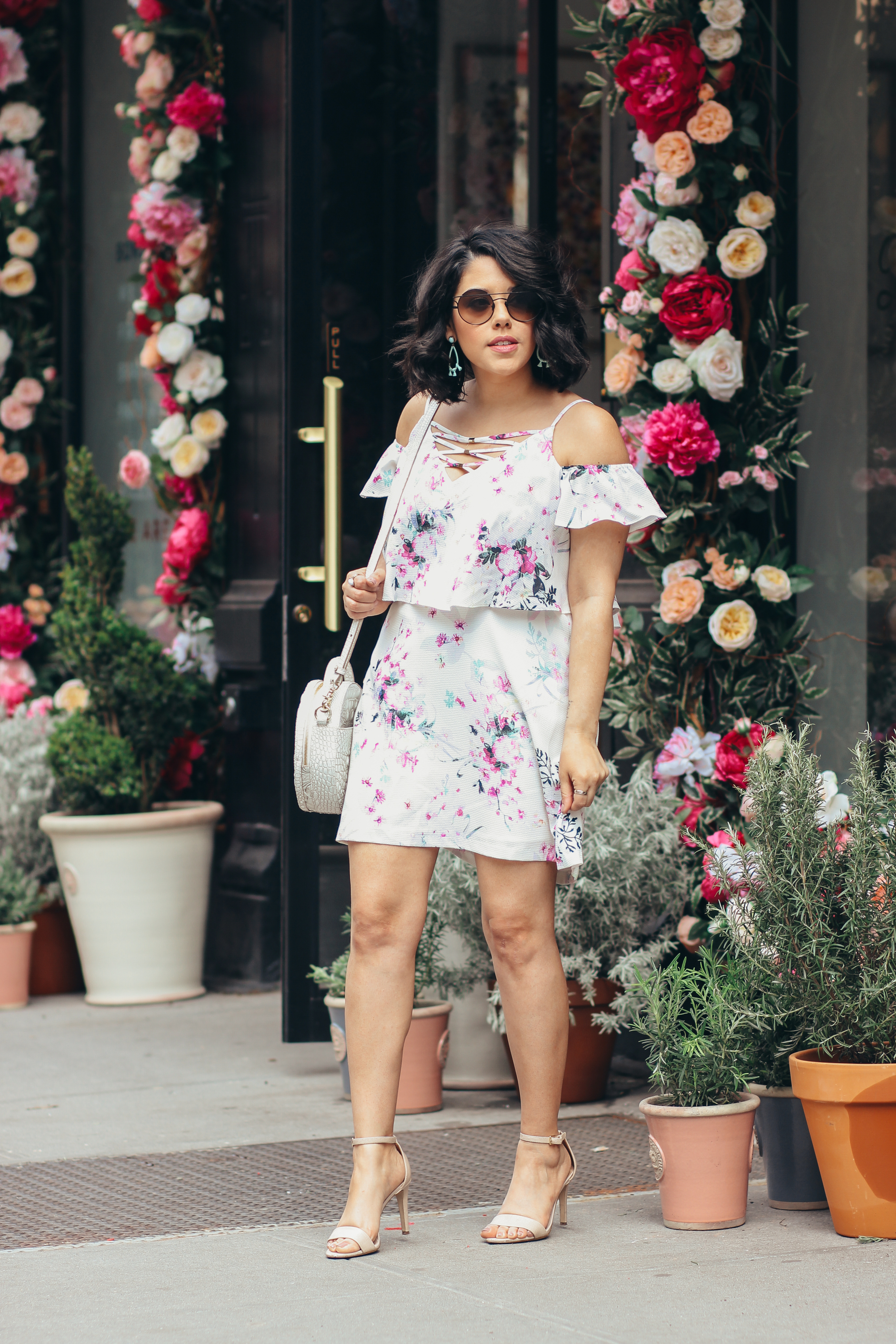 One of the biggest adjustments for me so far in terms of work has been taking photos in the city. On the one hand there's an overwhelming abundance of incredible locations to choose from. I went from rotating at several of the same spots in Jersey to now having way more of a variety right at my fingertips. Since I never really shot in the city before, I'm trying to figure out the best places to go. I still need to get used to taking photos with all the people around too. It's obviously such a very different vibe from NJ. I welcome this new energy and just need to accept that this will now be apart of it all.
I was also super spoiled having my mom as my photographer every single day. I always appreciated that, but now more than ever I realize the integral role she has played with this blog. I'm lucky that right now, she's still able to come and help me once in awhile. We did these photos together over the weekend and let's just say it was another adventure! Isn't it always? We were both trying to adjust together. I love that we have so many stories behind all the photos we take.
Friday's 75 degrees felt so good. We're finally getting a real taste of spring weather and I'm more than ready to ditch the layers and show some leg. There's so many fun occasions to look forward to like Mother's Day, bridal showers, brunches and tons of outdoor activities. I'm beyond excited to celebrate my mom in NYC this year. She gets a double celebration since her birthday is a couple of days before Mother's Day. Lucky her!
With so many springtime events, we need the perfect dress. Am I right?! Macy's is such a great Dress Destination to help you find one for any occasion. I've been getting dresses here for years and they never disappoint. kensie in particular has so many trendy options right now from floral to lace to ruffles and statement sleeves that can take you from the daytime straight into the night.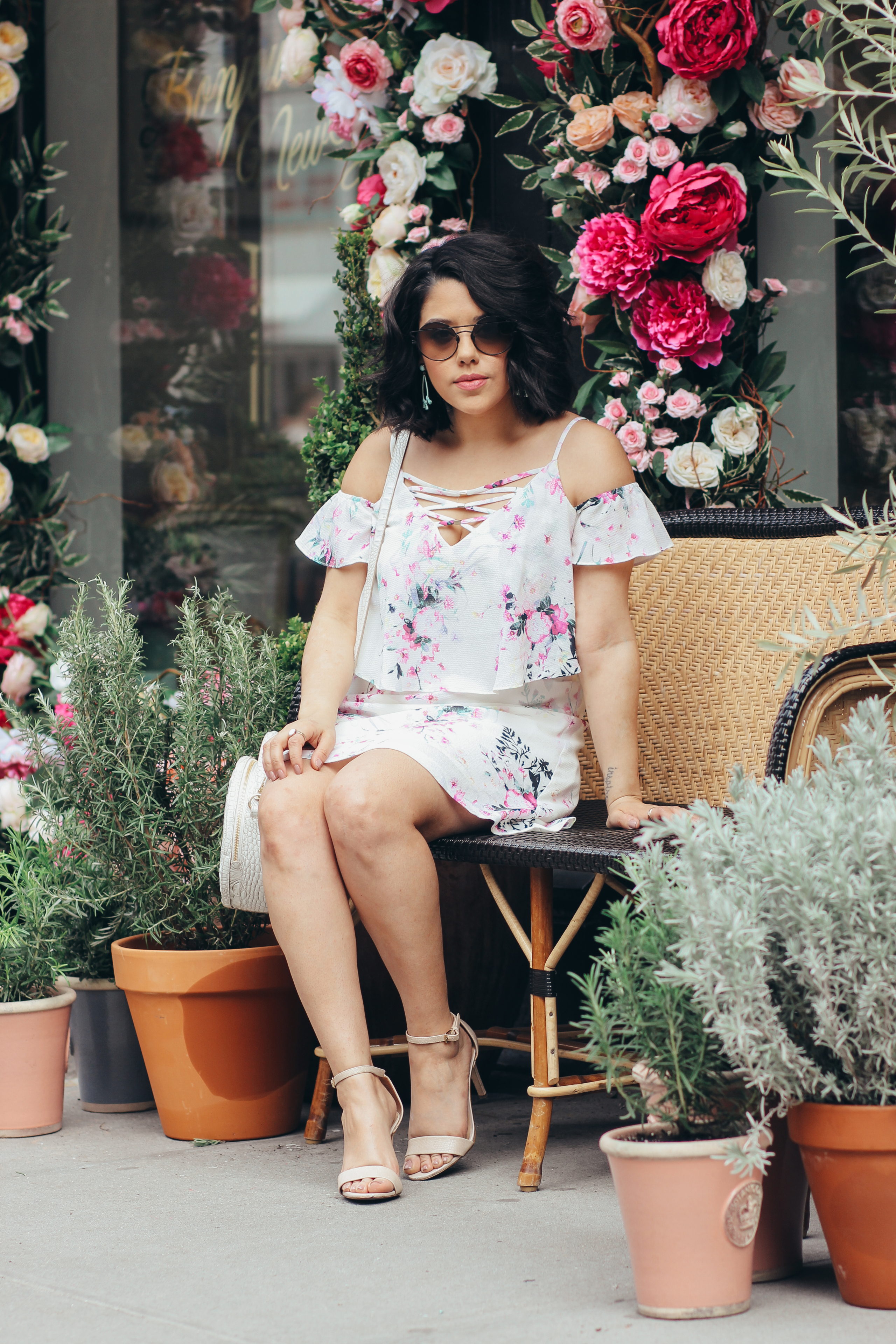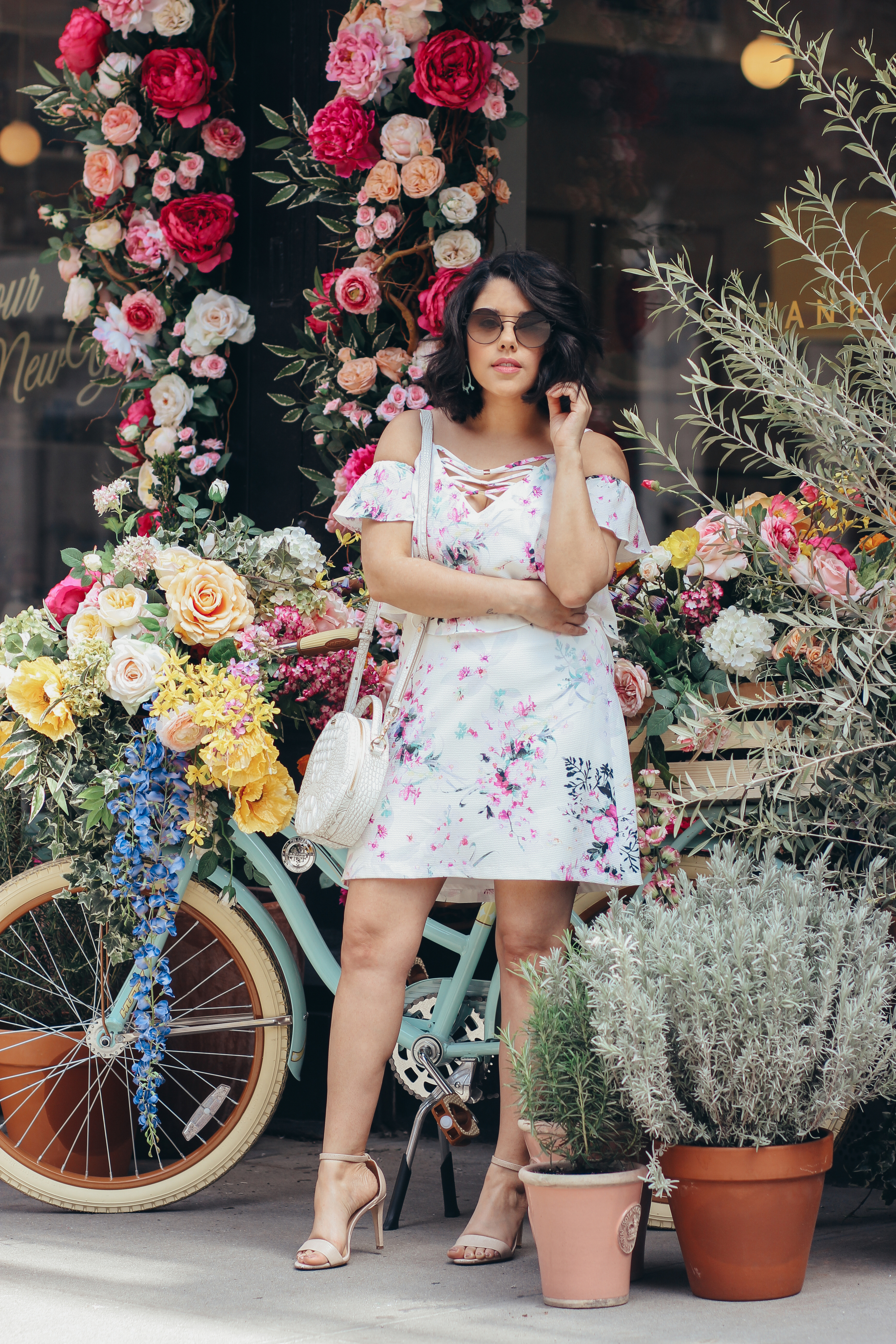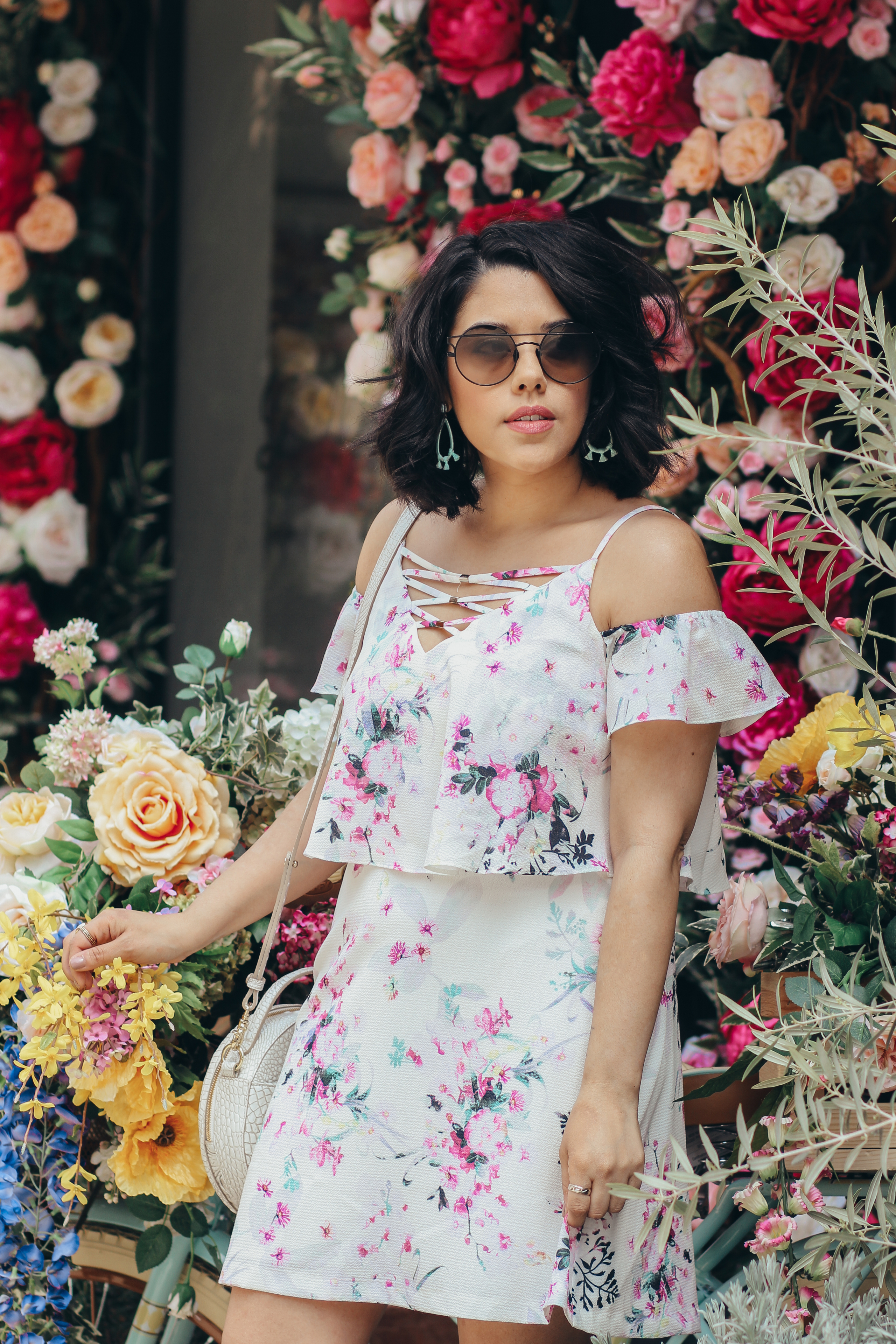 And how gorgeous is this backdrop we stumbled upon in Soho? We thought it worked so well with this dress. I know that florals for spring isn't exactly groundbreaking, but I'll forever have a love affair with them, especially during the warmer months. They make me happy!
This is actually my first time wearing kensie and I personally love that this dress is giving off some major cold-shoulder action. This will always be a favorite style of mine. It makes me feel so feminine and flirty. It seems like it's been forever since the last time I got to wear a dress with open-toed shoes. Loved every second! It's also been awhile since I wore heels on the cobblestone streets here in New York. I forgot how fun that is. HA! I tried my best to channel my inner Carrie Bradshaw. Not sure I did it as gracefully though!
By the way, Macy's is currently having a Pop Up sale and free shipping at $49! This is the perfect time to start searching for a new spring dress. They're also having a Friends & Family Sale from April 27th-May 7th, giving 30% off regular price and sale items. Happy shopping!
Thanks so much for stopping by today. I can't wait to start sharing more new content from the city soon. Hope you enjoyed the post!
Shop kensie Dresses At Macy's 
Disclosure: This post was sponsored by Macy's and ShopStyle. All opinions expressed are my own. Thank you for supporting the brands that support Naty Michele!